This post may contain affiliate links. Please read our disclosure policy for more information.
Disclaimer: The post was in progress when the flooding in Yellowstone happened. We realize that not all areas in Yellowstone may be open at this time. We hope that many will still visit the open areas as available to help support local economies in the area. The trip in this post occurred in July of 2021.
When you think of national parks in the United States, Yellowstone is probably one of the first parks to come to mind. And why wouldn't it? Yellowstone is America's first national park. Established March 1, 1872, this park has been dazzling visitors with its beauty and wonders for generations. It's only natural that our family, lovers of the American road trip, would hop in our car and make that pilgrimage like so many before us and see what the American West is all about.
Planning Our Yellowstone Trip
As we began planning our road trip, we weren't sure how much time to spend at Yellowstone. Initially, we planned for two days at Yellowstone and one at Grand Teton National Park. Later, we second-guessed this. By the time we decided to add days to our trip, our lodging choices were limited.
At about a year out, we'd reserved two nights at Old Faithful Inn. Our next lodging reservation was at the Hatchet Resort which is near Moran, Wyoming, not far from the entrance to Grand Teton. By the time we decided to add a couple of extra days, we had to make reservations in Dubois, Wyoming, which is doable at about an hour away, but not extremely convenient. All of it worked out, and we were glad to have the extra time to spend in the parks.
This is our family's experience. It doesn't always make sense. It's not the "perfect itinerary" so you will have a flawless trip or anything like that. This is what we did and how we did it. Sometimes, I'll even be able to tell you why we did something the way we did!
We had an amazing trip, and no, we didn't see everything. We're also not huge hikers, so you will notice there's not a lot of hiking in this trip report. We're just an average family who likes to hop in the car and see stuff. Oh, and Jeff and Kristin are really into seeing wildlife, so that's a priority!
To read more about our accommodations, click below.
Yellowstone Maps
Sometimes, a simple map is a nice place to start. The map below gives you a basic overview of the park.
The map below gives you a bit more detail.
Yellowstone Day 1
For our first Yellowstone day, we were still staying at the Hatchet Resort, so this meant that we would enter Yellowstone from the south after driving through the east side of Grand Teton National Park. We got up early, and we were able to get our best shot of the Tetons from Oxbow Bend, as seen below.
The forest fires started early that year, and the smoke was already visible in mid-July–something to keep in mind as you plan your trip. By 10:00 a.m. each day, the Tetons were really obscured. The later in summer you visit, the more likely you'll encounter smoke. We also didn't want to arrive in the area too early. We planned on visiting Glacier National Park. If you come too early, roads may be closed due to snow, even in early July!
This is probably also a good time to mention that we used the Gypsy App on my iPhone as a guide for these national parks. I highly recommend it! The background info is interesting, and we had help in deciding if we should stop somewhere or not. We used it mostly on our first day in Yellowstone, but we used it off and on throughout our visit.
Yellowstone South Entrance, Snake River, and Lewis Falls
The drive into Yellowstone from Grand Teton does take a bit of a drive. Though it's beautiful, if you can avoid backtracking through this area, it would be better. Sometimes you have to take the lodging you can get, but the drive feels a tad long if you make it several times. If you can stay in the park, in West Yellowstone, or Gardiner (or some mixture of these), you'll not have to backtrack through the woods as much.
You will see gorgeous scenery, like Lewis Falls below.
West Thumb Geyser Basin
The first area we happened onto was West Thumb Geyser Basin. There area has a large parking lot, and the features are accessible via boardwalks. You will also find a visitor center, a store, and counter service food here.
This was our first experience with the hot springs in Yellowstone, and we were completely captivated!
You can even see geothermal features in Lake Yellowstone!
As with most places in national parks, pictures don't do the area justice. As you can see, a visit in the morning in July wasn't too horribly busy. You may also notice the haze of smoke from forest fires. It wasn't as bad here as it was in Grand Teton, but it's noticeable.
Below is Black Pool with Lake Yellowstone in the background.
Lake Yellowstone Hotel, Fishing Bridge, and Yellowstone River
We may not have explored this area if it weren't for the Gypsy App, but it was cool to take a look. We had our first elk sitings in Yellowstone here. We saw the historic hotel that sits on the lake and walked across Fishing Bridge. If you were to continue driving east from this area, eventually you'd make it to the east entrance of Yellowstone and Cody, Wyoming, another popular place to stay near Yellowstone.
Hayden Valley
This is a great area to see bison. When we visited, we mostly saw lone bulls walking along the meadow or lying in their bison wallows.
The Mud Volcano area is especially fun. It doesn't smell particularly fun, though.
Below is Dragon's Mouth Spring. It's pretty amazing that these features exist in nature. I had to keep reminding myself that we weren't on another planet.
Here is one of those lone bison chilling in the dust.
Upper Falls, Lower Falls, Artist Point in the Grand Canyon of Yellowstone
This is maybe my favorite part of Yellowstone, and I wasn't prepared for how gorgeous it was! It's simply a breathtaking area. Below is the Upper Falls.
There are many viewing areas for the Lower Falls, and my suggestion is to check them all out. There is something a little different and awesome about each one. If you're pressed for time, though, be sure to take in the Lower Falls from Artist Point.
You'll think you're watching a live painting. Even with a smoky haze, it's pretty magical.
The Grand Canyon of Yellowstone is a remarkable panorama of beauty.
We checked out all the viewpoints. They were all generally close to the parking areas. We didn't go down to the bottom via Uncle Tom's trail. It may have been closed due to construction at the time.
One of the best viewpoints is at the brink of the Lower Falls.
The power of the water is stunning!
I could watch the water in this area for hours.
Norris Geyser Basin
During our visit in July of 2021, the road from Canyon Village to Tower Fall was closed for construction. We had no choice but to either continue on west for new territory or to backtrack, so onward it was!
This is another area of the park that seems otherworldly.
Don't let the white ground fool you into thinking it's cold here. Since it was late afternoon by now, this area was really hot during our stop. This would be a great time to whip out an umbrella to shield you from the sun's rays. We hadn't thought of that at the time.
After this stop, we decided to make our way back to the Hatchet Resort in Moran. We needed to check out the next morning, so we thought we'd make an early night of it. We essentially did 3/4 of the lower loop road. We drove the last third, but we didn't make any stops. By the time we got to Moran, the sun was setting.
Yellowstone Day Two
For our second Yellowstone day, we checked out of the Hatchet Resort and entered the park from the south again. Since we'd be checking in Old Faithful Inn later that day, we skipped some things in that area and headed north towards Mammoth Hot Springs and Gardiner.
Sheepeater Cliff
We probably wouldn't have stopped here if it weren't for the Gypsy App, but it was kind of cool, and there weren't that many people around. It's a nice spot for a picnic, and I believe there's a hiking trail here. It reminds me of Devils Tower, though this is much smaller. To read about our Devils Tower visit, click here.
Golden Gate Canyon and Rustic Falls
I wasn't expecting to drive along a cliff on the way to Mammoth Hot Springs, but the views are lovely and Rustic Falls was a nice bonus.
Mammoth Hot Springs and Mammoth Village
Mammoth Hot Springs is a Yellowstone must-see area. It's almost like visiting a cave, but you're outside instead of underground. Below is the Liberty Cap. You can see a lot of this from the road. We didn't walk around here a lot since we had some other destinations in mind for the day, but it's a cool place to check out.
If I were to visit Yellowstone again, I would definitely stay a night or two in the Mammoth Hotel and Cabins. It reminds me of a Disney moderate resort. It's in a great location, and there is a store, a visitor center, a gas station, and quick-service and sit-down dining. You're also fairly close to Gardiner for more shopping and dining choices. I would imagine this one also books about a year out, so if you want to stay here, be proactive!
You can also check out the historic district of Fort Yellowstone. Remember, this used to be the main entrance to the park. Before there was a National Park Service, the army administered the park. Some buildings are still used for park business and housing today.
One thing you'll probably see in Mammoth Village is elk. Lots and lots of elk. Just hanging around. All the time.
Drive to Gardiner
After a quick stop in Mammoth Hot Springs, we continued on to Gardiner to see the town and the Roosevelt Arch. On the way, we saw these mountain goats. We also saw people swimming in the river. Apparently, there is some hot springs activity in the water so you don't freeze.
North Entrance: Roosevelt Arch
We loved checking out the original entrance to the park. As you can see, you can park and walk around and take your pictures.
I loved the details!
Gardiner
Gardiner is a great choice for lodging and food during your visit. If we were to go again, I would also look into whitewater rafting during our trip. There were a lot of outfitters, and people looked like they were having fun.
We stopped in at a shop and decided to have a snack. We planned on eating at Old Faithful Inn that evening, so we weren't looking for a full meal. I was on a huckleberry kick, so naturally, I tried huckleberry ice cream!
Backtracking to Old Faithful and Old Faithful Inn
As time started edging towards afternoon, we decided to head back towards Old Faithful Inn to check in to our home for the next two nights. We hadn't seen Old Faithful yet either, so we were excited.
We were able to check right in, and luckily, we had help with our luggage and got settled in nicely. The room is pretty warm in July and there isn't air conditioning in the old house, so we set up our fans and went exploring.
It wasn't long before we discovered the mezzanine and scoped out a place to watch Old Faithful erupt for the first time.
Since we stayed at Old Faithful Inn, we were able to catch several geyser eruptions at various times of day. It was also pretty awesome to just chill in the hotel. It was a birthday dream come true!
Evening at Grand Prismatic Spring and Firehole Canyon Drive
After dinner at the Old Faithful dining room, we decided to see what else we could see nearby. The Midway Geyser Basin looked like a cool place, so off we went.
At this time of day, it wasn't crowded at all. As it got closer to dusk each night, people started leaving the park and heading back to their lodging. This is nice if you're staying in the park.
Grand Prismatic Spring is the highlight of this area. The colors are stunning.
On our next visit, I would do the Grand Prismatic Spring overlook. We didn't this time since we were a tad tired, but I would make it a priority in a future trip.
We also did the short Firehole Canyon Drive. This area was so peaceful in the evening. I don't think we even saw another party in the area while we were there.
We found ourselves in a bison jam as we headed back to Old Faithful Inn. Bison can be anywhere!
We also stopped in a few more geysers in the Upper Geyser Basin. Below is Castle Geyser.
And here's some geothermal activity on the drive home as the sun sets.
Yellowstone Day 3
For our third day, we needed to head to the northeast section of the park. We also had a few places we'd missed up until this day, so we wanted to check out those places.
We planned to hit Lamar Valley, though I was uncertain on how it would go since we'd hit it in the afternoon instead of early morning or dusk. I was afraid the wildlife wouldn't be out. There really wasn't a way around the timing with Canyon Village to Tower closed and we were staying at the exact opposite of where Lamar Valley was in the park. It turns out, though, we spotted plenty of wildlife and had a great time.
Upper Geyser Basin
We somehow missed this boardwalk area with some geysers, so we made a stop here first. It wasn't incredibly busy, but in the morning, it's really misty as the warm vapor meets the cooler morning.
Artist Paint Pots
This short hike is fun. The trails are flat and it's cool to see the features.
Roosevelt Lodge and the Petrified Tree
Since the road from Canyon Village to Tower Fall was closed, we made the drive that we'd already done the previous day. This time, instead of stopping in Mammoth Hot Springs and going to Gardiner, we made our way towards Lamar Valley.
On the way, we made a quick stop at Roosevelt Lodge. The cabins here look fun to stay in.
We also stopped at Petrified Tree. We didn't take the trail up to it. We'd been to Petrified Forest National Park the year before, so maybe we just weren't that impressed. To read about that adventure, click here.
Lamar Valley
Lamar Valley is another one of those places that is a must-do in Yellowstone. I was worried that we wouldn't see wildlife since we were there in the afternoon, but we saw plenty!
If you want a guarantee that you'll be in a bison jam, head to Lamar Valley. It'll happen.
They will be everywhere.
We also saw a bald eagle.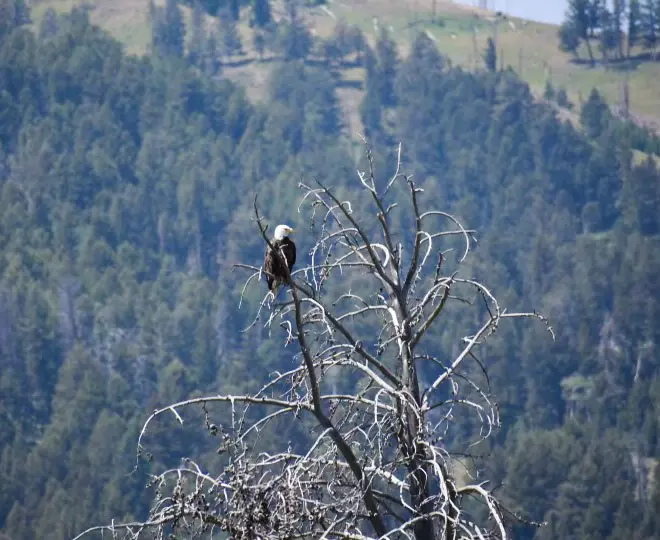 We saw a bear from a distance, but it was too far away for even a picture with our largest camera lens. We wouldn't have seen it at all, but people were pointing and had scopes out, so we stopped to see what the commotion was.
A Taste of the Beartooth Scenic Byway
If you exit the park at the northeast entrance, you'll soon find yourself in Cooke City, Montana. We didn't spend a lot of time here, but there seems to be restaurants and lodging. This area is a bit more rustic than Gardiner or West Yellowstone.
It still looked like a fun place to explore.
We didn't spend a lot of time here because we wanted to drive a bit of the Beartooth Highway.
We didn't even drive halfway, but the views were worth it! I hope we can drive the whole thing one day.
It's such a beautiful area. I know I say that a lot.
After a taste of the Beartooth Highway, we decided to taste some goodies from a food truck.
It was the perfect lunch to keep us moving.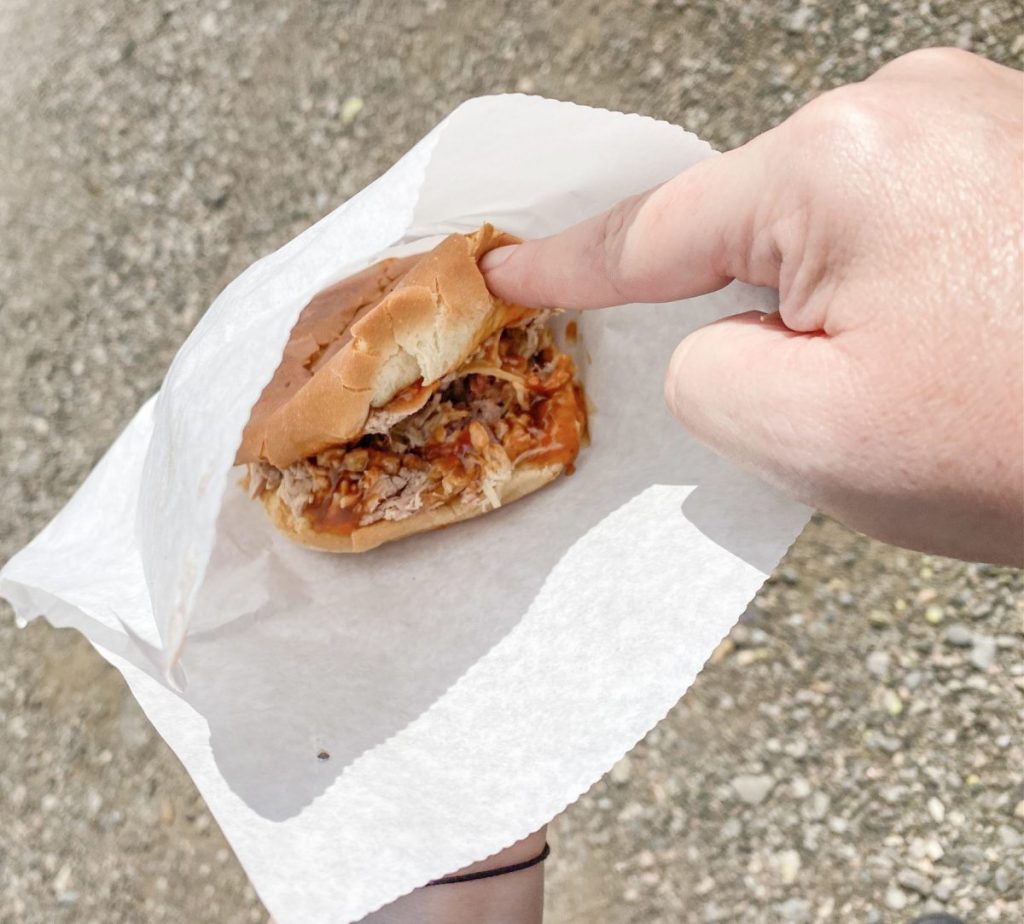 Returning Through Lamar Valley
As we made our way back into the park, we stopped at a picnic area to do some wading. The water is pretty cool, so it's refreshing on a hot day.
This was another area that's pretty quiet. I think we did a pretty good job of choosing things to do that were the opposite of where the crowds were.
This picnic area is the home of these scavenging prairie dogs.
One of the best moments of our visit was on the way back through Lamar Valley. We saw this black wolf near a carcass. We'd never seen a wolf in the wild before!
And we saw more bison. Beautiful!
After checking out the animals in Lamar Valley again, we headed back to our room at Old Faithful Inn for another great evening in Yellowstone.
Leaving Yellowstone and Heading to Glacier National Park
The next morning, it was time for us to move on. After we checked out of Old Faithful Inn, we made our way to Old Faithful one last time to see it erupt the one time of day we hadn't yet–morning.
As you can see, there were people there, but it wasn't overly crowded.  It was probably our most crowded eruption, though, because the only other times we'd seen it were either from the mezzanine of the Inn or at night.
After another fabulous eruption, it was time to leave.
We hopped into our car and drove out of the park and to West Yellowstone for the first time. We agreed that West Yellowstone would be a great place to stay for a Yellowstone visit, but it was busy and there was quite a line to get in at around 9:00 a.m.
We then began the journey to Glacier National Park. You can read about some of our adventures there by clicking the links below.
So, this is how we did Yellowstone. If you'd like to read how my friend April from Minivan Adventures and her family did Yellowstone (and Grand Teton National Park), click here. She has great information for planning your own trip!
I hope we can return one day, and I think everyone should visit Yellowstone at least once. Happy planning!