This post may contain affiliate links. Please read our disclosure policy for more information.
If you're heading to Kansas City and hoping to sample some delicious KC barbecue, you should definitely give Arthur Bryant's a try. You won't be sorry. Arthur Bryant's Barbecue is one of those legendary places to sample Kansas City's most famous food. It's not fancy, but don't let that detour you. Arthur Bryant's is one of the most well-known names in KC barbecue for a reason–the barbecue is to die for.
Arthur Bryant's: The History
It seems Arthur Bryant's gets its start with a man named Henry Perry, a man often referred to as Kansas City's "father of Kansas City-style barbecue."  In the early 1900s, Perry sold smoked meats to people who worked in the Garment District. Later, he moved to 18th and Vine, an area of Kansas City known as the historic Jazz District. This section of KC was sometimes described as a city within a city because the Black community lived and worked there. The area became known for jazz music and the blues along with, you guessed it, barbecue.
During those early years, Charlie Bryant became one of Henry Perry's barbecue cooks, and Arthur, his brother, eventually joined him. When Perry died, Charlie inherited the restaurant and continued the business. In 1946, Arthur took over the operation of the restaurant and moved it to its current location at 18th and Brooklyn, right in the heart of the Jazz District. Arthur also made changes to the sauce making the barbecue even more popular.
Not only is Arthur Bryant's a revolution in barbecue, but the restaurant's location also propelled integration in Kansas City. Due to being close to Municipal Stadium, a diverse population of people ate at the restaurant–together! Calvin Trillion wrote in Playboy in 1972, "Other than the buses and the ballpark, it was the only integrated place in town when I was growing up" ("A LEGEND'S HEIR, EMBROILED over BARBECUE"). People came to enjoy the sports and needed a place to eat. Arthur Bryant's was a popular choice.
Unlike other classic barbecue places in town, Arthur Bryant's currently only has a single location in Kansas City–the original Brooklyn Avenue location in the Jazz District. The old location is half the fun; when you step inside it feels like you've stepped back in time.
Arthur Bryant's: The Restaurant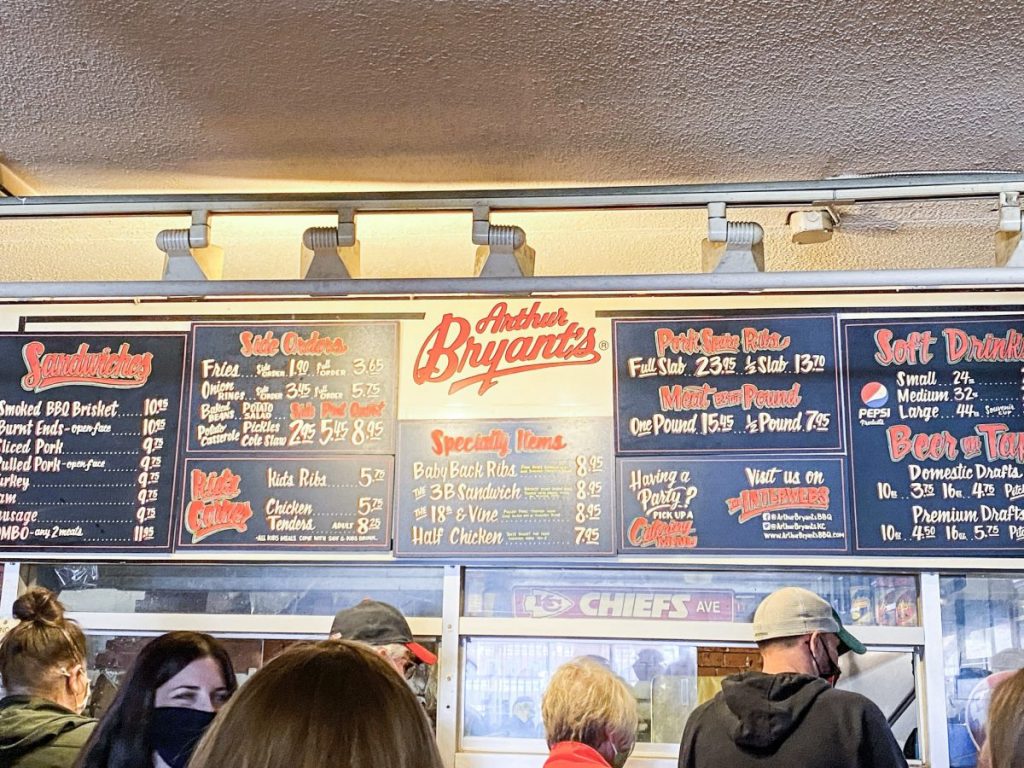 During one outing to Kansas City, Jeff and I decided to add another KC barbecue experience to our ever-growing list. We headed in that direction just after opening, and already, a line was out the door. The place is efficient, though, and the wait wasn't too long.
To place your order, you'll line up at the window. While you wait, take a look at all the history on the walls. Even presidents have dined here.
As you wait, Arthur Bryant watches over you. Thank you for your amazing barbecue, Mr. Bryant.
When you do arrive closer to the window, a cook will ask for your order.
They'll prepare your food and hand it to you. If it's to-go, they'll wrap it up.
Take a look at the famous Arthur Bryant's sauce!
When you get your food, you'll slide on down the line. Then you can order a drink and pay.
After you've paid, you can look for a table inside. Even on a busy day, we found a table without too much trouble.
Arthur Bryant's: The Barbecue
When we found our table, we could hardly wait to dig in. I did manage some pictures, though. Above are the sauce choices. We could choose between Original and Rich and Spicey. I believe Sweet Heat was also floating around, but I wasn't brave enough for that, so I didn't search it out.
I ordered a pulled pork sandwich and fries. Perfection! I believe this is also where I had my first Big Red fountain pop. Yum!
Jeff had the burnt ends sandwich and fries. He let me sample a burnt end. So good! Jeff also gives this meal a thumbs up.
We stuffed ourselves full of delicious Kansas City barbecue, and we vowed to return. This place is near the top of our list for great KC barbecue, and we've sampled a lot. If you're looking to experience Kansas City's most famous cuisine in a casual, historic environment, you can't go wrong with Arthur Bryant's Barbecue!
References:
"A LEGEND'S HEIR, EMBROILED over BARBECUE." Washington Post, The Washington Post, 12 July 1990, www.washingtonpost.com/archive/politics/1990/07/12/a-legends-heir-embroiled-over-barbecue/abff6ecb-0f60-4255-b787-956d7cd6826d/. Accessed 26 Apr. 2022.
"Death of a Legend | KC History." Kchistory.org, 2018, kchistory.org/week-kansas-city-history/death-legend. Accessed 26 Apr. 2022.
Vine. "African American Heritage Trail of Kansas City." African American Heritage Trail of Kansas City, 2014, aahtkc.org/18thandvine. Accessed 26 Apr. 2022.
Other great Kansas City barbecue choices:
Read about our national BBQ crawl:
Billingsley's National BBQ Crawl