This post may contain affiliate links. Please read our disclosure policy for more information.
Updated: 5/1/23
One of our travel goals as we crisscross the country is sampling different styles of barbecue. We haven't been everywhere yet, so we hope to update this post as we sample barbecue across the U.S. We're willing to put in the work f to discover yummy barbecue for you; it's a sacrifice we're willing to make.
We'll focus on the main styles of barbecue in the U.S.–Kansas City, Carolina, Memphis, and Texas. We'll throw in some other places, too. So…here we go!
Kansas City-Style Barbecue
Known for: Tomato-based sauce, dry-rubbed ribs. Beef, pork, sausage, and ribs. Smoked over all types of wood. Also, fries.
Joe's Kansas City Bar-B-Que
If you're in the Kansas City area, be sure to check out one of Joe's Kansas City Bar-B-Que's three locations. The atmosphere is casual, and the barbecue is delicious. Click here to read more about our experience.
Jack Stack BBQ
We tried Fiorella's Jack Stack BBQ at the Country Club Plaza location. The environment is more of a casual sit-down experience than most barbecue places we've tried. The cheesy corn and the carrot cake are must-tries! Click here to read more about our experience.
Q39
We've been to both of the Q39 locations in Kansas City, and we can't wait to go back. The pulled pork and burnt ends are favorites, and the contemporary vibe in the restaurant is a lot of fun. Click here to read more about our experience.
Arthur Bryant's Barbecue
You'll find Arthur Bryant's Barbecue in the heart of the Jazz District in Kansas City. This classic barbecue joint will make you feel like you've stepped back in time. The barbecue is delicious, too! Arthur Bryant's barbecue sauce is the perfect example of Kansas City-style goodness. Click here to read more about our experience.
Gates Bar-B-Q
Another Kansas City Classic, Gates  Bar-B-Q has several locations in the Kansas City metro area, but we tried the one on Brooklyn Avenue, also near the Jazz District.  You can't go wrong choosing Gates, and we're so glad we did. Get the sauce on the side and give the brisket here a shot. To read more about our Gates experience, click here.
Carolina-Style
North Carolina
Known for: Spicy vinegar sauce. In west NC, ketchup and brown sugar may be added. Beef, Pork, often uses the whole pig. Usually oak or hickory-smoked, often with vinegar.
Stay Tuned!
South Carolina
Known for: Yellow sauce made with mustard, vinegar, and brown sugar. Beef and pulled pork. Usually oak or hickory-smoked, often smoked with vinegar.
Swig and Swine BBQ–Charleston, South Carolina
We gave Swig and Swine BBQ a try as soon as we pulled into Charleston, South Carolina. The pulled pork was yummy, and it was the first time I tried corn pudding. It won't be my last!
Memphis-Style Barbecue
Known for: Tomato-based sauce, wet or dry-rubbed ribs. Beef, pork, ribs, sausage. Pulled-pork sandwiches often have coleslaw. Also, bbq nachos.
Central BBQ
We tried the downtown location of Central BBQ near the National Civil Rights Museum, but they have three other locations in the Memphis area and one in Nashville. When they opened, the line was out the door! We loved the laidback energy here as we sampled a little bit of everything. So good! Click here to read more about our experience.
Texas-Style
Known for: (May vary by region)  Big slabs of brisket, huge beef ribs, tomato-based sauce, sometimes with molasses. Beef (chopped or sliced), sausage, pulled pork, ribs dry-rubbed. Known for slow smoking. Often using mesquite, hickory, or pecan wood. Hot sauce.
Stay-Tuned!
Alabama-Style
Known for: White barbecue sauce with a mayonnaise base for hickory-smoked chicken. The sauce is also used as a dip; can be used with bread, ribs, or other meat.
Stay-Tuned!
Other Great Barbecue Stops
Arkansas
The Rockin' Pig Saloon–Eureka Springs,  Arkansas
We gave the Rockin' Pig Saloon a shot one evening before we went to the Great Passion Play in Eureka Springs, Arkansas. The barbecue was yummy, and we loved the variety of choices on the menu, including hamburgers and wood-fired pizza. You can read more about it in this post about Eureka Springs.

Colorado
Smokin' Dave's BBQ & Brew–Estes Park, Colorado
We tried this one simply because they had bison ribs on the menu and we couldn't resist. What a great decision! We loved our brisket and pulled pork there, as well. This is a great addition to your visit to the Rocky Mountains. Click here to read more about our dinner.
Nevada
Tonopah Brewing Company–Tonopah, Nevada
When we made a trip to visit the haunted Clown Motel, we couldn't resist trying the barbecue. We were not disappointed! Dry-rubbed ribs, brisket, pulled pork, turkey–we loved it all! One of the best parts was the homemade onion rings. Click here to read more about the Clown Motel and our dinner.
Missouri
Our Go-To Hometown BBQ Spot: Rib Crib–Joplin, Missouri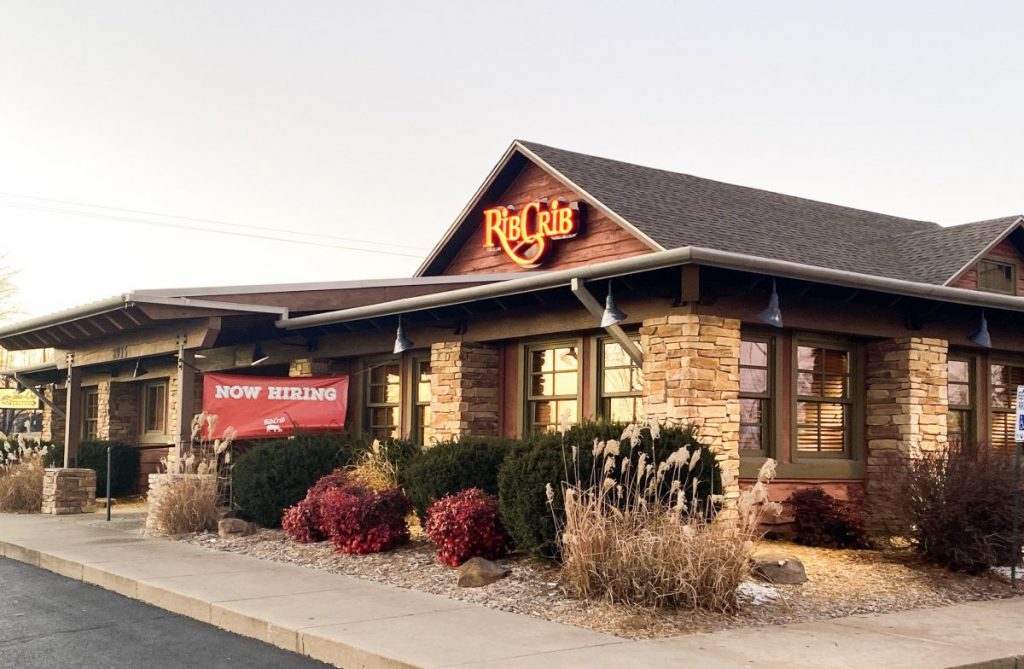 I know it's a chain with sixty locations, but Rib Crib is our go-to place for barbecue in our town.
We love the pulled pork…
…brisket…
…and St. Louis-style dry-rubbed ribs.
The atmosphere is fun, too!
This is the list–so far! We hope to continue adding great barbecue places as we explore this great country. We love trying all the barbecue styles. Here's to good food ahead!