This post may contain affiliate links. Please read our disclosure policy for more information.
Bay Lake Tower at Disney's Contemporary Resort is my favorite resort at Walt Disney World. When we took our first family trip to Walt Disney World, my youngest was two years old. Now, as she approaches eleven, we've had four trips to the World and one to Disneyland. We've learned a few things since that first trip, and now we can say we truly have a favorite Disney resort.
Now keep in mind, several resorts are in the running for second place, and depending on the circumstances surrounding the trip, I may even choose another resort for a trip. Also note, we are split-stayers now. We enjoy a good Epcot area resort to start the trip, and then we like to finish things off with Bay Lake Tower. I'll explain all of my reasons, and maybe you'll want to try Bay Lake Tower and see if it's your favorite Disney resort.
A Little Background
When I was researching for our first Disney trip, and let's be honest, it does take some research to get the most out of your trip, I stumbled upon the idea of renting points to stay at a Disney Vacation Club resort, or DVC. The Disney Vacation Club is Disney's version of a timeshare. When I discovered that some members need to rent out their points from time to time, I was intrigued.
Some people rent points privately, but ever since that first trip, I've used the DVC Rental Store. I'm not an affiliate with them or anything; I've just had excellent experiences with them. I love having a layer of protection by using them as a broker. When I discovered that I could rent points for a two-bedroom villa at Animal Kingdom Lodge Kidani Village for the same price as booking two rooms rack-rate at a moderate level Disney resort, I knew what I wanted to do. Since my parents were coming with us, it worked perfectly. To read about our stay there, click here.
We loved the stay so much, we did it again two years later. We did a split stay with Port Orleans Riverside in a Princess room. For our third stay, we did a split stay with Disney's Beach Club and Bay Lake Tower. Now we're hooked on the Epcot resort and Bay Lake Tower combo.
Studios and villas are the only typed of rooms at Bay Lake Tower at Disney's Contemporary Resort, a Disney Vacation Club resort. Though the resort is DVC, some studios and villas may be reserved with cash rather than points. Renting points is far less expensive.
So, back to the reasons…
1. The Layout of the Studio Villa is Awesome
Since the first two trips, we've traveled as a party of three. Because of our party size, we easily fit into studios. The Bay Lake Tower studio has the best layout I've seen.
The bed and sofa area isn't too unusual, but the contemporary decor is fun. As usual, Kristin jumped on the end of the bed before the picture was taken.
Here is a closer look at the sofa that makes a bed.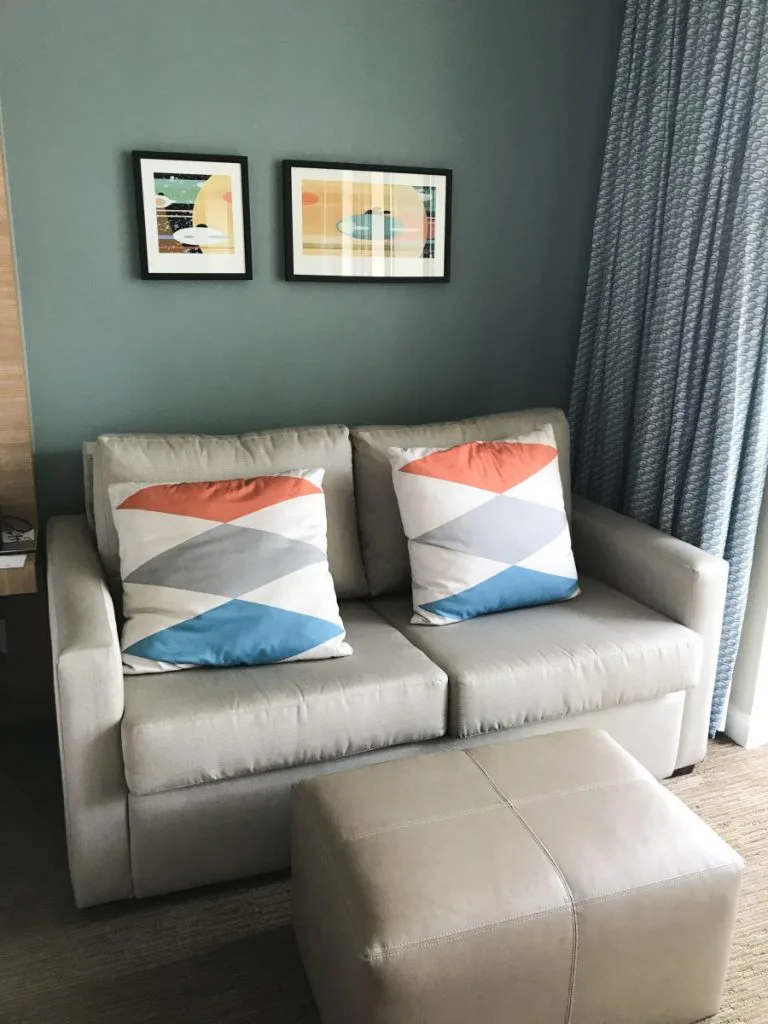 Your studio will have a table and two chairs.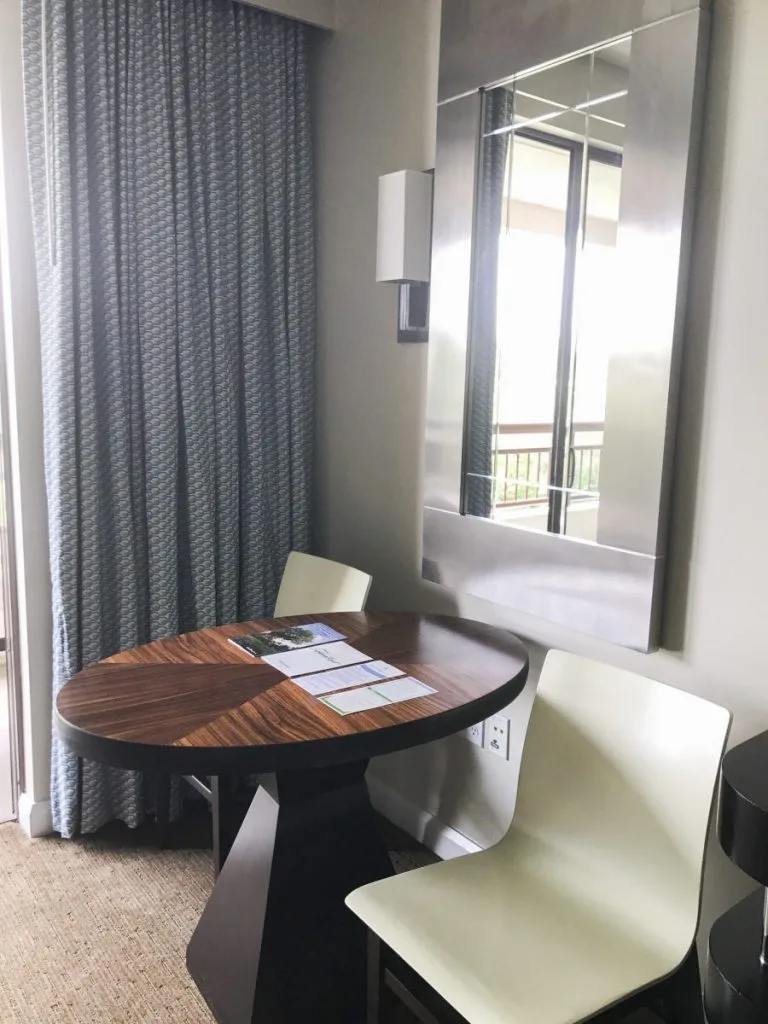 Here is the bathroom.
My favorite part of the studio at Bay Lake Tower is the layout of the kitchenette. It's off in a side passage.
The opposite side of the kitchenette has another mirror. We often used this to get ready while someone else was in the bathroom.
It has a pull-out pantry that is nice for stashing your food items out-of-sight. Don't judge our travel food!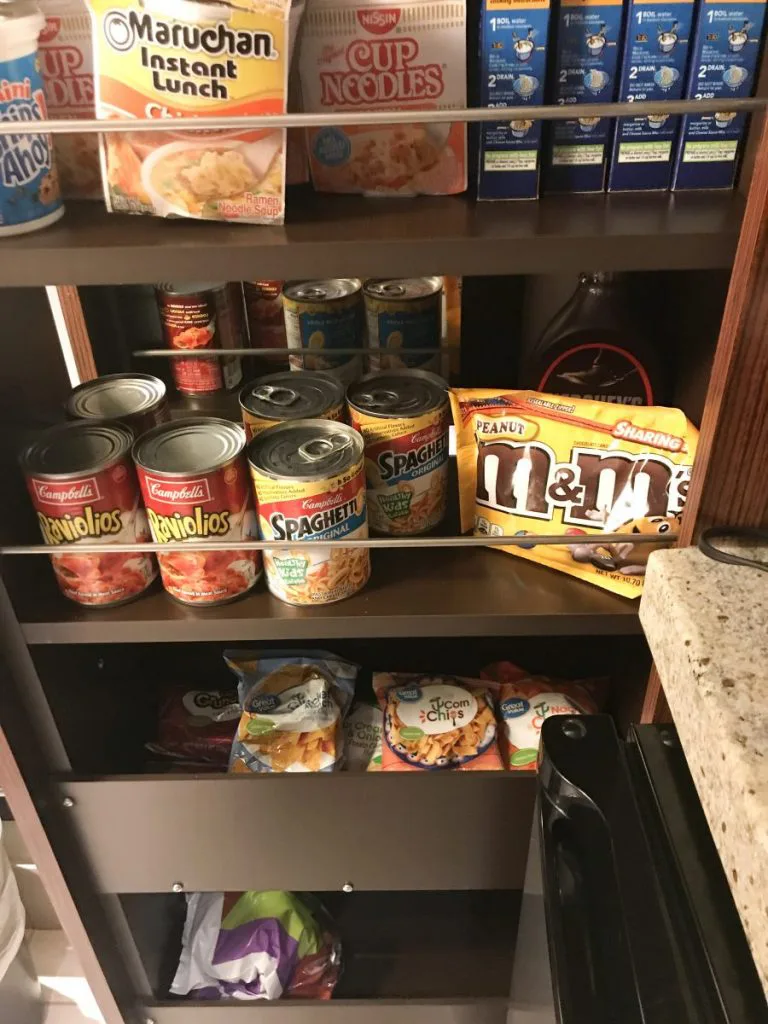 You may notice that we have regular boxes of mac and cheese. The room does not have a stovetop, only a microwave. We do bring our own travel burner and a pan. You're probably not supposed to, though. Sometimes we just eat some cheap stuff in the room during our afternoon breaks. We save our money for the really special meals, like character dining and other unique experiences.
If you get a one-bedroom villa or larger, you'll have a full-size kitchen. When we stayed at Kidani, we made frozen pizzas in the oven one night.
The rooms at Bay Lake Tower are categorized by view, with theme park view being the most expensive. We have never stayed above the lowest level–standard view.
Both times, standard view has gotten us a view of the lake and a view of Magic Kingdom, just not on a very high floor. The highest floor for a standard view, according to the front desk, was the third floor. A look to the right on the balcony got us a glimpse of the lake. A look to the left got us a view of Magic Kingdom and Bay Lake Tower's parking lot.
Most of the time, we're in a park when fireworks and night shows are happening. One night, while we were at Animal Kingdom, it poured on us. Like monsoon rain. So, we went back to the room. It wasn't long before we could see Wishes (at the time) from our balcony. If you turn on your TV to the proper channel, you can hear the music that goes with the show.
2. You Can Walk to Magic Kingdom
This is one of my favorite perks. If you stay at Disney's Contemporary Resort or Bay Lake Tower, you don't have to cross water or use any transportation to the park if you don't want to. You can walk a couple of blocks to Magic Kingdom. This is what we usually do in the morning when we're heading to rope drop. We also do this in the evening when transportation looks swamped.
You can use the monorail at the Contemporary, too. Don't forget; it goes inside the resort. How cool is that?
We usually use the monorail when we come back to the room for an afternoon break. Since we mostly travel in the summer, we always take the afternoon break.
Just use the fifth-floor sky bridge to go between Bay Lake Tower and the Contemporary.
Of course, this leads me to my next reason…
3. You Can Use the Amenities at Disney's Contemporary Resort
You should definitely spend some time checking out Disney's Contemporary Resort itself. There are a couple of great shops, Fantasia and Bayview Gifts. Plus, Fantasia Market has food items and stocks those things you may have forgotten to bring with you.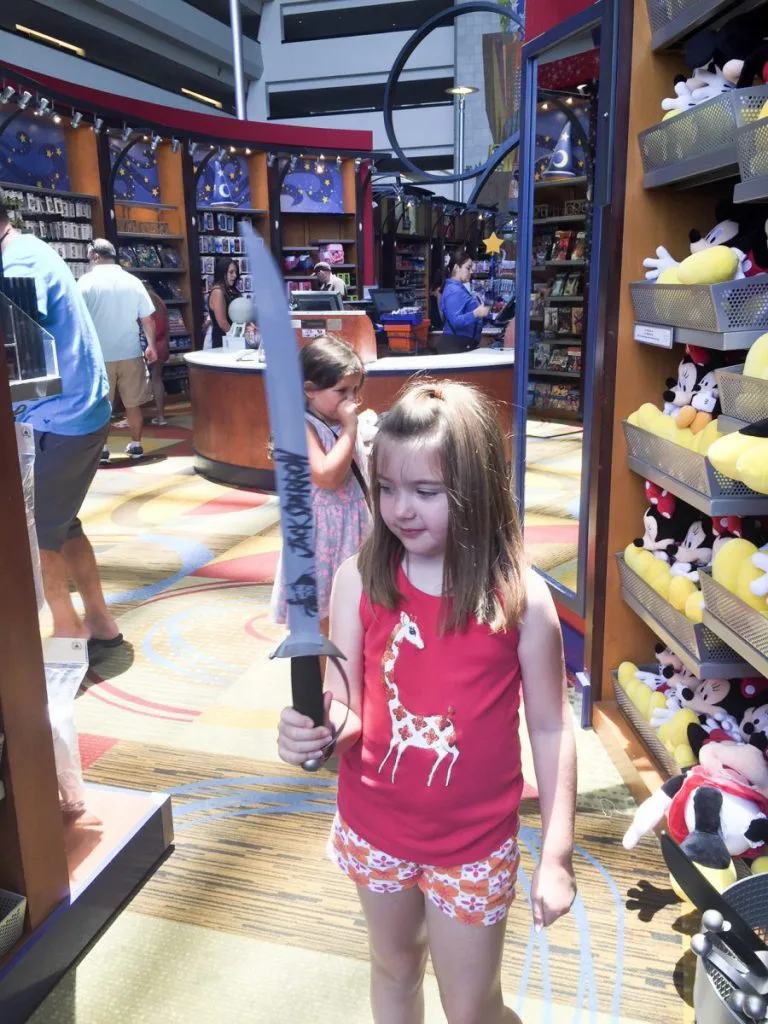 The Contemporary has some great restaurants, too. Bay Lake Tower only has a lounge on the top floor, so you may want to consider eating at the Contemporary.
If you're looking for character dining with Mickey and friends, be sure to make an Advance Dining Reservation, or ADR, for Chef Mickey's. This popular restaurant is Kristin's favorite. You'll meet the characters, and occasionally the monorail zips through the building. Of course, you don't have to stay at the resort to experience the dining or the monorail. Click here to read about Chef Mickey's.
Here's a view from above of Chef Mickey's.
If you're looking for something more upscale with a fabulous view, make an ADR for the rooftop restaurant, California Grill. Fun tip: make your ADR for when the fireworks will be exploding over the castle. We haven't done this restaurant yet. Maybe when Kristin is older we will give it a go. Here is a picture of it from the outside.
There is a counter-service restaurant–Contempo Cafe. I like to take to-go items back to my room. You should also know that this restaurant has my favorite cupcakes at the World.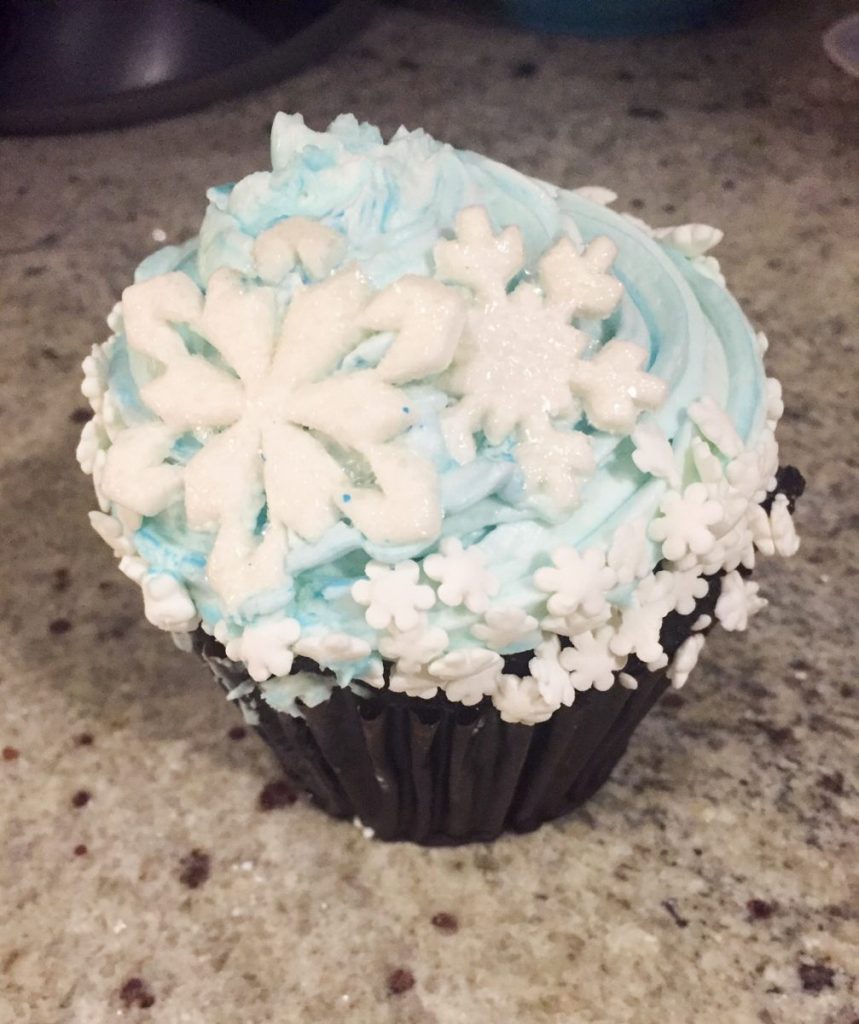 I like to snag a few here and there on my afternoon break to save for a midnight snack or–I'm ashamed to say–breakfast.
Sometimes the walk over causes them to not be as beautiful when I take them out of the box, but they are still yummy!
You can also dine at The Wave, but we haven't tried that one yet. With so many great Disney restaurants on property, it's hard to experience them all!
Be sure to walk around the Contemporary.
One thing to note–you can take a boat from the Contemporary to The Wilderness Lodge, Fort Wilderness Campground, or Magic Kingdom.
One evening, we took an elevator to a higher floor to watch the fireworks at the Magic Kingdom. We got the fun view from above shots.
And great fireworks pictures! If you stand outside on the same level as the shops and Chef Mickey's, you can hear the music that goes with them.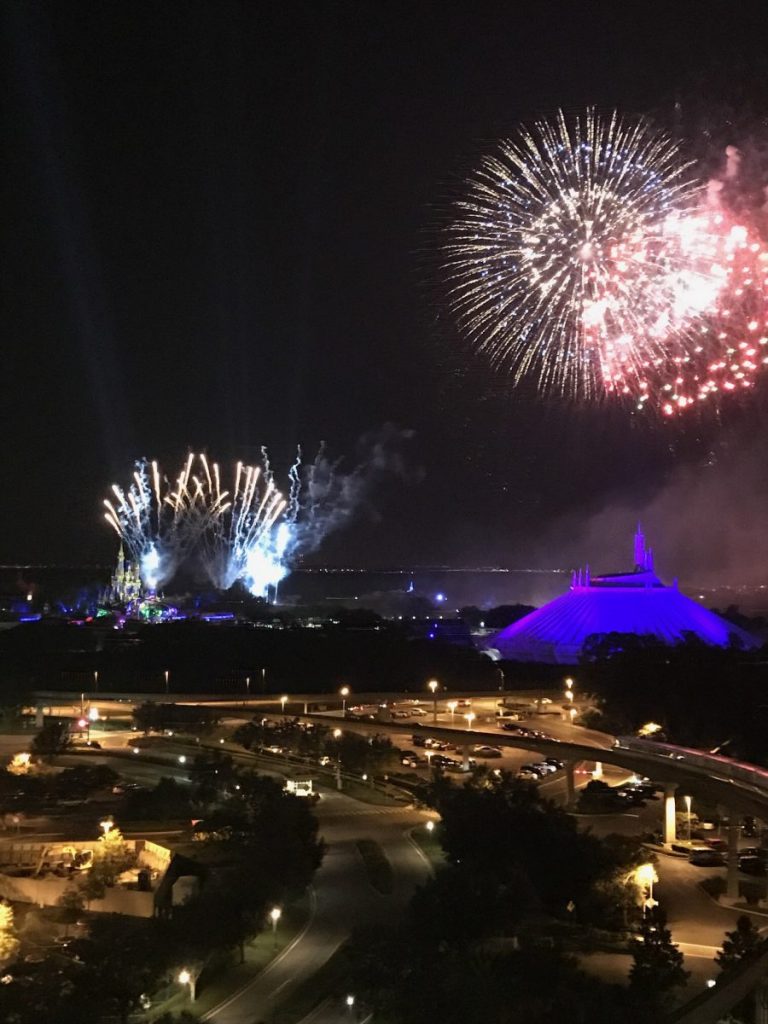 Of course, Disney resorts have great pools and outside recreation. The Contemporary has two pools. Here is the main one.
There are usually pool games in the afternoon.  Kristin always loves running through the splash pads.
The Contemporary also rents out Sea Raycers and pontoon boats.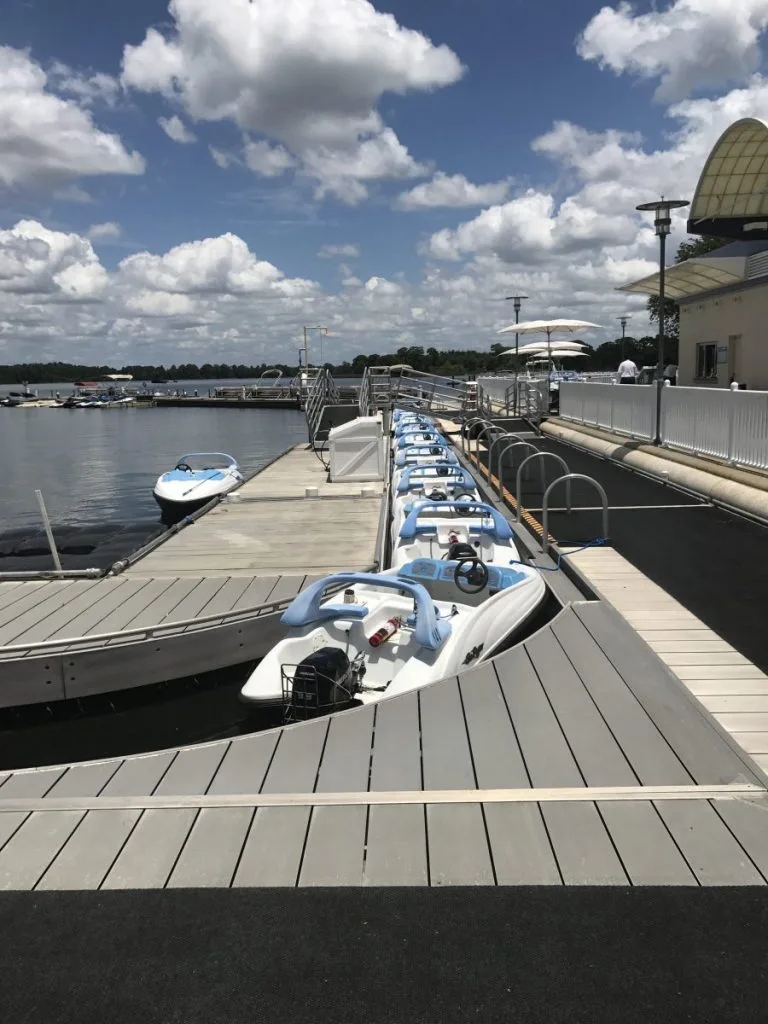 You can even go Parasailing!
The Contemporary has a beach area; just remember, you can't go swimming in lakes at Walt Disney World!
Of course, Bay Lake Tower has its own pool…
4. The Pool at Bay Lake Tower is Relaxing and Fun
Honestly, most of our pool time is spent at Bay Cove Pool, the pool at Bay Lake Tower. At some Disney resorts, the pools are popular and hopping. Beach Club and Polynesian Village, I'm looking at you. But the pool area at Bay Lake Tower is pretty chill, even when pool games are going down.
When Kristin was smaller, I loved that the Disney deluxe resorts were zero-depth entry. Bay Lake Tower is no exception.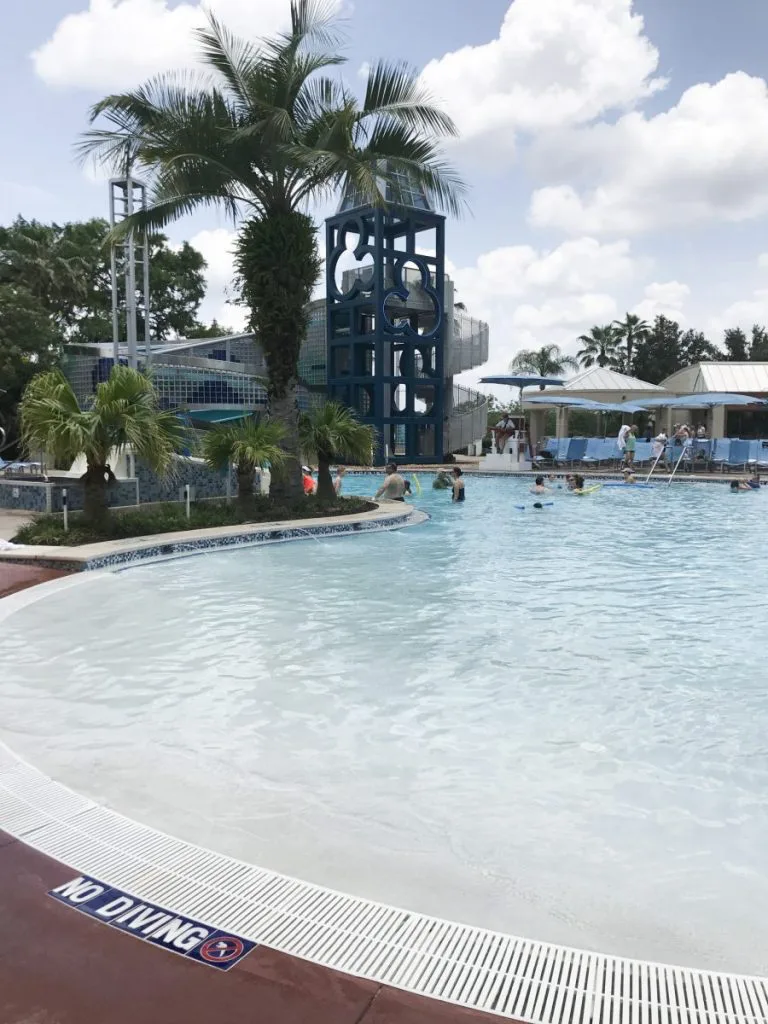 Like all Disney pools, life jackets are made available.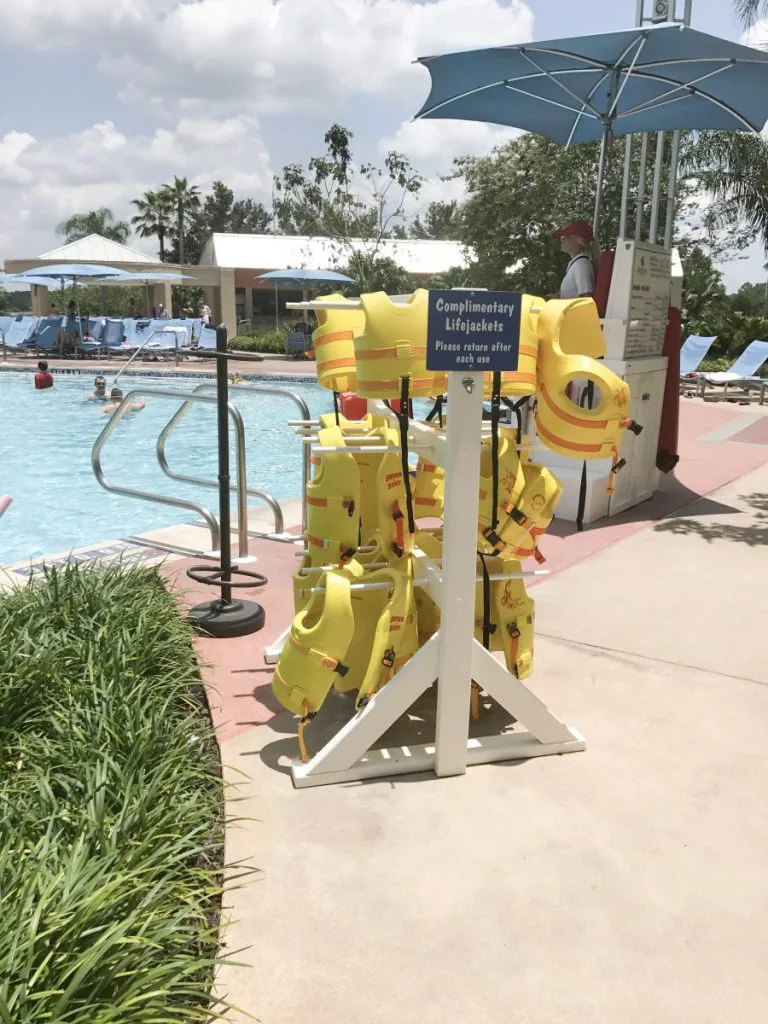 The pool has a larger water slide and a water slide for younger kids.
Kristin is not a fan of larger slides.
Bay Lake Cove also has a splash pad. I love that this pool area has a relaxing view of Bay Lake.
We never have a problem finding chairs to sit in at Bay Lake Cove. It's a great place to relax. Also, the pool area does have the Cove Bar if you're needing some drinks.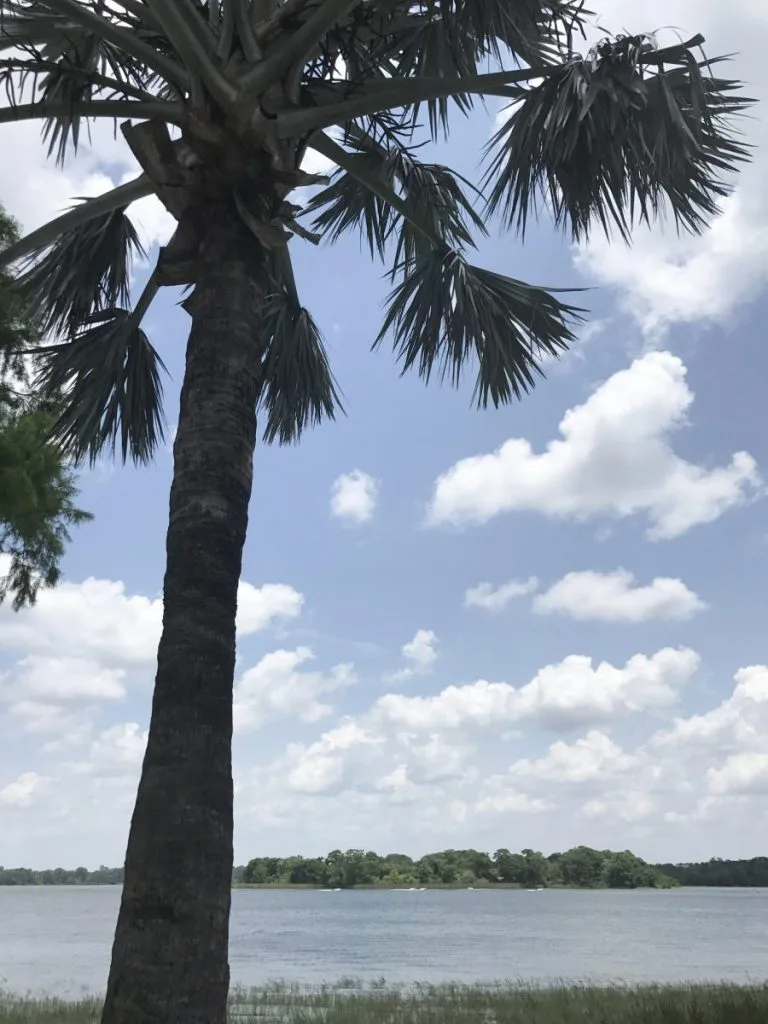 5. Evenings Are Beautiful at The Contemporary and Bay Lake Tower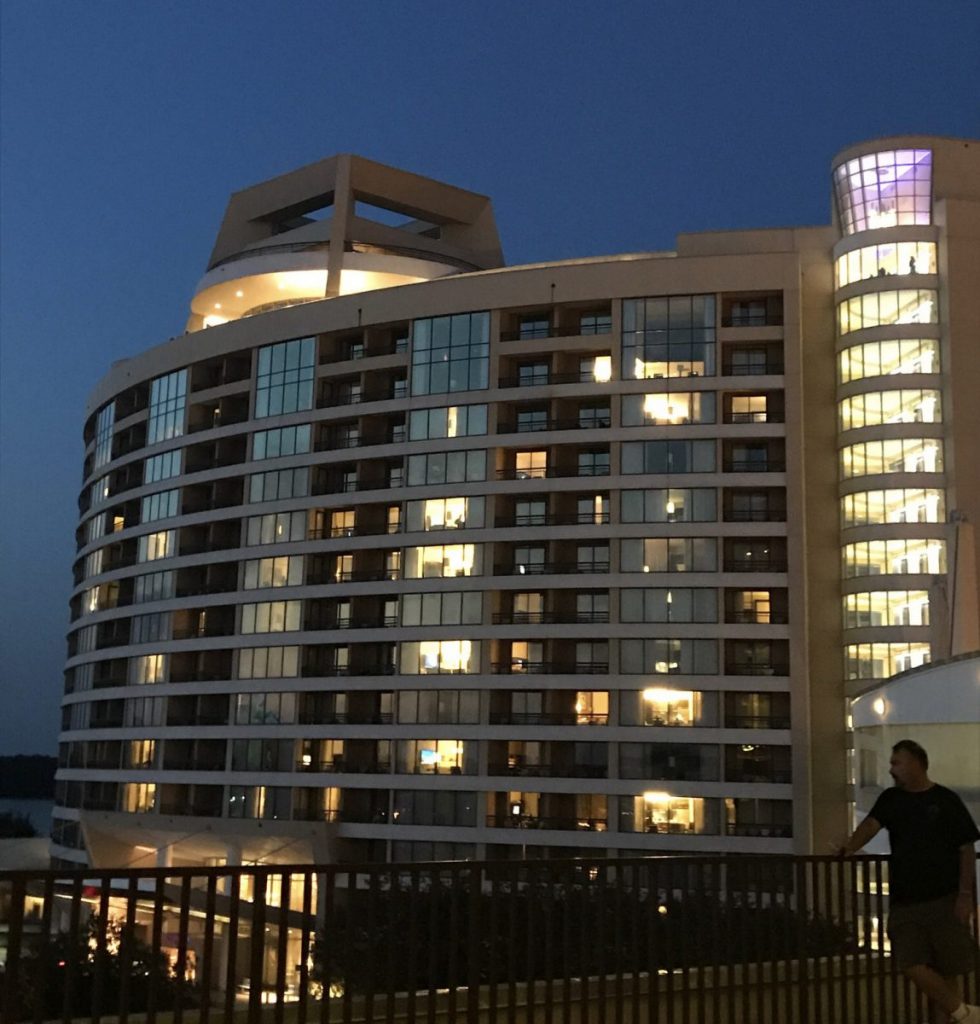 All of the lights from the resorts and Magic Kingdom make this area feel special.
The magic is always all around you.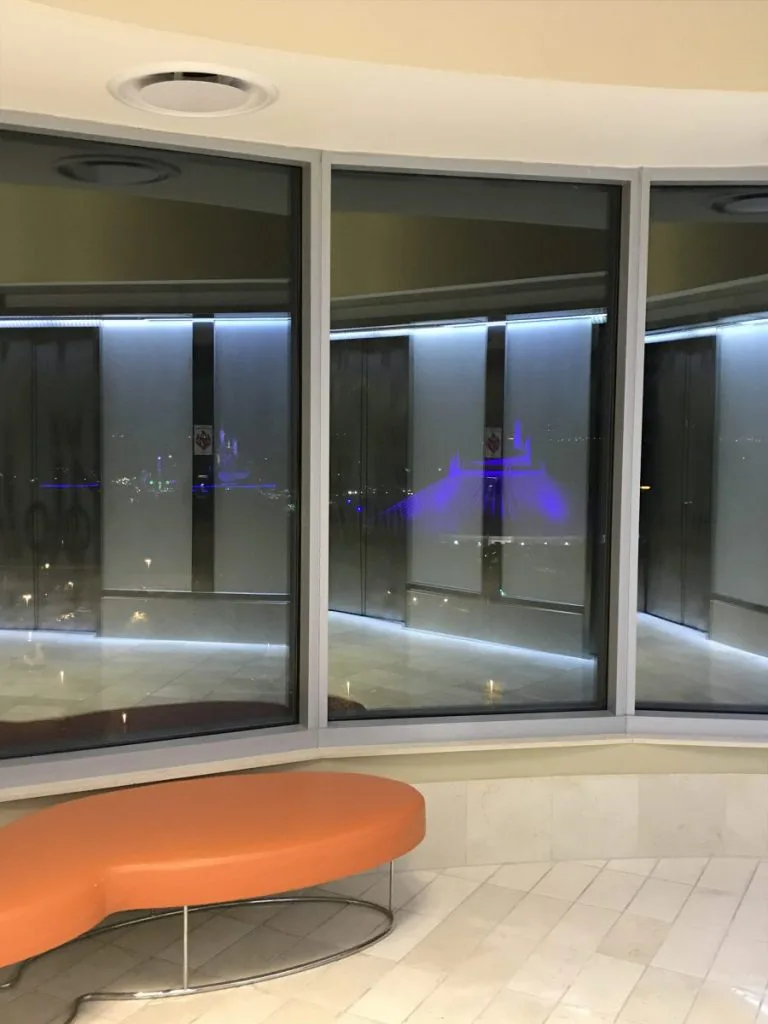 One evening after viewing fireworks in the park, we went up to the Top of the World Lounge at the top of Bay Lake Tower. This lounge is open to DVC members and guests staying on a member's reservation.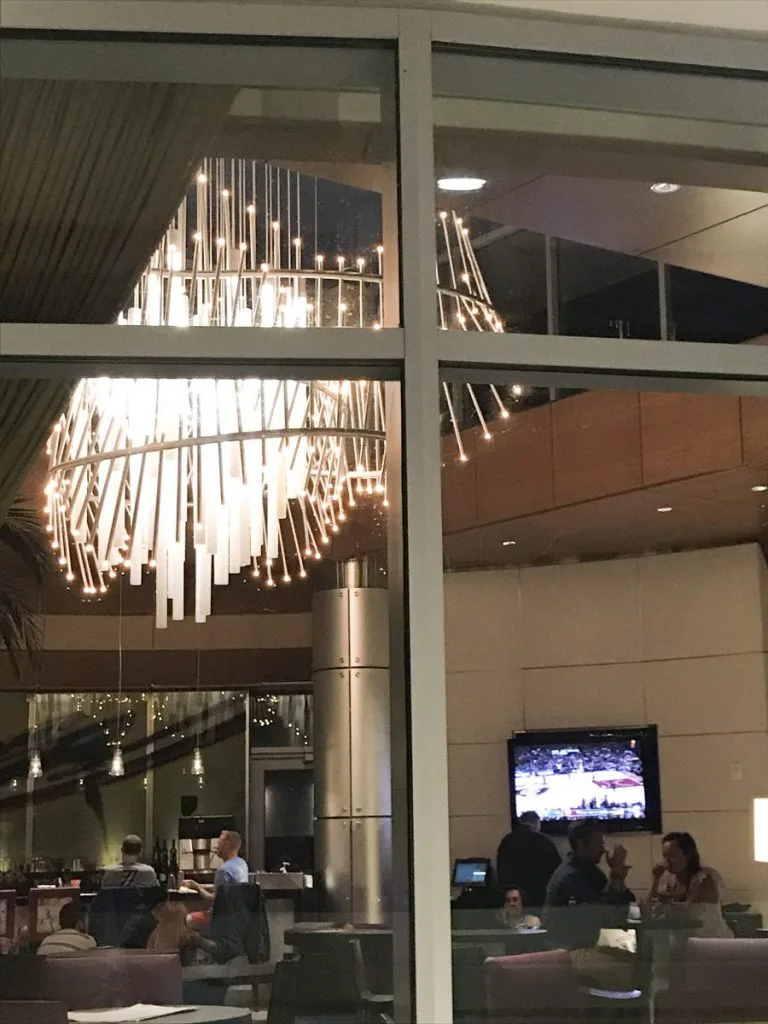 Kids are welcome in the lounge.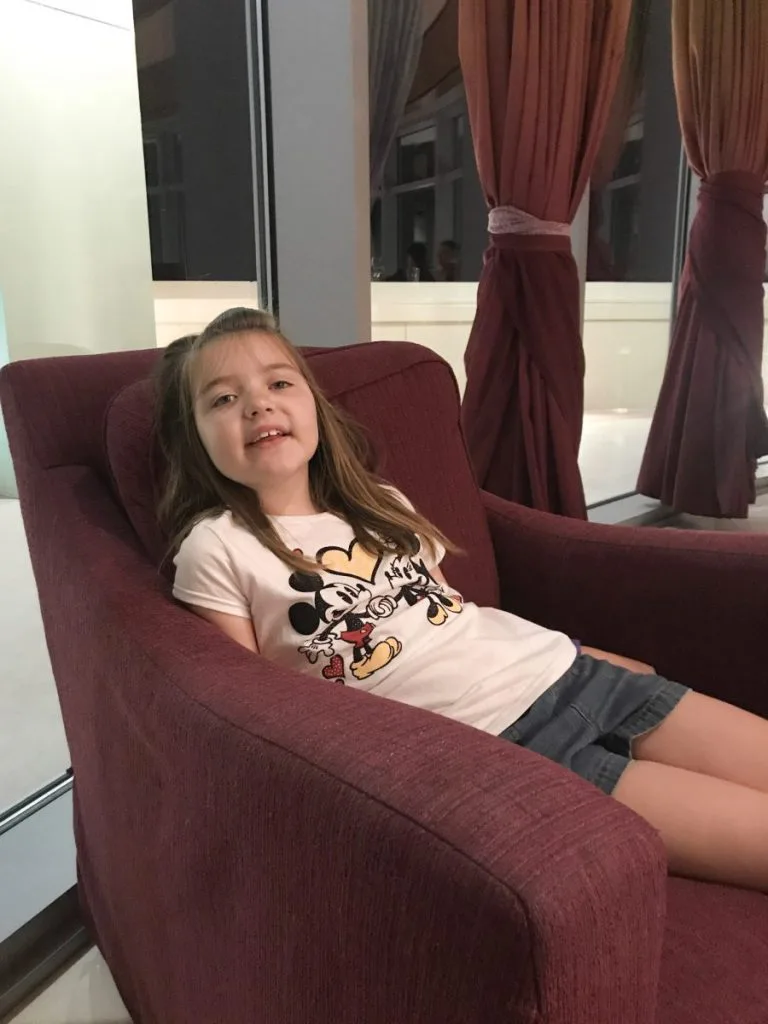 We checked out the views, and I had an apple pie martini. It was my first martini ever, and I must say, it was rather strong. Good memories!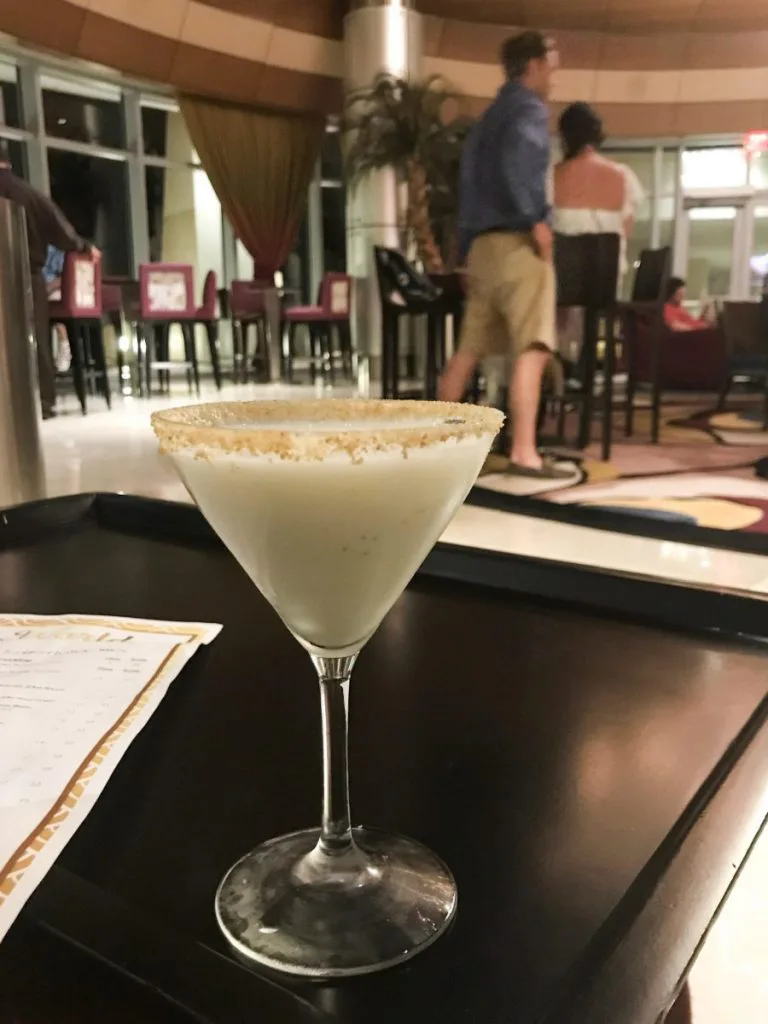 Bay Lake Tower is an excellent choice for your stay at Disney. As I mentioned above, we love to spend the last few days of our trip at this resort. You can't beat walking into parks. I have loved all of the Disney resorts we've tried, but Bay Lake Tower ranks above the others for me!