This post may contain affiliate links. Please read our disclosure policy for more information.
I've had a pretty busy spring. I recently wrapped up directing my high school's production of the musical Beauty and the Beast at the end of March. While it was an amazing experience for the kids and me, it was life-consuming. Jeff builds the set and runs sound, and this year, Kristin made her acting debut as a wolf.  It wasn't easy trying to maintain a normal family life. Add my teaching and coaching responsibilities, and I was barely surviving. Things like blogging and other writing had to go to the backburner for a while. I've slowly been digging out of the enormous hole of neglected stuff and getting some rest. Throughout the production, though, my thoughts often turned to our visit last summer to Walt Disney World's Be Our Guest Restaurant at the Magic Kingdom. Belle and Beast's story seems to be interwoven in our lives.
Be Our Guest–The Restaurant
The exterior and the interior of this place is just amazing.  The outside looks like Beast's castle is sitting atop a distant mountain in France. 
After crossing a short bridge, diners enter the restaurant through a door in the side of the mountain. 
Once inside, you feel like you've stepped into the animated movie.
Here is another look at the ceiling.  Gorgeous!
This wasn't our first visit; we'd done the quick-service lunch there a few years before.  Though the decor obviously doesn't change, the atmosphere does a little. Things are a little more formal.  You are seated just like any other table-service meal in Disney.  While you wait, you may overhear the knights whispering to each other.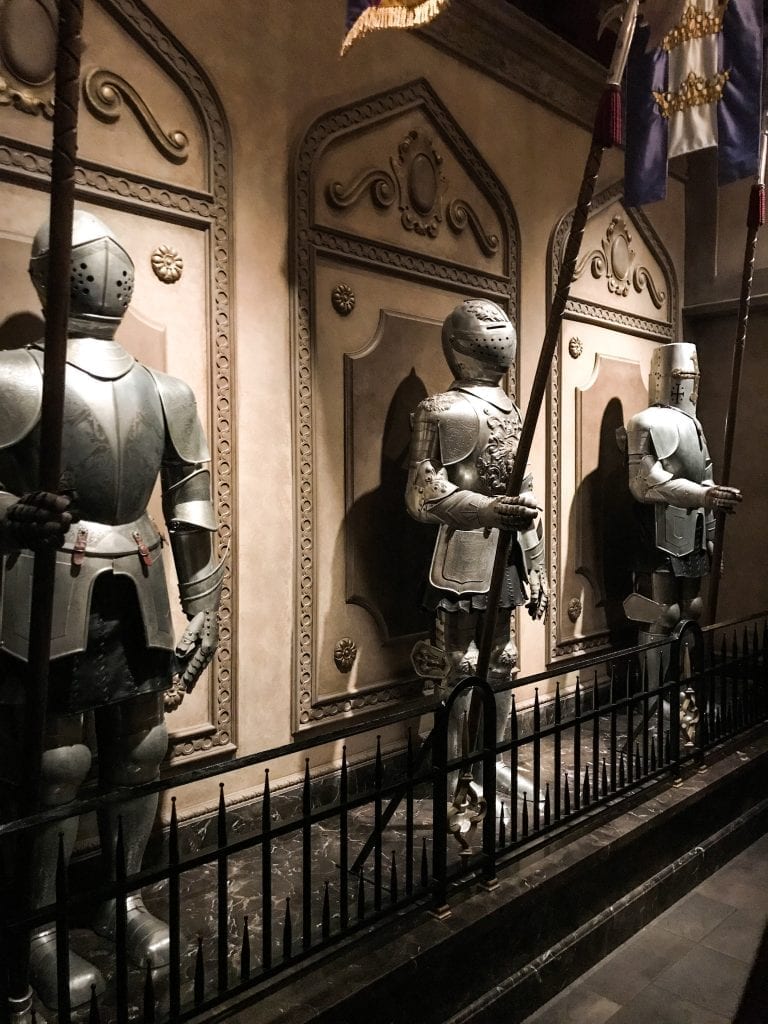 Soon, you'll be seated.  The table is already set, and everything just feels special.
We were seated in the main ballroom.  There are so many great details, like the snow falling outside the windows.  And occasionally, the Beast makes a grand entrance on his way to meet guests.  I was pretty excited about that part, but I had to wait until after dinner.
Be sure to make time to explore a little.  There are two other dining areas for dinner–the Rose Gallery and the West Wing.  The Rose Gallery is the least exciting room.  Honestly, I'd be a little disappointed to be seated in there.
The West Wing has some great touches, though it may be a little intense for younger kids.
Here are some close-ups.
The rose effect is especially cool.
You may even bump into an old friend!
Be Our Guest–The Food
Be Our Guest Restaurant currently offers a prix fixe menu, but we ate there about a month before the change.  To view the current menu, click here.  Since we ordered off the menu, we didn't choose an appetizer.  We did enjoy the bread service!
And Jeff, who enjoys sampling beer from around the world, tried a French brew.
We all went with the steak and Pommes Frites.
It was pretty yummy–not the best steak I've had at Disney, but it was up there.
Finally, it was time to try the Grey Stuff.  We'd had it at lunchtime as a cupcake, and that was delightful, but now we would get to try it as a little tart-like dessert.  Of course, you can choose other desserts, but…why?
In case you were wondering–yes, it's delicious!
Be Our Guest–Meeting the Beast
All too soon, dinner was over.  But wait!  Now we could meet the Beast!  This really is the only regular location to meet the Beast at Walt Disney World, so I was excited!
We had a great time!  One of the things I love about Walt Disney World is the ability to immerse yourself in so many different types of experiences.  We love trying new restaurants at the World, and we've rarely been disappointed.  Yes, the price is also "Disney-style," but I love the experiences and the memories we make.  Disney dining is part of a Disney trip for us, and Be Our Guest Restaurant is certainly a great place to enjoy together.
Read about some of our other Disney dining adventures!
Bon Voyage Adventure Breakfast