This post may contain affiliate links. Please read our disclosure policy for more information.
When we started planning a trip to Disneyland, I knew we had to give the Blue Bayou Restaurant at Disneyland a try. Since we live in Missouri, we didn't know when we would ever return to the area, so we made sure to include special experiences. When I learned that the boats from the Pirates of the Caribbean ride float right by in the restaurant, it was a no-brainer for me. The next thing I checked out was the menu. I knew it would be a challenge for my picky eaters, but for a once in a lifetime visit, we decided to give it a shot.
We spent four days in Disney parks on this trip. Since we are Walt Disney World vets, I made an Advance Dining Reservation, or ADR, for our lunch here. At Disneyland, you can make an ADR at 60 days out from your visit. You can read more about making ADRs at Disneyland by clicking here. We're used to crowds and the WDW methods of planning, so I wanted to be sure to have reservations for what we wanted. I'm not sure if we needed the ADR or not, but I'm glad we had it.
Our First Disneyland Day
Our first day in Disneyland was June 4. The weather is much cooler, but I didn't think it would be this much cooler than home or WDW. I certainly didn't think we'd be wearing our sweatshirts into the park in June, but we did. Also, apparently due to Star Wars: Galaxy's Edge opening, the crowds were lower than usual. Score! We spent the morning riding rides until our lunch ADR approached.
We'd been checking out Critter Country, so we made our way towards New Orleans Square. Here is the Haunted Mansion.
As we got closer, we saw this pirate band.
I'd made the ADR for opening since I wanted to sit by the water, if at all possible. Again, I may not have needed the ADR on this day, but I wanted to do everything I could to have the best experience.
We did consider doing the Fantasmic! dining package with Blue Bayou, but in the end, we did the package with Liberty Belle Terrace. I wasn't sure if my travel companions would like the food, so it made sense to do lunch time. Also, the Monte Cristo sandwich is only offered at lunch at the Blue Bayou, so I thought I'd knock out a couple of things I wanted to try at once.
Blue Bayou Restaurant–The Ambiance
I checked us in a few minutes before opening. Moments later, we were seated!
It's nighttime on the bayou, so it's pretty dark inside. By the way, we may have been the first party seated of the day.
We were seated right by the railing as I'd hoped. It was fun to see the boats go by. The scenery is pretty cool, too.
It definitely feels like nighttime on the river.
Since it's Disney, the theming is top-notch.
Blue Bayou–The Food
Our server was there immediately, and he gave us our menus.
We started with drinks. We went with some house specials.
Jeff went with the Louisiana Lemonade.
I had a Mint Julip. How could I not? I didn't get the glow cube, though.
Poor Kristin was cold, so she had a hot cocoa.
The menu really wasn't picky-eater friendly, but I knew this going in. Below are the appetizers for lunch.
And here is the lunch menu.
In the end, we decided to get two Monte Cristo sandwiches. For one of them, we ordered without the powdered sugar and without the cheese. The server was kind in helping us get a sandwich that Jeff and Kristin might like.
After we placed our orders, the sea salt and rosemary bread service arrived. It was yummy!
Soon, our sandwiches arrived.
I wanted to like this, I really did, but it was just so rich. The sandwiches are deep fried and then sprinkled with powdered sugar. We all had a few bites of the sandwiches prepared the different ways, but all of us thought it was just "too much."  Too rich, too sweet. I'm glad we tried it to see if we liked it, but it just wasn't for us. If I were to go back, I think I'd try the ribeye.
Blue Bayou–The Experience
All in all, it was a memorable experience and I'm glad we gave it a try. I'd never had a Mint Julip at Disney or anywhere else, so that was also fun. And watching the people go by on the boats for Pirates of the Caribbean was pretty cool. I don't think my family would return, but if I were with a group who wanted to go, I would go back. I would just try a different item from the menu.
By the time we left, the restaurant was full. Maybe we needed the ADR after all.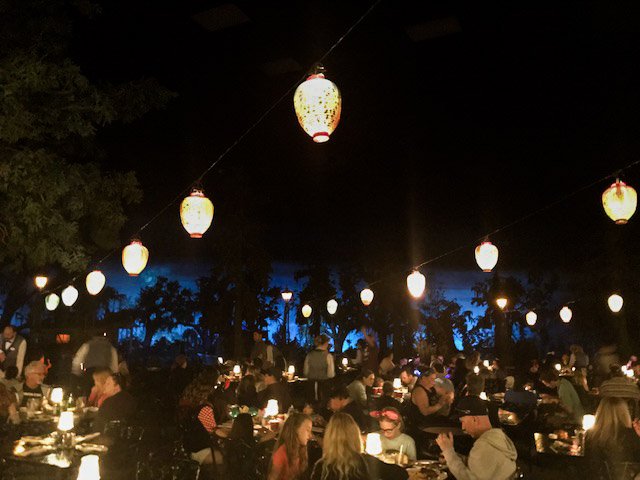 We didn't have dessert at the Blue Bayou. We know Disney has goodies everywhere, so we decided to try some other treats in the park later. Our experience did make us want to ride Pirates of the Caribbean immediately, so we got right in line after this. Disneyland's version of the ride is definitely much better! I'd say give Blue Bayou at Disneyland a try. I think the experience is worth it at least once.
Click below to read about our other Disneyland adventures!
World of Color Dessert Party at California Adventure