This post may contain affiliate links. Please read our disclosure policy for more information.
One of the most "otherworldly" places in the United States is the Bonneville Salt Flats in Utah. We'd always wanted to see this area, and one summer, as we wrapped a road trip from Missouri to California, we had our chance. We'd just been to the Redwoods, and it was time to point the car east and head home, but not before we did some exploring along the way.
We stayed in Wendover, Utah, the night before, right next to the casino city of West Wendover, Nevada. And when I say "right next," I mean it. The state line cuts right through town. Casinos are legal on the Nevada side, but not the Utah side. We even saw a casino whose building was in Nevada, but the parking lot was in Utah. I mention this because there were several cars in our motel parking lot with the white salt of the salt flats on their cars' tires. The Wendover area is a good place to stay before heading to the salt flats.
Finding the Bonneville Salt Flats
Of course, you can also use Salt Lake City as a base for your visit to the Bonneville Salt Flats. We actually passed through the city in the early afternoon of our salt flat morning. We saw some of the sights, and we took in the free daily organ recital at the Tabernacle in Temple Square. It's totally worth the stop!
We started our day by checking out of our motel in Wendover and making our way to the flats. The drive along I-80 to Bonneville Salt Flats took us about an hour and 15 minutes.
What to Expect at Bonneville Salt Flats

Soon, we found the turn-off to Bonneville Salt Flats. There's not a whole lot there at the entrance; there's a convenience store where we ended up buying our Bonneville Salt Flats magnet, but that's it. You will follow a paved road for a bit, and then, if you want to drive your car out on the salt flats, you'll have access to the vastness of the area.
When we arrived, no one else was around. Were we going to drive on the salt flats. Absolutely. Were were going to drive fast? Well..it was fast for us, anyway.
Here is a video of us driving on the Bonneville Salt Flats. I think we saw one other car. That is, we saw one other car until we noticed something in the distance. If you watch the video, you'll know what we saw. But before we get into that, let's talk about exploring the salt flats.
Exploring the Salt Flats
Of course, at one point, we pulled over to get out and walk around. It felt like we were on another planet. Below is a close-up of the salt flat's surface. It's a little like walking on snow–crunchy. But it doesn't have the depth of walking in several inches of snow. You're not going to sink.
And yes, it will, at the very least, be all over your tires.
It could be worse, too. At our motel in Wendover, we saw several cars with huge chunks of salt falling off their vehicles.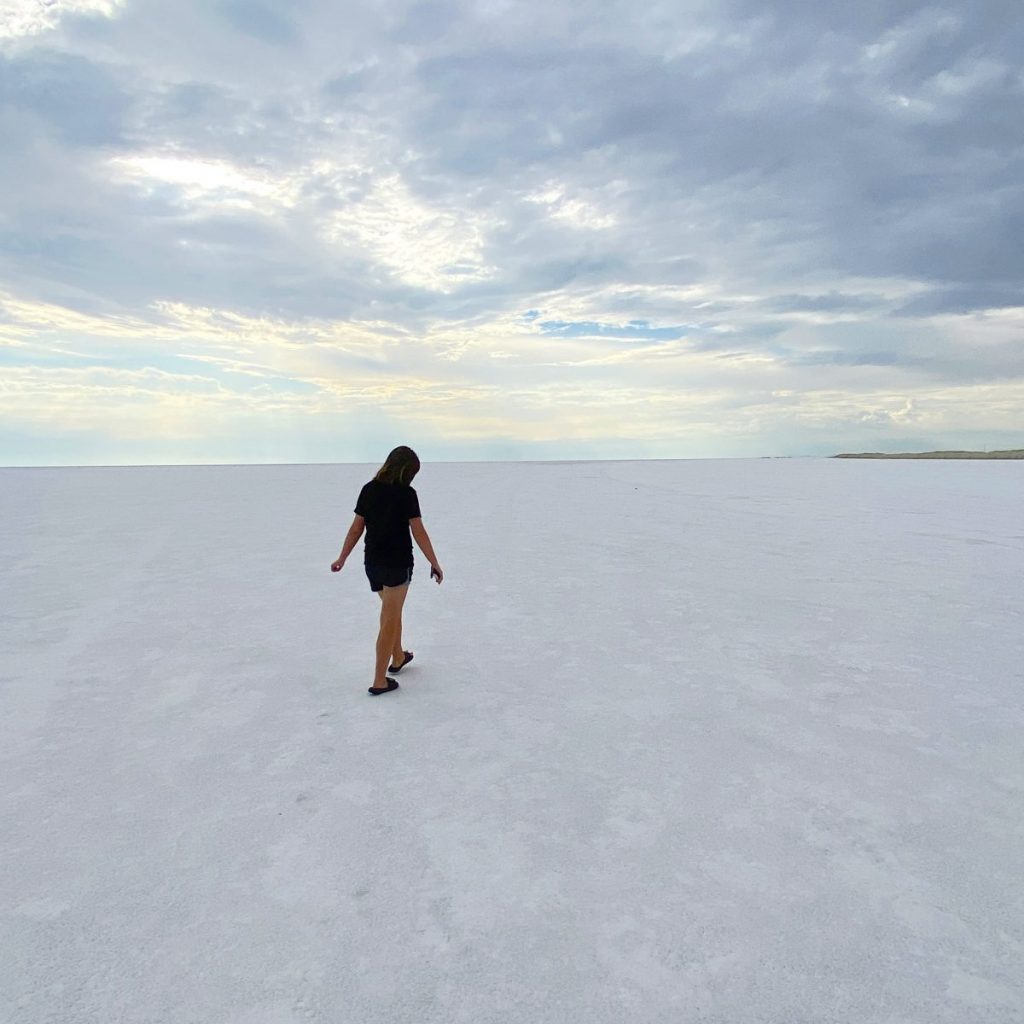 Surprise at Bonneville Salt Flats
As we drove along, we could see something odd in the distance. What could it be? We could tell something was set up, but we couldn't figure out what or why.
Eventually, we could see that canopies were set up. Some kind of event was happening. A race, perhaps?
Not quite.
It was a rocket competition.
I mean, I guess it's the perfect place. No trees. No powerlines. It was just…unexpected. After seeing only one other car, it was weird to see a crowd a few miles into a salt flat.
We watched for a while. When you stumble upon a rocket contest, you can't help it.
If you want to see some of the action, head back up to the video and watch past the driving section. People had all sizes of rockets. It was fascinating to see.
The Great Salt Lake
After we had our fill of rockets, we turned around and left the salt flats. When we got back to the interstate, we made our way to The Great Salt Lake. We didn't plan to swim or anything, but we wanted to see it.
We decided to head to Great Salt Lake State Park to view the lake. There is also a visitor center there, so it seemed like a logical stop. You'll have to pay a day-use fee, even if you're only there for a few minutes, so you'll want to be aware of that. I think when we were there, it was $5.
As you can see, some people were getting in it. It was a hard pass for me, even if we'd thought we made go swimming. I'm sure it's cool to float in it, but the lake, while beautiful to look at, didn't look like anything I wanted to get in. Plus, there were brine flies everywhere. I was happy to view it from a distance. There are some observation points you can access by climbing stairs.
Stopping by Bonneville Salt Flats and The Great Salt Lake made for an adventuresome morning. From here, we drove on to Salt Lake City to explore. By afternoon, we'd left the area, ever inching our way towards home.
If you're in the area, or planning a trip to Salt Lake City, you should definitely make time to visit these wonders of nature. I'd say it's at least a "once-in-a-lifetime" thing.
Other adventures in Utah: