This post may contain affiliate links. Please read our disclosure policy for more information.
A couple of years ago, my family visited Boone Hall Plantation and Gardens in Charleston, South Carolina, on our drive home from Disney in Florida. Since we make the drive from Missouri, I like to find some places on the way and on the way home to explore. On this trip, we spent one night in Charleston.
Since I've been reading more, I'm finding that I'm making more connections in my life. I recently started reading The Underground Railroad: A Novel by Colson Whitehead. I haven't finished it yet, but so far, I am liking it. If you're wondering which book I'm referring to, here is an affiliate link.
As I read, the book made reference to Sullivan's Island near Charleston. While we were there, we ate at Poe's Tavern at Sullivan's Island, before taking a walk on the beach. I could completely visualize the area. Click here to read more about Poe's Tavern.
Before I proceed, I want to make it clear that I am not trying to romanticize slavery and make it seem like something it wasn't. Slavery is horrible in every way. Boone Hall Plantation and Gardens does a good job teaching visitors about the enslaved people who lived there what life was really like for them.
It's important for me to learn, and I also think it's important for my daughter. On this same trip, we'd visited the National Civil Rights Museum in Memphis. We continue to take her places where she can experience history in an engaging way. Click here to read more about our experience there.
It's also worth noting that several movies have filmed some scenes here. Maybe the most famous is The Notebook.
But several others have filmed here including Scarlett, North and South, and Alex Haley's Queen. Days of our Lives has also filmed at Boone Hall Plantation.
Avenue of the Oaks
When people think of plantations in the South, they often think of roads with canopies of oaks dripping with Spanish moss. Boone Hall Plantation does not disappoint. When you enter the property, this is one of the first things you'll see. You are able to pull off the road to get pictures. We arrived in the early afternoon on a weekday in June, and it wasn't very busy at all.
After you drive down the lane, you'll be able to spot the parking lot. Then you'll want to figure out what you'd like to do while you're there.
After you park your car, one of the first things you'll see is the Cotton Gin house,  but was awaiting renovation while we were there.
One mistake we made was to not go straight to the commissary for information right away. You need to schedule your tour time for the mansion tour. We thought after you had a ticket, you just waited your turn at the house. We had to wait through a couple of tours for our scheduled time, but that was okay, because there is so much to see.
Black History in America Exhibit
You can do a guided tour of this area, or you can do the self-guided tour. Since Kristin was with us, we opted for the self-guided.
This area is well-done. Different aspects of life for enslaved people are depicted in each cabin. It's also interesting to note that the cabins are built with bricks. Brick was one of the industries of Boone Hall.
We learned about the faith of the enslaved people.
We also learned about crafts, including sweetgrass weaving.
One of my favorite parts of our entire visit at Boone Hall was learning more about Gullah culture.
We'd heard a Geechee storyteller a couple of years before in Savannah, Georgia. We were excited to hear the Gullah presentation.
We liked it so much, we saw it twice!
The Gardens
The flowers around the mansion are really beautiful. In the background in the above picture, you can see the smokehouse.
We weren't able to do the wagon tour of the grounds, but we could see the flowers near the house.
Touring the Mansion
As our tour time approached, we made our way towards the mansion. The mansion wasn't built until 1936, so this is well after the Civil War. Before the Civil War, the property changed hands a few times. The Horlbeck family used the land for brickmaking, and several buildings in Charleston were built from their bricks.  It's presumed that the bricks for the slave quarters are from the property. It's not a common thing for these quarters to be built from bricks.
The Horbecks also planted pecan trees, and the plantation later became a leading producer of pecans in the United States. Periodically, indigo and cotton were grown on the plantation. The McRae family currently owns the property.
Today, Boone Hall Plantation is also known for its Low Country Strawberry Festival and the Low Country Oyster Festival.
Here is Jeff in front of an old oak tree in front of the gate.
When it's time for your tour, you can wait on benches near the mansion.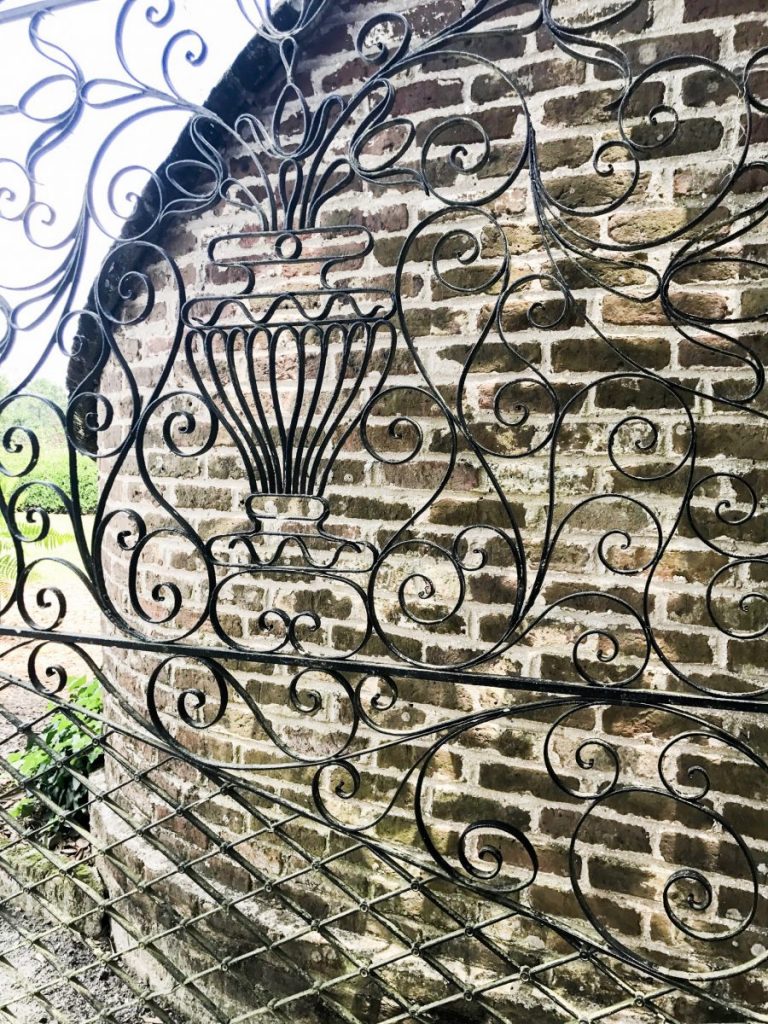 Here is a close-up of the gate. When it's time for the tour, you're invited onto the porch. You aren't allowed to take pictures inside, and the tour is only of the ground floor. The tour is informative, and it's definitely worth your time.
The Butterfly Pavillion and the Gift Shop and Cafe
After the tour, it was rather warm, so we set off for the gift shop for some drinks. We had some "old-fashioned" sodas.
Just off of the gift shop and cafe is the Butterfly Pavillion. Kristin really enjoyed this part.
We enjoyed our visit to Boone Hall Plantation. In fact, we ended up staying about two hours longer than we thought we would. This was the last attraction we explored while in Charleston. I hope we can go back someday and explore some more!
If you'd like to read about our morning at Fort Sumter, click here.