This post may contain affiliate links. Please read our disclosure policy for more information.
One of the most peaceful yet otherworldly places I've ever been to is Canyonlands National Park: Island in the Sky. Located near Moab, Utah, this national park features sandstone mesas and deep crevices surrounded by the Colorado and Green rivers; it looks like the setting of an old-time western movie.  It's difficult to explain the feeling of looking out into the vast landscape from the top of the plateau.  If you're in the Moab area, this is a great place to add to your itinerary!
Once you're at the top, the Island in the Sky scenic drive is a great way to see the highlights of this part of Canyonlands. Mesa Arch, probably the most popular hike, is not difficult and is relatively short. Other great features along the drive have paved walkways, making it a great option for families.
Getting to Island in the Sky
This park is only 38 miles from Moab, but you'll start the ascent towards Island in the Sky just outside of town. You'll drive up about 1,000 feet, a drive that actually feels like you are going to the blue beyond. There are plenty of curves, turns, and switchbacks on the way up.
Once you're at the top, you can also turn off and head towards Dead Horse Point State Park or Kayenta Campground, Wingate Campground, or the Moenkopi Yurts. These campgrounds would be great for stargazing, by the way. If you want to read about our visit to Dead Horse Point State Park, click here.
Island in the Sky Visitor Center
If you don't turn off, you'll soon be at the booths to pay your admission or show your pass. Right after that, you'll find yourself at the Island in the Sky Visitor Center. Right across from the visitor center is a viewpoint of Shaffer Canyon.
It's a quick little climb that's completely worth it.
One popular activity in the area is to take an off-road tour in a 4×4 or similar vehicle. We didn't do that, but I enjoyed seeing the trails.
After visiting Shaffer Canyon viewpoint and going into the visitor center, we realized that it probably wasn't the best time to do the scenic drive. It was early afternoon in July, and it was HOT.
Instead, we went back to Dead Horse Point State Park and checked that out. Since our entrance fee into the park was good for seven days, we decided to come back and do the drive and Mesa Arch in the morning.
We didn't get a great start on the current morning because after we arrived in Moab the evening before, I realized I'd left my purse where we had dinner an hour away! We had to drive back to get it, and we couldn't leave too early because the place wouldn't be open yet. It wasn't a completely wasted trip, though. We saw our only bear for the entire road trip along the highway as we headed to the A&W where I'd left my purse! It popped up over a hill and popped back over again so quickly that none of us could snap a picture.
That evening, we went to Arches National Park for the first of two evenings. We didn't go in very early to Arches because we didn't want to be in the heat. This caused our Delicate Arch fail. If you'd like to read about that, click here. We still had a great time during our two evenings in Arches. I guess one thing to learn from this trip is to not go to Utah in July. What can I say, though? I'm a teacher and we have a school-age kid. We make the best of it and go when we can go.
Island in the Sky Scenic Drive
We got up earlier the next morning, but we decided not to try for sunrise because we star-gazed at Arches the night before. Sunrise is a popular time to photograph the sun coming up through Mesa Arch. We settled on just going in the morning to try to beat the heat.
Neck Spring Canyon
The first little path off of the Island in the Sky scenic drive is Neck Spring Canyon.
Mesa Arch
Our next stop is a Canyonlands favorite–Mesa Arch. The trail to the arch is relatively easy and short, so it's a great choice for families. At the trailhead, the path is clearly distinguishable.
When I saw all the footprints in the dust, I had to grab a shot. It's amazing to think about all the people who have visited this iconic feature.
The sand is so fine, Kristin couldn't resist touching it.
If you're like me, you'll start snapping pictures as soon as you see it.
When the path becomes rockier, you'll follow the cairns.
And suddenly, you're there!
During our visit, there were maybe three other parties there. Everyone gave each other plenty of space, and we all took turns taking all the pictures we wanted.
Here's what is on the other side of Mesa Arch.
Don't forget to pose in front of Mesa Arch. And yes, you'll want sunglasses.
Green River Overlook
Our next stop was Green River Overlook. You can catch a glimpse of the river in the canyon.
Buck Canyon Overlook
The next stop on our journey was Buck Canyon Overlook. The features in this canyon are pretty distinct, like an arrowhead.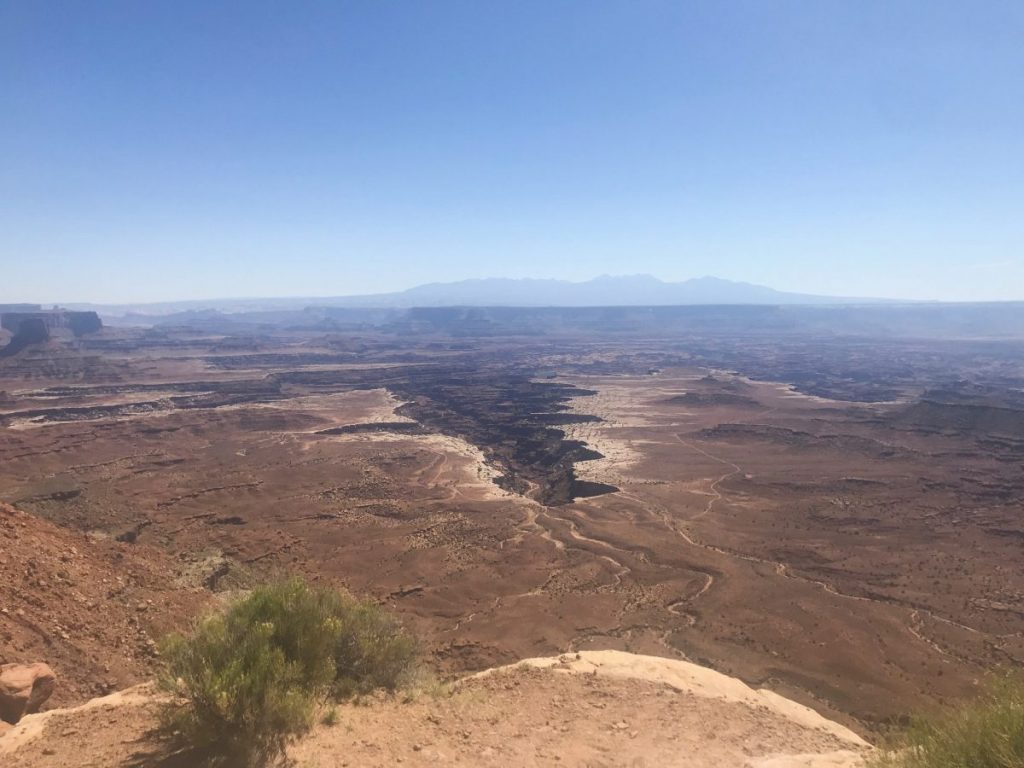 Grand View Point
Like many of the canyons, this one has a nicely paved pathway to the viewing area.
And this is what you'll see from that viewing area.
Finishing Up the Island in the Sky Scenic Loop
By this point in the morning, it was getting pretty warm. We were glad we'd filled up our Hydro Flasks. They're our favorite water bottles; all of us have our own in our favorite colors!

I'm also glad to have my favorite shoes for hiking when we're out exploring, though they're technically a running shoe.
After we decided to finish up at Canyonlands National Park and head back into town, we grabbed some lunch and took it back to our cabin at KOA Moab. We also went for a swim, though I thought the water was pretty cold, even outside in July. Jeff and Kristin didn't mind!  Click here to read about our stay at the KOA in Moab.
Later that day, we went into Moab for shopping in the souvenir shops and other downtown stores. When the sun started going down, we went back to Arches National Park to a least get a glimpse of Delicate Arch. We didn't stay out late that evening. Instead, we actually grilled out back at the cabin. We checked out the next morning to head toward Rocky Mountain National Park.
Canyonlands National Park: Island in the Sky is a great place for exploring the region's unusual terrain and beautiful features. This section of the park is great for families because so many overlooks have paved pathways, and several trails are pretty short. Of course, if you're into longer hikes or 4×4 tours, there are plenty of opportunities for adventures like those. I hope we return to the area someday so I can redo my Delicate Arch experience at Arches and explore the other two sections of Canyonlands. Trust me, these items are on my list!
Other national park posts you may be interested in:
Going-to-the-Sun Road: Glacier National Park
Ferry Across Jenny Lake in Grand Teton National Park