This post may contain affiliate links. Please read our disclosure policy for more information.
I've wanted to eat at Epcot's Coral Reef Restaurant for a while now, but I was always nervous that my picky family wouldn't find anything to eat.  I'm not the biggest eater of seafood, but I wanted to experience Coral Reef Restaurant just once.  What can I say?  The aquarium views and the temptation of dessert drew me in.  Here's our Coral Reef Restaurant review.
Our Reservation to Coral Reef Restaurant Approaches
I booked an opening Advanced Dining Reservation, or ADR, so we would have the best possible chance of sitting near the aquarium.  Actually, the best I could get was 11:30 a.m.  I was a little worried that we wouldn't have an amazing experience if we were seated too far away from the aquarium.
We entered Epcot at rope drop from the International Gateway between France and Great Britain.  For the first part of the trip, we stayed at the Boardwalk Inn, so we were just a quick air-conditioned boat ride from our resort to this back entrance.  We didn't have many people waiting with us either.  When the park opened, we walked straight to Soarin' since World Showcase wasn't open yet, and I used our Fastpasses for Frozen Ever After.  We walked right on to Soarin'.  We also took a ride on Figment and Spaceship Earth before I thought we should get in line to meet Alice.  We'd never met her before, so we wanted to give it a try.
Luckily, we were thrid in line, so as soon as we met Alice, we walked briskly back to Future World to the Living Seas.  We arrived just a few minutes before our ADR.  We checked in and sat in the cool waiting area.
I asked for an aquarium-side table, and the hostess said she'd do her best.  We weren't right up by the glass, but our booth did face the aquarium. 
Relatively speaking, we were pretty close to the fish.  Here is the view from the back of the restaurant; we were seated in front of that first wave wall.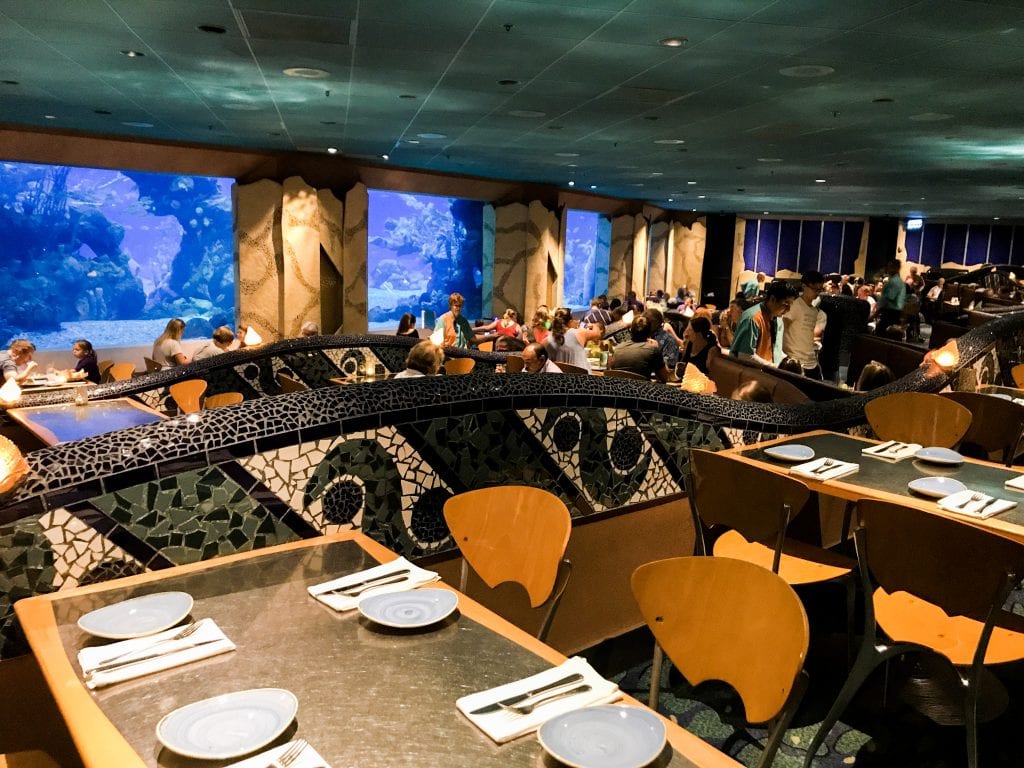 Lunch Time at the Coral Reef
As I mentioned, I was nervous about what my family would eat.  I planned to order the strip steak.  I convinced Jeff to give it a try.  Kristin was disappointed that they didn't have her staple of life when dining out–chicken strips.  In the end, she decided to try the shells and cheese.
First, we had drinks.  Kristin ordered a drink with a glowing Tinkerbell.
Soon, we had bread service.  Yum!
I ordered the strip steak without any alterations.  It was so good!
Jeff ordered the same, but he substituted fries.  I've found Disney to be pretty accommodating; if they can find a way to make it work, they will.
Kristin really wasn't a fan of her shells.  She said they were too cheesy.  I know.  Who says that?  I think Jeff ate some of it.
Dessert at the Coral Reef
I was definitely looking forward to this part of the experience.   I'd read about a certain cheesecake that I knew I had to try.
How cute is that?  And yummy, too!  I couldn't finish it, though, so I took the rest back to my room.  In case you were wondering, yes, you can get to-go boxes in Disney parks.  Since we were heading back to our room at the Boardwalk for an afternoon break, I took it with me.
Kristin had this adorable cupcake.  We are quite fond of cupcakes at Disney.
Final Thoughts
Overall, I'm glad we gave this a try even though my daughter had a lunch consisting of rolls and a cupcake.  I know we probably won't ever go back, but I'm grateful my family indulged me and let me make a Disney memory.  If you enjoy seafood, or even a good steak, you'll enjoy this restaurant.  I also loved the atmosphere; it was fun to watch the fish and try to identify them with the provided chart.  Coral Reef Restaurant was a win for me, but my picky eaters would give it a pass.
Click on the following links to read more about dining experiences in Disney!
Bon Voyage Adventure Breakfast at Trattoria al Forno