This post may contain affiliate links. Please read our disclosure policy for more information.
When we took a trip to the Black Hills and Mount Rushmore, we decided to make a day trip out to see some surrounding states, just to say we'd been there. Who knew when we'd be back? On this day trip from Keystone, South Dakota, we drove to North Dakota, Montana, and ended up in Wyoming to see Devils Tower. (For people into punctuation, the site officially drops the possessive apostrophe in the title of the monument.)
Why Did We Go to Devils Tower?
I'll be honest; I wouldn't have even known about Devils Tower if it hadn't been for the movie Close Encounters of the Third Kind with Richard Dreyfuss. I'd seen the movie a few times growing up, so that's what I associated with this National Monument, the first National Monument declared in the U.S. by President Theodore Roosevelt, to be exact. If you haven't seen the movie, you need to get on that.
Visiting Devils Tower
As we approached Devils Tower, we could see it in the distance for a while. That certainly builds up excitement for our crew.
When we arrived at the park, we saw that there was a KOA campground if you are interested in that. We had our base in Keystone to return to, so we just drove on by. The park is designed so that you can drive around Devils Tower and see it from several vantage points.
Along the way, there is a visitor's center that provides information and a gift shop. We did this first since we didn't want the visitor's center to close before we could make it inside. We did arrive in the area in the late afternoon.
You can also take advantage of the trails from this area. Since Kristin had been in the car for a while, this was a great opportunity for her to get some energy out.
And maybe climb on some rocks.
You can take a trail around the entire monument, but we weren't sure if we really had time for that. If you're into actual rock climbing, we did see three people doing that.
Devils Tower and American Indians
In the visitor's center, you can learn more about the American Indian stories surrounding Devils Tower. This area is sacred to several tribes, and theses tribes had their own origin stories for how Devils Tower came to be. Of course, none of the tribes referred to the monument as Devils Tower. They had their own names including some that translated to Bear's Tipi, Bear's Lodge, and Tree Rock, among others.
I find the bear titles the most fascinating because many of the origin stories include a bear, and often a really large bear, that made the "scratches" on the surface of the monument.
My favorite is the Kiowa story which involves seven girls who were playing near their village. As they played, bears chased them. When they ran, they jumped on a rock and prayed to be saved. The rock grew, and the bears could only scratch the sides of the rock as it rose higher and higher. The rock rose so high that the girls became stars, the Pleiades, that shine over the rock in the winter. The Kiowa refer to the rock as Tree Rock.
Several tribes still practice rituals and ceremonies there today. The American Indian people associated with the area are the Lakota, Arapahoe, Cheyenne, Shoshone, Crow, and Kiowa. When you explore the area, you'll probably see prayer cloths tied to branches of trees. The site does ask that you not disturb these cloths and offerings.
So how did a place commonly referred to as a place where bears live or a large tree grows come to be known as Devils Tower? Lieutenant Colonel Richard Dodge referred to the place as "Bad God's" Tower in his journal in 1875, but likely it was a translation issue. Eventually, the area was known as Devils Tower, and that's the name that was used when it became a National Monument in 1906.
As we left the Devils Tower area, I took this picture. This part of Wyoming is stunning, and I loved the expanse of it all; the land goes on forever. I can imagine that American Indians in the region felt the same.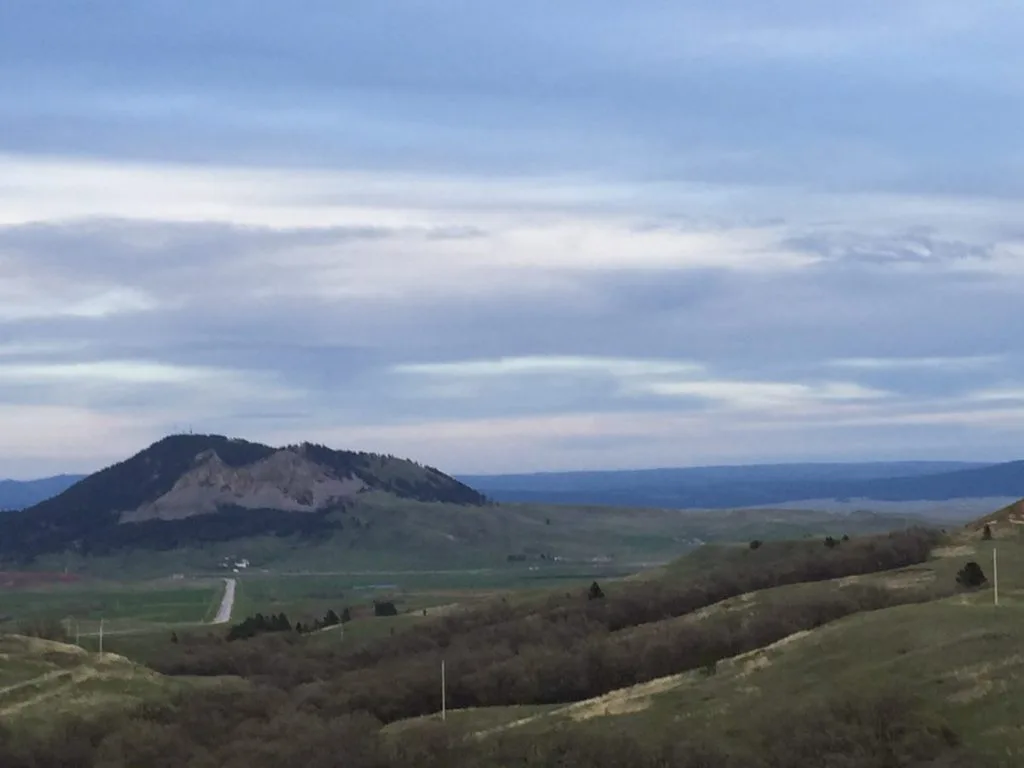 I used this source to help me remember what I learned:
"Devils Tower National Monument (U.S. National Park Service)." National Parks Service, U.S. Department of the Interior, www.nps.gov/deto/index.htm.
Want to read more about our adventures on this trip? Click the links below.
Laura Ingalls Wilder–Ingalls Homestead in De Smet