This post may contain affiliate links. Please read our disclosure policy for more information.
I'm always on the lookout for unique experiences for my family.  I love to be immersed in something, especially something that transports me to another time.  A tavern in Colonial Williamsburg does just that!  During our trip to Colonial Williamsburg, we decided to have dinner at the King's Arms Tavern, and I am so glad we did!
The tavern is on the main street–Duke of Gloucester Street.  From a distance, it looks just like any other home or shop along the road.  It is near a shuttle stop for taverns, and there are other taverns nearby.  I had heard that this place can be impossible to get into for dinner without a reservation, so I made sure to make one a few weeks before our trip.  I am a bit of a planner.
To make your reservation, just go to the Colonial Williamsburg website.  You'll be able to find the listing of taverns and make a reservation using Open Table.
The menu features Colonial fare.  It is a little pricey, but we budget for splurges when we travel.  This was one of our splurges.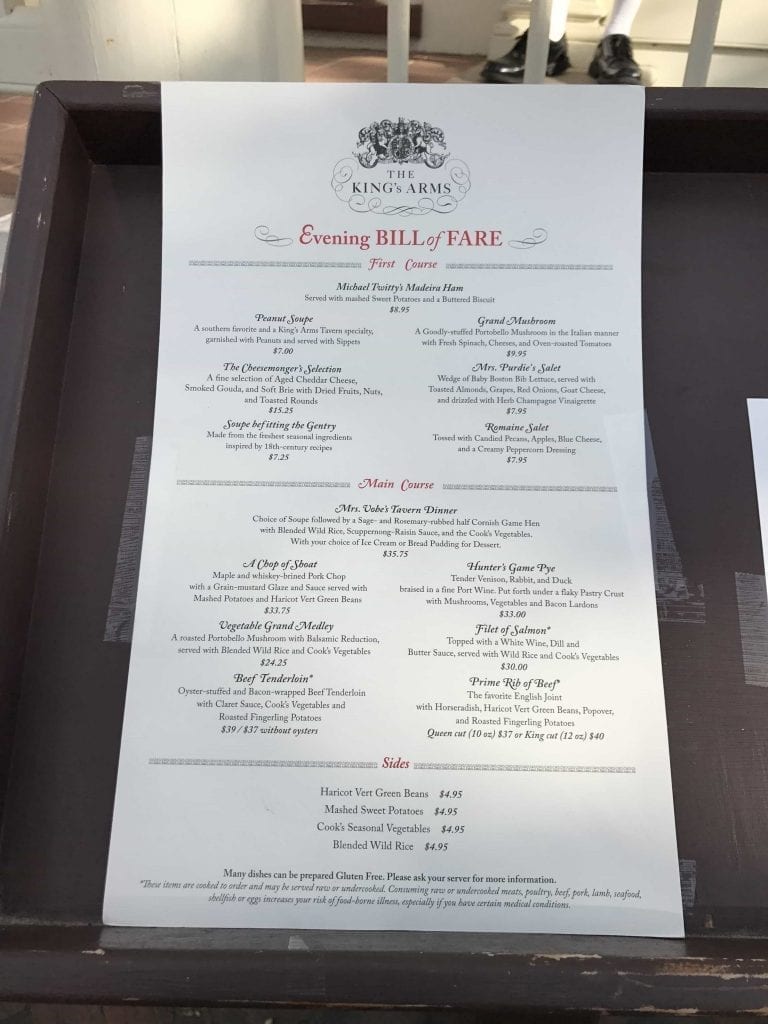 Now, those of you who know us know that my husband Jeff is a picky person when it comes to food.  I look for interesting places to experience on our travels, and I always look for a way to make him happy.  My daughter Kristin seems to be a lot like him, so I have to take this into consideration.  Often, we've found that a restaurant will let Jeff order an adult portion off of the children's menu while charging an adult price, and that was true for the King's Arms Tavern.
Jeff was prepared to just order a drink while we had our immersive fun, but after asking the hostess outside of the tavern, she said ordering chicken strips would be allowed.  The taverns do post their menus outside, and I found the menu online before our trip. The host or hostess will also be able to answer any questions you may have.
We arrived back to Colonial Williamsburg after a short afternoon break early.  Since we were taking the shuttle over, we wanted to make sure we had plenty of time to get to our reservation at 7:00 p.m.  We made it there an hour early.  Those shuttles are really efficient!
We wandered awhile, but soon we found ourselves just sitting outside of the tavern.  It didn't look too busy.  It was a weekday in early June, so we asked if we could be seated earlier.  No problem!
Soon, we entered the waiting area just inside the front door.  It looked as Colonial as I had hoped. This was going to be cool!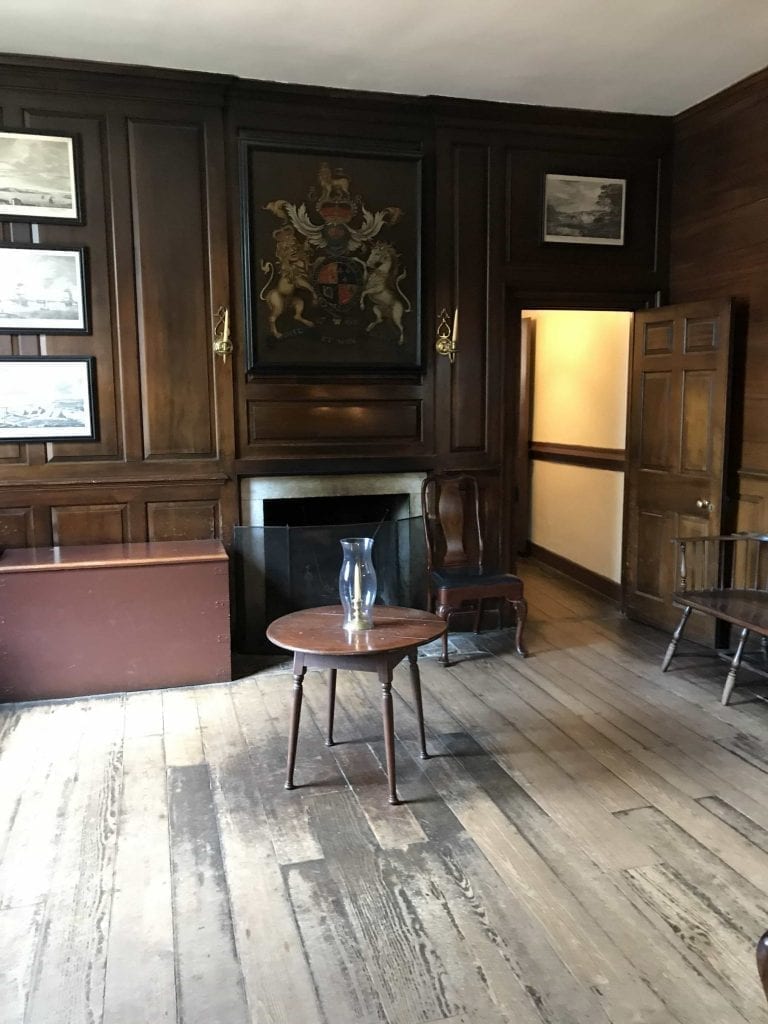 As you can see, no one was waiting to be seated at this point.  This is another reason we love to travel in early June before many kids are out of school.
Here is a closer look of the coat of arms over the fireplace.
And I couldn't resist a picture of the pineapple over the door to our dining room.  The pineapple is a symbol of hospitality in Williamsburg.  If a colonist were wealthy enough, perhaps he would offer a pineapple obtained by trading with South America to a guest as a token of welcome. The pineapple can even be found in the architecture and decorations around Williamsburg.
We were seated in a lower level dining room.  There are also dining rooms upstairs.  Our table was set in a traditional Colonial way.
The lighting is by candlelight, and although it was still daylight out, there was plenty of light from the window.  The salt is in a little pewter bowl with a spoon.  And the sugar is served "in the raw."
Behind our table was a fireplace, although there was not a fire this evening.  We also had a view of the bar.  It is full service.  You can also order beer or punch with a Colonial flare.
Of course, you can also do what I did and try a bottle of King's Arms Ginger Ale in the bottle!
The dining area was cozy, and I really enjoyed the ambiance of the place.
After our server brought our drinks, it was time for bread service.  The bread was so soft and good.  She also brought out a relish tray of pickled foods.  We had pickled corn, pickled watermelon rind, and chopped ham.  Our server reminded us that it was difficult to preserve food at the time, so there was a lot of pickling happening.  I was alone in trying each one, of course.  I thought they were pretty good, actually.  We were told we could put them on our bread or use them on our entree.  I just sampled each with my fork.
We also learned a little bit about using cloth napkins in Colonial days.  We apparently get a lot of our phrases from this, like "making ends meet."  If you were wealthy enough, you could have a big napkin that tied around your neck with enough cloth for the ends to meet behind your neck.
Our server tied this napkin around Kristin.  She was NOT enjoying it.  After I snapped the picture, she took it off. The napkins were huge!
Our entrees arrived without too much of a wait.  I ordered "A Chop of Shoat."  It was so tender, and I loved the mashed potatoes.  The vegetables were not my favorite. They were rather firm, but I like my cooked vegetables really soft.
Of course, my travel companions had the ever so scrumptious…chicken strips and fries.  Here is a picture of Jeff's plate so you can see how big the adult portion is should you need this information for the picky eaters in your family.
While we dined, a musician appeared to serenade us with Colonial-style music.
The music just made the experience complete!
Sadly, we had no room for dessert.  If I could've made it work, I would've had some bread pudding.  I saw someone else's, and it looked good.  I just couldn't do it.
After we paid the check, we headed upstairs where the restrooms were.  There are also dining rooms upstairs.  We were told it was okay to explore a little.
This window is in a hallway upstairs.
We could look down from upstairs into this dining room.
We had a great time at the tavern, and I am so glad we did this.  It is pricey, but if you know me, you know I'm working to save up all year so that we can have some fun experiences like this.  I also use my earning sites like Swagbucks and MyPoints to chip away at our traveling costs.   If you are on the fence still, I would encourage you to give it a try.  I will always remember this dining experience at the King's Arms Tavern at Colonial Williamsburg!
If you'd like to read more about our visit to Colonial Williamsburg, click here!