This post may contain affiliate links. Please read our disclosure policy for more information.
When we visit national parks, we often stay on-site in a national park lodge if it makes sense for that visit.  For our first visit to the Grand Canyon, we knew we wanted to check out the Grand Canyon Village, so why not stay the night there? Located at the South Rim of the Grand Canyon in the northwest corner of Arizona, Grand Canyon Village features lodging, shopping, and dining options right along the canyon.
There are several benefits to staying right on property at a national park lodge; one of our favorites is to see park features at different times of the day. We hoped that during our Grand Canyon visit that we could see the light changes at sunset and sunrise. Another benefit is that often the day visitors thin out as dusk approaches and you may get to experience the park with fewer people. And often, national park lodges are just plain awesome–the theming, the history, the immersion. We are here for it!
To read about our experience at Old Faithful Inn in Yellowstone, click here! We had a great time experiencing the theming and history.
Choosing Our Lodge at Grand Canyon Village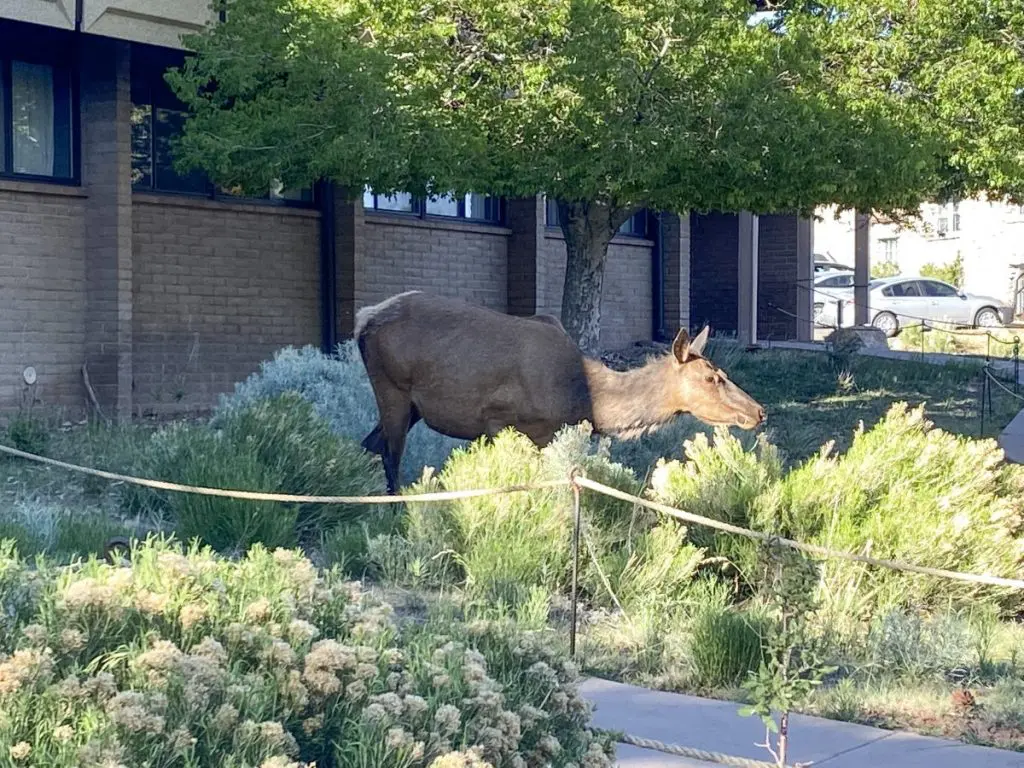 El Tovar is the flagship lodge at Grand Canyon Village. For our extended road trip, the price per night was a tad more than we wanted to spend at the time. Since there are several other options at Grand Canyon Village, we didn't feel like we'd be missing out if we chose another lodge. There are also some budget-friendly options a little off the rim as well, but we were looking for proximity to Grand Canyon Village and the South Rim.
We chose Kachina Lodge which shares a front desk and lobby with El Tovar. In fact, it's right next door, so you are essentially in the same location at Grand Canyon Lodge. Kachina Lodge is much more contemporary; El Tovar is rustic. Still, neither lodge should be considered "luxury" by today's standards. At El Tovar, you're experiencing history; at Kachina Lodge, you're experiencing a mid-range-like hotel.
Though our room wasn't fancy, it was perfectly adequate and had many more conveniences than our room in Yellowstone at Old Faithful Inn.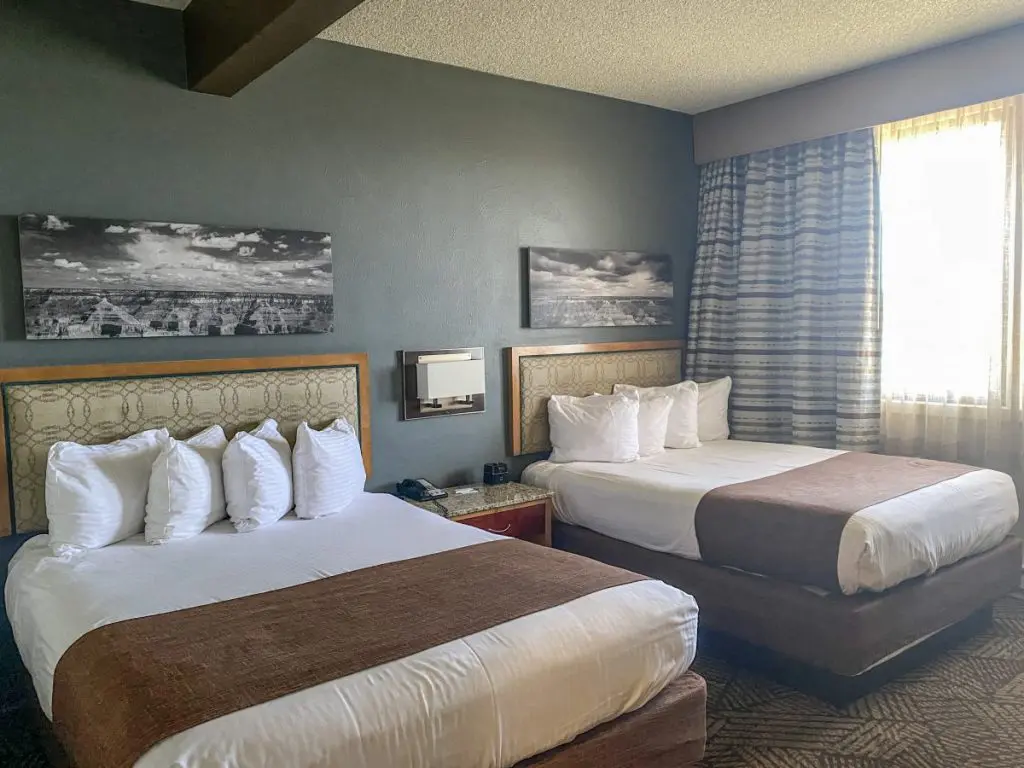 The best part about our room was the view!
The South Rim was right outside our window. That's the Grand Canyon on the other side of that window!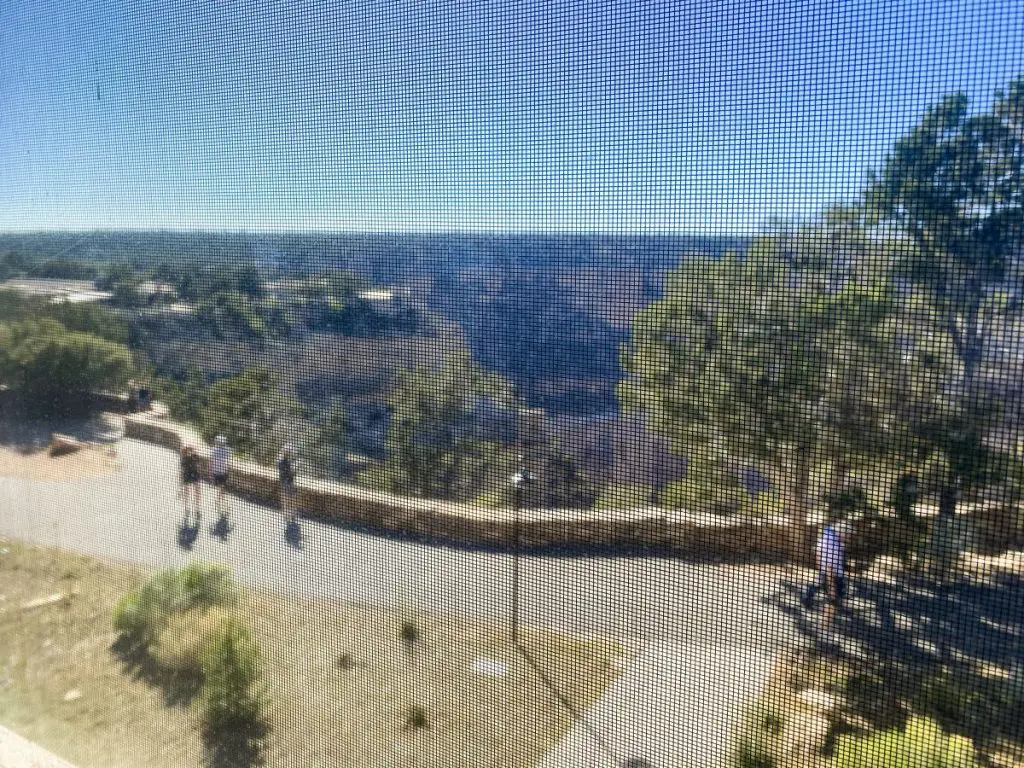 As you can see, our window had a screen. This was nice at night since we opened the window and a bat fluttered around nearby!  The room doesn't have traditional air conditioning. Instead, it has evaporative cooling which is supposed to be better in desert climates. We were comfortable in late May with the window open and our box fan that we travel with on road trips. I loved having this view; we looked out the window often at the goings on outside whenever we were in the room.
The bathroom was pretty standard with a tub. I always appreciated a tub when the kids were little.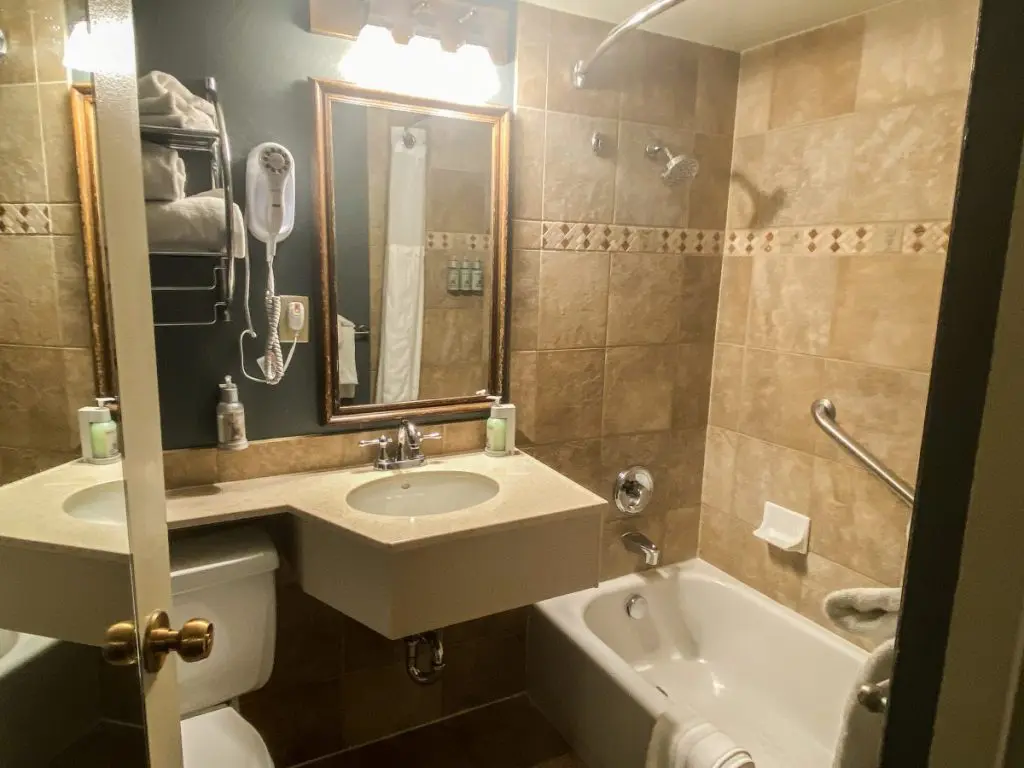 We had a small fridge, but we didn't have a microwave. For one night, the microwave wasn't a big deal.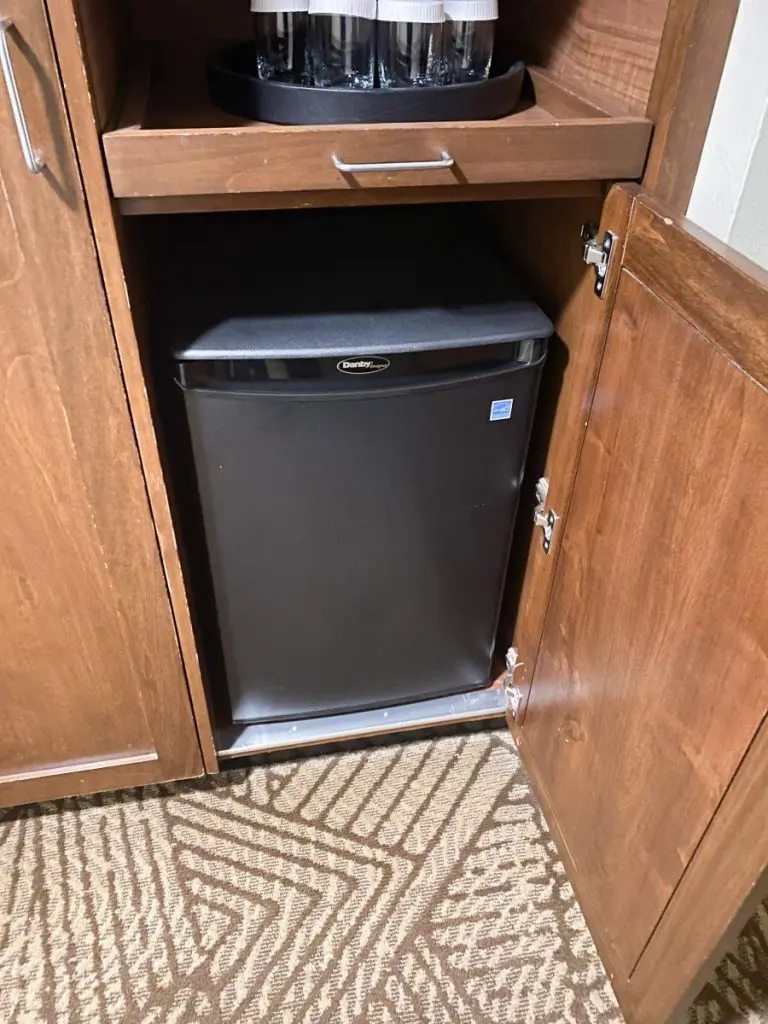 Our room also had a desk with a coffee maker and a TV.
The only drawback in staying at Kachina Lodge was the parking situation. You aren't guaranteed a parking spot at your lodge; anyone visiting Grand Canyon Village can park there. This can make loading and unloading your luggage challenging if more than one party is attempting this at one time. It worked out, but this was the only drawback for us.
There are quite a few restaurant options in Grand Canyon Village, including the El Tovar Dining Room. I love dining in national park lodges, but the menu at El Tovar was not picky-eater-friendly for dinner. There are other places, and we would've found something, but we actually had our portable grill with us, so we decided to grill at a picnic area in the park. Realize that there really aren't picnic areas in Grand Canyon Village. We took a short drive and found a picnic area in the park.
We also considered doing El Tovar for breakfast. If we weren't planning to get right back on the road the next morning, we probably would've done it. But we decided not to risk the time it would take to wait for a table and to eat a full sit-down breakfast, We had a long drive through Death Valley planned. Still, we wanted to have a moment in El Tovar. So what to do? Drinks!
The Sun Goes Down at Grand Canyon Village
After our picnic dinner, we stumbled upon a beautiful viewing area on the way back to our lodge, so we watched the sun light up the rock for a while before we headed back to the room. Once we arrived back at Kachina Lodge, we decided to take an evening stroll along the walkway at the rim in Grand Canyon Village.  Here is a look back at El Tovar (on the left) and Kachina Lodge (next to it on the right) from the pathway.
We popped into some of the shops right before they closed for the evening and then continued our stroll back to our room. We returned to the room, and Kristin was ready for some downtime. Jeff and I decided to head to El Tovar to explore a bit and have some drinks.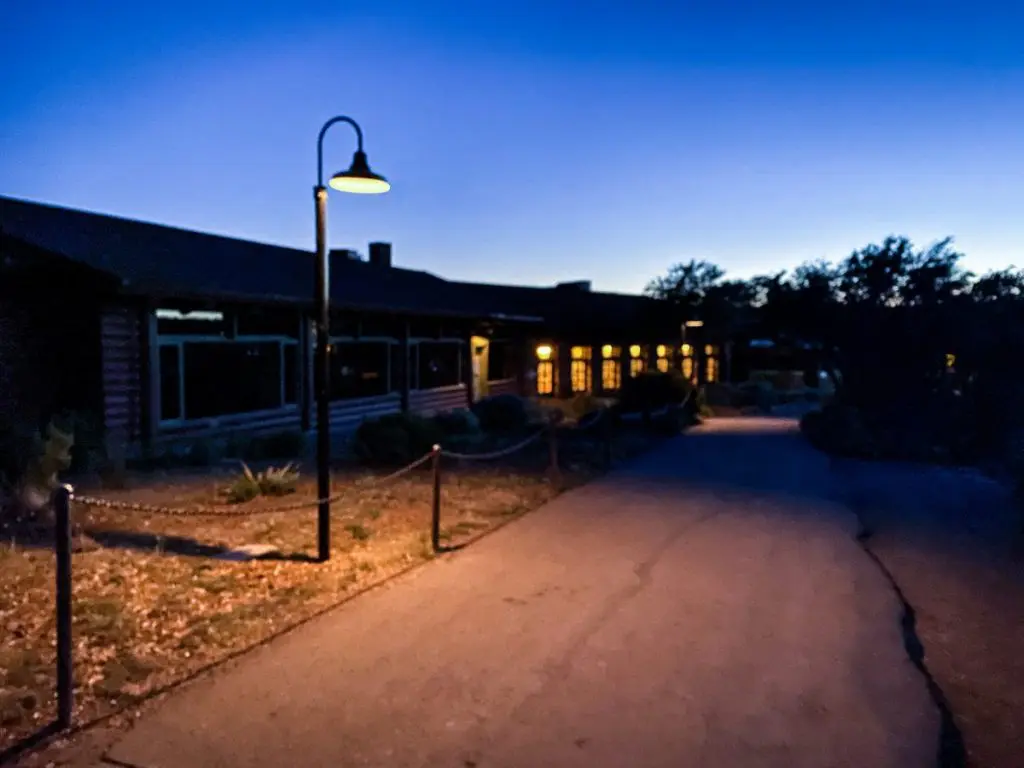 The Cocktail Lounge at El Tovar
Disclaimer: If you use common sense in Grand Canyon Village, you should be safe to explore at night. Be aware of where the Grand Canyon is in relation to the walkways. As with anywhere, be aware of the people around you. I felt safe exploring the area at night.
We walked next door to El Tovar using the rim walkway. The porch is welcoming, and it would be a great place to relax.
We'd been inside the lobby during check-in, but now we could take our time to explore. Below is a picture I snapped of the entrance to the dining room at the staircase while we waited to check in.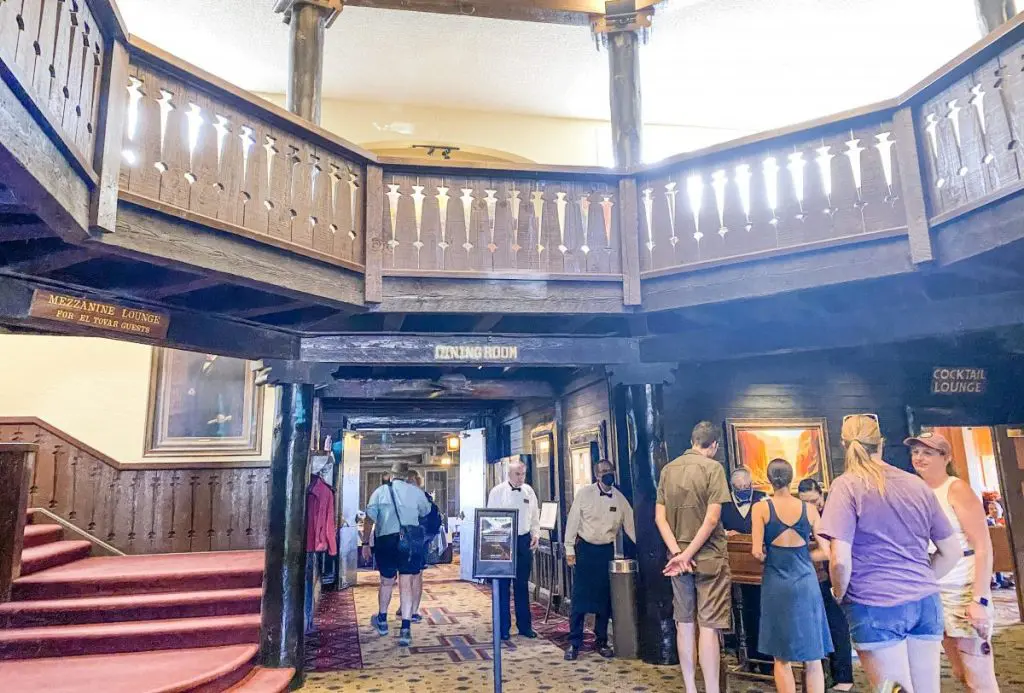 In the evening, things were much quieter.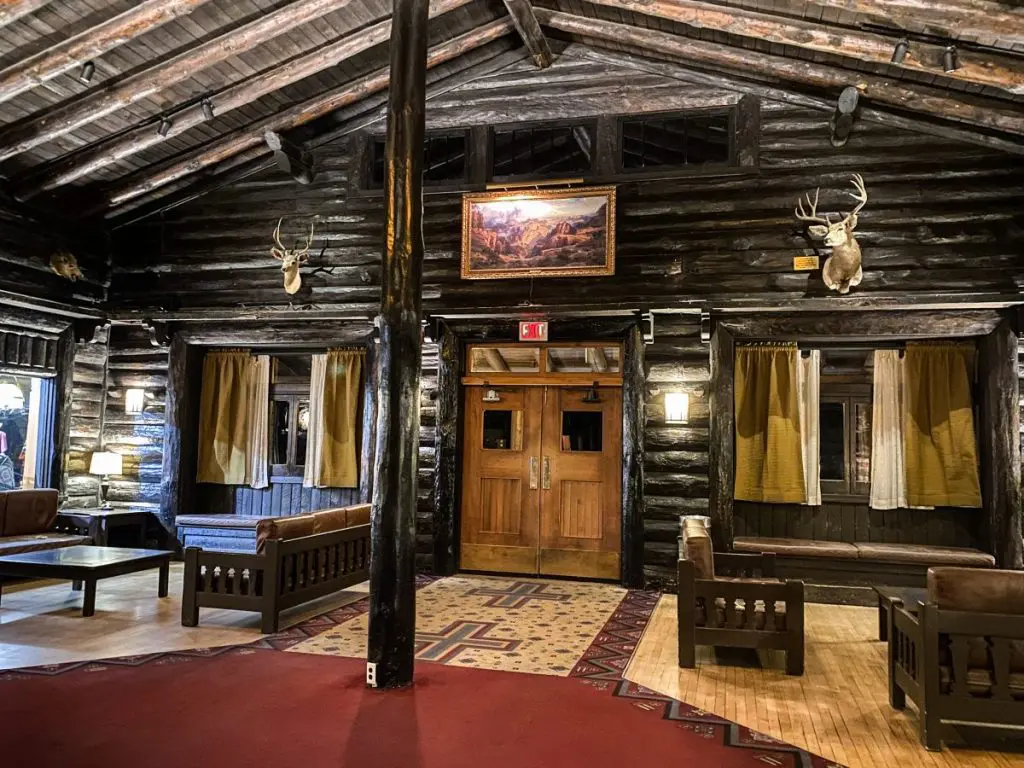 We could easily walk around and take in the details. We also had a few moments in the shop before it closed.
On a cold night, the fireplace would be welcoming. Honestly, it was a tad warm in the lobby that evening.
People were still being seated for dinner. They had a display of their offerings at the dining room entrance.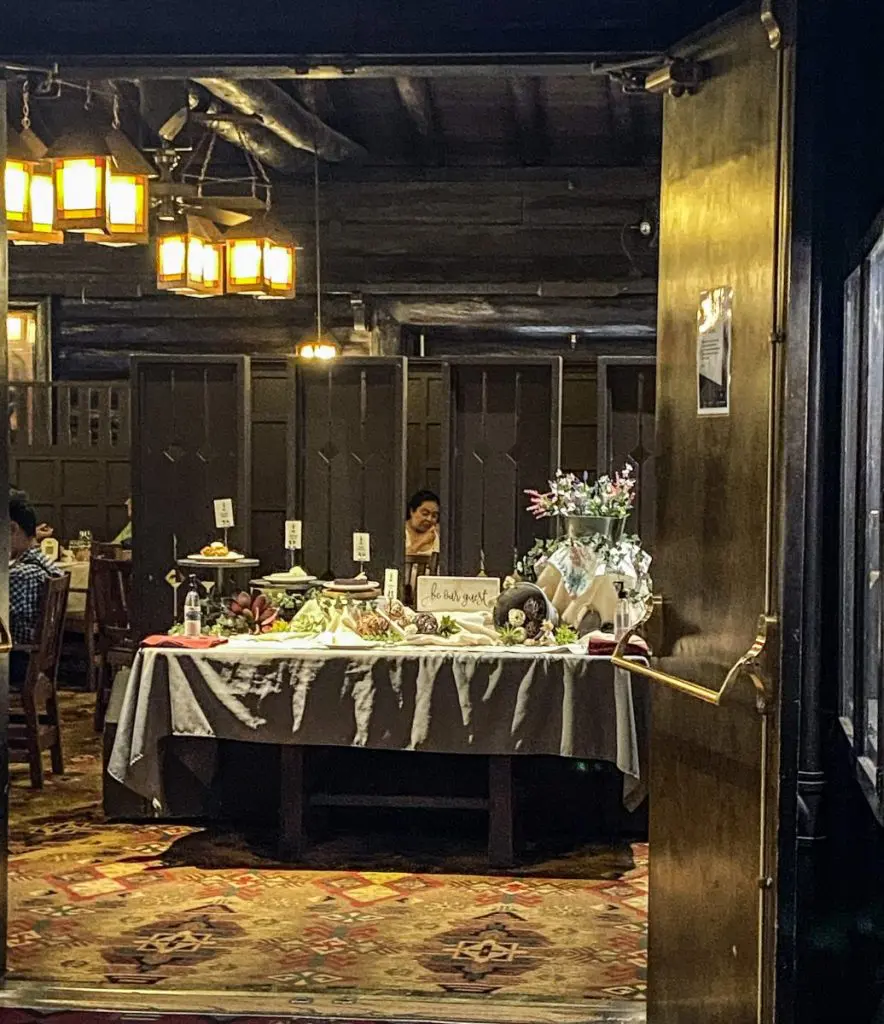 We, of course, headed to the cocktail lounge.
When we walked in, we were shown a table and served glasses of ice water, which was welcome! We told our server we were only ordering drinks, so we were handed drink menus. They do have some dessert and appetizer items, but we were stuffed from our picnic dinner.
We like to try local drinks when we can. Jeff had a Pilsner from Grand Canyon Brewing Company. Jeff says it was good and refreshing.
I tried the Prickly Pear Margarita. It was cold and stong–perfect!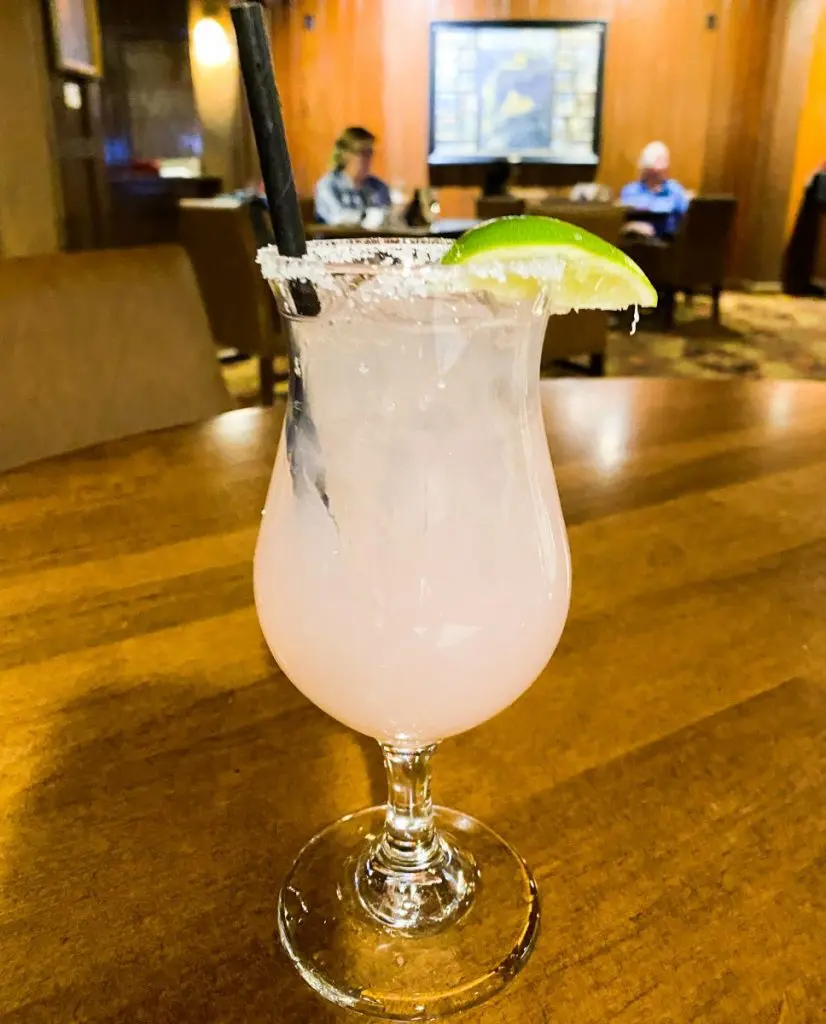 After our drinks, we took a leisurely stroll back to the room. We sat on a bench near the rim for a few moments. As we sat there, we could see flashlights from hikers on a trail in the canyon. We also saw bats. And don't be surprised if some elk are walking around.
The best part was the stargazing. If you live somewhere that has a lot of light pollution, seeing a starry night at the Grand Canyon is a real treat. We weren't in a completely dark sky zone due to the lights at the Grand Canyon Village, but if you looked out over the canyon, you could see the stars shining in the darkness like glitter.
The picture below was taken with my iPhone. Not bad! I'd never get stars with my iPhone back home.
We soon put ourselves to bed. We wanted to be up early enough to catch some of the sunrise action in the morning.
If you're wondering if it's worth it to stay at the Grand Canyon Village when you visit the Grand Canyon, my answer would be an absolute yes! It's true you could stay at nearby towns or cities, and those places will offer more lodging and dining options, along with some of the touristy things you might expect, especially things that may appeal to families.
But if you want to encounter the Grand Canyon at different times during your stay, the Grand Canyon Village is where you want to be. I'm glad we got to see different lighting over the canyon features, even if we only stayed a night. I would certainly stay at the Grand Canyon Village again!
Click on the links below to read about some of our other national park adventures!
Petrified Forest National Park