This post may contain affiliate links. Please read our disclosure policy for more information.
When traveling to the Ozarks, be sure that Eureka Spring, Arkansas, is on your must-see list.  The hills are a gorgeous backdrop for having some fun downtown with your family.  Since the city is designated as a historical site, it feels like you've stepped back in time as you explore the shops and restaurants in downtown Eureka Springs. Here is a list of things so you can have a great time checking out what this little city in Arkansas has to offer.
Explore the Historic Beauty of Downtown Eureka Springs
Right in the middle of town, you'll find Basin Spring Park.  This park is a hub for entertainment and art, especially on the weekends.
It's hard to resist the trail that leads you to the Basin Spring; this is the spring that launches the narrative of the origin of the city.
It's fun to feel the coolness coming off the spring on a hot summer day.  The scenery is gorgeous, too.
Not only is the natural scenery beautiful, but the art installations are lovely, as well.
The history of the area is all around you.
Just exploring the downtown area as a family will fill your afternoon.
Don't be afraid to take a detour down a staircase or on a path.
Eureka Springs is built on multiple levels, and there are worthwhile surprises everywhere.
Exploring is part of the fun!
I just love the historic feel of Eureka Springs.
There's so much to see.
Visit the Shops and Eateries Along the Winding Streets of Downtown Eureka Springs
The first thing you may notice is all the unique shops and eateries in Eureka Springs.  There are temptations around every turn, like this fudge and candy shop.  We had to sample the goodies!
We had to pace ourselves.  The treats are everywhere in Eureka Springs.
Kristin sampled the rock candy.
As we walked along, we found a place that sold one of Kristin's favorite sweets–macarons!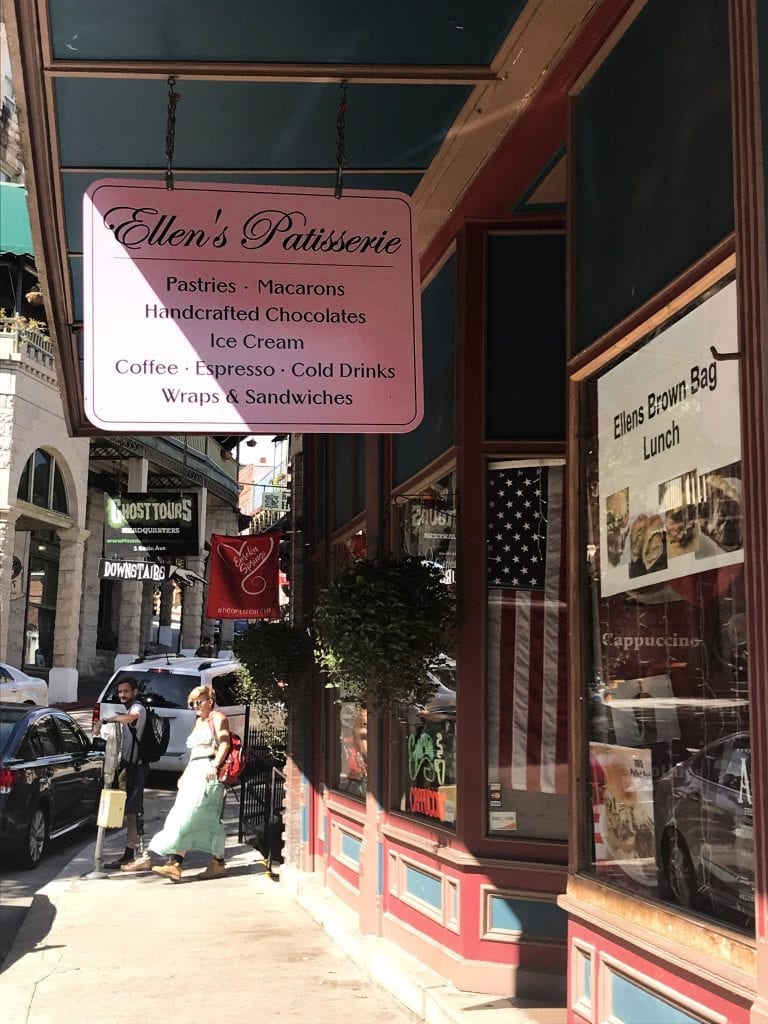 We had to go inside and check it out.
And we had to try some macarons.
So good!
There are even concessions available.
Of course, there's more to the shopping than just eating goodies.  There are all kinds of specialty shops from collectibles to clothing to clocks. One of our favorites sold collectible toys from the past.
We had a blast showing Kristin the toys we used to own.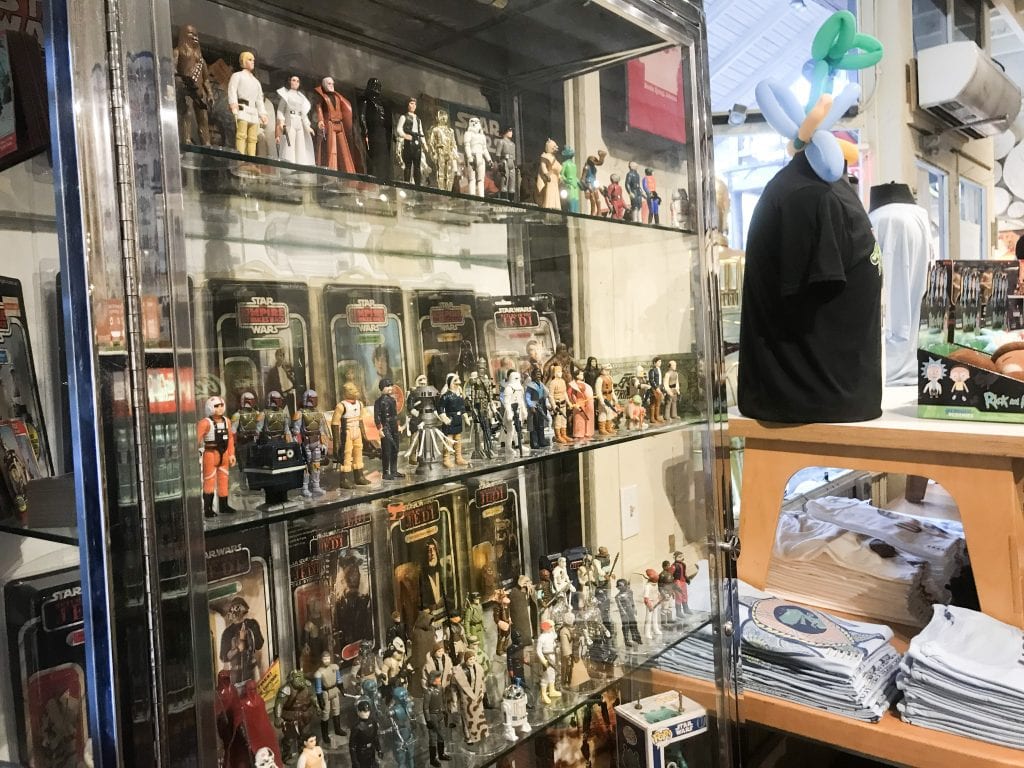 This one is definitely worth a stop.
Have Lunch or Dinner in a Downtown Restaurant
There are so many fun and yummy places to eat in Downtown Eureka Springs.  While many places become more appropriate for adults later in the evening, lunch or early dinner is perfect for families.  We wanted to try somewhere that had outdoor seating so we could do some people-watching, so we chose The Balcony Restaurant at the Basin Park Hotel, the sister property of The Crescent Hotel.  Click here to read about our stay at The Crescent! 
One great thing about The Basin Park and The Cresent Hotels is that they have a free shuttle service between the properties.  Since parking in Eureka Springs can be tricky and usually not free, this is a wonderful service.  Just let the front desk know at either property know you need the shuttle, and in minutes, you'll be on your way to the other property.  Even if you don't stay at either property, you should definitely check out these amazing historic hotels.  You should also consider taking a ghost tour at one of the properties.  Click here to read about our ghost tour at The Crescent.
We opted for an early dinner since we had our ghost tour later at The Crescent.  Just for the record, you can eat at the restaurants at The Crescent, which could be handy if you have a ghost tour there.
The lobby of The Basin Park Hotel is pretty cool.  Be sure to look around.
When you're ready to eat, you'll need to head upstairs.  The Balcony Restaurant earns its name.
Once upstairs, follow the signs to the restaurant.
At the restaurant, we were greeted immediately.  Our hostess asked where we wanted to sit. Out on the balcony overlooking the street, of course!  Here's what the restaurant looks like from the street.
The menu features American cuisine, and my picky eaters were happy.
At our table, we had an awesome view of the street.
Soon we had our food!  Jeff had a plain hamburger–very tasty.
I had the Fiesta Tostada Salad.  It was so good, and I couldn't finish it!
Kristin went with her standby–chicken strips.
After a leisurely dinner, we walked around The Basin Park Hotel a bit.  And be sure to check out the bathrooms.  Just trust me on this one.
You'll find some beautiful spaces.  It's not surprising that The Basin Park and The Crescent are popular wedding and wedding reception venues.
Before long, it was time to make our way back to The Crescent.  We took in the beauty while waiting for the shuttle.
Take a Tour Highlighting the Area's History
While ghost tours are fun and full of history, not everyone is a fan of ghost stories, especially when traveling with the kids.  The Chamber of Commerce in Eureka Springs hosts several tours during the summer at a reasonable cost.  We'd like to thank the Chamber for hosting us on the tour, Eureka Springs Underground.
For this tour, you'll meet up at this cut-out of Carrie Nation in Basin Spring Park.  You really can't miss it.  If you are a fan of Silver Dollar City in Branson, Missouri, you may be familiar with Carrie Nation's story if you've seen the saloon show there.  In one version of the show, Carrie comes into the saloon with her hatchet to break the place up.  On this tour, you'll learn even more about her.
We had a wonderful and knowledgeable guide.  She told the stories well, and she answered our questions.  You may be wondering if this tour is a match for your family. If your kids can listen quietly while doing some walking, I think you'll be fine.  The tour is a couple of hours long.  Though the tour takes you to several locations out of the sun, it was pretty hot the day of our tour.  That is something to consider.
And though Kristin was nine and is pretty good about quietly touring historic sites, she did get a little antsy at the end.  The tour is set up in such a way that you could leave the tour if you needed to.
Also note, if you have mobility issues, I think this tour would be nearly impossible.  There is a lot of uneven terrain and stairs.  It would be difficult.  I also recommend some good walking shoes for this one.
I loved the tour, but then again, I love history and hearing the stories from the past.  The tour starts in the park at Basin Spring.  I don't want to give too much away, but I'll leave you some pictures.  Here is the spring, one of around 60 in the area.
The tour includes going into the tunnels behind The Basin Park Hotel.  I loved hearing about gangsters in this part of the tour.
This is one of the cooler parts of the tour–figuratively and literally.
The tour includes hearing stories near the outside of this old bank which is now a jewelry store.
Eventually, the tour heads down a few levels and ends with a video in this basement of a building.
You can also check out some murals in this area.  This is a great representation of Eureka Springs' past.
Again, I loved this tour.  It would make a great addition to your trip.
Eureka Springs is a Great Destination for Families
This area is a great place to make some memories with your family.  We stayed for two nights, and we could've done more. We were pretty busy during those days, so if you wanted to take a more relaxing approach, you will certainly need more time.  This would also be a nice addition to a visit to Branson if your family has a couple of weeks to explore the Ozarks.
If you're in the area, be sure to check out the Turpentine Creek Wildlife Refuge.  Click here to read about our visit.
I hope you have a wonderful time exploring Downtown Eureka Springs with your family!