This post may contain affiliate links. Please read our disclosure policy for more information.
The Fantasmic! Dining Package can save you some time by allowing you to explore the park rather than stake out a spot to view Fantasmic!. As we planned our first Disneyland trip, we knew we wanted to see this nighttime show. Though we'd seen the Walt Disney World version several times, Disneyland's Fantasmic happens right in the middle of the park on Rivers of America rather than in a separate outdoor theatre. We knew we didn't want to miss this, and we knew we didn't want to spend time staking out a viewing spot early if we didn't have to. The solution? Booking a Fantasmic! Dining Package.
Disney Dining Packages and Dessert Parties
When we go to Walt Disney World or Disneyland, we like to find ways to minimize waits for some of the special experiences Disney offers. Sometimes we book a dessert party in order to get special viewing like we did for World of Color at Disney California Adventure. You can read about that experience by clicking here.
This strategy works well for us, and we book a dessert party or dining package whenever we think it will save us some time waiting to secure our viewing spot. While using this strategy for Fantasmic! at Disneyland is worth it, we've never booked a package for Fantasmic! at Walt Disney World. When we've been in the summer, we have been able to find seats by showing up about a half-hour before it starts. Bring drinks and snacks!  If there are two showings, you may not even have to show up that early for the later show.
At Disneyland, however, there is no seating unless you count the ground, find a wall, or get lucky and score a bench or picnic table. The walls and benches take some staking out early, so we wanted to avoid that. It's also worth noting that except for seating at River Belle Terrace, all the dining package seating is also on the ground. I'll explain more on that later.
Fantasmic! Dining Packages at Disneyland
River Belle Terrace–Patio Seating
At Disneyland, you have several options for your Fantasmic! Dining Package. The "Cadillac" option is to have dinner at River Belle Terrace and have dinner on their patio. Your dinner happens right before Fantasmic!, and you'll view the show from your table on the patio. This is a nice option, but the viewing is further back than sitting in the viewing areas on the ground.
River Belle Terrace and Blue Bayou–Viewing Area on the Ground
River Belle Terrace has another option, and this is the option we chose. You can have lunch or dinner at Liberty Belle Terrace, and there are several time options available. After you pay for your meal, the restaurant will give you vouchers to present to get inside the River Belle Terrace designated viewing area. This is a great area for viewing Fantasmic!
Blue Bayou also offers a meal option with a voucher for a specific viewing area. Although we did have lunch at Blue Bayou during our first visit, I knew the menu wasn't a great match for my family. If we were paying for a package in which everyone had to buy a meal, we needed something that would appeal to my picky travel companions. Still,  Blue Bayou is one of those places you should try at least once. To read about our lunch experience, click here.
You may be wondering about sitting on the ground in the viewing area. It wasn't too bad. At the time, Blue Bayou handed out little foam mats for you to sit on. They were Disney-decorated, and they were thin enough to not be too cumbersome. River Belle Terrace didn't hand those out, but I'd read about them being part of the Blue Bayou package. So, I checked for some on eBay, and sure enough, people were selling them. I bought three, and I was able to mush all three into my backpack.
I didn't cart them around all day, though. We took an afternoon break, and I brought them in when we returned for dinner. Other people in our viewing area had them, so perhaps they brought them in after a resale purchase or a previous visit.
Hungry Bear On-the-Go –Viewing Area on the Ground
The last option is getting the fast food option at Hungry Bear and taking it with you. The website does say you can eat it in the restaurant if you'd like. You get an entree, a side, a drink, and a dessert. When you pick up your food, you get the voucher for the viewing area. As with the other viewing area options, you have several options for mealtimes.
We considered this option, but in the end, the viewing area was more to the side than the River Belle Terrace area. The menu at River Belle Terrace fits our family just a bit better, too, even though the food is similar.
Dinner at River Belle Terrace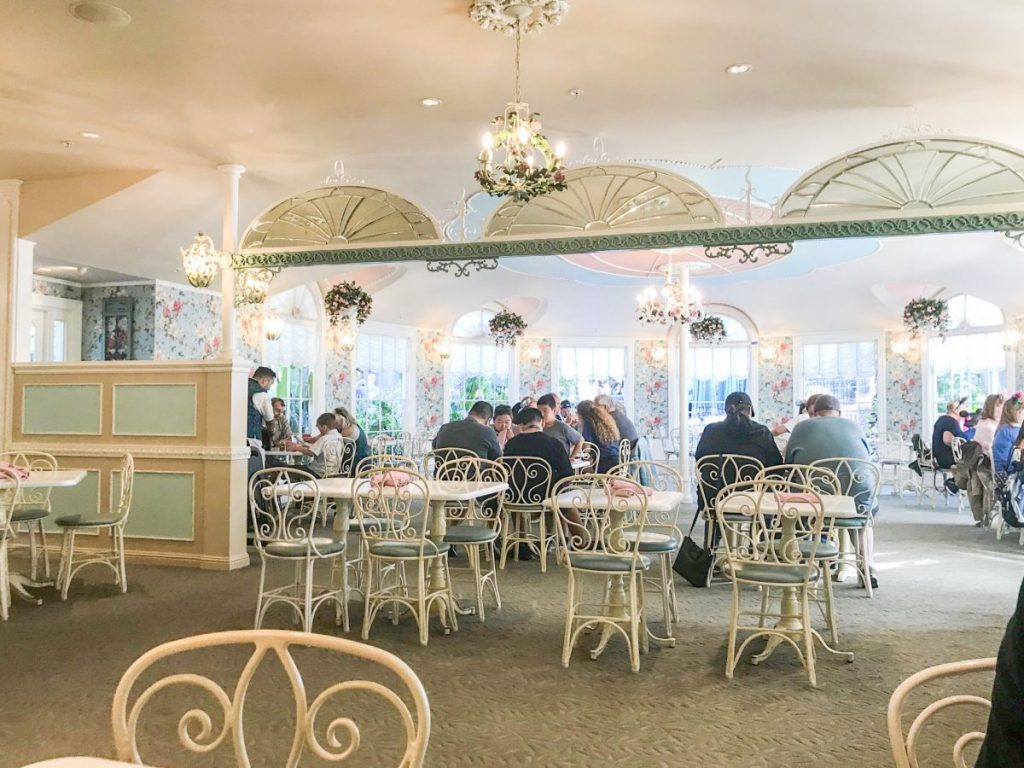 The interior of the restaurant reminds me of a cross between an old-time ice parlor and a riverboat. This restaurant sits just across the pathway from Rivers of America. We had an early dinner reservation, so after our afternoon break at our hotel, we headed back to Disneyland and straight to River Belle Terrace.
We ordered off the menu designated for the Fantasmic! Dining Package. It wasn't our favorite meal of the trip, but the food was fine. especially for a theme park.
Kristin and Jeff had the pork spare ribs and tater tots.
The meal came with an appetizer, but I think I'm the only one who ordered one. I had the corn chowder, and I thought it was yummy!
I had a sliced brisket sandwich with tots and beans.
Jeff declined dessert, but Kristin and I each had our own Maleficent Dragon. The center of this chocolate-blackberry ganache had a bit of a kick. It surprised us with a bit of spice. Fun!
After dinner, we paid the ticket and received our vouchers. We then went back out into the park and had some Disney fun before we reported to our viewing area at the designated time on the voucher.
Viewing Fantasmic!
We entered the viewing area right when our vouchers said we could. Even though the viewing area is reserved, you still have general "seating" within that area. We wanted to be sure we could get a good spot sitting together.
People are sitting pretty close together in the viewing area, but I didn't think it was uncomfortably close. Soon, the show started. The show is similar to the one at Walt Disney World in Hollywood Studios. The barges float by with Disney couples, like Belle and Beast.
The main difference is that Disneyland uses the Columbia as a pirate ship. It's amazing to see the pirates all over the ship as it floats by in the Rivers of America. Also, the Liberty Belle is used for the finale instead of the smaller riverboat used in Fantasmic! at Hollywood Studios.
Though we are fans of Fantasmic! at both parks, I think Disneyland's version is a tad better because of the boats. Plus, if you see the first showing of Fantasmic!, the fireworks will happen right afterward. You can view them from your spot for Fantasmic! and get a pretty good view. It may not be a castle view or a Main Street view, but it's not too shabby. It's difficult to see fireworks at Hollywood Studios from the Fantasmic! theatre.
If you're heading to Disneyland, I highly recommend making Fantasmic! part of your evening plans. Even if you decide to skip the Fantasmic! Dining Package, you can still enjoy Fantasmic! by selecting a spot early or viewing it from a less than centered location. Or, you may get lucky and find a great spot. However you manage it, Fantasmic! is a must-do!
Other Disneyland special experiences:
Brunch at Disneyland's Storytellers Cafe
Breakfast With Minnie and Friends at Disneyland's Plaza Inn