This post may contain affiliate links. Please read our disclosure policy for more information.
If you've followed my "real life" at all, you'd know that I recently wrapped up directing the musical, The Little Mermaid, at the high school where I've been teaching for the past twelve years. As any director knows, the show still isn't over after closing night. The set must be taken apart and all of the items you've rented or borrowed need to be returned. One of the items we borrowed, a rowboat for the "Kiss the Girl" scene, needed to be returned to Lee's Summit, Missouri.  We opted to leave our youngest with Grandma and Grandpa for this road trip, and it was nice to have a day to ourselves.  After we made the delivery on a cool, blustery Saturday morning, my husband and I decided we needed some lunch. And that lunch should be Joe's Kansas City Bar-B-Que.
A Little Background
We had not eaten at this place since they'd changed their name from Oklahoma Joe's.  Originally, the owners were in a business partnership with a fellow BBQ expert from Oklahoma; this was the location for the first restaurant.  The current owners opened their first place in Kansas City, Kansas, in a gas station.  In the 1990s, the partners went their separate ways, and the current owners changed the name.  Currently, Joe's has three locations in the KC metro area.  If you want to know more about their story, check out the website.
Kansas City is one of those places known for amazing BBQ.  Each year the largest BBQ competition in the United States, the American Royal Championship, hosts BBQ gurus from across the country.  Kansas City is famous for a dry-rubbed meat with a tomato-based sauce, though this can range from spicy to sweet.  In Kansas City, pitmasters smoke just about any kind of meat, but beef and pork are the mainstays.  The metro area is the home of many famous BBQ restaurants, and Joe's is certainly at the top of the list.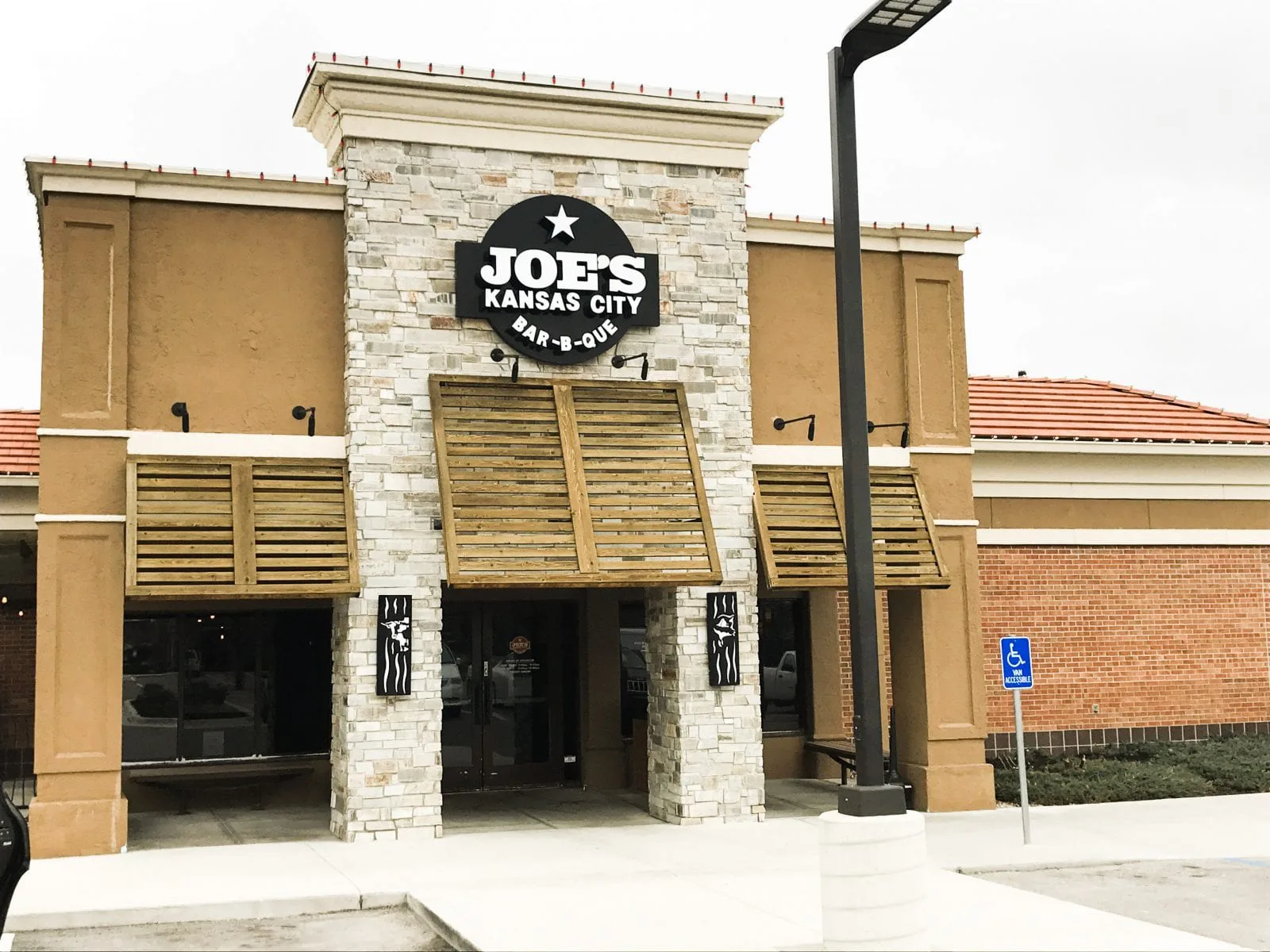 Our Experience at Joe's Kansas City Bar-B-Que
On that cool, blustery day, we decided to check out the Leawood location since we were nearby.  It's conveniently located across from a shopping area that housed a Barnes and Noble.  I may or may not have indulged in some of my favorite activities at the bookstore–touching covers, sniffing pages, and reading opening paragraphs.  Someday I'll write more about that.  I'm sure everyone can't wait.  After killing some time waiting for Joe's to open, it was finally time.  At first, we were the only people there, but that soon changed.  I was surprised by how many people showed up at opening, but Jeff reminded me of the long line we encountered for our last experience.  So, here's some advice.  Get there early if you can; it will get busy.
Once inside, the wonderful smells greet you as you get in line to place your order.  We glanced at the menu, but I already knew I'd be getting a pulled-pork sandwich and fries with Ranch, my favorite BBQ entree.  Jeff was not as certain, but the burnt ends special had his attention.
We placed our orders, and we walked down the line where the food was prepared.  You can also check out the beer selection.
At the other end of this line, you pay the cashier and grab your cups for your drinks.  Soon, your plates will be ready.  Also note that they have a wide variety of Pepsi products.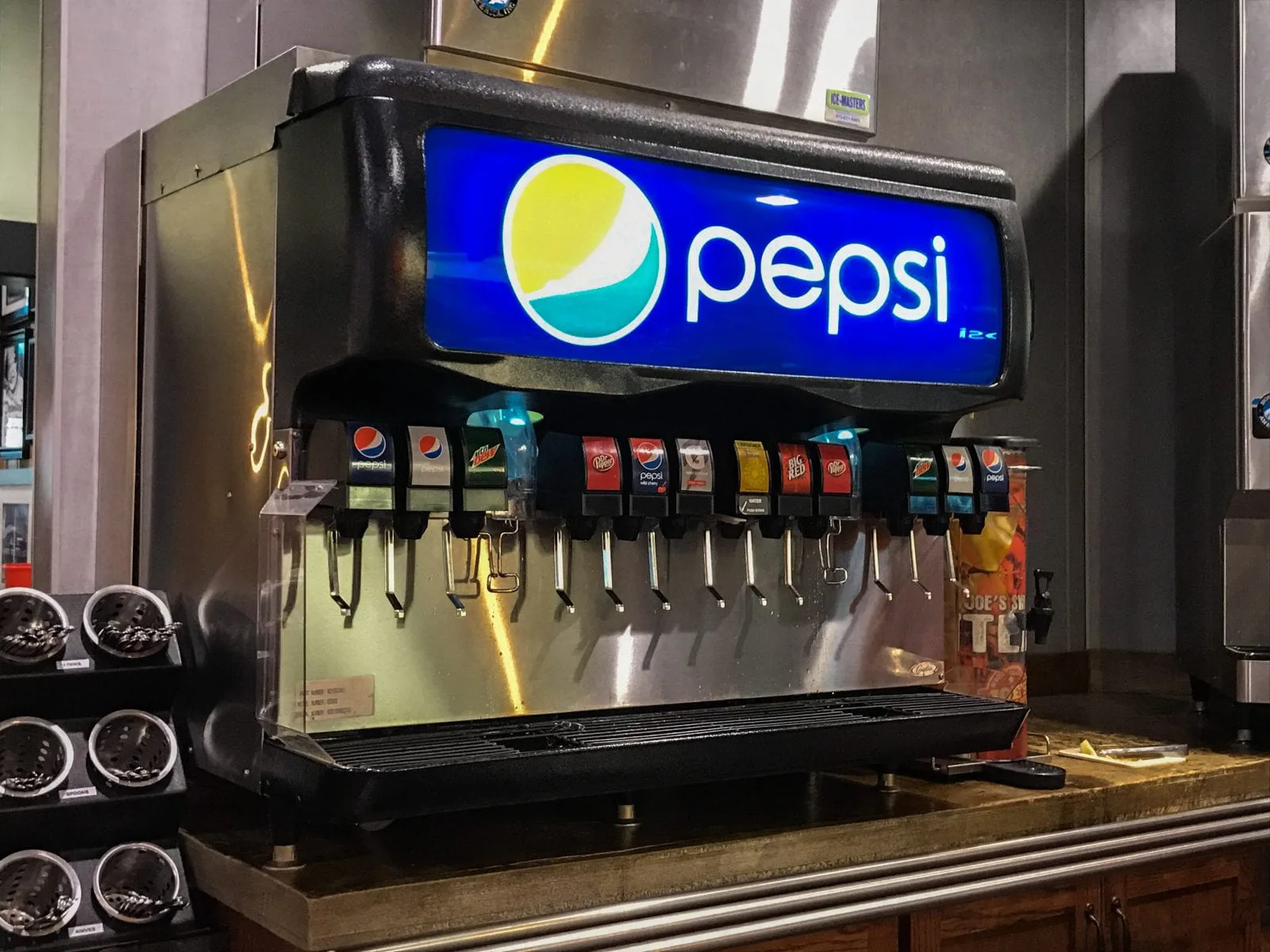 Once you have your tray, you can seat yourself in the dining area.  Don't forget to grab the silverware!
Beware–the booths go fast!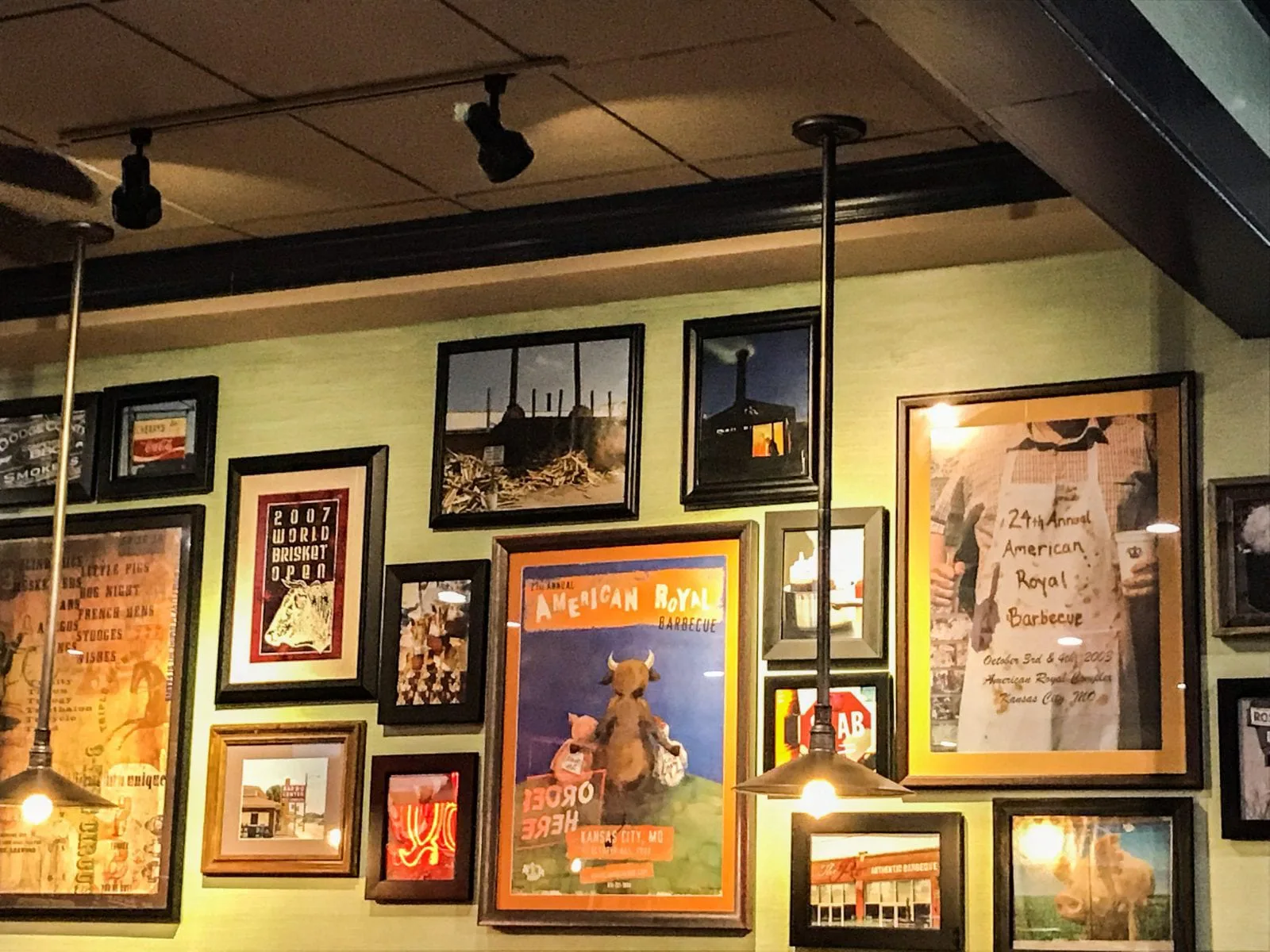 The decor is standard BBQ fare, but this wall is a nice tribute to the American Royal Championship.
This is my pulled-pork sandwich. I moved the bun a little so you could see the meat.  The fries are yummy, too.  I love the seasoning.  We actually bought some of the seasoning from the little gift area at the entrance.  The seasoning goes perfectly with Ranch if that's something you're into.
On your table, you'll find the BBQ sauce.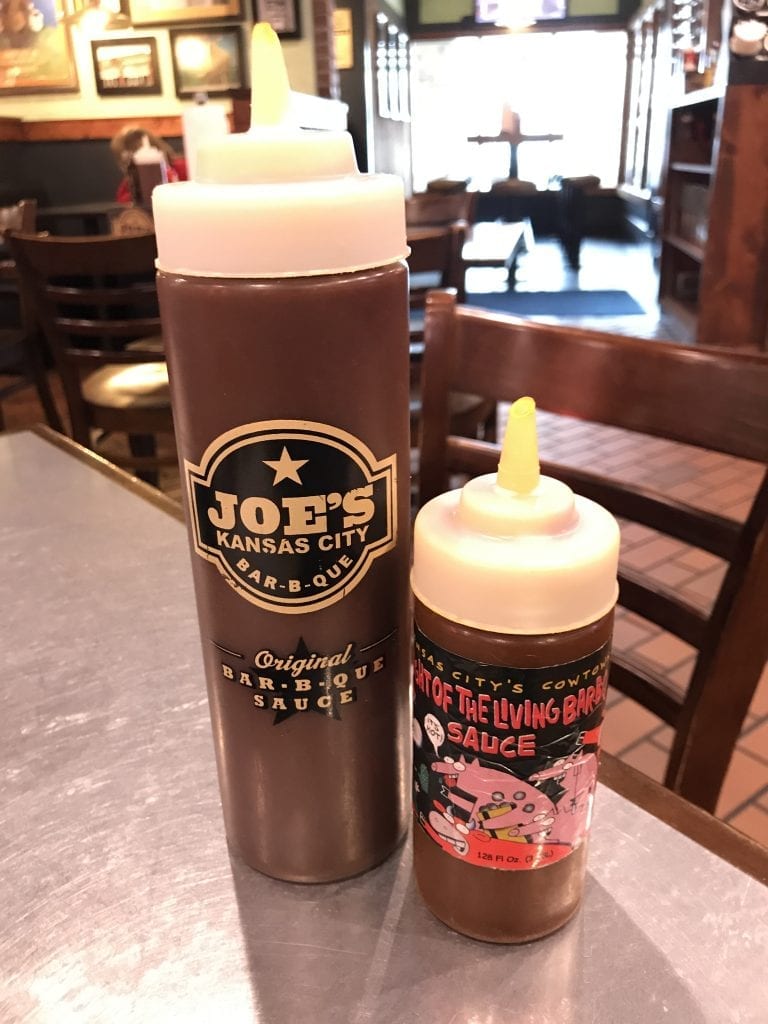 Some BBQ places have more options, but I thought the house sauce was perfect.
Jeff's burnt ends were delicious, too.  I had to snag a bite.
I couldn't finish all of my fries.  I wanted to, but I was stuffed.  That is the only problem with eating here–you may have to roll out because you are so full.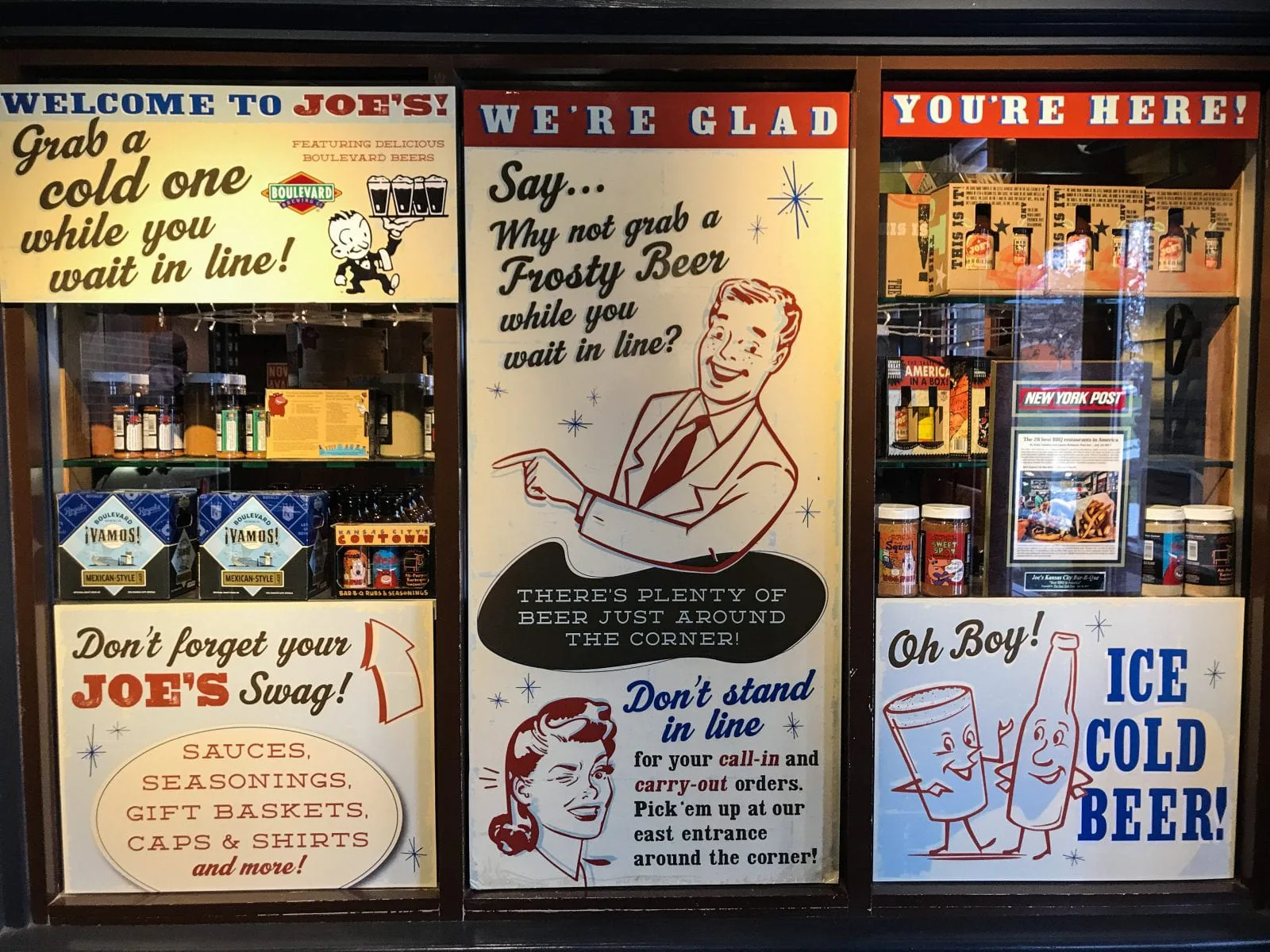 Here's more of the cute decor; this is at the entrance.  When we arrived, we were too intent on following our noses and eating BBQ that we missed some of the details.
Don't have time to eat inside?  Or maybe more accurately, you can't find a table inside?  No worries!  You can order through the take-out door.
This is a wonderful place to try some Kansas City-style BBQ.  We had great food, and the service was perfect.  If you're in the Kansas City area, you should definitely put Joe's on your list of restaurants to try!