This post may contain affiliate links. Please read our disclosure policy for more information.
As we planned a trip to Yellowstone National Park, we quickly discovered that we needed to spend some time in Grand Teton National Park, as well.  I'd never heard much about this park, but when I saw others planning their trips, I realized that the parks were so close and it would be a mistake to miss this beautiful park.
This is our experience. When I plan trips, I like to know what others have done. Hopefully, our experience can help you plan your trip!
Planning Our Trip to Grand Teton National Park
As we planned the trip a year out, we initially planned to spend two days in Yellowstone and one day in Grand Teton. We soon realized we wanted more time. In the end, we spent just the right amount of time in both parks with three days in each.
To read about our Yellowstone adventure, click here.
To read about our stay at Old Faithful Inn, click here.
To make our extra days happen, we spent two nights in Dubois, Wyoming. By the time we wanted to add more lodging to our trip, anything closer was booked. Also, this was 2021, and the pandemic was still heavily affecting staff and the opening of businesses and attractions.
It may be slightly better now, but I would not waste time when it comes to reserving your lodging. We booked Old Faithful Inn a year out, and a lot of dates were already taken. We luckily scored two nights together over my birthday.
For the tail end of our Grand Teton National Park adventure, we stayed at the Hatchet Resort in Moran, Wyoming, just outside of the park. It's actually the perfect place to stay if you're not staying in the park and you're looking for something quieter than Jackson. To read more about our stay at the Hatchet Resort, click here.
Stay tuned for more information about our stay in Dubois coming in future blog posts!
Our Grand Teton Adventure Begins
For our first two days, we drove over to Grand Teton National Park from Dubois. We spent the first night at Twin Pines Lodge and Cabins in a cabin. It's rustic, but it served our needs. Nothing fancy, just a little cabin in town.
For our second night, we stayed at the Longhorn Ranch Lodge and RV Park. This resort was a step up in the fancy factor and very comfortable. The RV spots looked great, too. It's a bit out of town, but not an issue.
Both of these are good choices, but the drive over to Grand Teton National Park is about an hour. It's doable, but not convenient. Still, we were happy to get the lodging when we added days to our trip.
Day 1 in Grand Teton National Park
On our first day, we drove from Dubois, Wyoming, to Grand Teton. The drive was about an hour, and we arrived in the afternoon after checking into our lodging for the night and grabbing lunch in Dubois.
Using the Gypsy App
We'd installed the Gypsy app on my phone, which I highly recommend for exploring national parks. After you install the app, you can purchase the guide to various national parks. This app tells you what is coming up and gives you enough information about an area or a road so you know if you'd like to stop or not. It also provides history and background information about the park. It helped us a lot; we didn't know a lot about Grand Teton National Park when we arrived.
Beware of Wildfire Season
This is probably a good time to mention that during our visit in July of 2021, seasonal wildfires had already started their yearly burn in the west. Most years, the area is not shrouded in smoke until August if the fires are nearby. This year, the smoke affected distant views by about noon each day. Keep this in mind as you plan a summer trip.
Still, the park was breathtaking. I'm so glad we visited. And though our pictures weren't always pristinely clear, the smoke added an uncommon moodiness that makes our pictures unique. If you hear there's smoke from wildfires, and you're wondering if you should still go, I'd say give it a shot as long as you aren't in any danger. The national parks are still stunning even with a smoky haze.
Exploration Begins
So, for that first afternoon and evening, we followed our app and got a feel for the park. We started off right in the center of the park, checking out the Snake River and Oxbow Bend. Then, as dusk approached, we kept our eyes peeled for wildlife. In this central area of the park, you can drive by Jackson Lake and the Jackson Lake Dam area. Nearby are Signal Mountain and the Signal Mountain Lodge area. Signal Mountain is a mountain that you can drive up. And my bet is…you'll see some deer.
Below is a mama and baby we saw as we drove up the mountain.
When you reach the summit, there is a parking lot. You can get out of the car and see the area from a viewing point at the top. As we walked to the viewing point, we were surprised by a deer who was doing some sightseeing of its own!
We backed down the path and waited our turn.
Even with a smoky haze, the view of the Jackson Hole area is beautiful.
After checking out the mountain, we drove around the park to catch some of the viewpoints of the Tetons. We skipped over some areas that we planned to return to; at this point, we focused on the viewpoints. This was one of the first stops. Again, a little smoky, but it's still stunning.
You'll have many chances to catch the mountains from different angles. It's up to you how often you want to stop at various viewpoints. We couldn't resist stopping at them all!
As the sun went down, we decided to make our exit. We still had an hour's drive back to Dubois, and we planned to head back the next day. As we left, we said goodnight to this bison herd near the entrance of the park.
Day Two in Grand Teton National Park
The next morning, we checked out of Twin Pines Lodge and Cabins and headed back to the park. We nibbled on breakfast items along the way.
Some people suggest that if you want to hike a popular area or take the Jenny Lake ferry, you'd want to get to those areas early in the day. That's not bad advice. We also noticed the previous day that the Jenny Lake area also clears out in the late afternoon. We opted to try for an afternoon visit since we were an hour away. It worked out great for us!
To read more about our Jenny Lake experience click here.
When we arrived at the park, we continued exploring. We love national park lodges, so we pulled off to explore some of those areas.
Below is Colter Bay. Colter Bay Village has cabins and an RV park.
This area is a nice hub for visitors staying in the park. There's a really nice gift shop along with a grocery store.
You'll also find Colter Bay Visitor Center, the first visitor center we visited during our trip to Grand Teton National Park.
As we left, we spotted this little gray fox.
Another stop–Jackson Lake Lodge. This is Grand Teton National Park's flagship lodge.
Though we normally love to stay in national park lodges, we didn't book this one this time. By the time we planned our Grand Teton portion of the trip, everything was booked inside the park. When we return, we'll make staying here a priority!
Normally, the view of the mountains from this lodge is clear, at least that's what I've seen in pictures. Even in the smoke, it's pretty cool. Maybe for our next visit to the Tetons, we can avoid wildfire season. Perhaps June.
After checking out these lodging areas, we made our way toward the Jenny Lake area to check out the parking situation and crowds.
Along the way, we stopped to take some walks in the area. Stunning!
As mentioned previously and in our Jenny Lake post, we arrived at Jenny Lake in the late afternoon and found parking as people were leaving.
You'll want to time this well. If you want to take the ferry round-trip, you'll want to be sure you have time at the other side and time to catch a ferry back before they stop running. If the ferries stop, you can still hike back along the lake. Be sure to check the schedule and plan what works best for you.
It's also worth noting that the Jenny Lake launch area has a visitor center and gift shop.
After we had our Jenny Lake adventure, it was time for more wildlife spotting as the late afternoon headed towards evening. We'd heard a great place to spot moose was along the aptly-named Moose-Wilson road.
It did not disappoint! These two were taking a stroll in a meadow along the road.
There is also an overlook that looks down onto a stream. We saw several mamas and babies arrive here around dusk.
Realize you're a bit away, which is good for the moose and your safety, but you may want a camera with a bigger lens, binoculars, or a scope to see these well.
We loved watching the babies!
So cute!
As we made our way out of the park, we saw another animal–this elk. It's the only male elk we have seen on any of our adventures.
We left before dark again. We had that hour's drive back to Dubois, and we also needed to check into our lodging for the night–Longhorn Ranch and RV Park.
The next day, we'd be much closer to the park, right outside the entrance, actually.
The next morning, we checked out of Longorn Ranch and RV Park and stopped at our next lodging–The Hachet Resort. We actually drove to Yellowstone after check-in on that day. The following day, we did our final Grand Teton National Park adventure.
Day 3 in Grand Teton National Park (And a Little Bit of Jackson)
We were up in good time on our final day to try to beat the smoke. We had a few more iconic sites to visit, like the T.A. Mouton barn in Mormon Row. The smoky haze is there, but believe it or not, this wasn't bad compared to later in the day. Of course, the closer you get the mountains, the clearer the view. Pictures from a distance had the haze.
Overall, morning pictures during the fires weren't bad.
Schwabacher Landing was downright gorgeous on this morning.
We even saw this moose. We were up on an embankment; the moose was down in the stream. Thank you big camera lens!
I can't help be include so many wildlife pictures.
We get so excited to see any critters!
After the smoke moved in more densely, we decided to exit the park in a direction we hadn't yet to check out Jackson, Wyoming.
Many people choose to stay here, and it's a good choice. During our visit, however, we were still in the pandemic, and services were definitely affected that July. Let's just say that Jackson was busy, and you needed to bring your patience if you were shopping, dining, or lodging in Jackson. As time goes on, perhaps this will improve each summer.
We considered eating somewhere in Jackson, but in the end, we grabbed McDonald's from the drive-thru and ate in a little city park.
Not the one below, though. This is the park in the city square. It was hopping.
Plenty of people were out and about exploring.
We walked around the square and did some shopping.
Jackson definitely has a fun vibe.
After lunch and shopping we headed back to the park. We made a stop at the Craig Thomas Discovery and Visitor Center.
The building itself is beautiful.
We then used the Gypsy app and checked out a few more suggested stops, like the Chapel of Transfiguration.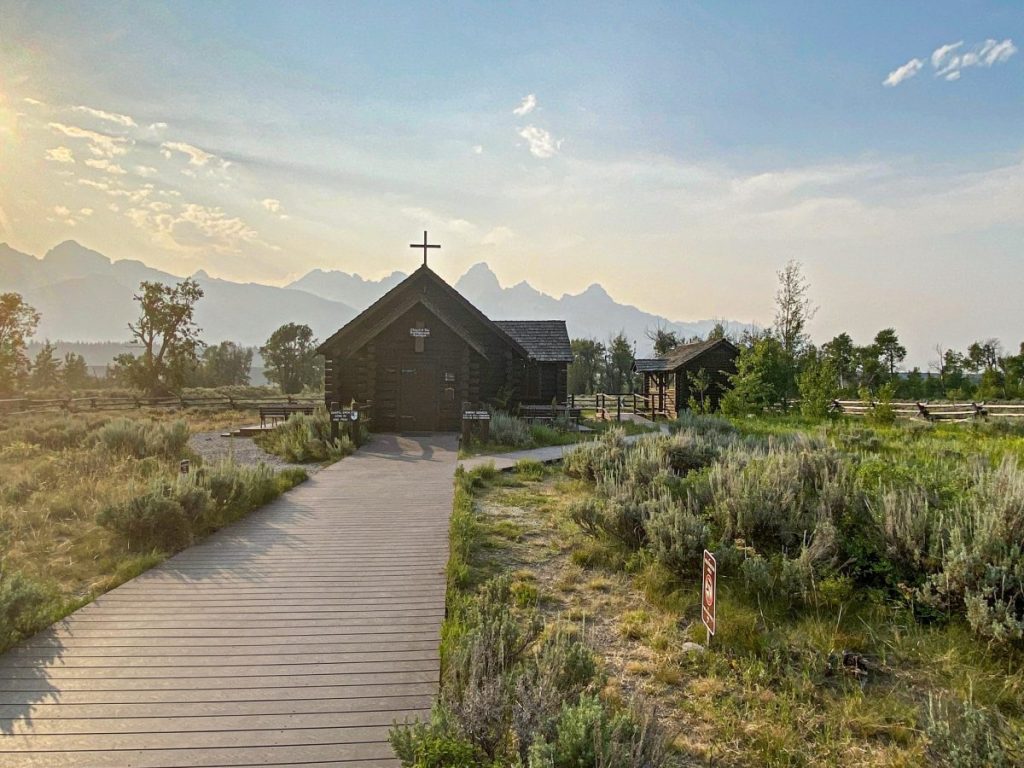 I love the view from the window inside.
We also made stops at some of our favorite spots again. I love the beaver dam in this picture.
This time, we weren't hurried to return back to our lodging as the sun went down. We watched the sunset from Schwabacher Landing.
After dark, we returned to our resort and had dinner at the restaurant there.
I'll leave you with the picture below of the Tetons in the morning. Grand Teton National Park wasn't really on my radar before planning our Yellowstone trip, but I'm so glad we made it part of our adventure. And really, the park is right next door, so you may as well check it out. I was surprised by how much I enjoyed the park, and I'd love to return one day.
If Yellowstone wasn't so close, I think it would get more discussion on its own.  Those mountains are magical, and we saw more moose here than we have anywhere else we've been. I hope Grand Teton National Park is on your must-do list!