This post may contain affiliate links. Please read our disclosure policy for more information.
Halloween Weekends at Holiday World was the perfect reason to take a road trip and give this midwestern theme park a try. True, I'd made a visit to this park when I was five years old; back then, it was known as Santa Claus Land. I hadn't been since the theme park embraced other holidays in its theme, and my travel companions, Jeff and Kristin, had never experienced the park in any form. When we discovered the park, complete with a Halloween-themed section, celebrated Halloween with Halloween Weekends, well…we knew we had to hop in the car and give this place a shot.
Holiday World: The Park
The park is located in, get this, Santa Claus, Indiana. This town is completely into Christmas all year long. I'll write more about that soon.
On August 3, 1946, Louis J. Koch opened this little theme park in the town, then known as Santa Claus Land. Koch wanted the children who made the trek to Santa Claus, Indiana, to have an opportunity to meet Santa while they were there, an opportunity that wasn't available prior to Koch's park project. Apparently, the park also included some Christmas-themed rides, a toy shop, and a restaurant.
As Koch's family expanded, so did the park. In 1984, Halloween and 4th of July areas were added, and the park became Holiday World. Splashin' Safari Water Park, which is connected to Holiday World, was added in 1993. The Thanksgiving area was opened in 2006, and the park continues to add new attractions and experiences every year.
Reference:
"History of the First Theme Park | Holiday World & Splashin' Safari." Holiday World, 2019, www.holidayworld.com/park-tickets/history/. Accessed 26 Nov. 2022.
This park boasts two amazing perks just for visiting–free soft drinks and free sunscreen! We certainly appreciated the unlimited free soft drinks, and had we visited during the summer, we would've certainly used the sunscreen. One of the drawbacks of visiting in the fall is that the water park is closed; I guess we'll have to check it out another time. If you do visit during the summer, realize that the parks are connected; you can easily walk between them, and both parks are included in your admission!
On the day of our visit, the park opened at 11:00 a.m. Since we arrived in town at about 9:00, we had plenty of time to check to see if our cabin at Lake Rudolf was ready (it was!) and to move into our home for the weekend before making the very short drive over to the Holiday World parking lot. Lake Rudolf is the campground right across the small lake from Holiday World; it's the perfect place to stay during your stay in Santa Claus.
Holiday World Lands
We purchased our tickets a few days ahead of time online for a bit of savings; it's something to definitely look into before your own visit. We actually entered the park just after opening, and there wasn't really any crowds to contend with.
Keep in mind, though, this was the first Saturday in October, so the closer you get to Halloween, it may be more crowded. And, I'm not sure about the crowds in the summer. We try to get inside theme parks before opening when we can, but the slight delay didn't seem to affect anything.
Christmas
When you first enter the park, you'll find yourself in the original Christmas area. The area reminds me of a little German village.
It's always Christmas here, and we found it quite charming.
Below is a kiddie ride that I remember from my visit when I was a kid–Dasher's Sea Horses. So cute!
This little kiddie ride section in the Christmas area is perfect for younger visitors. Kids can even take a spin in Santa's sleigh.
One of the most popular dining places is in the Christmas section of the park–Santa's Merry Marketplace. This is where you'll find theme park favorites like burgers, fries, pizza, and chicken strips. There seems to be some other options for more adventuresome people in your party.
You can also find that perfect treat in the marketplace.
We enjoyed the shopping here, especially the vintage Santa Claus Land merch. I may or may not have taken one of the shirts home. And maybe an ornament.
If I'm telling the truth, we really didn't explore the Christmas area until much later in the day. The park is lovely, and Christmas is the perfect land for strolling and shopping. When we arrived at the park, we had one thing on our minds: coasters. So instead of lingering in Christmas, we made a beeline to one of the most popular coasters in the park, which also happens to be in the area we explored first: Thanksgiving.
Thanksgiving
As far as lands go in Holiday World, Thanksgiving is the newest. Jeff had read that it's not a bad plan to ride The Voyage early in the day before lines form. This proved accurate during our visit.
Kristin, our non-thrill ride person, staked out the perfect bench nearby, and Jeff and I hopped in line. We didn't have to wait long. This was a great zip through the woods. The initial drop surprised us, and the tunnels were a lot of fun. What can I say? This woodie is a goodie.
The theming in this park is also a lot of fun–like this turkey Tilt-a-Whirl.
Probably my favorite ride in the whole park is this shoot-out dark ride, Gobbler Getaway.
I love a good dark ride with character. In this case, the characters are turkeys.
Remember when I mentioned the free drinks? Each area in the park has an "oasis" where you can grab a quick soft drink.
Of course, drinks are also free in the restaurants. During our visit to Holiday World, we decided to grab lunch at Plymouth Rock Cafe.
The idea that you could grab a full turkey dinner in a theme park was too much to resist. This restaurant has plenty of seating inside. You'll go through a cafeteria-style line to grab your Thanksgiving meal, and then find a seat in the dining area.
The three of us all had turkey dinners similar to the one below. You can choose to have gravy or not, and you can choose from various sides. I had cinnamon apples instead of the mashed potatoes.
Kristin and I sampled dessert. This meal turned out to be a tad pricey, like theme park meals can be. But, it turned out to be the only meal we had in the park, so the splurge felt justified.
Believe it or not, Jeff and I rode the only steel coaster in the park after lunch: Thunderbird. It may not have been our best choice, but it worked out. This coaster is on the far edge of the Thanksgiving section, and the far edge of the park. We thought we'd tackle it while were in the area.
It turned out fine. This launch wing-style coaster is my favorite in the park.
Halloween
Halloween is a great area with a couple of coasters and carnival-style rides that families can ride together.
Since we visited for Happy Halloween Weekends, we were definitely in the mood for Halloween; the theming put us right in that Halloween spirit.
The area is full of rides, games, and snacks.
One of the coasters in Halloween is a woodie known as The Legend. You can also see the drop for the log ride, Frightful Falls, in orange. We took a spin on both.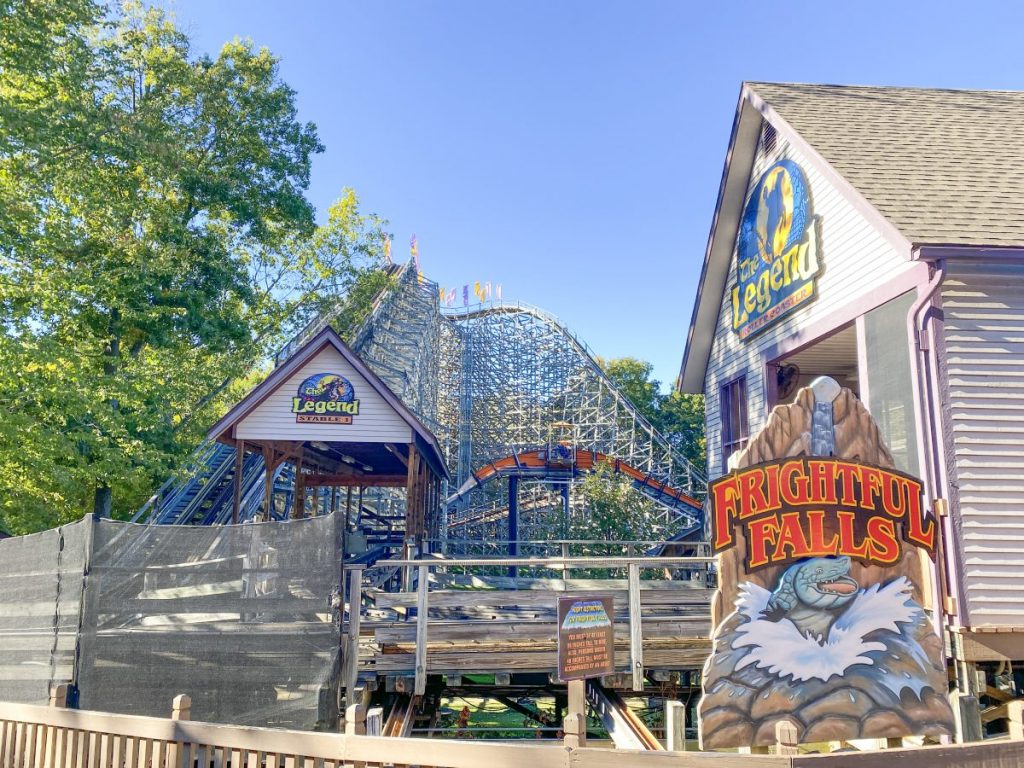 The Legend is themed to the Legend of Sleepy Hollow, also known as the story featuring the Headless Horseman. What's fun about his ride is that a bell sounds whenever a train leaves the station. This is also the coaster that flew by behind our cabin at Lake Rudolph Campground.
The ride itself is a lot of fun; there's plenty of twists and turns.
The other coaster in the area is The Reven. This is the coaster that towers over the Holiday World parking lot.
The queue to this one definitely gives you Haunted Mansion vibes.
This coaster gave us our longest wait time, but it was worth it. All the coasters in Holiday World are pretty fun. Below is the coaster as seen from the parking lot.
4th of July
We didn't make it to the 4th of July area until late in the afternoon. This area is worth the wait, though. Though there aren't thrilling coasters in this area, you'll find a few surprises, like this classic carousel.
And don't worry, there is a thrill or two, like this drop tower.
You can also take a ride on their take on the classic car ride.
This is a great one for families.
And don't forget to take a turn on the Raging Rapids. The theming on this one is pretty cute.
There is no shortage of flags in the 4th of July area.
One of the things not to miss in 4th of July is sampling the blue ice cream, or how it's known as during Happy Halloween Weekends–Udderly Boo Ice Cream.
Folks, it's more than just blue soft serve. It's blue raspberry-flavored, so this unique treat had to be experienced. It was yummy. Definitely give it a go.
Happy Halloween Weekends at Holiday World
Though the park is fun without a special event, Happy Halloween Weekends are certainly worth a visit. We didn't experience all the offerings of this special event, but what we did try was a lot of fun.
Like many parks across the country at Halloween, Holiday World offers some walk-through "haunted house" type attractions during Happy Halloween Weekends.
While trying to experience everything the park had to offer, we only managed to make it through one of these: Scare BNB.
This one is perfect for families with younger kids. It had a lot of themed rooms, but there weren't any costumed people inside, so that toned down the scare factor. I think we experienced one "jump-scare" moment, and it wasn't bad.
Our favorite part of Happy Halloween Weekends at Holiday World was The Monster Mash show. We liked it so much, we saw it twice. Be sure to check the schedule since a couple of shows take place on this stage in the Halloween area of the park.
The show features an American Idol-type contest featuring pop hits, past and present, that most people will recognize.
Happy Halloween Weekend has a lot of activities that we just didn't make it to: hayrides, a corn maze, two other shows, and two other walk-throughs. We may have got more in if we'd stayed through until the evening, but there was a lot happening back in our campground, too. We wanted to catch a bit of the action at Lake Rudolph.
Lake Rudolph Campground
As I mentioned before, Lake Rudolph Campground is the perfect place to stay while visiting Holiday World. Heck, this campground could be a destination on its own, and I think it was for many families who stayed in the campground during Happy Halloween Weekends.
This campground, now managed by Sun Outdoors, offers many ways to stay: campsites, tent sites, rental campers, and cabins of different styles.
One of the activities during these weekends is a decorated golf cart contest parade. Here are some of the golf carts.
Other activities included trick-or-treating, hayrides, and campsite decorating contests.
One thing to note about Santa Claus, Indiana, is that there isn't a huge selection of restaurants. There is a grocery store in town, and there are some supplies available at the camp store. You can also order from the pizza window in the campground or grab a burger.
We hit up the grocery store and grilled. We also made a cozy fire in our fire ring. One evening, we did drive about 15 miles away to a Denny's. It seemed to be a popular post-Holiday World spot.
We happened to stay in the Legendary-style of cabin. This one has a living room, kitchen, bathroom, and a bedroom with a queen-sized bed on the main floor. Upstairs in the loft, there was a queen-sized mattress and two twins. The sectional sofa in the living room also was a pull-out bed. We had plenty of space.
We brought some pumpkins to decorate our cabin. It was a nice touch. The Legend roller coaster also zips by right behind these cabins. Did I mention the park is really near?
Other cabins on the property sleep even more people. There's probably something that will fit your party when you decide to visit. Be sure to book cabins well in advance. They seem to sell out quickly.
We had a great time visiting Holiday World for Happy Halloween Weekends. We'd been hoping to get a visit in for a long time, and we weren't disappointed. Santa Claus, Indiana, turned out to be the perfect fall getaway our family needed. I hope we get to visit again soon!
Other adventures similar to this one:
Silver Dollar City: Pumpkins in the City–Branson, Missouri
Silver Dollar City in the Summertime
Silver Dollar City at Christmas