This post may contain affiliate links. Please read our disclosure policy for more information.
Hattie B's Hot Chicken has become a Nashville staple over the years. If you're looking to sample one of Nashville's famous foods, Hattie B's Hot Chicken is a perfect choice.
When we hop in the car for a road trip, one of the things we always look forward to is sampling some of the local cuisine of our destination. Okay, maybe it's something I look forward to; my picky travel companions are not always so sure. Still, when one of the local dishes is chicken, maybe I can get them on board.
Hattie B's Hot Chicken: The Restaurant
We took a quick two-night getaway to Nashville last summer for my birthday. For us, it's about a seven-hour drive, so it's completely doable as a short trip. As we researched Nashville, we knew we needed to try one of the city's hot chicken places. After some deliberation, we chose to try Hattie B's. We were not sorry.
Currently, there are four locations in the Nashville area, and there is a handful of locations in various cities around the country. Though Hattie B's opened its first location in 2012, the owners of the restaurants, Nick Bishop and his son Nick Bishop, Jr., are second and third-generation restauranteurs in Nashville. Named for three women in the family, Hattie B's is certainly a family affair.
When we arrived in Nashville, we decided to choose a location away from downtown in hopes that it wouldn't be as busy. Plus, we were staying at the Best Western Plus on Music Row, so we would be near downtown for most of the trip. We also arrived in the afternoon, so we also hoped it wasn't too busy for that reason. We chose the Melrose location.
Well, let's just say that it was "less busy." We still parked in the street a couple of blocks away, though it's worth noting that the parking lot at the Melrose location is really small. And we did note that the line was out the door. In the July heat, we prayed the line moved quickly. And really, it did.
There was also a server who was running drink orders out to our line, so that helped. Drinks come in a take-home cup, and refills inside are free, so once you had your drink, it was good for your entire visit.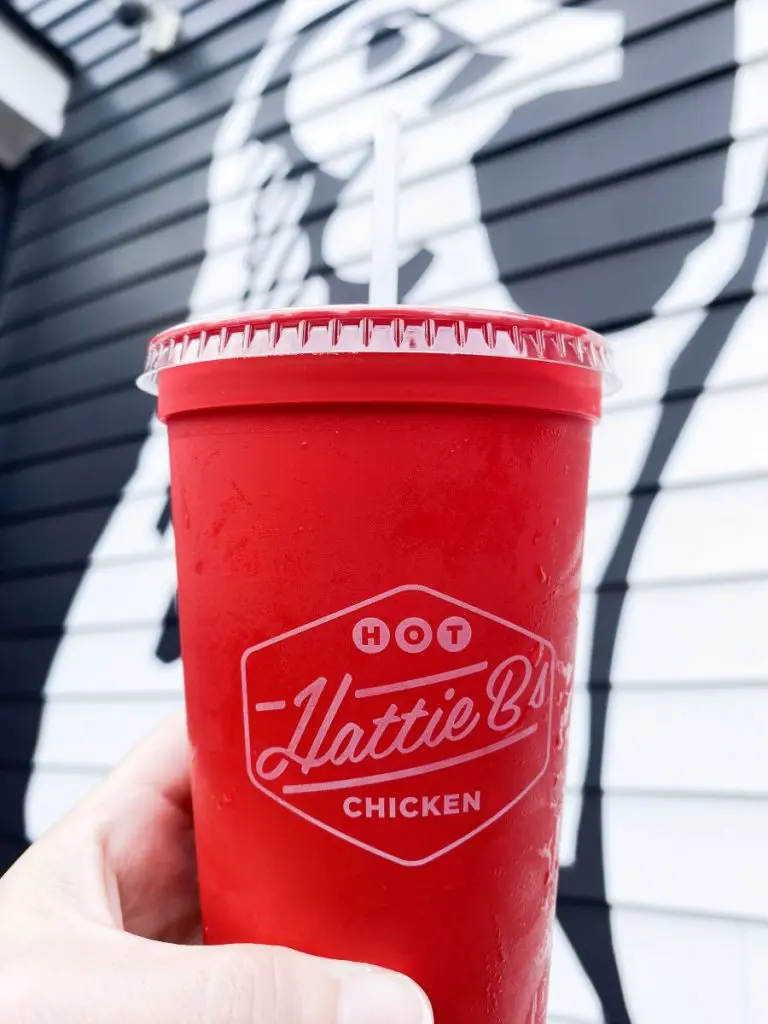 You also have ample time to study the menu. We are spicy-food wimps, so the idea of trying the chicken with any type of heat was daunting. We decided to mostly get "no heat," but Jeff would get a mild single tender, with mild described as "a touch of heat." As we scanned the menu, we knew that "shut the cluck up" was completely out of the question. Who are these non-humans that can stomach such things?
I also knew I wanted to sample several other dishes on the menu. As we researched the area, banana pudding came up repeatedly as a local dessert. And I wanted to sample some of the Southern sides that often elude restaurants in the Midwest. So, bacon cheddar grits and pimento mac and cheese it was. My travel companions opted for the old standby–fries. All of us chose chicken tenders.
Once inside, you place your order at the counter. The vibe was definitely bustling with chatter. After we placed our order, the cashier handed us a number to place on our table; our food would come shortly.
This gave us a moment to explore and refill our drinks. If you're up for it, you can sit outside on the patio, but on a hot day in July, the patio was empty.
Hattie B's Hot Chicken: The Food
The drinks are self-serve. You have plenty of pop options, but they also provide tea and lemonade.
It wasn't long before our food arrived. The chicken was some of the best we've ever had, and my travel companions have done the legwork when it comes to tasty chicken tenders.
The "spicier" tender was denoted with a toothpick. Jeff and I tried it, but we were glad we went with "no heat" for the most part.  I thought it was nice that you can mix-and-match the heat of your tenders in your order.
The meals also come with white bread and pickles; this is supposed to help with the heat.
I'll be honest–I wasn't sure if I'd really like the sides I chose. But let me tell you, both my grits and mac and cheese were absolutely delicious! Above is the mac and cheese; below is the bacon grits.
Don't forget the banana pudding! Actually, we were pretty full, so we took the pudding with us. It made a great snack back in the room.
I do recommend ordering all the flood you want at the start if the place is busy. It would be difficult to get in to order more later without getting in line again. The line remained out the door for our entire visit.
Hattie B's Hot Chicken: The Verdict
If you're heading to Nashville, I'd certainly give the hot chicken a try, even if you're not into spicy foods. We had fun trying a little heat, and the chicken itself is yummy–crispy on the outside and juicy on the inside. If you don't want any heat at all, the basic chicken tenders were perfect.  The sides were also fun, especially for those of us who don't always have access to regional dishes.
If you don't try Hattie B's, be sure to try some hot chicken somewhere. We also considered Prince's., 400 Degrees, and Party Fowl, but there are many more options and styles to suit your tastes. I hope to try another hot chicken spot on our next visit!
Reference:
Caramanna, Carly. "The Untold Truth of Hattie B's." Mashed, Mashed, 11 Oct. 2021, www.mashed.com/629979/the-untold-truth-of-hattie-bs/. Accessed 19 Dec. 2022.
Other Tennessee adventures:
Clingman's Dome in the Smoky Mountains