This post may contain affiliate links. Please read our disclosure policy for more information.
One of my favorite things about fall is our area's multitude of fall festivals. Last year, we added a new one to our list, which was amazing! The Japanese Fall Festival at Springfield, Missouri's, Mizumoto Japanese Stroll Garden is an annual event that occurs roughly the same time of year as some traditional festivals in Japan; the festival is held the second weekend of Septemeber.
For the past 27 years, Springfield has honored its sister city in Japan–Isesaki. The festival includes authentic cultural experiences, shopping, shows, and food.  Kristin has an interest in Manga and Japanese Vocaloid performances, so this festival was especially exciting for her. We couldn't wait to arrive and see what the Japanese Fall Festival in Springfield was all about.
Arriving at the Japanese Fall Festival
When we arrived at the festival, we quickly discovered that the area is home to a lot of possible areas to explore, from trails to the historic Grey/Campbell Farmstead. Today, however, we only had one thing on our minds–the Japanese Fall Festival.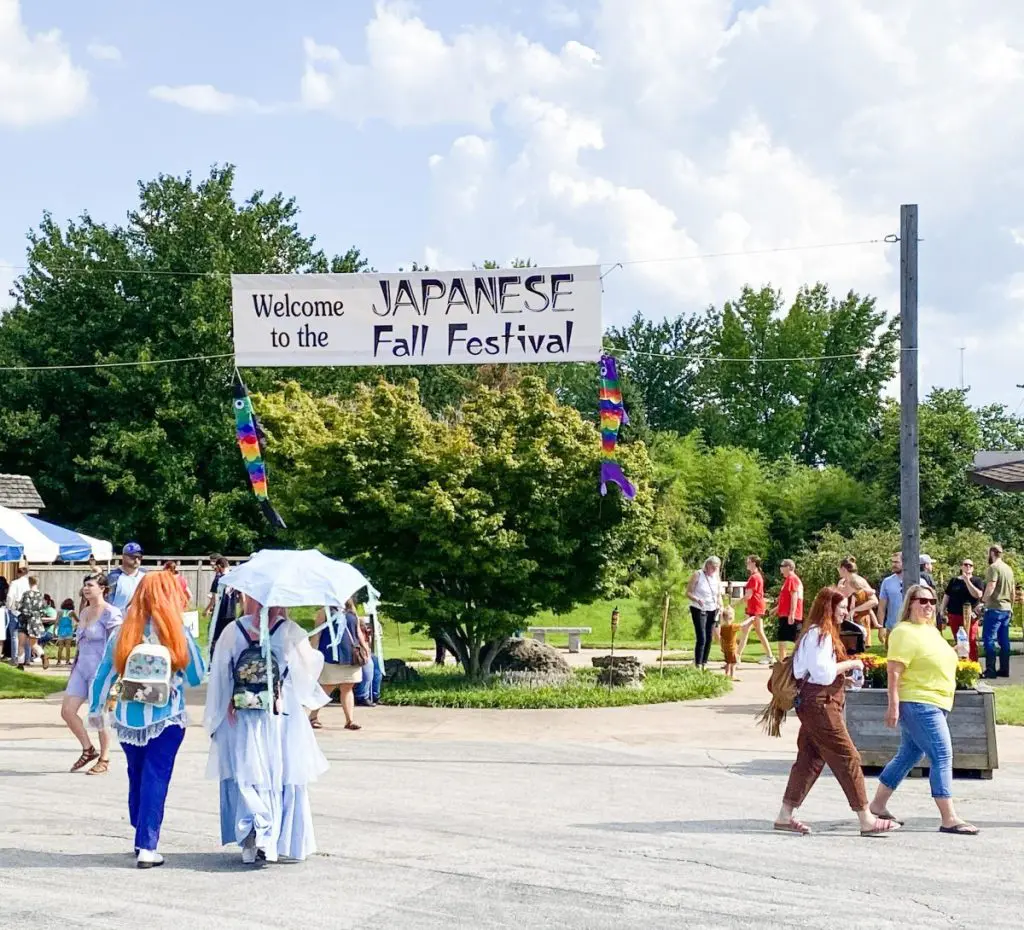 We soon found the entrance and paid the admission fees. We probably arrived a little too early for our plan, but we weren't sure how long everything would take. I would suggest heading out there closer to late afternoon to evening. We arrived early in the afternoon, and it made for a long visit to stay past dark. Still, everything was new to us, so we weren't sure what to expect.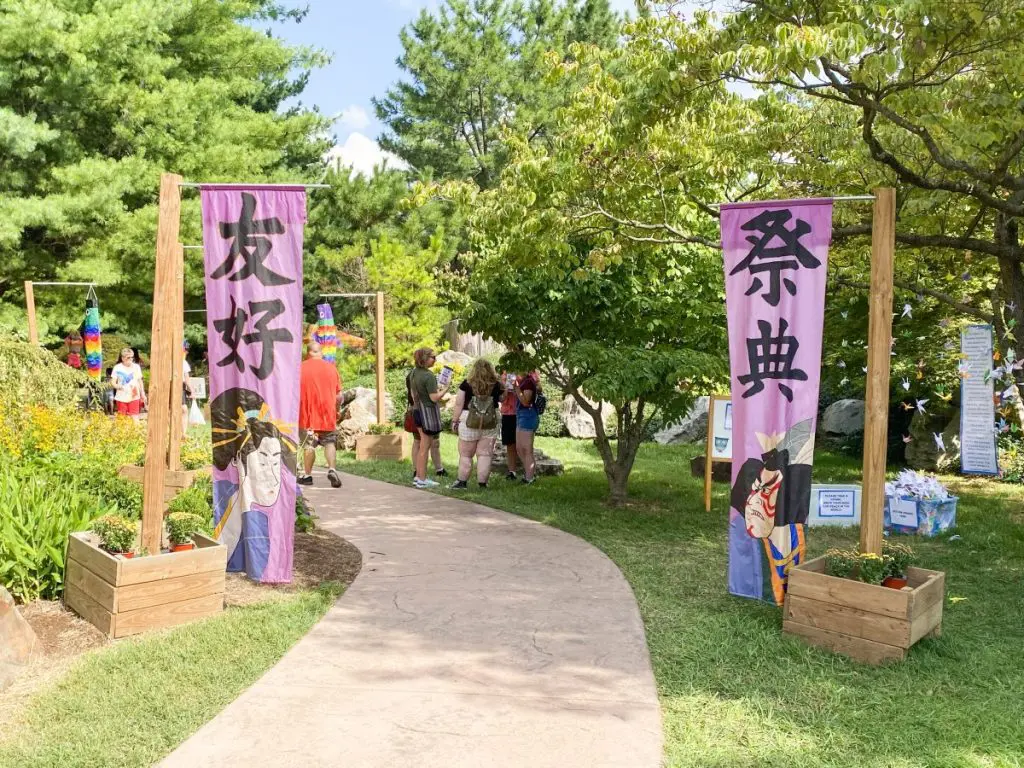 The first thing we noticed is the lovely decorations to set the scene. Mizumoto Japanese Stroll Garden is open all year long, so if you're not able to make it to the festival, the stroll garden is worth checking out even when the festival isn't happening.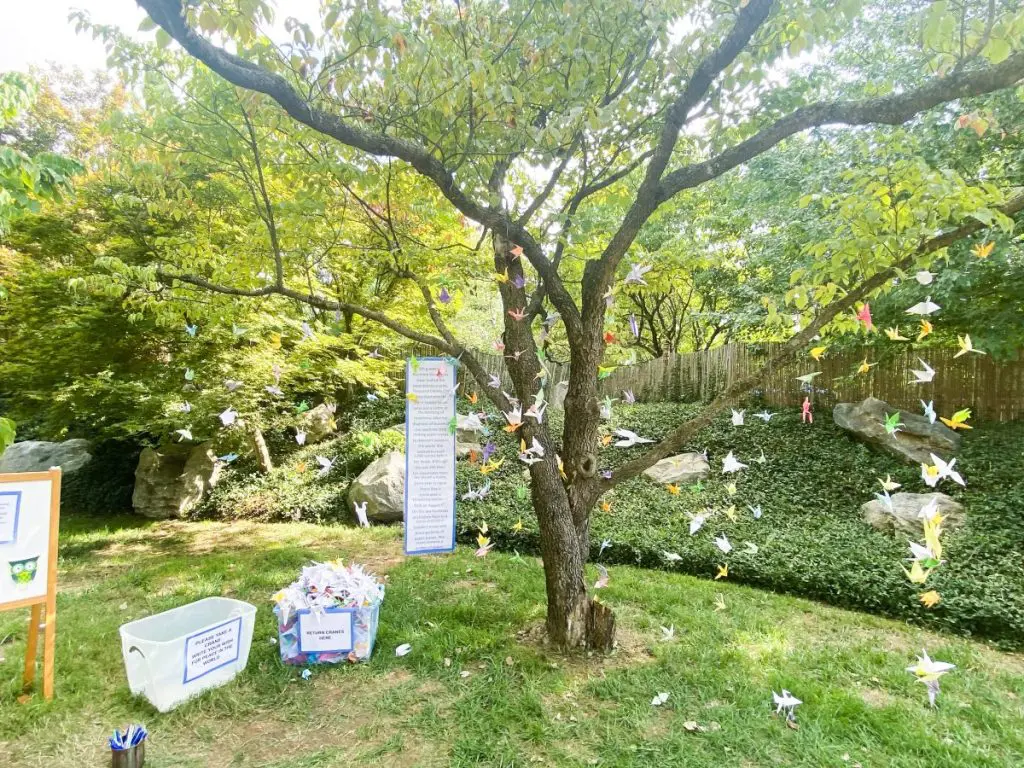 With our brochure in hand, we planned out the performances we hoped to see. We could explore everything else around that schedule.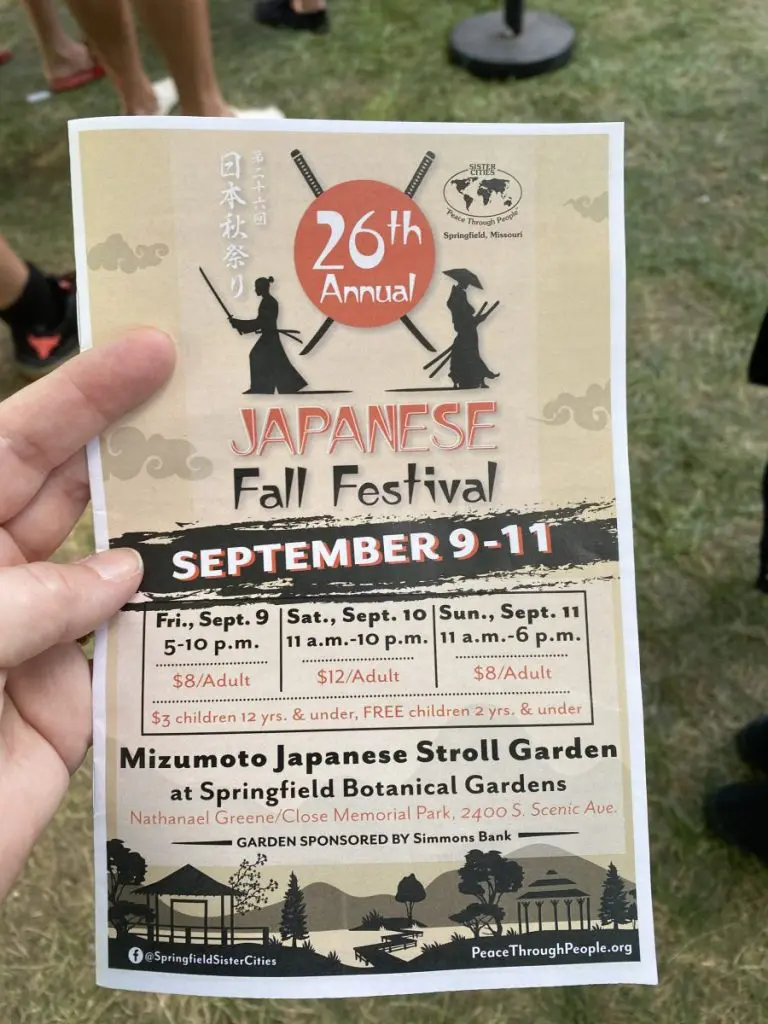 Mizumoto Japanese Stroll Garden
Since some of the performances repeat, we decided to explore the garden first since the shows we really wanted to see were available later. The garden is simply stunning. Below is Moon Bridge.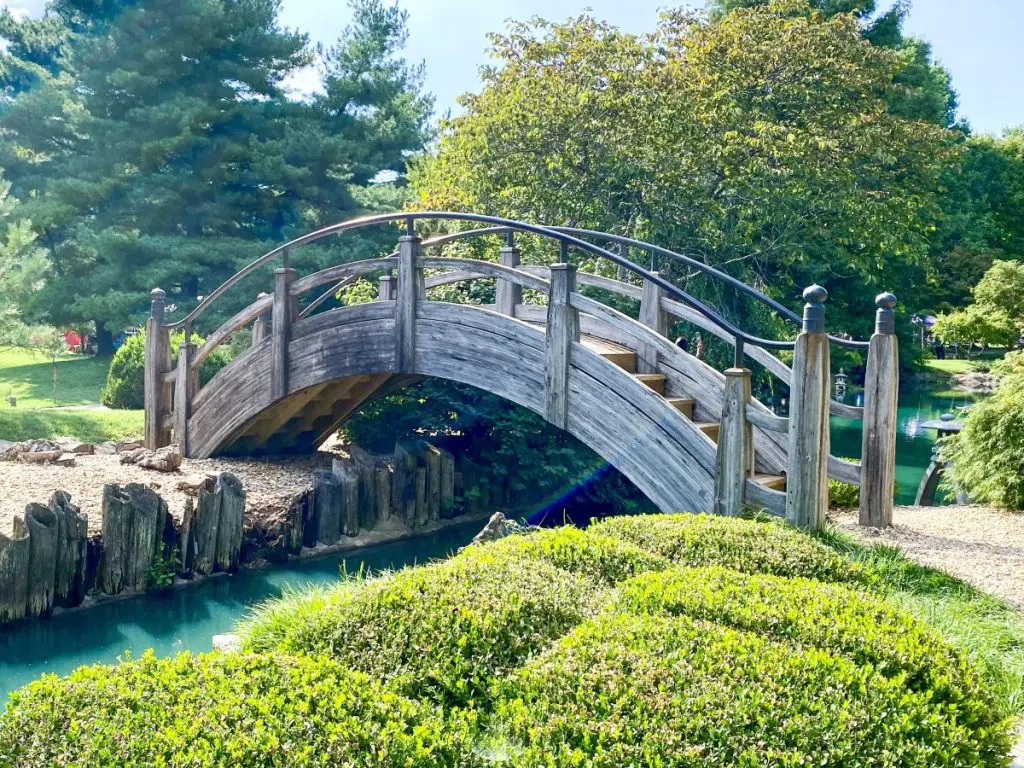 Again, the Mizumoto Japanese Stroll Garden is worth seeing even without the festival.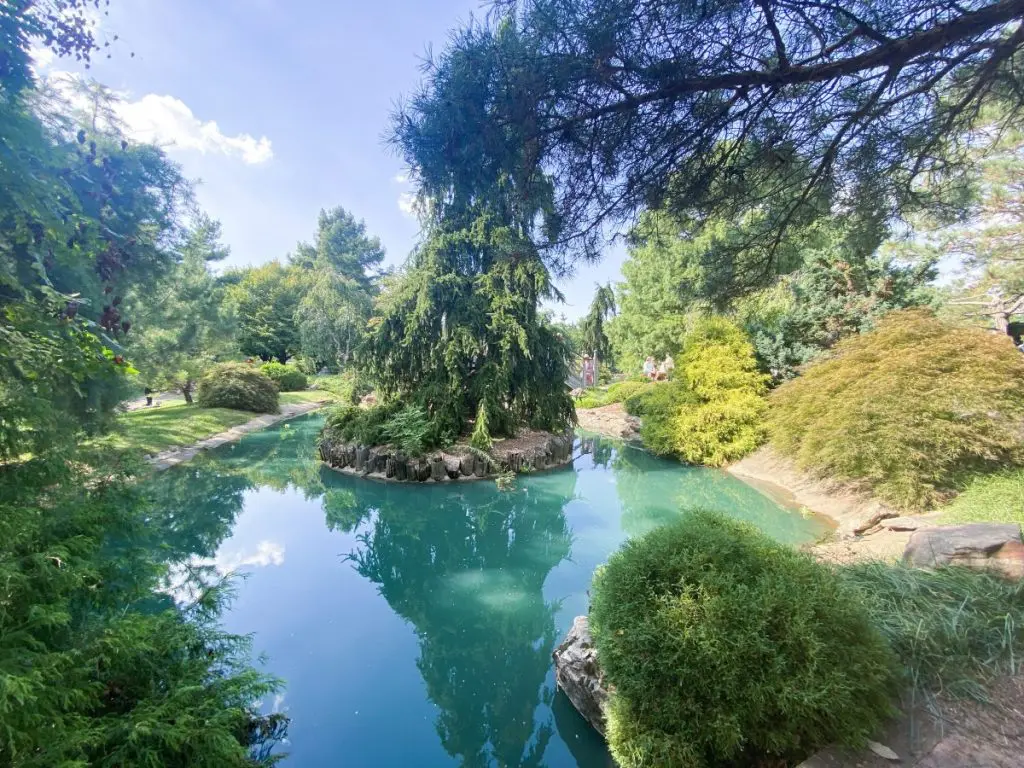 Below is the meditation garden.
You really feel immersed in the Japanese culture as you explore the garden.
There is beauty at every turn. It's as if you become part of a painting.
Below is the tea ceremony house. You can sign up and pay to participate in a tea ceremony. We didn't do this for this visit, but when there isn't a tea ceremony, you can go inside the house.
It's an interesting place to visit if you've never been inside one.
There are a lot of interesting places to explore. Here you can see the koi in the pond.
The stepping stones are fun!
The waterfall adds an air of tranquility to the area.
You get to see it from several vantage points.
The garden is such a lovely place to explore.
Shopping at the Japanese Fall Festival
One of Kristin's favorite parts of the festival is shopping. Our late August child had some birthday money to spend; she was in heaven!
The hard part is making choices.
I think she could have spent hours at this vendor.
All of the vendors had interesting things for sale.
This garden is such a beautiful place for the festival.
Food at the Fall Festival
Unlike my picky-eating companions, I'm always interested in trying something from another culture. I can be picky at times as well, but not when there are shrimp and noodles nearby.
The food vendors were set up near some picnic tables under trees. It was a lovely place for dinner. My entree had chicken and shrimp with my noodles and vegetables. Yum!
The shrimp was so good!
We also sampled the street corn with soy sauce. Jeff said it was pretty good. Just so you know, Jeff and Kristin didn't starve. They also had hamburgers and hotdogs for sale, along with all kinds of Japanese dessert items. We were full after dinner and didn't grab any dessert, thinking we might get something later, but it didn't happen. It was still a tad warm since it was only the second weekend in September; we weren't necessarily starving.
Kristin had tried this Japanese soda before, so she got another here at the festival.
It was nice on a hot evening.
Shows at the Japanese Fall Festival
We were all looking forward to the various shows offered. After dinner, we made our way over to the stage area to see the shows we'd picked.
The first show we saw was a dance troupe from Japantown in San Jose, California, called Uzumaru. They also perform in Japan for events. The show was really energetic and beautiful.
The next show we saw was a comedic Samurai sword show called Samurai Sword Soul. They interacted with the kids in the audience as they told their stories.
Next up was a drumming group called St. Louis Osuwa Taiko. They were fascinating to watch.
Before our last show of the night, and the one Kristin was most looking forward to, we took some time to buy our wishing lantern and explore the garden at night. I'll discuss this more in a moment.
Finally, the moment Kristin had been waiting for was underway–the Hatsune Miko hologram concert. It may not have been as big as the ones she'd seen on YouTube, but she loved it all the same.
We were prepared with our glowsticks to really get into the spirit.
The Festival at Night
While we waited for the hologram concert to begin, we explored the Mizumoto Japanese Strolling Garden at night.
Some of the booths were lit up along the paths.
One fun evening activity is to purchase a wishing lantern. We made our wish and sent the lantern out onto the pond with the others.
The garden seems like another place at night.
The lanterns are everywhere.
The dining area is also lit up.
After we explored the garden, we headed back for the hologram concert. There were quite a few teens and pre-teens present for the performance. It was nice to see so many young people come together like that.
Soon, it was time to make the hour drive home to Joplin. We loved our experience at the Japanese Fall Festival, and I hope we can attend again. It's always great to take a look around your community to see what kind of events are being offered. You never know what amazing new experience you can have right in your own area. Have a fun fall!
Other adventures near Springfield, Missouri, we've had:
Ghost Tour at the Pythian Castle
Wilson's Creek National Battlefield
Wonders of Wildlife National Museum and Aquarium