This post may contain affiliate links. Please read our disclosure policy for more information.
If you're into amazing national parks, eventually you'll find yourself in the Redwood National and State Parks in northern California. We really only spent about 24 hours among these magnificent old trees, but any time you can make for one of the most awesome places on earth is totally worth it.
One of our first experiences in the redwoods was taking a hike in Jedediah Smith Redwoods State Park. We'd stayed the night in a cabin at the KOA in Crescent City, California, the night before. Besides sleeping among these enormous trees, we hadn't had any redwoods experiences yet. Since we drove down from the north, our first experiences were with the Redwood National and State Parks.
Unlike most national parks, this national park merges with three California state parks to preserve and maintain the area. This is a rather recent development; the merge happened in 1994. Farther south, the more commercial and touristy attractions take over the redwoods experience. We enjoyed both experiences, but I really think experiencing the redwoods in their natural state is a must-do!
History of Jedediah Smith Redwoods State Park
Jedediah Strong Smith explored this area in the 1820s. Apparently, he lived a life of adventure after leaving his home in St. Louis. Among other things, he survived a grizzly bear attack that ripped off his ear and some of his scalp. After he healed, he wore his hair long on one side to cover the scars. He continued on several expeditions for fur and exploration. He died in 1830 after a conflict with some Comanche.
o preserve the redwoods, California citizens formed the Save the Redwoods League in 1918. Later in 1929, the state park was established and named for Smith. Along with this state park, Smith has at least two rivers named for him, the most notable are the Smith Rivers in Oregon and California.
Hiouchi Visitor Center at Jedediah Smith Redwoods State Park
After we packed up the car that morning, we checked out of the KOA Crescent City and made our way to the Hiouchi Visitor Center. The drive through the redwoods is absolutely gorgeous. You could experience the redwoods strictly from your car, but we wanted to get up close to some of the popular groves in the parks.
We also wondered if we could see some of the areas where Star Wars Episode VI: Return of the Jedi was filmed. After speaking to a ranger, we learned that most of the scenes were shot on private land that no longer has trees; the land has been bulldozed for farming. It makes sense that actual filming didn't happen in the national or state parks to protect them. But, our ranger pointed us in the right direction for an area where we could get that Endor feel. Her advice did not disappoint. We drove the few miles to the Simpson-Reed Trail, and we discovered that this trail is perfect for families. This little loop trail that took us less than an hour was a highlight of our road trip!
If you're wondering what we mean about experiencing Return of the Jedi, check out the clip below. When you compare the clip to our pictures, you'll have a great idea of what we were after.
The Simpson-Reed Trail
We had a great time exploring this trail. The photo ops are really fun!
The trail is easy enough.
Kristin did it in her slides.
This shot definitely has Star Wars vibes.
Such a perfect morning.
Don't forget to look up!
We had a great time just taking everything in. I wonder how long some of those carvings have been there.
It's hard to describe how large these trees really are. So majestic!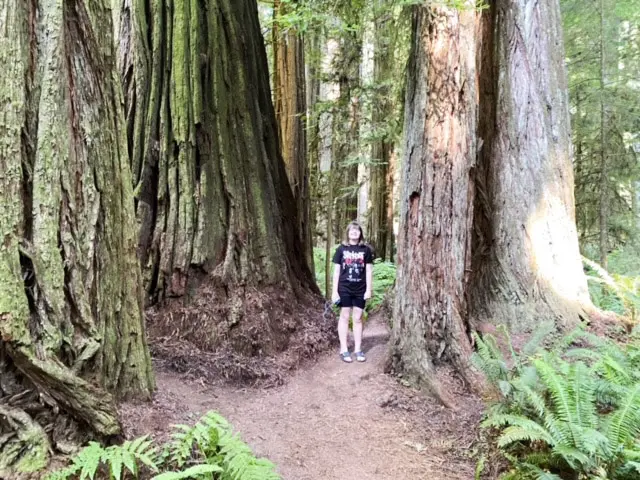 This bridge over the little creek makes me think of a fairytale.
It's also cool to see what happens when one of these giants fall.
One of the benefits of hiking in the morning is having the sun peek out in your shots.
This Simpson-Reed Trail is just one of the trails in Jedediah Smith Redwoods State Park. This was just one of many stops we had in the Redwoods National and State Parks and the Redwood Forest south of the parks. If you're coming from the north, Jedediah Smith Redwoods State Park is the perfect starting place. I'll continue to write about our experiences with the redwoods. I definitely recommend checking out these awesome giants!
Sources:
"Jedediah S. Smith." History to Go, 25 Apr. 1994, historytogo.utah.gov/smith-jedediah/.
"Jedediah Strong Smith (1799-1831)." Oregonencyclopedia.org, 2020, www.oregonencyclopedia.org/articles/smith_jedediah/#.Yj-HdOfMI2w.
Check out our other adventures on this road trip:
Goonies and More in Astoria, Oregon
Going-to-the-Sun Road in Glacier National Park
Jenny Lake in Grand Teton National Park