This post may contain affiliate links. Please read our disclosure policy for more information.
In the summer, you can't go wrong cooling down at Knights Action Park and ending the day with a movie at Route 66 Drive-In.
If you're planning a trip with your family to Springfield, Illinois, to see the Lincoln attractions, you may want to add some kid-centered attractions into the mix. We love history, but we also like to mix in some "kid-centered" fun. One of those attractions was the Kidzeum of Health and Science.  But we also spent time at Knights Action Park and Route 66 Drive-In, two attractions that are the perfect ways to spend an afternoon and an evening.
We'd like to thank Visit Springfield for hosting our visit! As always, all opinions are honest and our own.
Knights Action Park: The Waterpark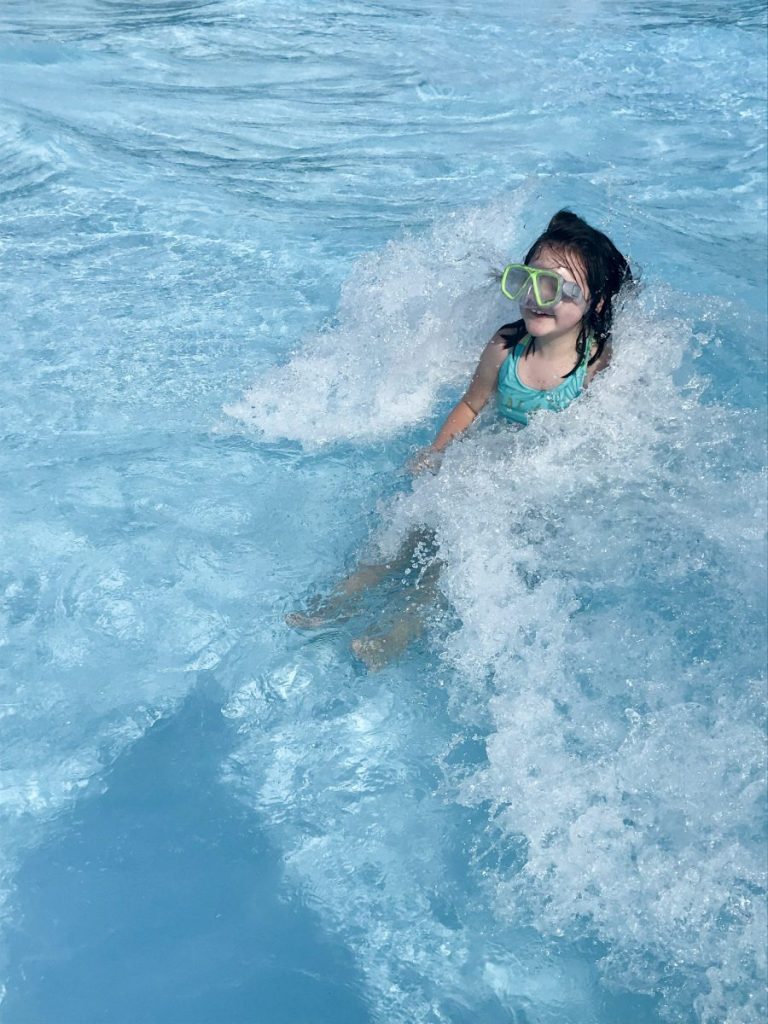 The waterpark was the perfect place to cool off on a hot July afternoon. Our daughter isn't into thrill rides, including big slides at waterparks, but she loved the wave pool and the lazy river. This is a well-maintained park with attentive staff. We had a great time!
Here is a view of the lazy river.
It's a pretty big one that takes some time to make the complete route. We did the complete river about three times.
Kristin also loved the areas designed for children. There are several areas, and one is set aside for the smallest kids. She enjoyed the other two.
You have to have a play area for splashing!
This submarine feature is near the wave pool. This can be helpful if you're trying to wrangle two age groups.
The park is really pretty, too. I enjoyed exploring the park even if we didn't ride all the big slides.
There are plenty of thrills, though, if you're looking for them.
This is just a fun waterpark!
Knights Action Park: Dry Land Amusements
If you're not up for swimming, Knights Action Park had plenty of fun out of the water.
Maybe you'd like to take a few swings in the batting cages.
Or how about mini-golf?
You can even take some go-carts for a spin.
Route 66 Drive-In Theater
After we'd thoroughly cooled off in the waterpark, we left for a while to change and have dinner. We ate at Tacology 101 in downtown Springfield. Click here to read more about our dining in Springfield!
As the sun went down, we drove back to Route 66 Drive-In Theater, a twin-screen theater with a playground and a comcession stand.
We had some time before the movie, so we checked out the playground.
It was relaxing to spend some time swinging as we waited for it to get dark.
We also grabbed some popcorn from the concession stand.
Before long, it was movie time. This is the stuff of summer memories!
It's the perfect ending to your day of Springfield adventures.
We had an amazing time, and I'm glad we made Knights Action Park and Route 66 Drive-In Theater a part of our time in Springfield. Kristin still talks about the wave pool and watching Lion King outside. We live near a drive-in theater, but we haven't been in a long time. We are now inspired to change that! Great times and great memories!
To read about another drive-in on Route 66 in Carthage, Missouri, click here.
Click on the links below to read about our other adventures in Springfield!