This post may contain affiliate links. Please read our disclosure policy for more information.
If you came of age in the 1990s and it's along your route anyway, you stop at Kurt Cobain's childhood home and the nearby memorial. You just do.
On one of our summer road trips, we drove a segment of highway from Forks, Washington, to Astoria, Oregon, in a single day. When we realized we be going through Aberdeen, Kurt Cobain's hometown, we thought to ourselves, why not? The house and small memorial park only take a few moments to see, and on a road trip like ours, you look for interesting places to stretch your legs.
A Little About Aberdeen
Aberdeen is a small town at the foot of the Olympic Peninsula. The main industry there is timber, and Kurt Cobain mentions this fact in the book Come As You Are: The Story of Nirvana, saying that he wanted more from life. He wanted to create art, visual and musical, and eventually, he left his childhood home and headed to Seattle.
The town of Aberdeen sits at the mouth of the Chehalis and the Wishkah Rivers. It's along the Wishkah, under a bridge, where legend says that Kurt Cobain would write, perhaps even the song "Something in the Way." Some stories, including some by Cobain, claimed that he slept under the Young Street Bridge from time to time, resulting from being kicked out of his home during a tumultuous childhood and adolescence.
After his death, the album From the Muddy Banks of the Wishkah was released.  Previous live performances of Cobain's band, Nirvana, comprise the album.
Kurt Cobain Under the Bridge Memorial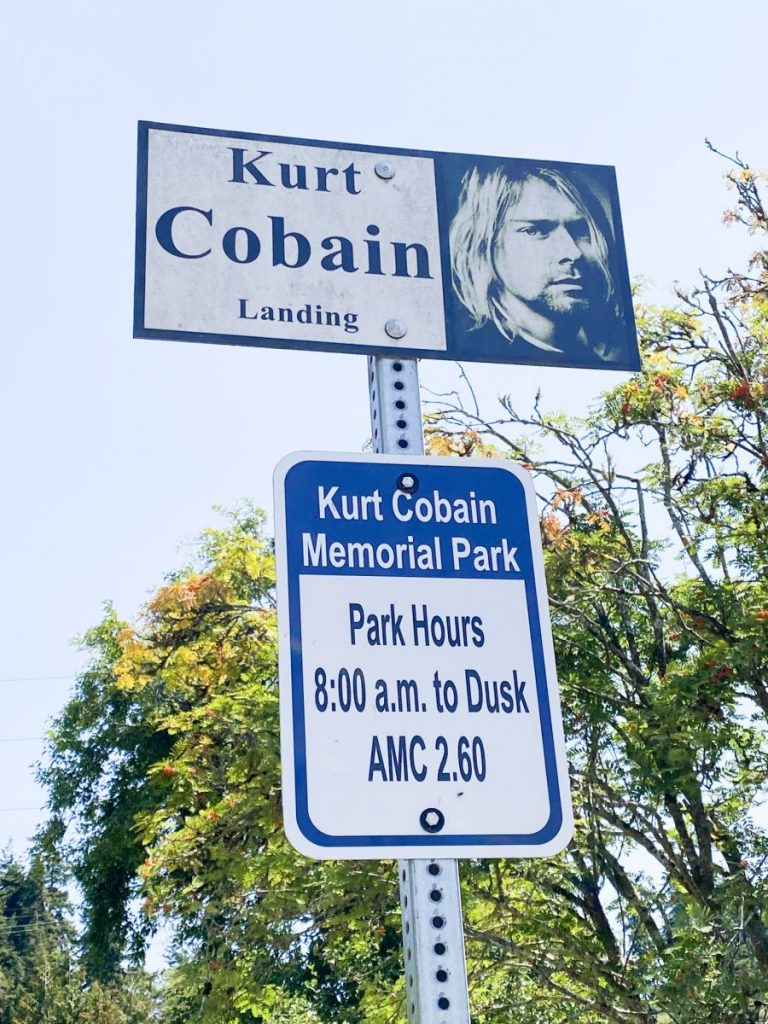 Kurt Cobain Memorial Park is a very small park next to the Young Street Bridge. There are a couple of signs to let you know you're in the right place.
And there are a couple of art pieces commemorating the musical artist.
It's hard not to smile as you check these out.
All of the pieces may have flowers or other items left behind by people paying their respects.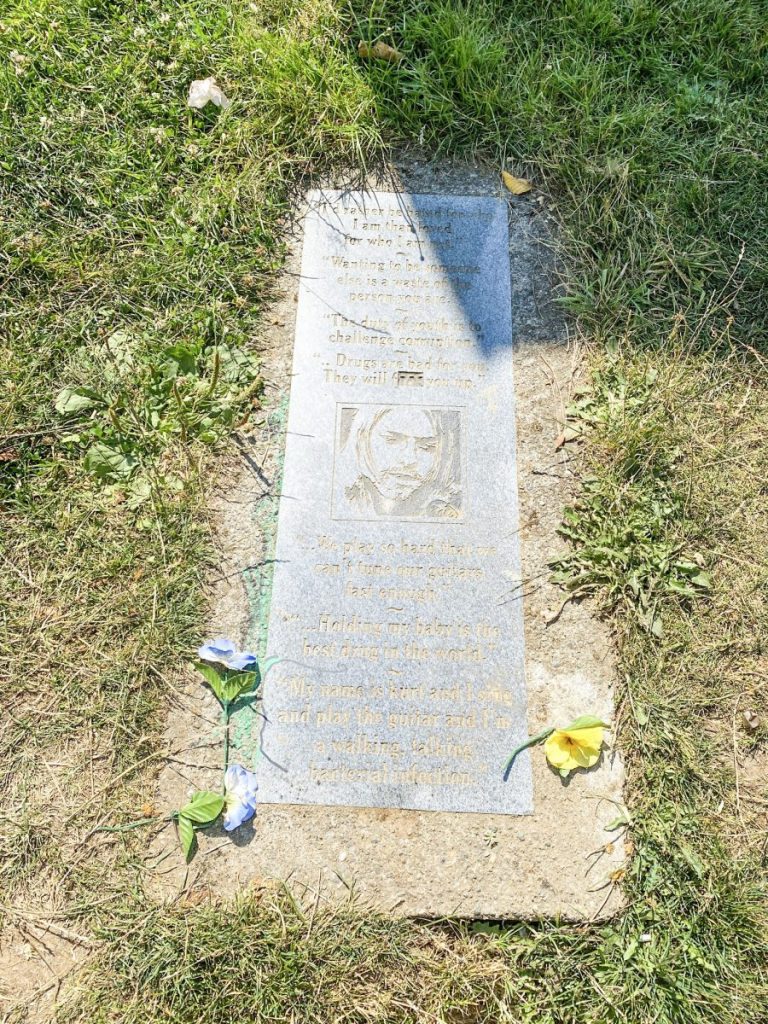 The Actual Bridge
When we arrived at the park, we weren't the only party there on a warm July morning. Plenty of fans, or at least people interested in popular culture and American music, were there to get their pictures and see the river.
Here is a view from under the bridge.
This sign quotes the album released after Cobain's death.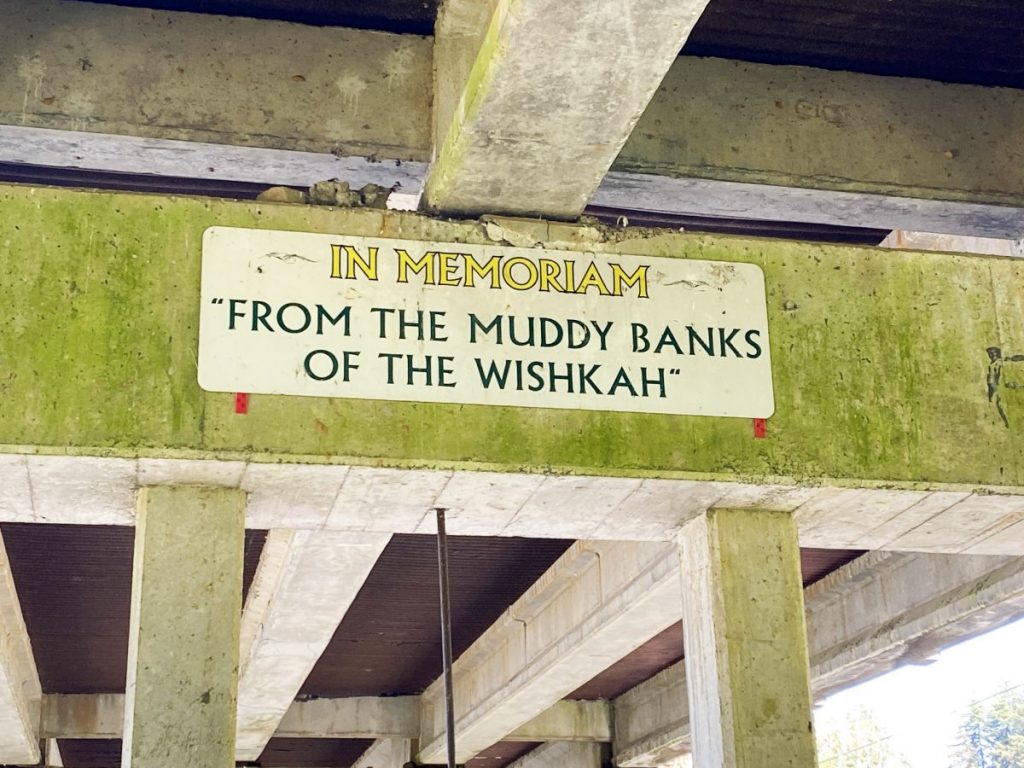 An Interesting Encounter
While we visited the park, we noticed some people sitting at a picnic table. We walked on past along the path that leads underneath the bridge and looked at the river. On the way back to our car, we walked past the men sitting at the table. One of them shouted as we passed. "Hey, did you know that guy is the original drummer for Nirvana?" he asked, pointing to the guy across from him at the picnic table. Jeff and I glanced at each other, suspicious and questioning. We nodded and smiled. I think I said something like, "That's pretty cool."
Later in the car, we continued our road trip. Curious, I did some Googling on the history of Nirvana. I'd read Come As You Are: The Story of Nirvana, and knew a little about their beginnings, but I couldn't recall all details.  So, I searched the Internet, and I finally found a picture of the original drummer. My jaw dropped as I showed Jeff the picture. It was him!
Kurt Cobain's Childhood Home
Before we left Aberdeen, we drove a couple of blocks over to the Cobain house at 1210 E. First Street. It's a modest home, and it's a private residence. If you stop by, be sure to be respectful of the residents and homeowners.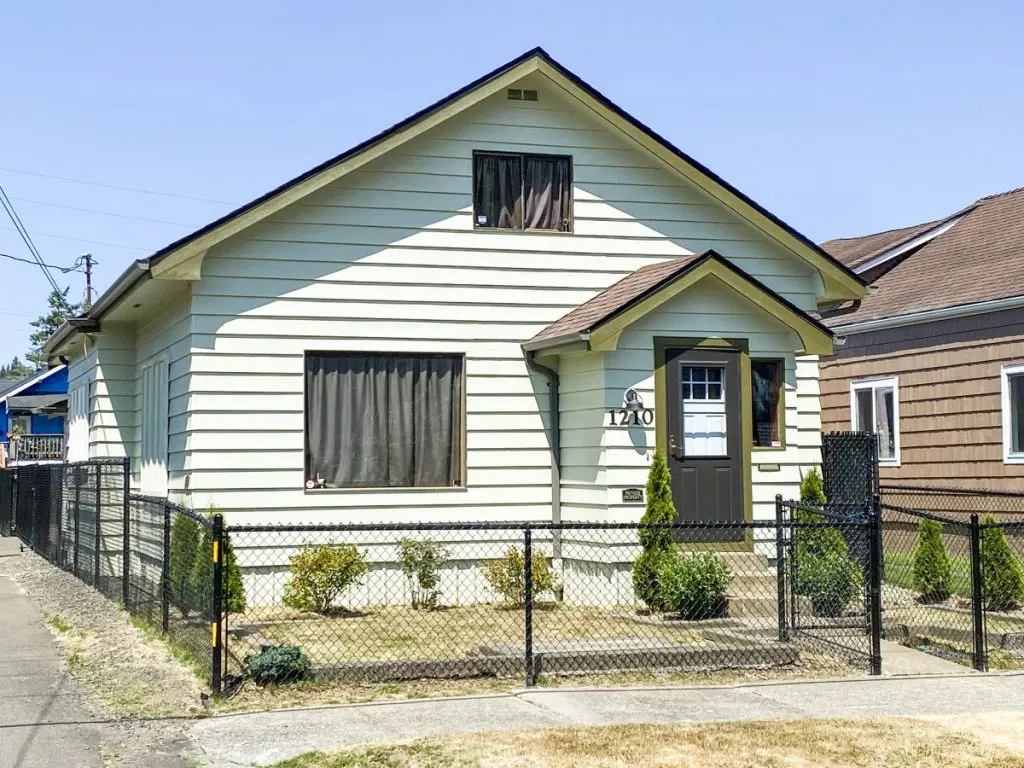 I'm glad we stopped by. It's always nice to pay your respects to artists you like in a respectful manner. It's interesting to see how places help shape people. I hope we can see the Kurt Cobain House in Seattle one day.  Apparently, it's difficult to see, but you may get a glimpse through a gate. Again, remember to be respectful of people's property.
Interestingly, some of the people who stopped at Aberdeen also stopped in Astoria, Oregon, at the Goonies House. To read about our adventures in Astoria, click here.
To read about our Twilight adventures in Forks, Washington, click here.
Books I've read and recommend about Kurt Cobain and Nirvana: