This post may contain affiliate links. Please read our disclosure policy for more information.
We'd like to thank Visit Springfield and the Abraham Lincoln Presidential Library and Museum for hosting our visit. As always, all opinions are honest and my own.
I just want to say right off the bat–this is my favorite museum. My favorite museum anywhere. We visited the first time about ten years ago before Kristin was born. When we had the opportunity to visit again, I was thrilled! I've never been to a museum as immersive as this one. Trust me; you want to check this place out!
Arriving at the Lincoln Museum
You can find ample parking in downtown Springfield, Illinois.  Metered parking is available near the museum, and there is a parking garage across the street a block away.  Currently, as you approach the museum, you can't help but notice the large 31-foot-tall statue of Lincoln and a contemporary man out front.   This statue, named "Return Visit," will welcome guests to the museum until September of 2020, so you still have time to make plans to visit before it leaves.  The statue has previously stopped for stints in Chicago and Peoria.
One thing we noticed is that this is a replica of a statue in downtown Gettysburg that we saw in June of 2017.  Here is a picture of that one.  Click here to read more about our adventures in Gettysburg!
Once inside the museum, you can purchase tickets at a counter to the left, next to the museum store.  You'll have to go through security to enter the museum, and they ask that you not bring large bags inside.  There's no eating or drinking in the museum, but there is a little cafe available.  Currently, the museum is open from 9:00 a.m. until 5:00 p.m. daily except New Year's Day, Thanksgiving, and Christmas.  You should plan to give yourself plenty of time to see everything.  There is so much not to be missed!
Normally, we'd suggest arriving at an attraction at opening, if possible, during the busiest times of the year.  But we all know that isn't always possible.  We visited right after lunch on a Tuesday in July, and the crowds were not bad, though this may not be typical, especially if there are events happening in town.
Once you're past security, you can't help but notice the Lincoln family outside the White House.  The family is life-sized, and museum personnel are happy to take your picture with them!
The museum is divided into several parts–The Plaza (pictured above), Journeys 1 and 2, the Treasures Gallery, the Illinois Gallery, Ask Mr. Lincoln, the Union Theater, Ghosts of the Library, and Mrs. Lincoln's Attic (a hands-on area for younger children.)   For the most part, you can do these in any order.  I would suggest following the sections depicting his life and presidency in order, but other than that, there are no rules.  Be sure to check the guide for showtimes for Ghosts of the Library and the show in the Union Theater, "Lincoln's Eyes." You should also look to see if there are any special performances or living history reenactors during your visit.
Journey One: The Pre-Presidential Years
Now, this is what makes this museum so cool. Moments of Lincoln's life are recreated for you to walk through; you're taking the journey with him.  The effects are so well-done, and there are surprises everywhere, so keep an eye on the details.
We decided to start with the beginning of his life in Journey One, though you could easily start with a show or gallery if you wish.  You begin in his cabin by the fire.
The Lincoln museum covers some of the darkness in our history, but I think it's so important to talk to kids about these times.  We can't forget.
Here is Lincoln courting Mary.
And here are Lincoln's sons playing in his law office.  Listen closely; you may hear them giggling!
Journey One continues to show moments of Lincoln's life and his campaign for President.  It ends with his election, and you will find yourself in the Plaza area once more.
Journey Two: The White House Years
The White House is actually the entrance to Journey Two.  Don't forget to see who's out on the portico veranda.  Here are Soujourner Truth and Fredrick Douglas.
And here are Generals McClellan and Grant.
When you enter the White House, you'll see Mary preparing for a ball with her seamstress, Elizabeth Keckley.  This is one of my favorite parts!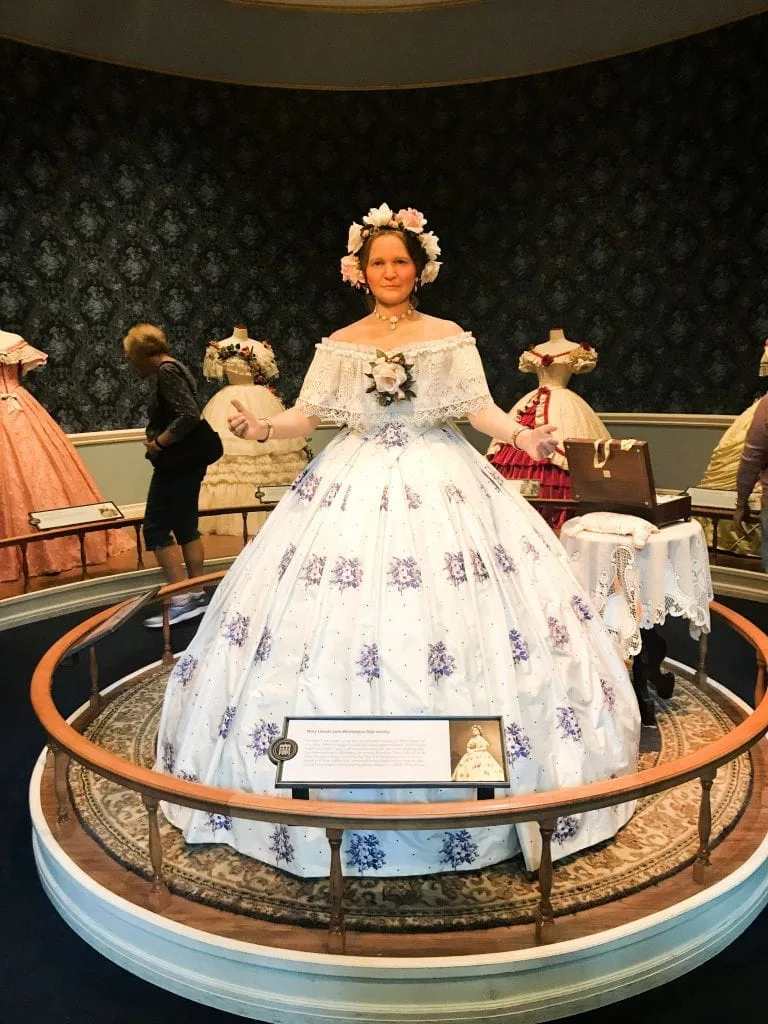 The other dresses in the room are replicas of the dresses of Mary's social rivals in Washington, D.C.
I love learning about women's fashion in this period, and it's interesting to get a glimpse of the cattiness of some of the other ladies in Washington.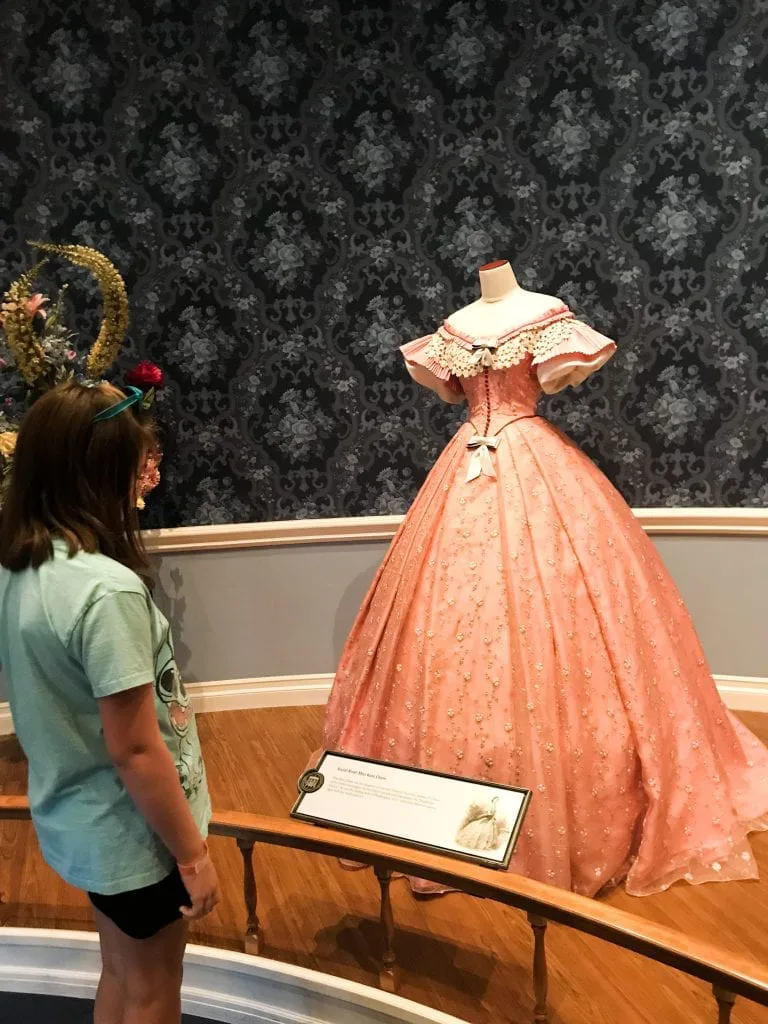 The journey continues.  One especially poignant display shows Willie Lincoln sick in bed during a reception in the White House, then often known as the Executive Mansion.
The journey continues with the aftermath of Willie's death and the start of the Civil War.  The exhibits that follow continue to be immersive.
Another favorite of mine is hearing the servants gossiping about the Lincolns in the kitchen of the White House.  You can even feel the heat coming off of this stove!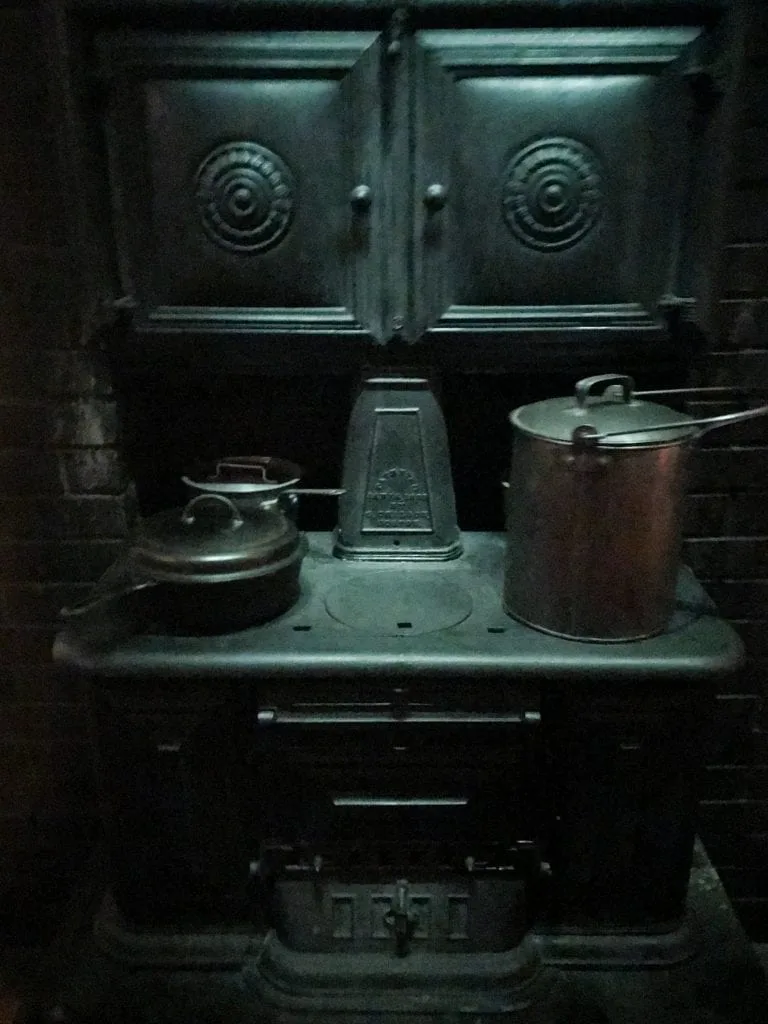 The journey then gives visitors opportunities to understand the major events of the Civil War.
Of course, this section ends with Lincoln's assassination and funeral.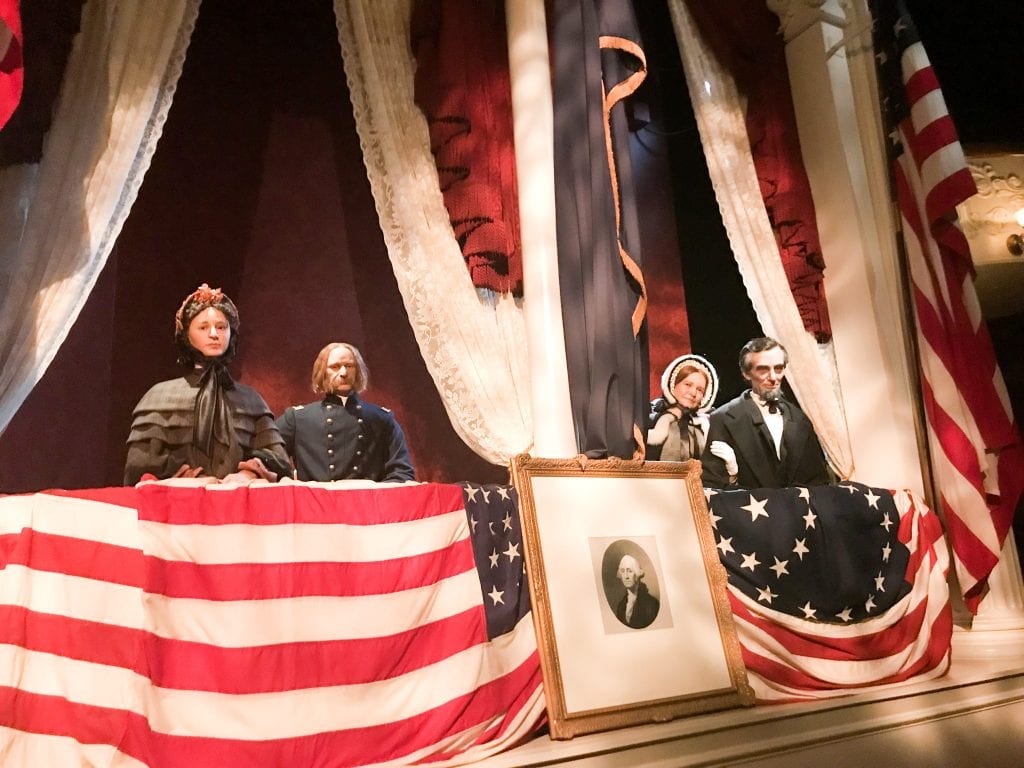 Treasures Gallery
This part of the museum showcases actual artifacts from Lincoln and his contemporaries.  The items in this portion of the museum are changed out occasionally.  We saw a Bible given to Lincoln and letters, among other items, during our visit.
 Illinois Gallery
This is an area for temporary exhibits.  During our visit, the area housed an exhibit about World War II.
Ask Mr. Lincoln
This area has pre-recorded questions and video answers that people commonly ask about Lincoln.  It's an interactive exhibit that's especially fun for kids to use.
The Union Theater
The show in this theater, "Lincoln's Eyes," is an immersive show exploring Lincoln's life.  The performance happens all around you, and some children may find some elements startling.  My older child was nervous the first time we visited, but Kristin was less anxious.  If your child has some sensory issues, you may consider sitting in the upper level of the theater.  Also, you may want to start with the other show, Ghosts of the Library, if this is a concern.  It is less startling, and it may be a better way to start.  Overall, I think most kids will be fine. It's a cool show!  I just wanted to throw my thoughts out there.
During our visit, the theater also was the location for a special one-man performance of Lincoln during one of the showtimes of the day.  Several people seemed to be there just for that performance.  You never know what special events may be happening.  Be sure to check the guide!
Ghosts of the Library
This is another show with fun special effects show that will have you talking with your family about "how'd they do that?"  Don't miss this show either.  One tip:  if you sit at the top, you can rest your back on the wall.  The show is not very long, though, so it's not a big deal. Kids may want to sit closer.
Mrs. Lincoln's Attic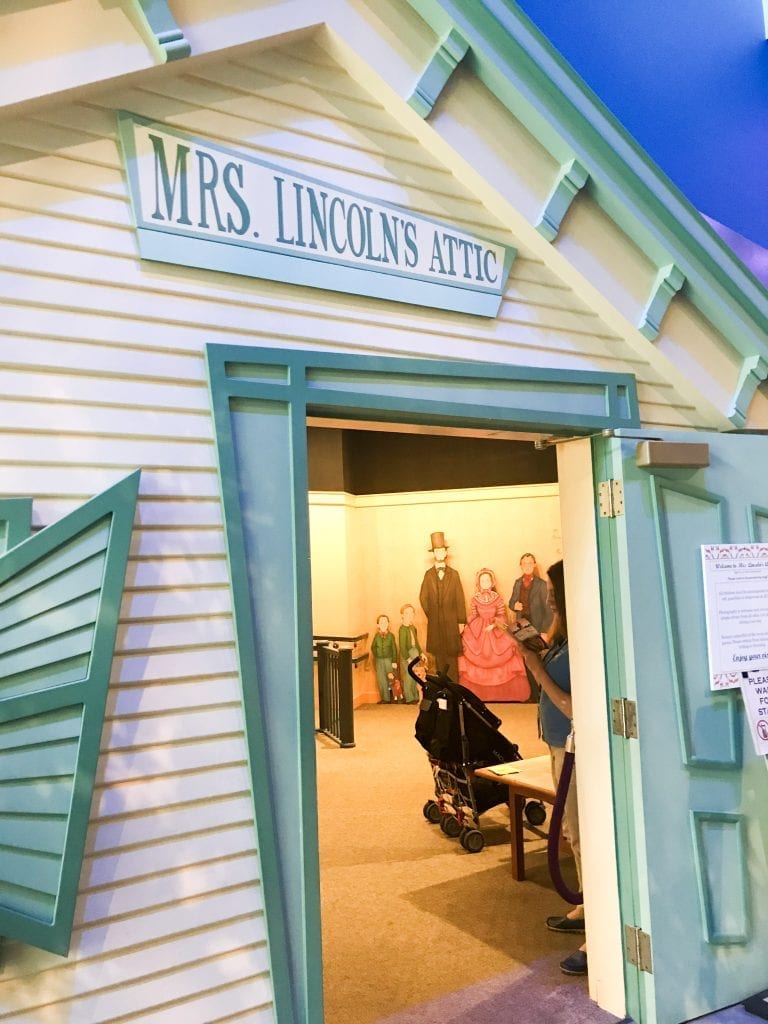 If you have younger kids, be sure to check this area out.  It is a little out of the way, so be sure you don't forget to visit.  Kristin's getting older, but she liked looking around.  When we visited, the museum also had some coloring activities outside the "attic."
Mrs. Lincoln's Attic has all kinds of play areas for kids, and they can touch everything!  They can play dress-up.
And then they can play in the cabin.
There is a table with Lincoln Logs, and another table lets kids try out toys from the 1800s.  There is also a dollhouse that is a replica of the Lincoln home in Springfield.  So cute!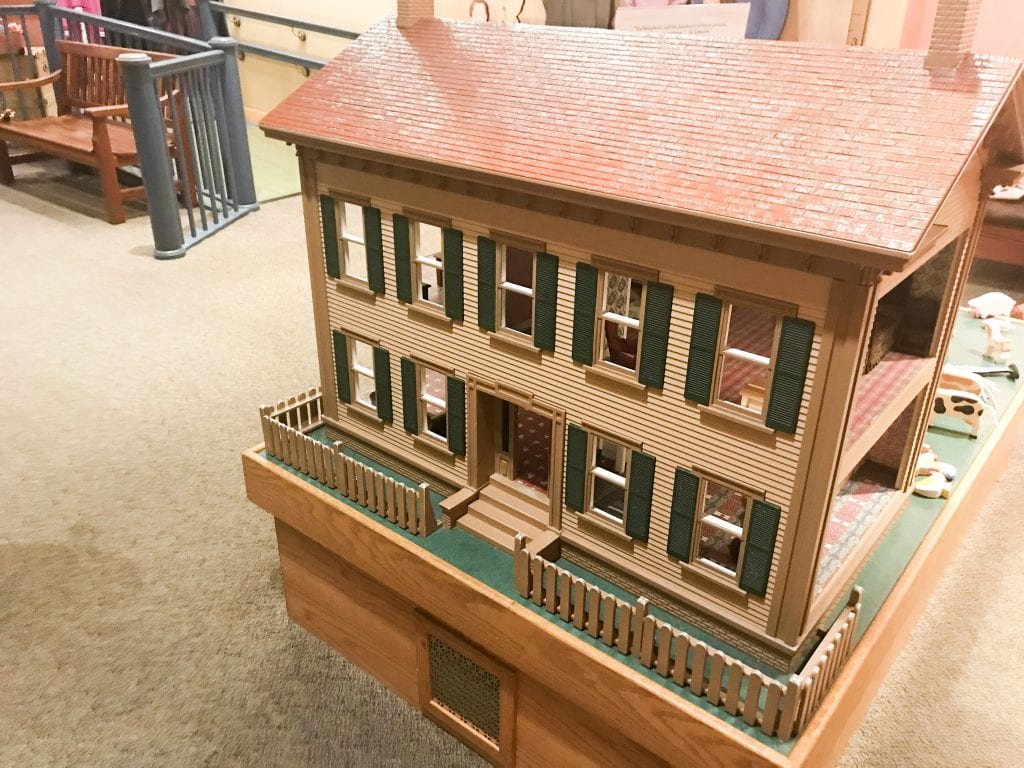 This is definitely a great place for kids to get some energy out while learning more about pioneer life and Lincoln.  Also, if your kids are younger, you may want to trade off with another adult.  One adult can hang out in Mrs. Lincoln's Attic with the kids while the other adult spends time in the other exhibits.
Final Thoughts on the Lincoln Museum
I hope you can see why this is my favorite museum! I've always had an interest in this time period, and the exhibits really do make Lincoln come alive.  Pair this museum with the Lincoln Home National Historic Site, and you'll have the ultimate Lincoln experience for families.  Sprinkle in other area attractions, and you'll have a vacation you're kids will remember for years to come!