This post may contain affiliate links. Please read our disclosure policy for more information.
No trip to Springfield, Illinois, is complete without a stop at the Lincoln Tomb at the Lincoln Tomb State Historic Site.  We've been to Springfield twice now, and strangely, this has been the first stop both trips due to timing. It's not a bad place to start; it's an attraction you can experience in an hour or less and it does provide some background to get you started. My family loves history and historic sites, and we also love learning about Abraham Lincoln, the 16th President of the United States. We consider the Lincoln Tomb a must-see on your Springfield trip.
Arriving at Oak Ridge Cemetery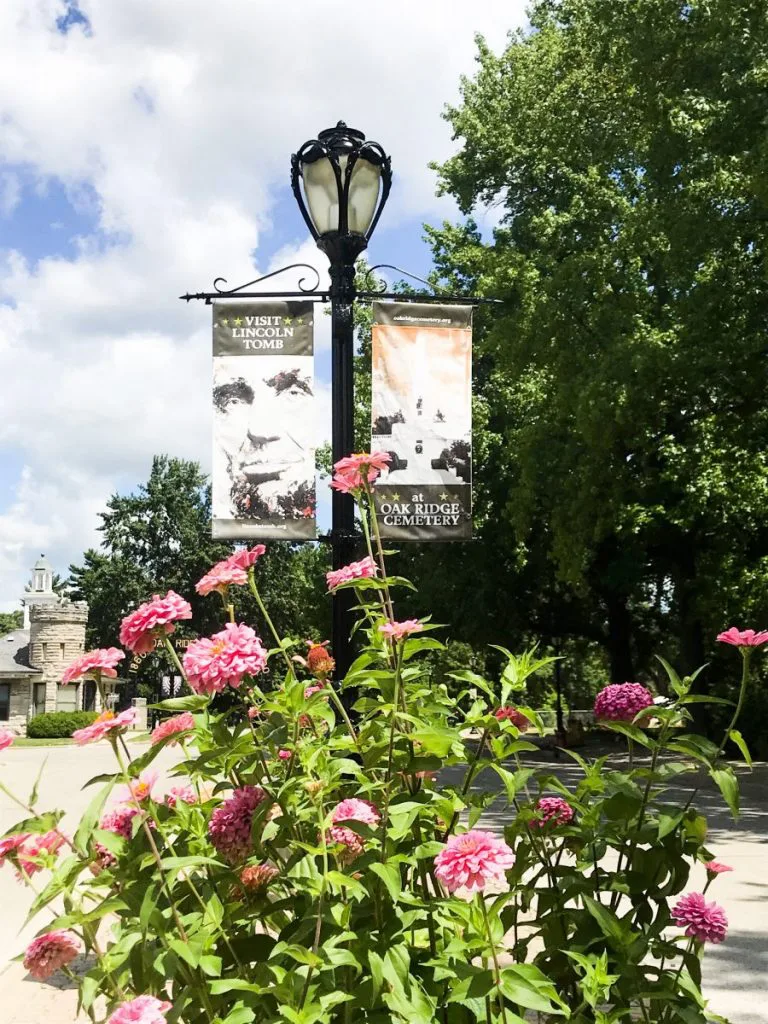 The road leading up to Oak Ridge Cemetery is lovely in the summer. When you get close, you can't miss the entrance.
Just follow the signing to get to the tomb.
Of course, you'll be able to see it from a distance. It's rather majestic. Created by Larkin Mead, The tomb stands 117 feet tall.
There is a small parking lot and restrooms on the left side of the tomb. This is handy if you've been out and about before your stop.
Lincoln's Tomb: The Outside
When you're ready to visit the tomb, you'll be able to explore around the base and go inside. You aren't able to up to the upper deck anymore, but we were able to go up there on our first visit several years ago. As you approach the tomb, you'll be able to see the tomb from different vantage points.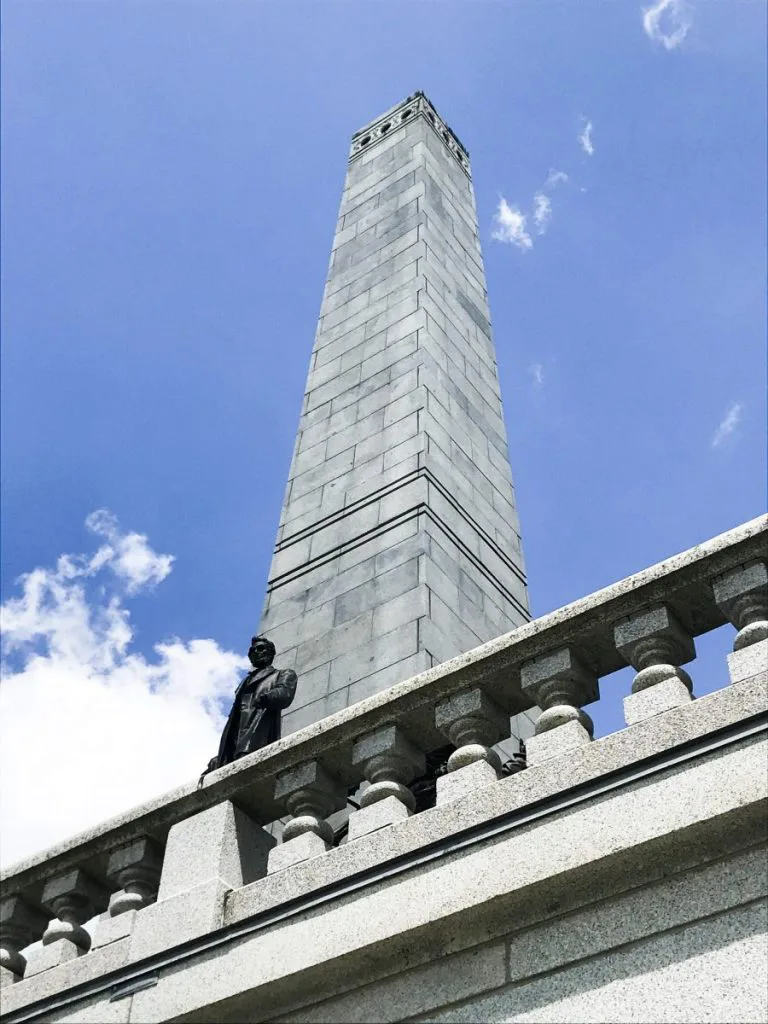 Be sure to check out the Gutzon Borglum's bronze recasting of President Lincoln's head. Borglum is most known for the creation of Mount Rushmore.
Visitors are encouraged to rub his nose for good luck.
Lincoln's Tomb: The Inside
Once inside, the docent will greet you and remind you to be quiet and respectful. You are then free to walk through the tomb on your own. There are several sculptures depicting Lincoln's life on your way to the burial chamber. There is no charge.
The replicas of famous statues throughout the tomb are stunning.
The tomb is a place of peaceful reflection as you pass by the sculptures.
We were lucky to visit at a time when few people were visiting.
Eventually, you'll get to President Lincoln's cenotaph. He is actually buried ten feet below the floor under marble and cement. Lincoln's burial includes a lot of lore that spans decades. We learned the most about that during our Ghost Walk later in the trip. Click here to read more.
Mary Todd Lincoln and their sons Edward, William, and Thomas (Tad) are also buried in the tomb. The Lincolns' eldest son, Robert, is buried at Arlington National Cemetery in Washington, D.C.
As we left the cemetery, we also drove past the receiving vault where the bodies of President Lincoln and son William were placed for several months. They, along with Eddie, were moved into a tomb for several years while the current tomb was constructed.
William died of Typhoid Fever at the White House during Lincoln's presidency in 1862. Eddie died while the family lived in Springfield before Lincoln became president. Tragically, Tad died in 1871. He was the first to be buried in the current tomb. His father and brothers joined him a few months later. Mary was the last to be buried there in 1882.
As you can see, visiting Lincoln's Tomb is a great way to pay your respect to a great American leader and learn a little background. In addition to the tomb, be sure to visit these excellent Lincoln attractions during your visit to Springfield:
The Abraham Lincoln Presidential Library and Museum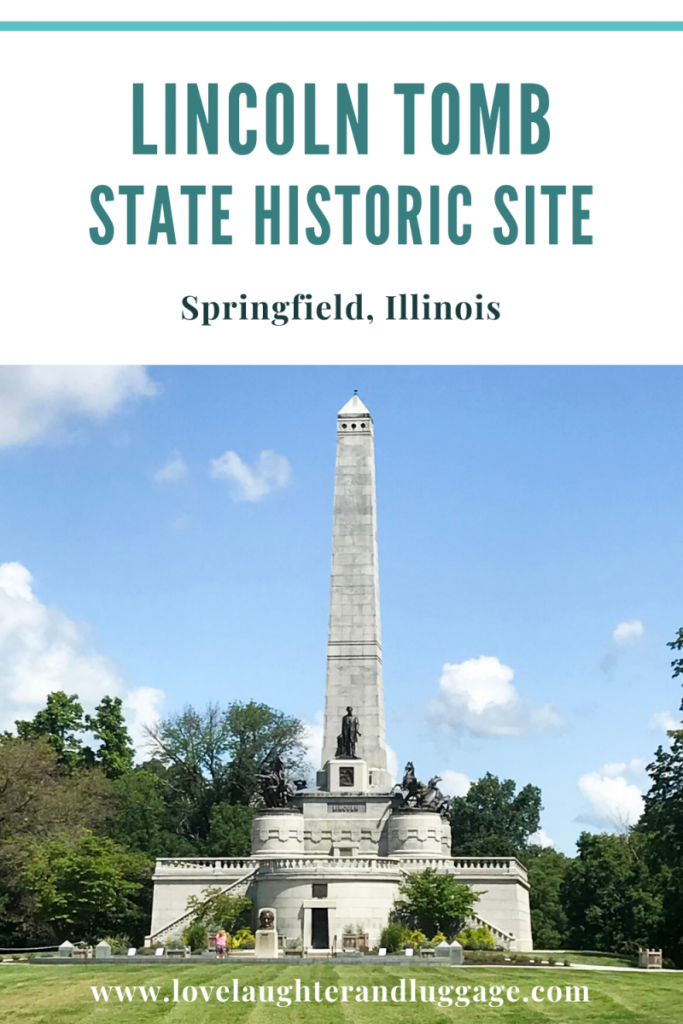 Source to help me remember the details:
The Lincoln Tomb, 2018, lincolntomb.org.