This post may contain affiliate links. Please read our disclosure policy for more information.
We usually make at least one kid-free trip to the Lake of the Ozarks area each year. Since we're fans of the Netflix show Ozark, we couldn't resist pre-dinner drinks at a little bar along the strip down by the dam–Marty Byrde's Bar and Grill. If you've seen the show, you know that Marty Byrde is the central character of the show played by Jason Bateman. How can you not check out this place?
Just to be clear, we've never felt unsafe like the show may make you believe. You also won't find casinos on riverboats. Sure, you need to exercise regular caution as you would anywhere, but the show is fictional.
One thing I always like to do is take a drive down by Bagnell Dam to see the little strip of bars and shops, especially as the sun goes down. If you want to read more about this area, click here to read the post of our adventure to see the total eclipse in 2017.
Check Out the Strip Near Bagnall Dam
When we head back towards the newer parts of Lake Ozark or Osage Beach, we usually are treated to a spectacular sunset over the lake. On this night, we decided to try some drinks at Marty Byrde's.
Arriving at Marty Byrde's
The place has an indoor bar and dining area, and it also has a patio area. We arrived a little early for the outdoor patio to really get going.
We sat on the bar side since we weren't planning to order dinner.
The Menu at Marty Byrde's
If you do choose to eat at Marty Byrde's, the themed menu is really fun. Here is the front.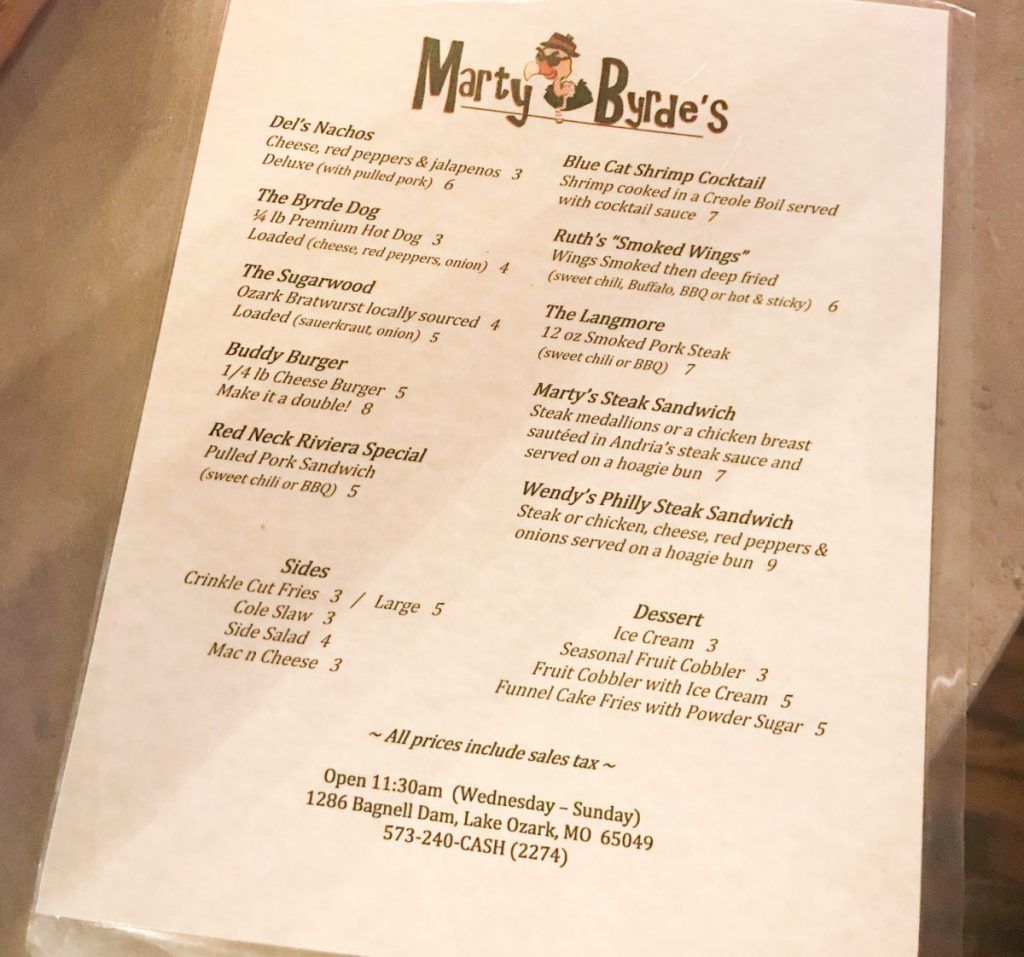 The back is fun, too!
Of course, we were interested in the drink menu.
Here is the other side.
Jeff went with a Blue Moon draft.
I chose the Sex on the Lake. It was like a Fuzzy Navel. It was yummy and pretty strong!
We had a good time checking out the menus and reading the t-shirts for sale. And yes, we took a shirt home. This is a fun place to check out if you're a fan of the show. As the sun went down, more people arrived, and the place started hopping. We finished our drinks and then we were ready to go to dinner. And we were treated to a beautiful sunset. Give Marty Byrde's a try when you're at the lake at Lake of the Ozarks!