This post may contain affiliate links. Please read our disclosure policy for more information.
When we began planning our visit to Santa Fe, New Mexico, we had no idea that a place like Meow Wolf even existed. How do you describe Meow Wolf? It's an art installation. It's interactive. It's immersive. It's imaginative. And, it's air-conditioned! This indoor attraction allows you to try to solve a mystery or just explore. The more I read about Meow Wolf, the more I knew that my family would love it! And I was right. This place ranks high as one of the highlights of our most recent road trip.
As I read more about Meow Wolf, I discovered that there are currently two more in other cities: Las Vegas and Denver.  Two more are in the works in Texas. Each are completely different; the one in Santa Fe is known as the House of Eternal Return.
We loved our experience at Meow Wolf so much that we hope to visit all of them one day.
Arriving at Meow Wolf
Currently, Meow Wolf in Santa Fe requires a reservation. Since we like to arrive at attractions early in the day to avoid crowds, if possible, we made our reservation the day before. We weren't able to secure the opening reservation, but we got the next available one at 10:20 a.m. If getting a specific time is important to you, you'll want to grab that reservation early.
When you pull into the parking lot, you can see some of the art right away.
We arrived at around 10:00 a.m. You aren't allowed to bring in bags or strollers, and that's a good thing. You need to be rather "free" to experience this place. You can baby-wear, and there is a snack bar inside. You can also bring in empty water bottles to fill once you're inside. Honestly, we were fine with a wallet and a phone. I wouldn't want to try to carry extra "stuff" for this attraction, and you probably won't be here all day or anything.
Once we parked and exited the car, we were able to get in line under a tent for our reservation time. While one reservation time is entering, the next one can get ready. They explain the rules while you wait. Once your reservation time approaches, you'll be able to enter the building and approach one of several ticket counters. They will get you wrist-banded and on your way!
The House of Eternal Return Begins
The art installation begins with a typical American home and a story. If you want to try to solve the "mystery," you'll begin with the mailbox to the right of the house. We might've tried to follow a story if it weren't so busy. We decided to simply explore the attraction rather than wait our turn at the mailbox to read the opening of the story. If you do choose to look for clues, you'll find them all over the house and other areas of the attraction.
If you look in the windows, you can see visitors in the house exploring. The place really is a house. I mean, no one really lives there, and it's a weird house, but it is a house.
So, we entered the house. The House of Eternal Return.
Even if you don't try to follow the story, you'll learn that the house belongs to the Selig family. They have pictures of the family on the walls, and everything seems pretty typical at first glance. But then you'll realize something…happened. The house isn't as typical as you thought, and there are secrets to be explored everywhere.
There is no map. No linear way to explore. You just start looking around. Open doors and drawers. Get nosy. That's half the fun.
At first, we hesitated to leave the house through passageways. Was this the right way? Will we miss something? But eventually, you just need to take the leap and go for it. Here's a hint. It's called the House of Eternal Return. No matter where you go, you return to a room in the house. Now, I'm not saying you won't miss something. You might. But if you are diligent and curious enough, you'll see everything.
So, eventually, we decided to leave the house for the first time—through the fireplace.
Another time, we left the house through the refrigerator.
Does this remind anyone else of the refrigerator scene in Ghostbusters? There were no dogs inside, but we were able to walk right in.
You can also slide out of the house through the washing machine.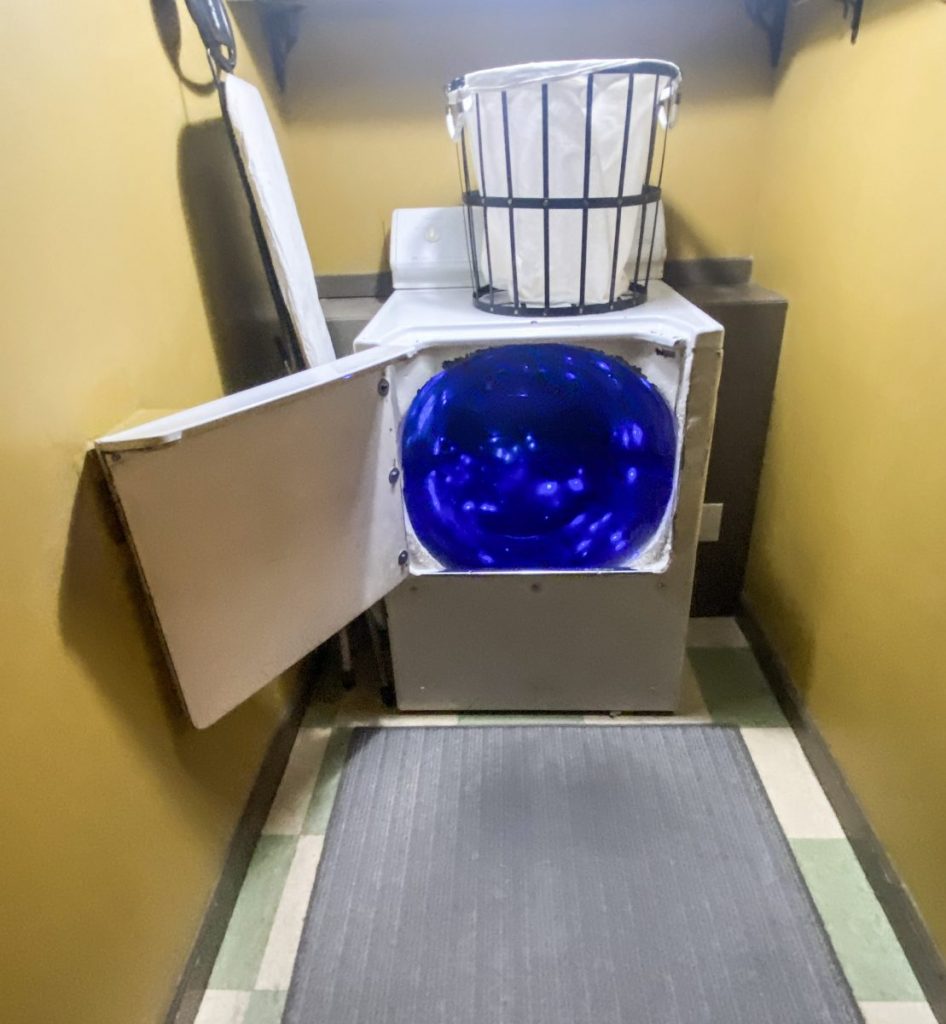 You'll be able to leave the house from the upstairs rooms, too. We were delighted by all the worlds you'll find outside the house. And sometimes, things were just plain weird. That was all part of the fun.
The Worlds Beyond the House
Since there's really not a linear story, it's kind of difficult to report on this adventure. I'll just show you a taste of what kinds of exhibits await you outside of the house.
Some things are interactive, like playing the ribcage of the Mastodon.
Sometimes things just evoke joy.
Candy!
And some things are just plain weird.
One of my favorite rooms is made from recycled, well, everything.
This room kept us busy for a while.
And it made us think.
Some areas remind you of the places you've been or places you've dreamed of going.
Some places are not of this world.
Some places are like a drawing you can walk through, like this room.
Or this one.
You can explore a forest.
Or walk under the sea via a child's aquarium.
You'll walk upstairs and downstairs, through passageways, and into dead ends. There are balconies and overlooks. And you can always return to where you've been, either purposely or accidentally.
We even enjoyed this odd arcade. We played Ms. Pac-Man for free!
Meow Wolf Santa Fe–The Verdict
Believe it or not, this is just a sampling of the experiences awaiting you in Meow Wolf Santa Fe. I didn't want to reveal all the secrets. Would we visit again? Absolutely!
This is one of those places where you'd definitely see something new every time you visited. And we're such fans, we can't wait to see the other Meow Wolfs in other cities. If we were to visit again, we may consider trying to piece together the story. But we had a great time just looking at all the rooms and exhibits.
After you finish exploring, be sure to check out the unique gift shop. And if you're hungry or thirsty, the Float Cafe is right at the exit. It even has a bar!
If you go to Santa Fe, be sure to give this place a try!
Click on the links below to read about some other family-favorite attractions:
Museum of Pop Culture in Seattle
Abraham Lincoln's Presidential Library and Museum in Springfield, Illinois