This post may contain affiliate links. Please read our disclosure policy for more information.
When we plan our long road trips, Kristin is always hoping for a chance to see some animals. She was super excited to learn that we'd be visiting the Monterey Bay Aquarium in Monterey, California, during one of our road trips out west. We love a good aquarium, and Monterey Bay is one of the best in the country.
This aquarium is right on the water, which makes a visit there all the better. It's also on a road in town known as Cannery Row, an old sardine packing district. These details make Monterey Bay Aquarium a unique place to visit.
Arriving at Monterey Bay Aquarium
At the time of our visit, the aquarium was still operating on a reservation system due to reopening restrictions after Covid-19. We scheduled ahead of time to be sure to get an opening reservation so that we could explore some other attractions later in the day. It appears that the aquarium is still using an online ticket sales and reservation system.
The website does say that you can only purchase tickets online and that there is no onsite ticket booth, so be aware of that as you plan your visit. I'd also check the website for current hours and the schedule for feedings.
We arrived on Cannery Row well before the aquarium opened for the day. We found some metered street parking and we were off. We walked along Cannery Row, but many shops weren't open yet. We had a good time looking at the ocean and watching the birds nearby, though.
When our reservation time approached, we headed to the queue outside the aquarium.
The aquarium is fashioned from an old sardine canning factory. I thought that was a cool touch how they incorporated Cannery Row's history into the current building. Soon, we made our way into the lobby.
After we were checked in, which included walking through a metal detector, we waited in the main area of the lower level for the aquarium to officially open. We didn't wait long. When the aquarium opened, everyone scattered.
Exploring the Exhibits
Many people went right for the sea otters, so we tried to avoid that chaos at the beginning. We went to an area called The Open Sea.
This area is dark, and it's fascinating to see the exhibits here.
One of the highlights is this huge tank.
Jellyfish are always a hit. It's so relaxing to watch them.
Later, we did get a glimpse of the sea otters. They had a feeding scheduled, so we planned to return for that.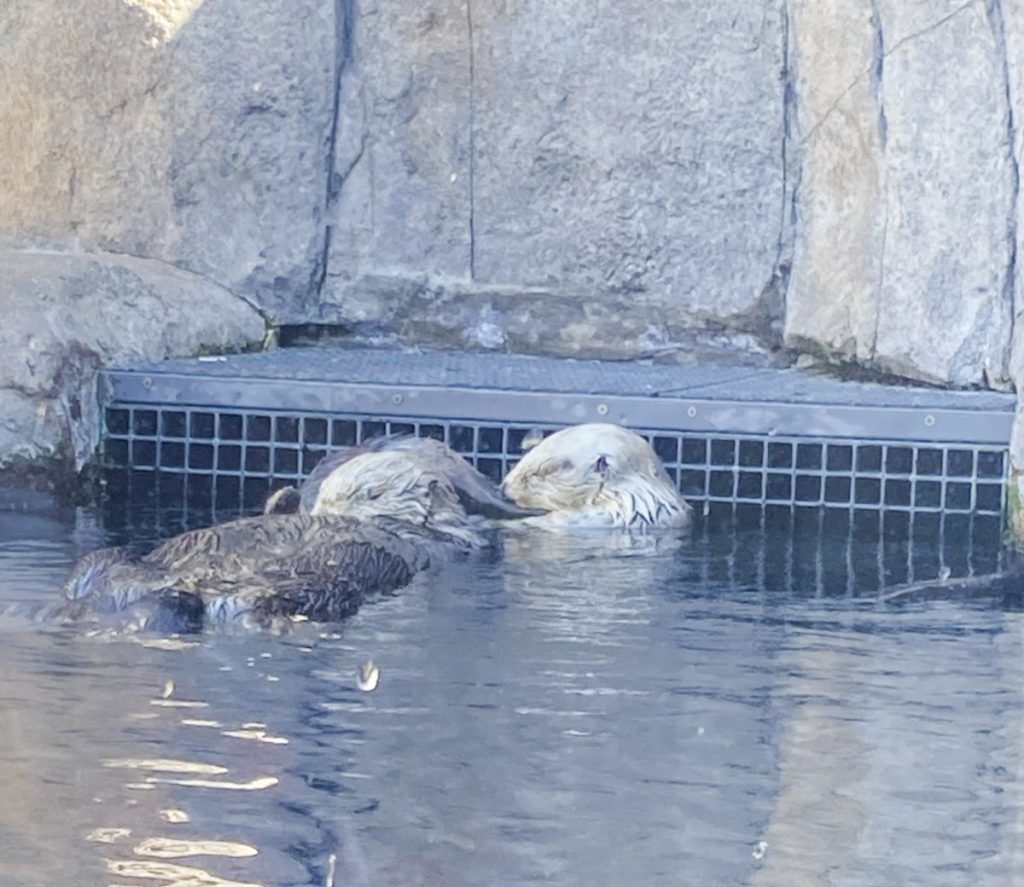 Watching these crabs was fun.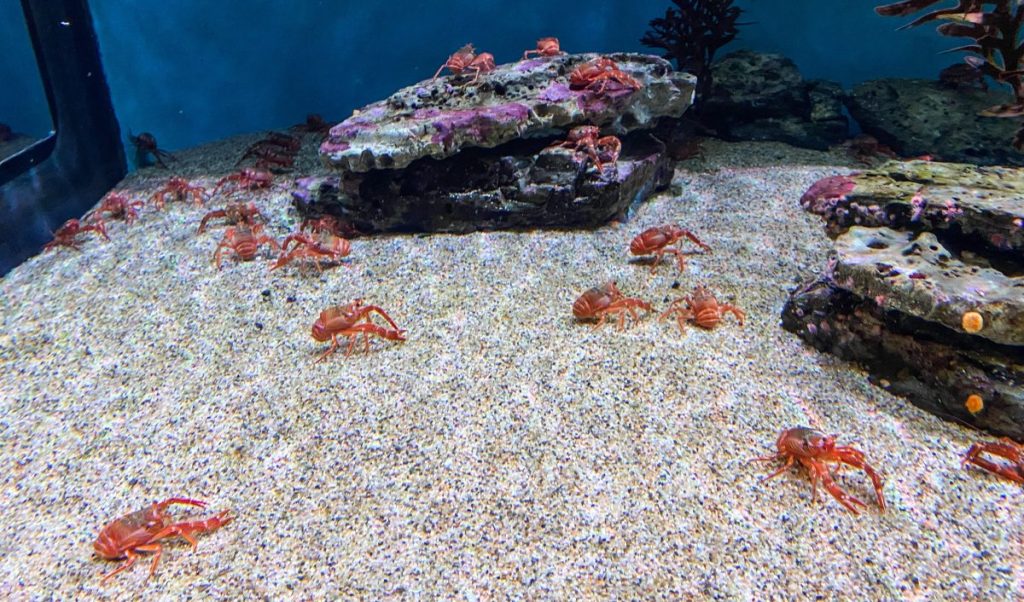 Soon it was time to head up to the next level.
What a great view!
This aquarium is a lot of fun to explore.
The building is filled with reminders of its past.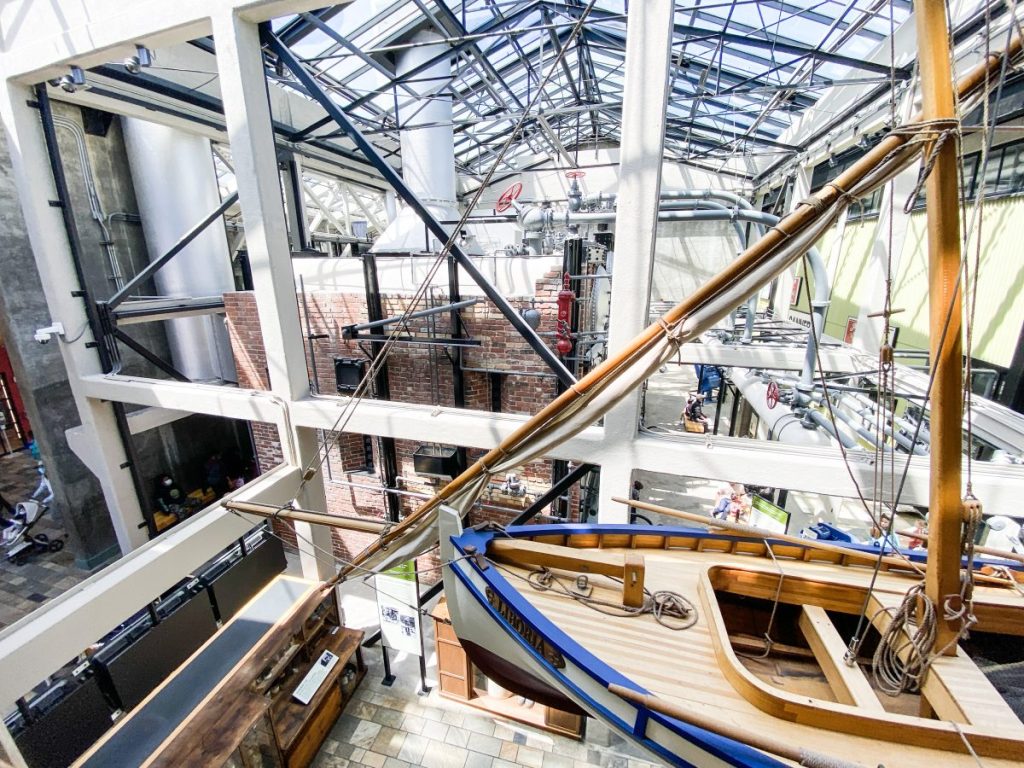 Toward the back of the aquarium, you'll find a viewing area for the bay.
When you live in the Midwest like we do, you may find it difficult to stop gazing out across the water.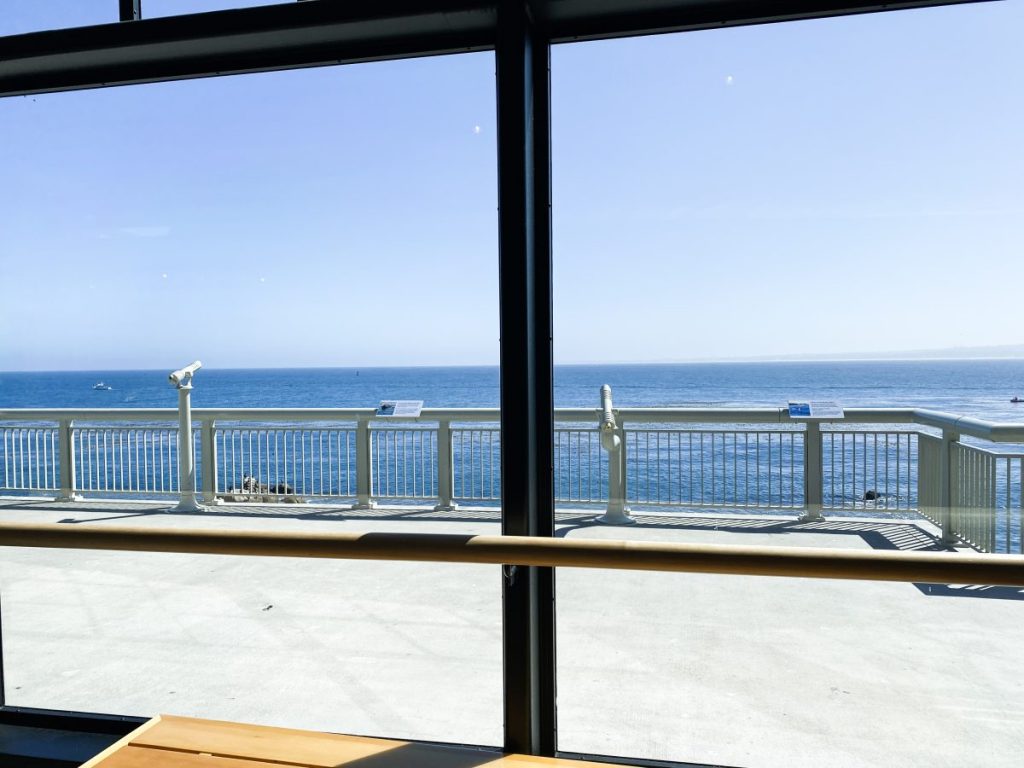 We had fun guessing if we'd seen sea otters or other wildlife near the rocks.
Like any great aquarium, there are spaces for all ages to enjoy. Kids will find a lot of interesting ways to learn about the ocean and the animals that live there or on the shore.
Kristin always likes to see the penguins. Below, she's posing in front of the penguin exhibit.
Feedings at the Aquarium
Like many aquariums on a summer day, Monterey Bay Aquarium is a busy place. If you want to see the feedings, be sure to keep an eye on the schedule and plan accordingly. You'll want to show up a bit early to be sure you can get a good viewing spot.
The sea otter feeding is really popular, and there's limited viewing space. It's worth trying to see.
The other feeding we caught was The Open Sea feeding. This one does have some stadium-style seating and more standing room. It's a fascinating experience that I recommend. Below, sardines swim in formations to protect themselves from predators. We were assured, however, that the sardines were safe in this environment. Still, it's interesting to see what the sardines do instinctually. You can also see other fish and hammerhead sharks in this tank.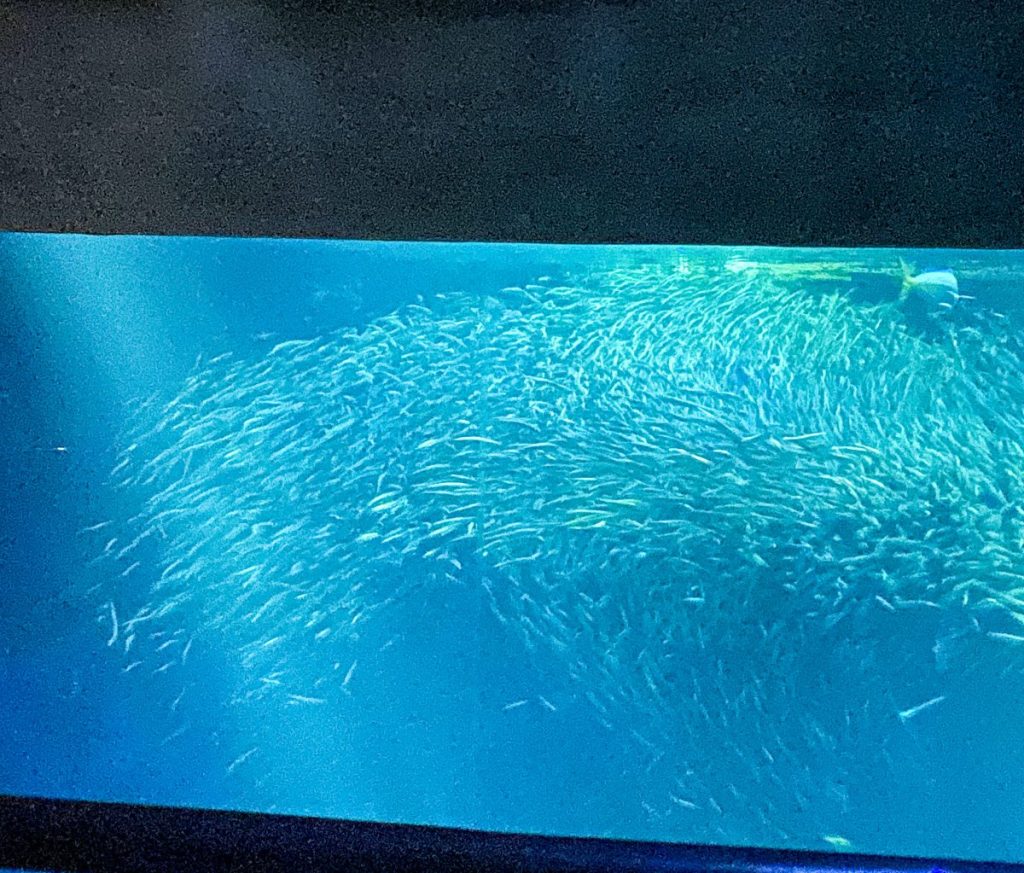 Sardine Canning and the History of Cannery Row in Monterey
The history of Cannery Row is fascinating. In 1902, the first two sardine canneries opened, launching the sardine industry on Cannery Row. During World War I, foods like canned sardines became popular for feeding the troops. The fishing industry in Monterey filled this need nicely.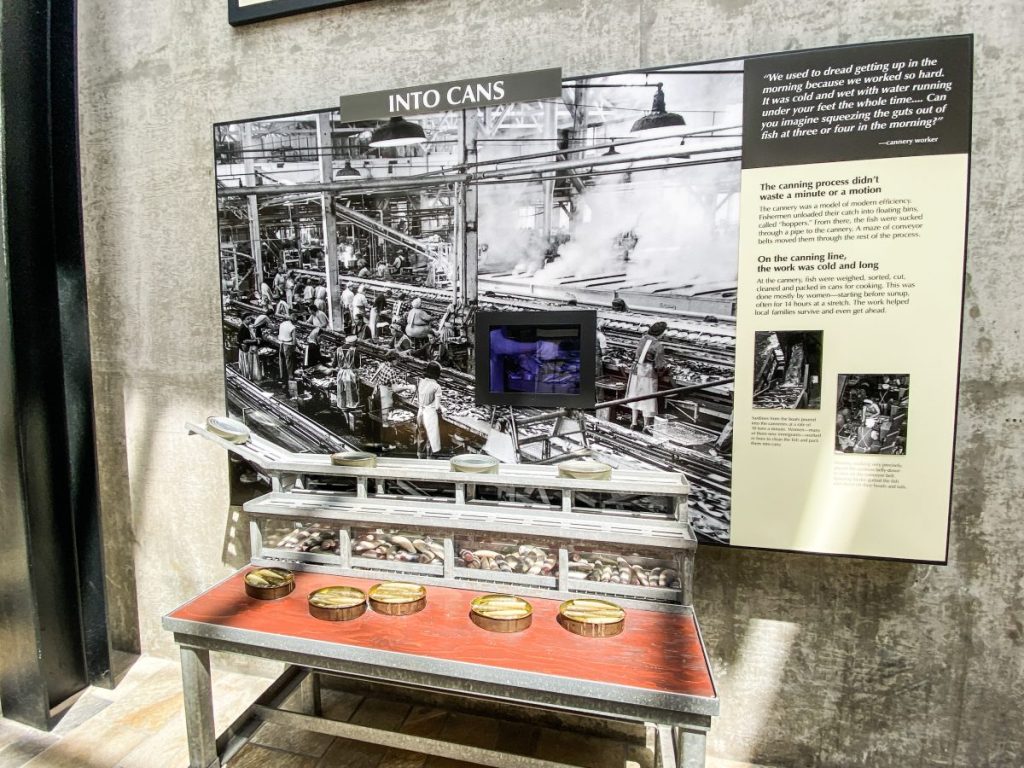 Many immigrants, mostly Chinese, worked in the canneries. Each cannery had its own whistle to call the workers to their shifts. The canneries weren't regulated at the time, and many employees worked their long shifts in unsafe conditions.
The Great Depression caused a brief lull in the sardine canning industry, but it trucked along, providing jobs for those in the area who desperately needed them. Soon, World War II jump-started the canneries again. After World War II, overfishing caused the sardines to vanish from the bay. Luckily for the area's economy, author John Steinbeck wrote two novels about the area: Cannery Row and Sweet November. These books created new interest in Cannery Row, and eventually, restaurants and shops sprang up to meet the needs of tourists.
Monterey Bay Aquarium opened on Cannery Row in 1984. The aquarium strengthened tourism in the area, and now Cannery Row is a tourist destination. I mean, we showed up, didn't we?
References:
"The Canneries – Cannery Row." Cannery Row, 17 Mar. 2021, canneryrow.com/our-story/the-canneries/. Accessed 5 June 2023.
"The Colorful History of Cannery Row in Monterey CA." Valleylodge.com, 20 Apr. 2021, www.valleylodge.com/blog/2021/04/history-of-cannery-row. Accessed 5 June 2023.
Cannery Row, John Steinbeck, and "Doc" Ricketts
I taught sophomore English for 15 years, and every year, my students and I read Steinbeck's Of Mice and Men. Over the years, my interest in John Steinbeck grew, and I knew I had to see Monterey and Salinas one day. This road trip made that dream come true.
Cannery Row does a great job honoring John Steinbeck. There is a fountain with many of his characters a couple of blocks from the aquarium; a statue of Steinbeck sits on top of the fountain overseeing them all. You can also see his bust. It's true that Cannery Row's tourism probably owes a lot to Steinbeck, but the most fascinating part of the Steinbeck-Cannery Row connection for me is Steinbeck's friendship with Ed Ricketts.
Monterey Bay Aquarium honors them both. Ed Ricketts operated and lived in Pacific Biological Laboratories, a small lab on Cannery Row. Ricketts would collect specimens from the tidal pools to sell to schools for research. The two met in 1930 and created a friendship that lasted for 18 years.
Ricketts was known for his curiosity about music, literature, and aquatic creatures. Steinbeck was drawn to his mind, and the two would have deep conversations about life. At one point, the two embarked on an adventure they called the Sea of Cortez Expedition during which they collected marine specimens and placed them in jars. After the expedition, they co-wrote the book Sea of Cortez.
The character of "Doc" Rickets appears in Cannery Row and Sweet November as a respected member of the community known for his intellect, but Steinbeck scholars believe Ricketts appears in many of his other works as various characters.
Sadly, Ed Ricketts was killed when his truck was struck by a train in 1948. Of course, Steinbeck was devastated. I hope he would smile if he could see the tribute to their friendship in Monterey Bay Aquarium. You can also still visit Pacific Biological Laboratories on Cannery Row, but during our visit to Monterey, it seemed that you needed to make an appointment to go inside the lab. Maybe next time.
Reference:
NPR. "Ed Ricketts and the "Dream" of Cannery Row." NPR, NPR, 7 May 2003, www.npr.org/2003/05/07/1252560/ed-ricketts-and-the-dream-of-cannery-row. Accessed 5 June 2023.
Monterey Bay Aquarium was a highlight of our road trip. If you're looking for something fun for families while you're in Monterey, definitely put this aquarium on your list. Monterey Bay Aquarium frequently appears on "Top 10 Aquariums in the U.S." lists, so it's a great one to check out. Happy exploring!
Other adventures on this road trip:
Monument Valley Dreamcatcher Tour