This post may contain affiliate links. Please read our disclosure policy for more information.
Mount Rainier National Park is one of the prettiest places we've ever visited. Though we only got a taste on our day trip from Seattle, Mount Rainier was certainly a highlight. Whether you have a day or a week, Mount Rainier National Park is certainly worth a visit.
A Little History of Mount Rainier
A very long, long time ago…
According to archeological findings, Mount Rainier has been used in some fashion by native peoples for at least the last 9,000 years. Scientists and historians believe that people came to Mount Rainier to hunt and gather other necessary items for survival. People from the Cowlitz, Muckleshoot, Nisqually, Puyallup. Squaxin Island, and Yakama tribes still use the area for worship and other gatherings.
In 1792, Captain George Vancouver, an officer in the British Royal Navy, spotted the mountain and named it for his friend, Rear Admiral Peter Rainier. Though people of European descent began to explore the area, the honor of being the first recorded white explorers to reach the summit belongs to P.B. Van Trump and General Hazard Stevens who made it all the way to the top in 1870.
James Longmire
In 1853, James Longmire built a homestead in view of Mount Rainier which became a stopping place for those heading to the mountain area. After he made his own ascent, he discovered hot springs on the way down and decided to use the area for a hotel resort with mineral bathhouses to capitalize on the springs and their supposed healing properties. Thus, the Longmire Springs Resort was born. After the national park was established, the Longmire area became the headquarters of the park until the mid-1970s until the headquarters was moved to a lower elevation and more convenient location in Ashford.
Mount Rainier Becomes a National Park
In 1899, Mount Ranier National Park became our nation's fifth national park. In 1899, John Muir climbed to the summit of Mount Rainier and became convinced that the area should be preserved as a national park. As president of the Sierra Club, he gave speeches to bring about awareness to the area and why it should be preserved. Other groups also felt the area should be maintained under one entity, and a national park seemed to be the solution. Other attempts to preserve the park, such as creating the Pacific Forest Reserve, didn't do enough to protect the land from logging and other forms of commercialization. Muir and other supporters worked tirelessly to make Mount Rainier a national park, and they succeeded.
Getting to Mount Rainier From Seattle
One thing I didn't realize before going to Seattle is that on a clear day, you can see Mount Rainier from Seattle. Having the mountain often in view is probably another reason Mount Rainier National Park is popular with the locals, especially on weekends.
We drove south from Seattle on Hwy. 169/410. We'd heard good things about Black Diamond Bakery, so we made plans to stop there before getting to the park.
From there we continued south on 410 until we got to the White River (northeast) entrance and entered the park.
From this entrance, you can follow the gray waters of the White River via Sunrise Park Road which will take up to the highest elevation you can reach by car–6,400 feet. Just note that Sunrise Park Road may not be open until late June or early July.
Breakfast at Black Diamond Bakery
This cute bakery is the perfect way to start your Mount Rainier day!
We were overwhelmed by all of the choices.
In the end, we all chose an item (or two). Yum! Totally worth the stop.
Driving Sunrise Park Road
When you enter the park at the White River entrance at the northeast corner of the park, you'll see the Skookum Falls from your viewing point at the Skookum Flats and White River.
An interesting fact about this river: it used to flow into the Green River, but debris re-routed it to the Puyallup River in 1906.
The water in is gray due to ongoing glacial melting; the gray color comes from the sediment as the water from the melting glacier passes through glacial caverns.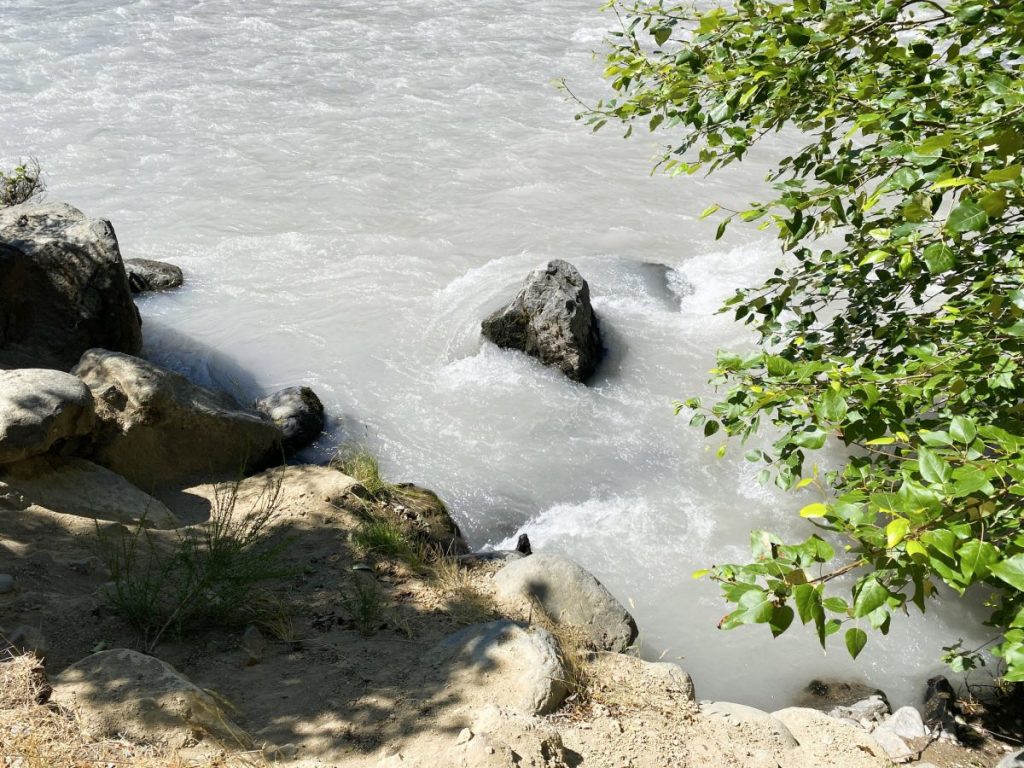 Getting Closer to Mount Rainier
The Sunrise Park Road will get you close to the mountain with great views. If you're not planning to do a lot of hiking, this road is a great way to experience the park. The road provides the highest elevation access by vehicle at 6,400 feet.
You'll have many opportunities for pull-outs and viewpoints.
It's amazing how beautiful this area is.
As you continue your ascent, you'll get a closer look at the glaciers in Mount Rainier National Park.

Stunning!

Heading to Paradise
If you're visiting Mount Rainier National Park, you'll definitely want to stop at the Paradise area. Paradise is named for James Longmire's daughter-in-law's reaction when she first saw the area. If you arrive later in the morning to early afternoon, parking may be an issue, especially on the weekends.
To get to the Paradise and Longmire areas of the park, you'll want to take Stevens Canyon Road. The scenery along Stevens Canyon Road is gorgeous, like Martha Falls. You can hike to this one if you'd like, but we enjoyed the falls from the road.
When you're almost to the Paradise Visitor Center, you'll come across Reflection Lakes. It was a bit too windy for any reflections for us on that day. If you want to hike in this area, you'll want to keep in mind that it's a really popular hike and you'll want to be up early to grab a parking spot.
One thing to remember about Mount Rainier–it's an active volcano. Gasses escape through vents in the mountain. The last eruption occurred between 1820 and 1850. Scientists say that this volcano sometimes erupts in small lava spurts or larger eruptions with debris.
Eventually, you'll find yourself at one of the most popular places in the park–the Henry M. Jackson Memorial Visitor Center and the Paradise Inn.  The historic inn was originally built in 1916 and is on the National Register of Historic Places.
Since this area was so busy and we only had a single day in the park, we only hiked a little way up the Skyline Trail at the visitor center. The quote on the stairs is cool, and the wildflowers in Paradise are lovely. We were there in mid-July, and honestly, I expected more flowers. Maybe there were more later on the trail, or maybe they just weren't out yet. But what we saw was beautiful.
Here is a view looking back at the visitor center from Skyline Trail.
And here is a closer shot. You can see how busy it was. Honestly, these were the only crowds we encountered all day. Everyone was here!
Exploring the Longmire Area
Paradise is great for the wildflowers, and Longmire is great for park history. This area is fun to explore when you realize that this is the area James Longmire built his resort and that it later became the park headquarters.
The National Park Inn
When Longmire died, the family took over the Longmore Springs Hotel. The National Park Inn was constructed in 1906. An original section of the hotel burned in 1926, but the annex which replaced Longmire's hotel is known as the National Park Inn today, though it's been renovated over the years.
The historic National Park Inn would be a cozy place to stay while visiting the park. We enjoyed walking around the area. The inn has a general store and a restaurant. This whole area is a National Historic District.
The Old Headquarters Buildings
You can walk around the old national park buildings that used to house the headquarters. One building is a museum.
This tree section depicts events that happened in the world as the tree aged.
Be sure to check out the old filling station. As I learn more about our nation's national parks, it always amazes me how people used to tour the parks by stagecoach and wagons until automobiles came along. Americans changed as a culture when the automobile was invented; people became so independent in their traveling. It's also fun to see how places like national parks adapted as the way people traveled changed over the years.
Leaving Mount Rainier National Park
For us, the Longmire area was the end of our Mount Rainier adventure. While most people enter the park at this historic entrance, we stopped to get a backward shot as we left. Our next stop would be staying in Lakewood, Washington, for the night before heading to Forks and the Olympic National Park area.
Mount Rainier National Park really is a lovely place to explore. It's a manageable park; some parks seem so daunting in their size. We certainly could've spent a lot more time here if we wanted to stay in the park or do some hiking. Since we were on an extended road trip from Missouri, we only had time to drive through and catch the highlights. If you're in the area and have time, I think a day trip is worth it. Yes, more time would be ideal, and maybe we'll return someday. For now, I'll remember the gorgeous mountain views from our day trip.
References
"11 Fun Facts about Mount Rainier National Park." Doi.gov, 27 Feb. 2020, www.doi.gov/blog/11-fun-facts-about-mount-rainier-national-park#:~:text=Mount%20Rainier%20National%20Park%20was,because%20of%20its%20unique%20beauty.. Accessed 2 May 2022.
Mount. "Longmire – Mount Rainier National Park (U.S. National Park Service)." Nps.gov, 2022, www.nps.gov/mora/planyourvisit/longmire.htm. Accessed 2 May 2022.
—. "Longmire – Mount Rainier National Park (U.S. National Park Service)." Nps.gov, 2022, www.nps.gov/mora/planyourvisit/longmire.htm. Accessed 2 May 2022.
"National Park Inn | Mt. Rainier National Park Lodging." Mtrainierguestservices.com, 2016, mtrainierguestservices.com/accommodations/national-park-inn/. Accessed 3 May 2022.
Wikipedia Contributors. "James Longmire." Wikipedia, Wikimedia Foundation, 17 Jan. 2022, en.wikipedia.org/wiki/James_Longmire. Accessed 2 May 2022.
Other adventures on this road trip:
Driving Going-to-the-Sun Road in Glacier National Park
Jenny Lake in Grand Teton National Park
Staying at Old Faithful Inn in Yellowstone