This post may contain affiliate links. Please read our disclosure policy for more information.
The Museum of Pop Culture in Seattle may very well be my favorite museum I've ever visited. As I researched our road trip that passed through Seattle, I encountered information on this fun museum over and over. The more I read, the more I knew my family would love it. The Museum of Pop Culture, also known as MoPOP, celebrates all things that have become America's favorite obsessions–movies, stories, video games, and music, especially Seattle's influential music scene.
The museum opened in 2000 as the Experience Music Project. Founded by Microsoft's Paul Allen, this museum has undergone changes and rebranding over the years, including adding the Science Fiction Museum and the Science Fiction and Fantasy Hall of Fame at one time. The museum became its current incarnation in 2016. Along with viewing great exhibits, visitors can also create music and participate in other interactive activities. The museum also hosts film festivals and live performances throughout the year. The museum also hosts awards galas, like the one for the annual Founders Award.
The building itself is an odd structure. Apparently, the design was inspired by the making of a guitar, specifically, a Fender Stratocaster. It's difficult to envision that inspiration from the street, but the design is unique and you can't mistake it for any other building in the world.
Arriving at the Museum of Pop Culture
The museum is located near many other popular tourist attractions. The Space Needle is right across the street, and the Chihuly Garden and Glass Museum is also nearby.  The Artists at Play playground is right next door, and there are food vendors at the exit of the museum. It's a great area to explore.
We found paid parking a couple of blocks away, and then the adventure was on. At the time of our visit, the Disney Heroes and Villains costume exhibit was on display, so check the website to see if you'd like to add tickets to the current temporary exhibits that may be on display.
We prepaid for our tickets, so after a quick scan of our phone, we were off. It's an amazing collection, and we didn't know exactly where to start. One thing you can't miss is the guitar sculpture that you can see from several vantage points in the heart of the museum.
Heroes and Villains: The Art of Disney Costume
We decided to start with the temporary exhibit–Heroes and Villains: The Art of the Disney Costume.  We love Disney so much that I knew we needed to get tickets to this. I decided to show some pictures, even though the exhibit is no longer on display. It was really cool, and maybe the exhibit will pop up somewhere again since it originally was presented at the D23 Expo in 2019.
The costumes are from Disney films. Here's Cinderella's gown.
Gotta love Captain Jack.
How about the Sanderson Sisters?
The exhibit was really well done, and I hope it goes out into the world again somewhere.

Museum of Pop Culture: The Exhibits
Our visit primarily consisted of seeing the Level 2 exhibits. Click here to see a map of the layout.
The Sci-Fi and Horror exhibits are housed on Level 1, but they are accessed on Level 2. Click here to see that map. Level 1 also houses a cafe called Culture Kitchen and a theater venue called the Sound + Vision Theater. We didn't experience the cafe or the theater during our visit; it's worth noting that Covid restrictions were still in effect.
On Level 3 you'll find the Pearl Jam exhibit. There may be additional exhibits on Level 3 during your visit. Click here to see the map.
Slight disclaimer here–our pictures kind of skew in the direction of the things we were most excited about, so they're a tad heavy on horror and music.
Guitar Gallery
If you want to see a guitar that belonged to one of your favorite musicians, be sure to check out the guitar gallery. Above is Nancy Wilson of Heart's guitar. Below is Dave Grohl's.
Below is Stevie Ray Vaughn's. It's amazing to see these guitars and to think about the hands that have played them.
Indie Game Revolution
In the Indie Game section, many young people were trying out the games. Kristin loved the decor, but we didn't spend a lot of time gaming.
Hendrix: Wild Blue Angel
I love how this museum celebrates musicians, especially those who hail from Seattle. And seriously, can we talk about guitar playing without talking about Jimi Hendrix?
Nirvana: Taking Punk to the Masses
And, can we talk about the Seattle music scene without discussing Nirvana? I think not.
If you grew up in the 1980s and 1990s, this area will feel like walking through a time capsule.
I remember when Nirvana made it's way to mainstream music. It's fascinating to think about how punk and grunge changed everything in American popular culture. I guess that's why they're in the museum.
This exhibit is not to be missed.
Scared to Death: The Thrill of Horror Film
My travel companions definitely had a great time in the horror section.
All the mainstream classics are represented. Below is the ax from The Shining.
Say hello to Jason of Halloween, if you dare.
Here are props from one of Jeff's favorite movies, Jaws.
Can we even talk about American horror without bringing up A Nightmare on Elm Street? That was my first true slasher movie at a sleepover. You have to love that they have one of Freddie's gloves.
The stained glass here is a great way to show the link between good and evil in horror.

Infinite Worlds of Science Fiction
The science fiction exhibit is a fun place. I think I was so distracted by the props that I forgot to take pictures.
Fantasy: Worlds of Myth and Magic
The fantasy area is fun with immersive displays.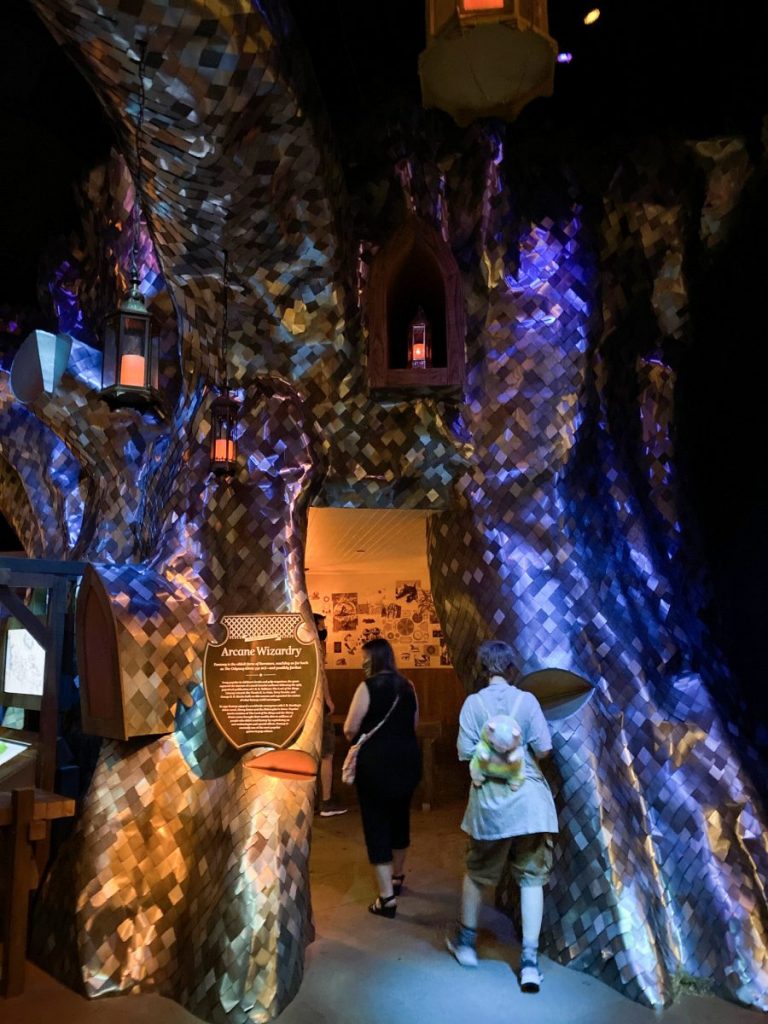 The dragon was a hit with Kristin.
And I liked the nostalgia of the Wizard of Oz costumes.
There are even costumes displayed for Harry Potter fans.
Pearl Jam: Home and Away
The final exhibit we explored was the Pearl Jam display. Here is another band you can't neglect when talking about the Seattle music scene.
I had goosebumps as I watched this large-screen video of a live performance.
How fun is this setup?
The End of Our Visit
As we made our way to the back of the museum, we saw this Sky Church display that makes you feel like you're at a concert. The performers change periodically, and the screen is enormous. We couldn't help but stop and watch.
To the right of this display is the gift shop. It's one of the best, so be sure to browse the merch before heading outside.
Outside the Museum of Pop Culture
If you walk outside of the back of the museum, you'll run into the Artists at Play playground. This would be an excellent place for younger gets to burn some energy after a visit to the museum.
If you're looking for a drink or a snack, you're in luck. There are vendors all around this area.
You can even get an ear of corn!
There is also a monorail stop nearby. I wish I'd known about it before our trip. We'd been at Pike Place that morning, and we could've taken the monorail from Westlake to Seattle Center. We might've saved a bit on parking. Click here to read more about the monorail in Seattle.
Of course, there is a lot to do at Seattle Center, including visiting the Space Needle. We didn't go up, but I'd like to on our next visit. I also hope to see the Chihuly Garden and Glass museum next time. The Pacific Science Center and The Children's Museum are also in this general area, so there are plenty of family-friendly activities available if you're looking for ways to make memories with your family while you're in Seattle.
Seattle is one of my favorite cities, and I can't wait to go back to explore more. I hope you'll get to visit Seattle and enjoy all the unique experiences Seattle has to offer.
Other adventures we had on this road trip:
Orca Whale Tour at San Juan Island