This post may contain affiliate links. Please read our disclosure policy for more information.
Last summer we had the chance to spend about 24 hours in Memphis while we were on a road trip to Florida. We'd stopped there once before to see Graceland and walk along Beale Street, but we hadn't really had a chance to explore beyond that, so I was beyond excited. You may be thinking to yourself, "Twenty-four hours really isn't very long." Although that may be true, we have become masters at fitting many activities in short periods of time. Our thinking is: What if we never make it back? Will we have regrets? When I started looking into things to do, I knew immediately that I wanted to visit the National Civil Rights Museum at the Lorraine Motel. This is a museum built into the motel where Dr. Martin Luther King was assassinated in 1968.
We reached Memphis just before 11:00 a.m., and our plan was to sample some Memphis BBQ and then explore the museum.  Central BBQ is right across the street, and it is highly recommended.  (It is also quite yummy!)  We hit a slight snag in the plans, though.  I'm usually on the ball with planning, but this time I overlooked the one day a week the museum closes–Tuesday.  Of course, that was the day we arrived in Memphis.  No big deal; we'd catch it the next morning.
We arrived about 40 minutes before opening.  I wanted to snap some pictures before we went in and avoid any crowds, if possible.  I highly recommend this plan.  A group of teenagers was preparing to tour the museum soon after we arrived but besides the group, there were only a few other smaller parties.  When we left, it was much busier.
Across the street from the museum is a tunnel that connects some other buildings that are part of the complex, but we did not tour this part of the museum.  The gate is inspiring.
The street art on this building is awesome, too.
Inside the National Civil Rights Museum
Soon it was time to go inside.
The museum is beautiful.  This sculpture welcomes visitors.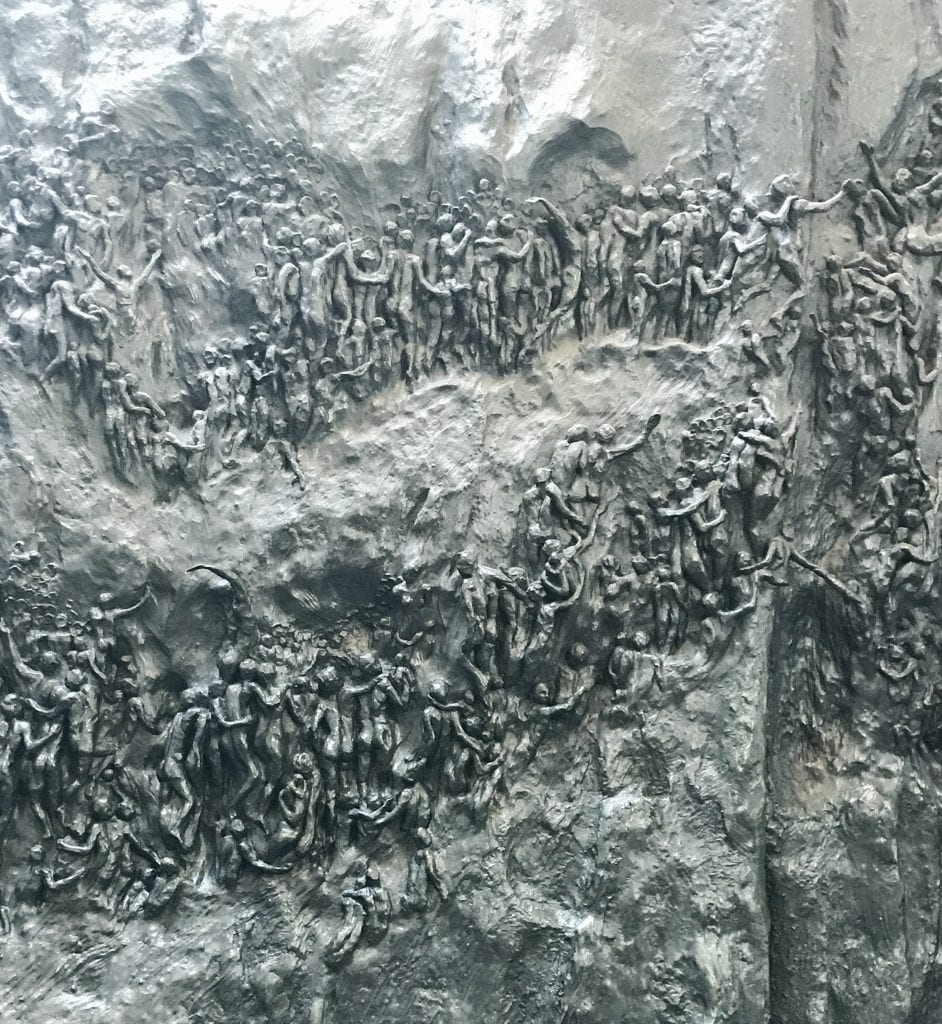 After you enter the lobby and purchase tickets, you embark on a journey that tells the story of African Americans in the United States and the Civil Rights Movement.
Kristin really didn't know a lot about the Civil Rights Movement.  We've visited a few historical sites that have dealt with slavery, but she'd never seen anything about the Ku Klux Klan or Dr. Martin Luther King.  When she saw some of the exhibits and photos, she had a lot of questions.  Some of the exhibits are emotional, but I know that's the intention.
It's important to me that Kristin learns about history and empathy, and museums like this help us to have a dialogue about things that have happened and how we can work towards making the world a better place.
So many of the exhibits are interactive and allow you to walk a mile in someone else's shoes, as Harper Lee might say.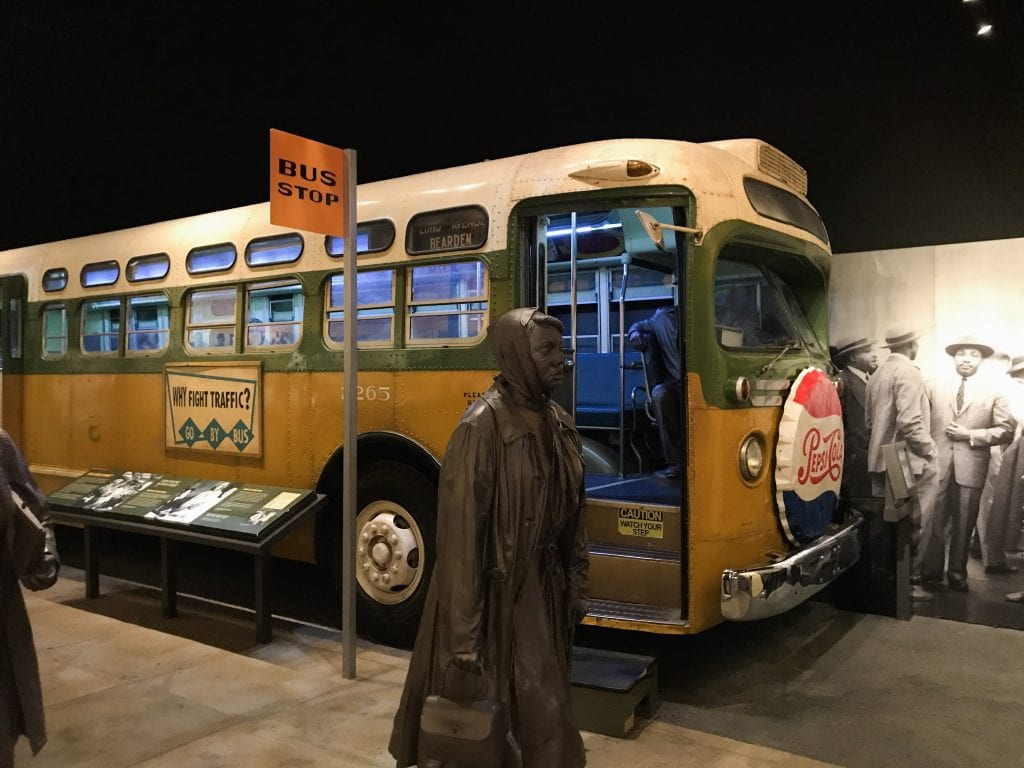 In this exhibit, you can actually board this bus and sit next to the statue of Rosa Parks who is seated inside.  Some sound effects make this especially moving emotionally.
So many displays are heartbreaking.  I found myself asking myself "why" over and over.  Why do people have to treat others so horribly?  I also found myself asking the difficult questions.  Would I have had the courage to stand up for myself or others?  I think most of us would like to think so, and those that did stand up were so brave.  I can only hope I can summon the courage to confront hate when I see it today.
Taking Something With You
At the end of the tour of the museum, you do get to see inside the room King was staying in when he died.  They've recreated the room with furnishings and details so that the room looks like it would have in 1968.  It's a place for quiet reflection.  The above photo is the view of Room 306 from the outside.
While it's not easy to face some moments from our nation's past, I know museums like this educate young and old.
This museum is a wonderful way to honor Dr. Martin Luther King's work and vision he had for America.  While some exhibits caused a tightening in my chest, I left the museum feeling hopeful for our future.  I know the road is still rocky and we have a long journey ahead, but I feel hopeful that future generations will learn from our mistakes and continue towards the dream of equality for all.  The National Civil Rights Museum is a must-do when visiting Memphis.