This post may contain affiliate links. Please read our disclosure policy for more information.
Disney Dreamin': The Background
We'd never been to a Disney park in any other season but summer.  June and July, to be exact. When you're a teacher with a school-aged kid, it's difficult to get away during the school year. This past summer, we planned a trip that included Yellowstone and Seattle, and, originally, the plan was to fly from Kansas City to Denver and rent a car. When reports of rental car shortages emerged, we canceled the flight and drove the entire trip from Missouri. In the end, we were glad it worked out that way; we ended up adding an extra week to the trip. But, we had a flight to reschedule or we'd lose the funds. What to do?
Plan a long weekend to Disney? Yes, please!
In the end, we chose Disneyland over Walt Disney World. Since we'd only have a couple of park days, a two-park destination made more sense. Also, while Anaheim can be warm, Walt Disney World in September can be unbearable. Throw in hurricane season, and the decision became even easier. Finally, Disneyland announced the return of the Oogie Boogie Bash at Disney California Adventure. We'd never done any kind of Disney party outside of dessert parties. Disneyland it was.
It's always my hope that by sharing our adventures, we can help others plan their trips. Here is our Oogie Boogie Bash and Disneyland at Halloween story.
Disneyland in September: The Plan
When all was said and done, we ended up with tickets (unintentionally) to the opening weekend of the Oogie Boogie Bash. Our tickets were for a Sunday evening, thinking it may be a tad slower. It did take our date longer to sell out, but it did. The park was definitely hopping, so that thinking didn't hold up.
We flew from Kansas City to LAX on a Friday. We rented a car and made the approximately hour drive to Anaheim to our home for the weekend–Camelot Inn and Suites, one of Disney's Good Neighbor Hotels. This independent hotel is a great, affordable option that allows you to walk to the theme park gates. No need to drive; you can walk to security in five to ten minutes, depending on how long you have to wait for the traffic light when you cross the street.
You can also walk to some nearby eateries along this street–McDonald's, IHOP, Denny's, and more. Downtown Disney sits between Disneyland and California Adventure, so you can also walk there for food options and shopping without using a theme park ticket. We had Denny's for dinner after checking in, which we also walked to. After dinner, we grabbed a few drinks for the room at a convenience store. As we walked back to the hotel, we saw the fireworks at Disneyland. Yes, you can watch the fireworks from the Good Neighbor Hotels on Harbor Boulevard and other nearby streets. You're that close!
Since we had to make park reservations for this trip, we chose our opening park as Disneyland both days in hopes of scoring Star Wars: Rise of the Resistance boarding groups. We also got the parkhopper option in case we wanted to hop to Disney California Adventure, but that didn't happen. During this restricted time, you can't hop until 1:00 p.m. to the other park. Since Anaheim was so warm on these afternoons, we took a hotel break instead of going to the other park. On our first day, there was an Oogie Boogie Bash that we didn't have tickets to, so that left us at Disneyland that evening. The second day was our party day, so we didn't need the parkhopper for that evening.
Disneyland at Halloween
Our day was entirely planned for Disneyland. From our room, we attempted to get a boarding group for Rise of the Resistance at 7:00 a.m. and we were unsuccessful. (I later read about being signed in ahead of time and refreshing like crazy to nab this.) No big deal; we knew we may not get one. We left our room right after since we wanted to make the most out of rope drop. We easily walked over, made it through security, and were lined up at the turnstiles by 7:45. After a countdown ten seconds before 8:00 in which I may have teared up a bit, the line through the ticket scanners moved quickly. I showed my tickets on my phone and in return, we were issued paper tickets for use on our entire trip.
During the hour before the official opening, you can take advantage of photo ops and shop in some of the shops on Main Street.
The fall decor is lovely, and things are festive and fun.
I loved all the Halloween merchandise on display.
The decorations certainly put you in a fall mood.
When it was closer to 9:00 a.m., we lined up on the side of the hub near Adventureland. We wanted to knock out some of our favorites in this area. They played the Mickey Mix opening music, and I teared up again. I mean, I tear up at Disney all the time, but I think something about what we'd all been through with Covid made it hit even harder. If you don't know the music I'm talking about, here is the full mix. They only played the opening "Get your ears on" part for the park opening. This music played during the fireworks when we were there in 2019.
Dang, I'm tearing up just posting the YouTube video. Anyway.
After a hearing just a small sample of the song, we were off and running, hitting favorites like Pirates, Splash, and Winnie-the-Pooh. We walked by the Haunted Mansion, but we decided to ride later.
The Nightmare Before Christmas overlay happens during the fall and lasts through Christmas. If you're lucky, you may see Jack and Sally on the second-floor balcony waving to guests.
We circled through Star Wars: Galaxy's Edge. On our last trip to Disneyland, the new land had just opened and we needed a reservation. Rise of the Resistance wasn't open yet. This trip, we could come and go as we pleased, and we still hoped to get a boarding pass either at 1:00 p.m. or the next morning. For the time being, we took our second ride on the Millienium Falcon.
We left Star Wars and needed some refreshments. I also had my eye on a couple of Halloween items I wanted to bring home. We tried mobile ordering for the first time at Red Rose Taverne, and we were able to add those items.
The poison apple mug comes with fries at Red Rose Taverne instead of a drink. Strange, I know. During breakfast, the fries are replaced with fried potatoes, so that was our snack. We also tried Halloween Gray Stuff, and I wanted the regular Halloween mug for work.
Kristin is a fan of Disney churros. She grabbed one before we went into the restaurant. Everyone was happy.
After a morning snack, we hit It's a Small World. On the way, we saw Bert and a penguin dancing to a band.
We walked around Toon Town and Tomorrowland, and it started getting warm. We decided to head to Main Street to shop. We were basically killing time before we could try for a Rise of the Resitance boarding pass again at 1:00 p.m.  Along the way, we caught the Dapper Dans in their Halloween outfits on the trolley singing the Haunted Mansion song.
We then headed for the treats.
Jeff got his standby of Goofy's sour gummy worms. Kristin gave the Jack Skellington cake pop a try.
We shopped some more until we heard the Disneyland band coming down the street. Of course we ran outside to see it!
I love Mickey and Minnie's outfits.
We were so distracted by the parade that we missed our chance to try for Rise of the Resitance boarding passes! We decided to take a hotel break to rest up for the evening. On our way out, Pluto and Goofy were waving to guests.
You couldn't hug or stand next to the characters at Disneyland, but you could stand in front of them for pictures. We were content to take our pictures from a distance.
Disneyland at Night During Halloween
After a nap and a late lunch/ early dinner, we headed back to the parks. We arrived at Disneyland just as a horde of people were crossing over to Disneyland from Disney California Adventure because that evening's Oogie Boogie Bash was starting. Somehow, I hadn't realized just how busy it would be. Still, we were at Disney. Busy or not, we were ready to have fun.
We decided this was probably our best chance to see the overlay at the Haunted Mansion. The line said 45 minutes, but it seemed to be constantly moving. I think we waited more like 30 minutes, but once you're inside the Mansion, it doesn't seem like you are waiting in a line since so much is happening.
While in line outside, we made the best of it. We got to see the decor up close.
Soon, we entered the Mansion.
The stretch room is delightfully different.
And so is the hall before you board the ride. I stopped taking pictures at this point because I wanted to fully experience the overlay for the first time. It did not disappoint!
As the sun went down, we headed to Star Wars: Galaxy's Edge again. We'd never seen it at night.
Disneyland does a great job of putting characters in the park, much more so than Walt Disney World, in our opinion. Even in our strange Covid times, the characters are out and about, even if you can't get really close. We saw Chewbacca at the Millenium Falcon.
And Kylo Ren was hanging around his command shuttle trying to recruit for the Dark Side.
Kristin wanted another ride on It's a Small World followed by a ride on Buzz Lightyear, so we figured we had some time to do those before the fireworks. After we rode Buzz, we needed to stake out a place for the fireworks. The hub was packed, so we thought maybe the area by the Rivers of America might be a good spot. Plus, I had my eye on a piece of Bloody Haunted Mansion Wedding Cake. I put in a mobile order for the French Market, and we were off.
The cake was pretty yummy. There were some surprising cherries inside, and I was surprised it was chocolate since the reviews I'd read about it said the cake was white. We also purchased some much-needed Cokes.
We settled in our spot, and soon the fireworks filled the sky. We couldn't see the projections, but it was worth it to have some space from the crowd. During Halloween, the fireworks show is called Halloween Screams and features the villains. You also get to see a projection of Zero the dog flying around.
As we walked back through Frontierland, we checked out the Ray Bradbury Halloween Tree.
Apparently, Ray Bradbury loved Disneyland and met Walt Disney in 1964. Bradbury worked with the Disney company on several projects, and this tree was dedicated to Bradbury in 2007. To read more about the Ray Bradbury- Disney connection, click here.
It was also a good time to snag some pictures of the Haunted Mansion at night.
After a ride on the newly updated Jungle Cruise, we made our way to the exit. We had another big Disney day ahead of us!
Oogie Boogie Bash Day
Our next Disneyland morning was much the like the first, except this time, we were able to score a boarding group for Star Wars: Rise of the Resistance! Again, the current process is to log in about 15 minutes before 7:00 a.m. and get to the part where you confirm your party. Then, a couple of minutes before 7:00, keep refreshing the page like a crazy person. That's how it finally worked for me. We had a boarding group that was about three hours out. We'll take it!
We went straight to Indiana Jones this morning. It will probably look like a crazy long line at opening, but it's probably the shortest it will be all day. Remember, you have to go through the entire queue to get to the ride. Sometimes a long line forms before the cast members open the queue.
After that, we did our favorites again. We also added a ride on Peter Pan, even though the line was 45 minutes long. It seemed to move pretty quickly. We got a little nibbly, so Kristin grabbed a churro, Jeff got a frozen lemonade, and I grabbed a breakfast plate from Red Rose Tavern. Kristin helped me with the scrambled eggs. Soon it was time for Rise of the Resistance. It was completely amazing! Probably the best ride I've ever experienced as far as immersion in a story goes. I didn't take pictures; I just experienced it in the moment.
After Rise of the Resistance, we headed back to the hotel for another break. We ate at Denny's for a late lunch/early dinner again.
Oogie Boogie Bash
When you have party tickets, you can enter the party at 3:00 p.m. We also had parkhoppers, so we could go into Disney California Adventure anytime after 1:00 p.m. Since it was pretty hot (in the 90s!) we didn't show up right at party opening. We arrived around 5:00 p.m., and the park was really busy. Party people were arriving, and day guests were trying to squeeze the last moments out of their visit.
We went straight to Blue Sky Cellar to get our party wristbands. You can get them at the front gate, but it can be busy. Blue Sky Cellar was not busy at all. After we were properly wristbanded and we had our treat bags, we decided we could do a couple of rides. The lines weren't short, but we needed to kill time until the non-party people left. We got a ride on Little Mermaid and Toy Story Mania before the party actually started. We had a great time checking out everyone's costumes. We just wore tee shirts and our ears.
After those rides, the park began the process of emptying the park of people without wristbands. The cast members will make human barricades and not let you enter areas of the park without a wristband.
Since it was still daylight, we weren't sure what to do. It was our first party. We decided to start doing some treat trails. On the trails, cast members will fill your bag with candy and other snacks. It's a good idea to bring a larger bag to dump treats into occasionally. I brought a pillowcase from home just for this purpose. I kept the pillowcase in my backpack, and we all dumped our treats in from time to time.
Most treat trails also have a villain. The villain doesn't hug or stand next to you; they simply interact with guests as they pass along. This was a lot of fun.
We headed to Cars Land first.
The Halloween decor is adorable!
I love all the Halloween touches.
The treat trail didn't have a villain in Cars Land, but you get a close-up view of Radiator Springs Racers. We'd never been in this land in the evening, so the light as the sun went down was nice. We didn't have time for any more rides on this visit if we were going to do the party stuff, so we only watched for a moment. It's too bad we didn't have one more morning for the rides!
We set out for more treat trails. You could spot them because they were marked like this.
We also found that sometimes characters are just out greeting guests in various places, like at Buena Vista Street. The first character we saw in this area was Megara from Hercules.
As the sun went down, the decorations and atmosphere became more spooky, but not in a scary way. It was festive.
Before we knew it, it was time to line up for the parade. We tried to pick an out-of-the-way spot, but the sides of the road were full. A better place may have been by The Little Mermaid ride. But the atmosphere of the street we were on was pretty cool.
I'd been looking forward to this parade. It's always been a dream to see a Disney Halloween parade in person. Even though this one is shorter than its Walt Disney World counterpart, I loved it!
Of course, a good Disney Halloween parade starts with the Headless Horseman. That horse is huge!
Several minutes later, the parade begins!
The Nightmare Before Christmas is fully recognized.
I mean, it is the Oogie Boogie Bash, after all.
But there are plenty of other fun Disney Halloween scene to see, like the Hitchhiking Ghosts from the Haunted Mansion.
And don't forget the bride!
After the parade, we set out for more treats and villains. We found the Mad Hatter.
Maleficient.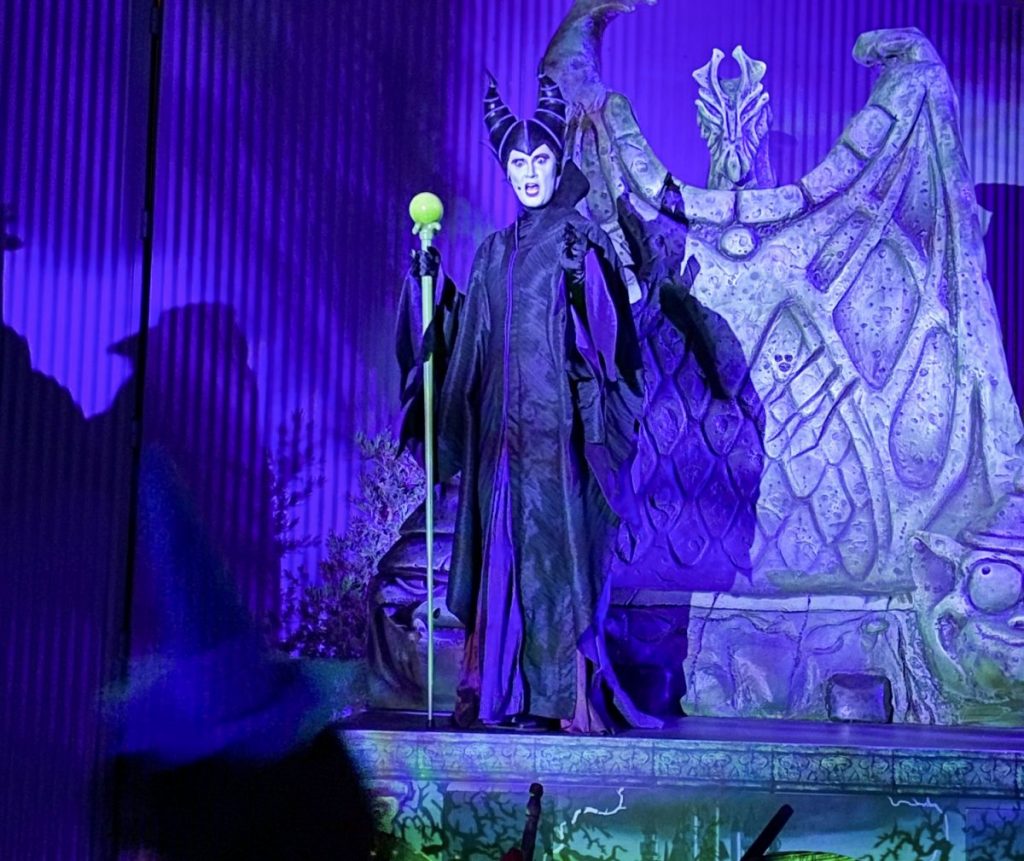 And Dr. Facilier.
One thing that is advertised for the party is Villain's Grove. I thought it was a walkthrough with villains inside. It's actually a walkthrough with mostly lighting special effects. If I'd realized that, I would've skipped it. There are so many better ways to use your time during the party. I would've ridden more rides or done more treat trails.
We walked back over to Pixar Pier after Villain's Grove. We saw that Mickey and Minnie were meeting there.
Nighttime is also a great time for Pixar Pier pictures.
It's such a pretty place at night.
Lovely!
We might have ridden Soarin' at this time, but Kristin was so tired, she didn't even feel like waiting in line for her favorite ride. We took one last stroll through the park and then decided to call it a night.
We caught a glimpse of Cars Land at night.
We kept moving, though, because the second parade was getting ready to start.
As we left, Cinderella, her stepmother, and her stepsisters were meeting in Buena Vista Street.
The stepsisters are always a hoot!
With tired feet, we made our way to the exit. We left just as the second parade was coming along. If you can wait it out, the second parade is much less busy. You'll still want to stake out a place in advance since the curbs do fill up.
We had a fantastic weekend! I hope we're able to do another Disney Halloween party one day. Now that we know a little more about what we're doing, I think we could maximize our time better. You will probably need to figure out what is most important to your group and prioritize that. It's difficult to "do it all" in the time allotted. We missed plenty of characters and treat trails, and we didn't make time to order Halloween goodies at the party. Yes, you can mobile order (and many times you have to), but you do need to plan ahead or your wait time for food will be longer than you may want to wait.
If you're wondering if you should give a Disney party event a try, I'd definitely say yes. The characters and parade were worth it for me. We're also still eating our Halloween treats from the treat trails. I can't wait to try another Disney party!
Click the links below to read about our other Disneyland adventures!
World of Color Dessert Party at Disney California Adventure
Star Wars: Galaxy's Edge at Disneyland
Brunch at Disneyland's Storyteller's Cafe
Breakfast With Minnie and Friends at Disneyland's Plaza Inn