This post may contain affiliate links. Please read our disclosure policy for more information.
For Christmas this year, my husband and I decided to take a getaway together instead of buying each other gifts. We do this often, actually, and I am so grateful to be married to someone who loves trips as much as I do. Since Branson is only an hour and a half away, it often works well for a destination for us as a couple. My parents stay with the kids, and suddenly it's just the two of us on a little road trip.
This year, we stayed at a cabin at Silver Dollar City campground near Branson, Missouri. Formerly, the campground was known as The Wilderness at Silver Dollar City. I've always wanted to give it a try, so I thought, why not? I was sure to reserve a cabin with a fireplace. If I was going to do this, I was going to do it right. Luckily, that weekend turned out to be the coolest of the season so far, so the fireplace was very welcome. The cabin that best met our needs was the Premium Cabin. It didn't have a loft, but it had the fireplace.  Click here to read more about Silver Dollar City Campground on their website.
Our Cabin at Silver Dollar City Campground
It wasn't until after I'd made the reservation that we discovered that our ten-year-old had her holiday program at school the night we planned to leave on our trip. It wasn't a big deal, but since we left after the program, that put our arrival well after dark. Silver Dollar City Campground gave us instructions for late arrivals, and we had no problems getting into our cabin. We weren't the only ones. I thought it was a nice touch that they left the porch light on for us!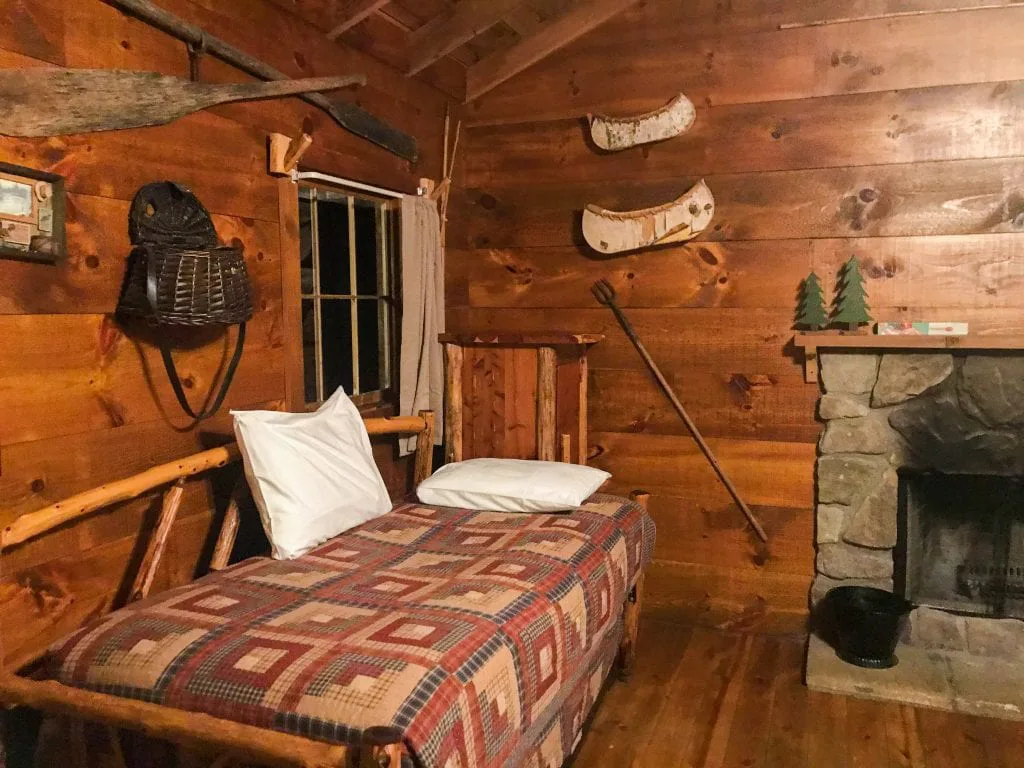 In the main area, we had a daybed and a double bed. The fireplace was in between.
Here is the double bed from the bathroom. If you're wondering, the linens are all provided. The beds were made, and we had plenty of towels. If you need more, you hang a little paper outside the cabin requesting more. The cabins don't have daily maid service during your stay, but we don't' mind. We often decline that service anyway.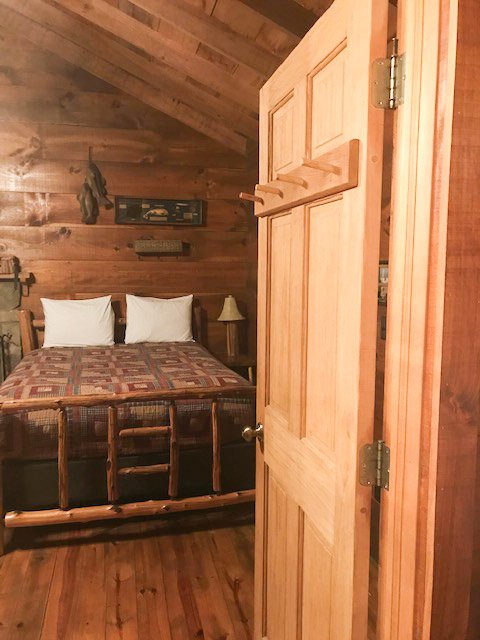 The kitchenette had a two-burner stove and a microwave, but the fridge is full size. The cabinets are full of dishes, and there were plenty of pots and pans. One drawer had utensils and silverware, so you're all set if you decide to cook here. There's also a gas grill on the porch and a fire ring in the yard.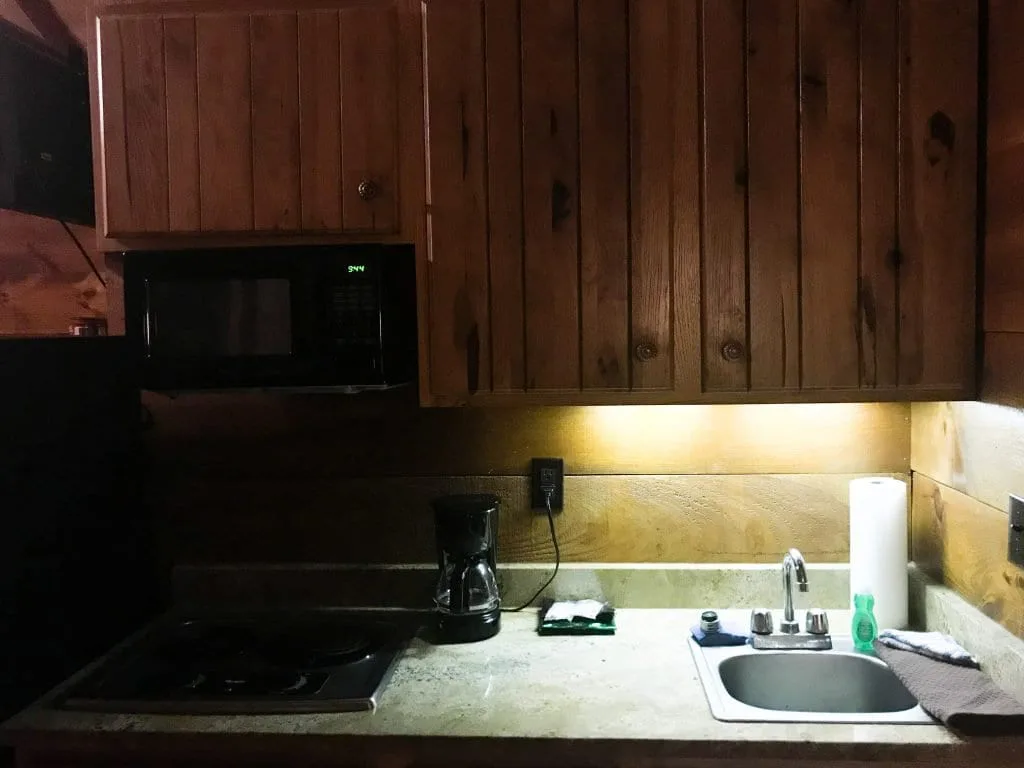 Across the way is a table that seats four.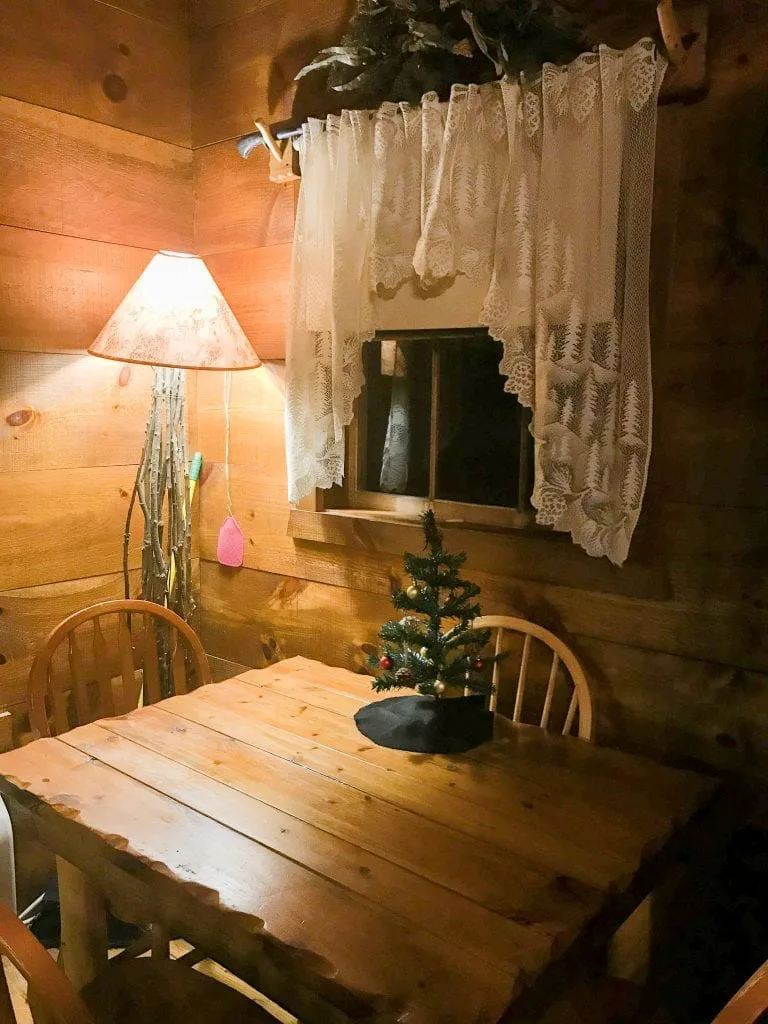 The bathroom was pretty standard, but there wasn't a tub, only a shower.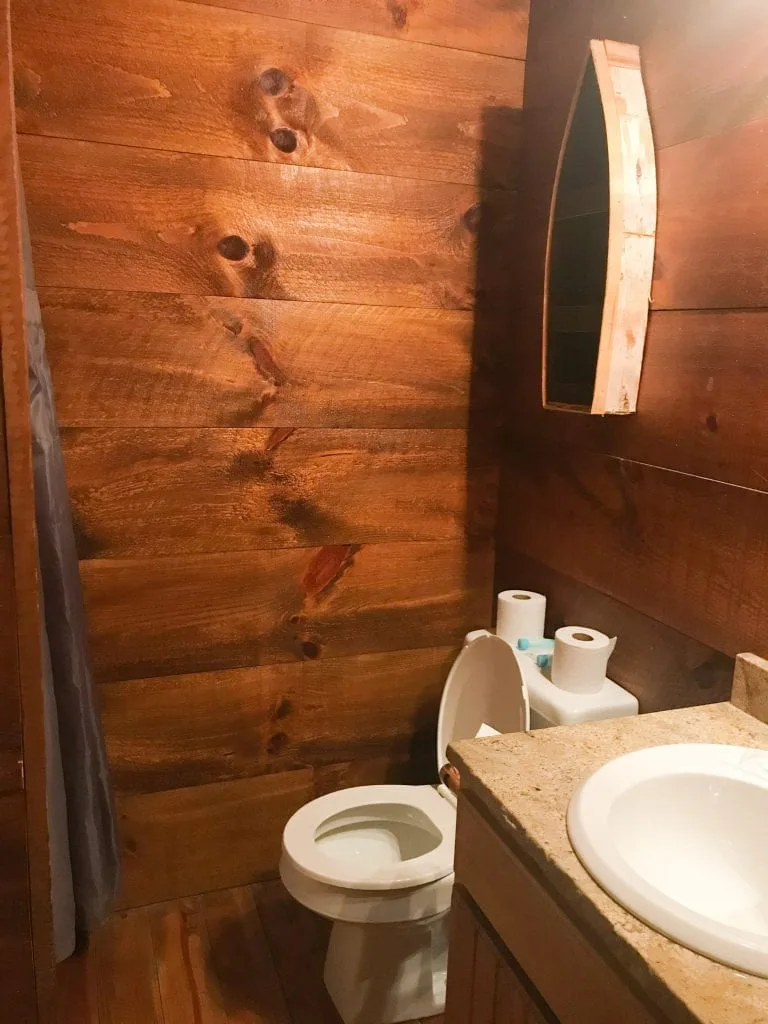 The cabin was everything I hoped it would be. So cozy!
We were able to unload our suitcases just steps from the porch. After we'd settled in, Jeff got to work on the fire. Perfect!
The Cabin Area at Silver Dollar City Campground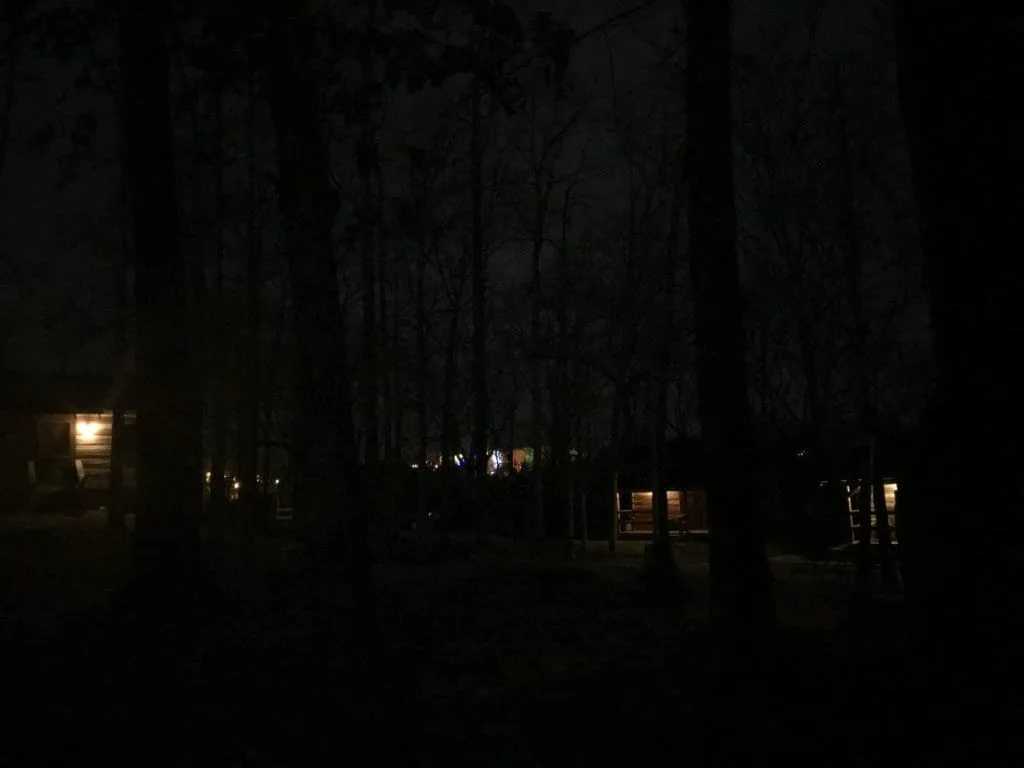 Since it was dark, our first view of the cabin area looked like this when we arrived. You can see the Christmas lights from Silver Dollar City in the background.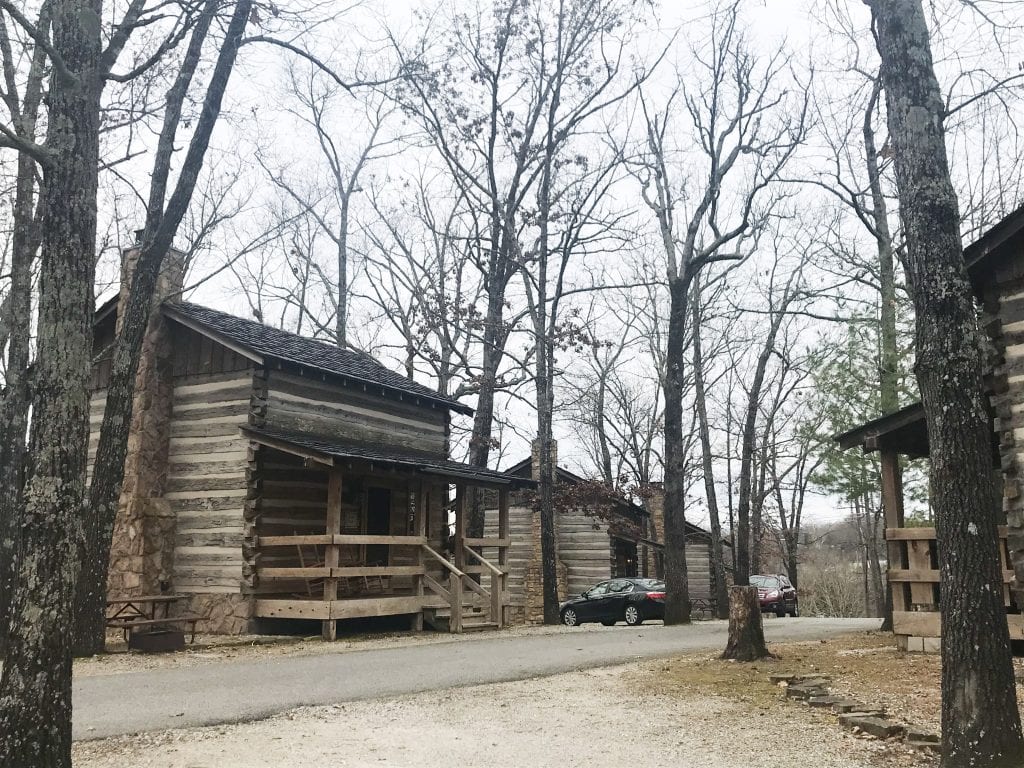 We awoke to a cool cloudy morning, and we were able to see the area a little better. Since Silver Dollar City opens later at Christmastime, we did some exploring. The cabins above are the Premium Loft Cabins.
Here are more like ours.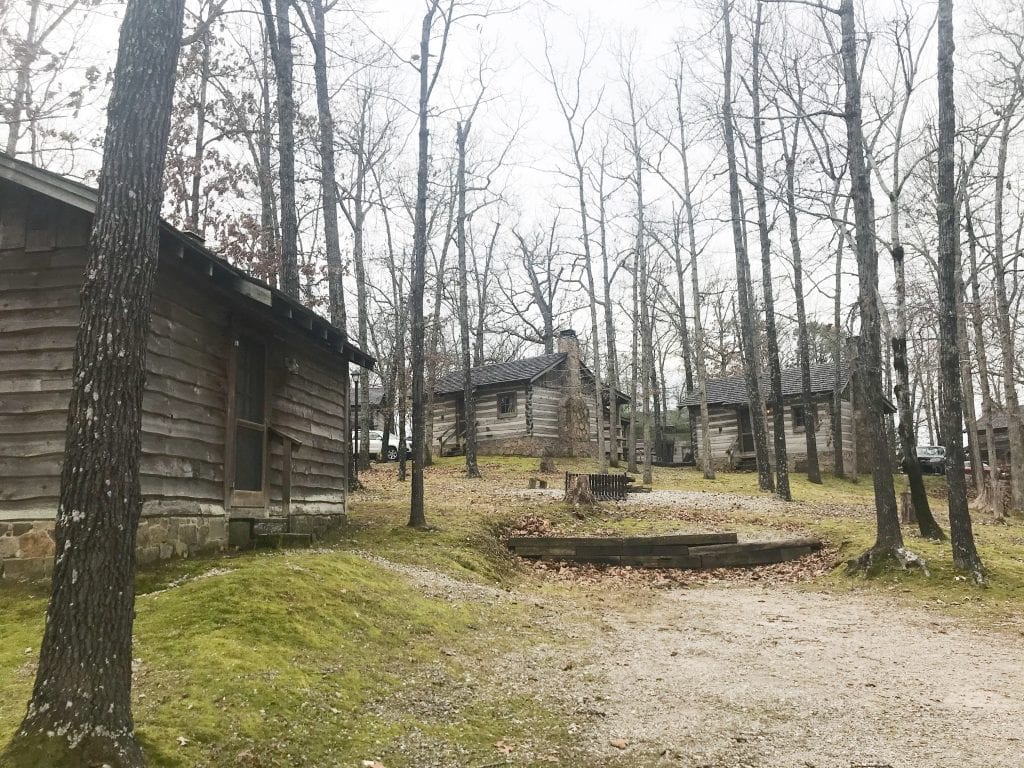 I loved this little village.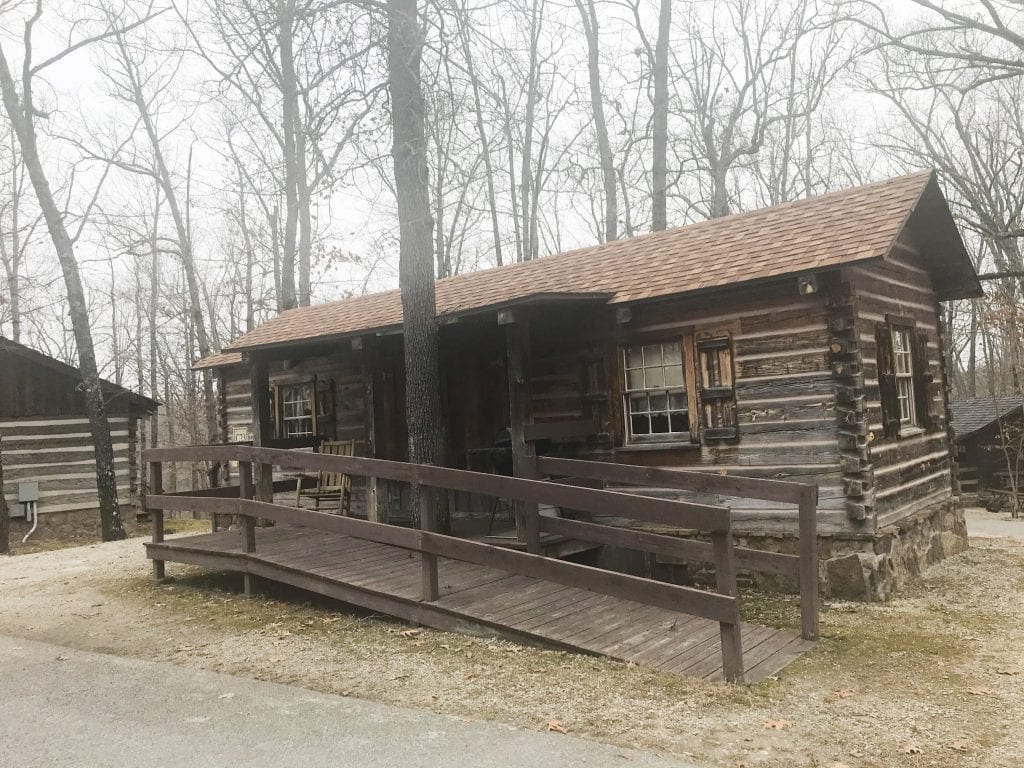 The cabin above is accessible. Below is the playground in the cabin area.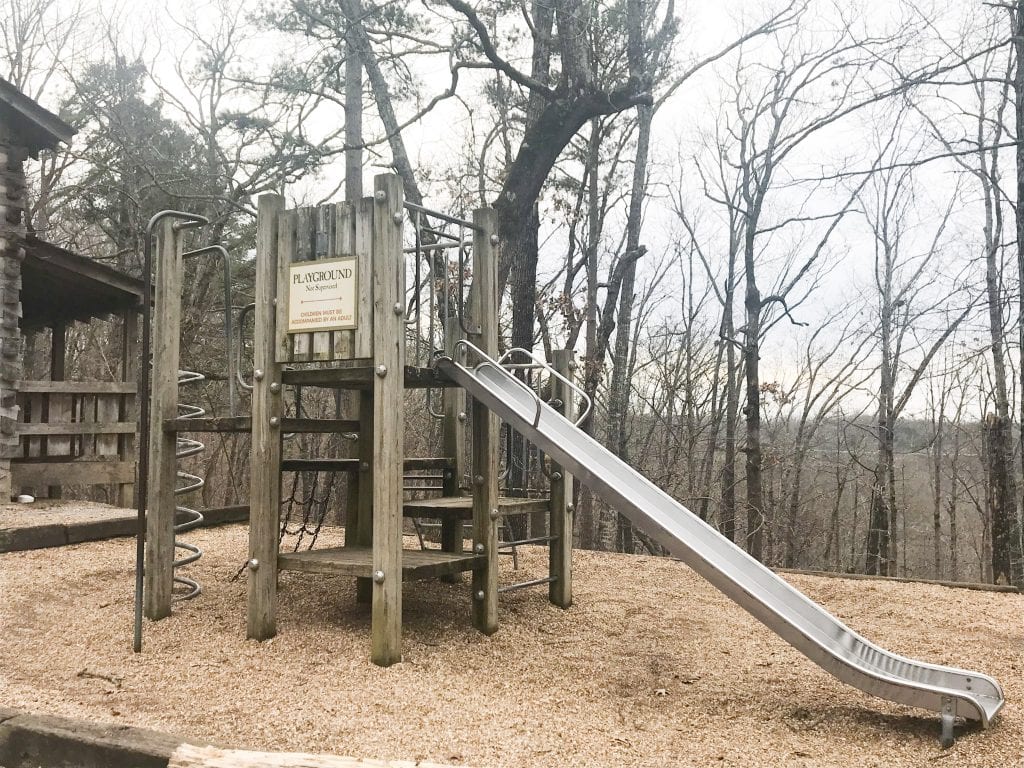 The Campground's Store and Family Room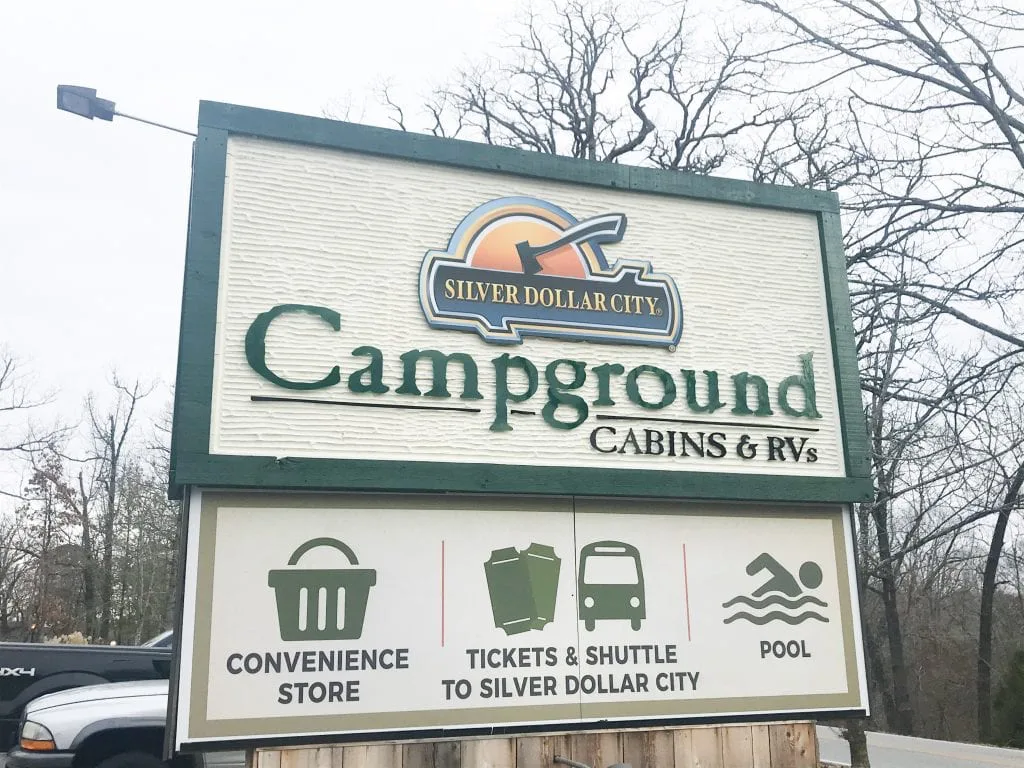 If we'd checked in before closing, our adventure would've started at the store. Since we arrived later, we visited the store that morning. This building is also called The Clubhouse.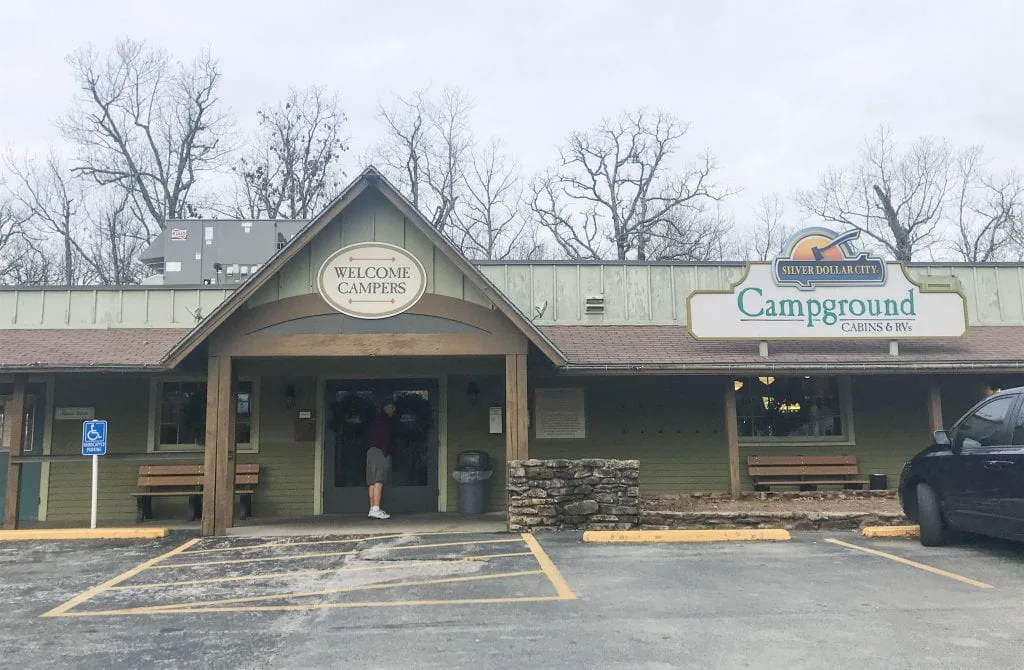 If you want to use the shuttle for Silver Dollar City, you catch it here in front of the store. The store seemed to have plenty of groceries and supplies, but you can also shop at a grocery store a few miles away in Branson West, or you can make the drive into Branson. It's not too far, and most people go into Branson during their trip anyway.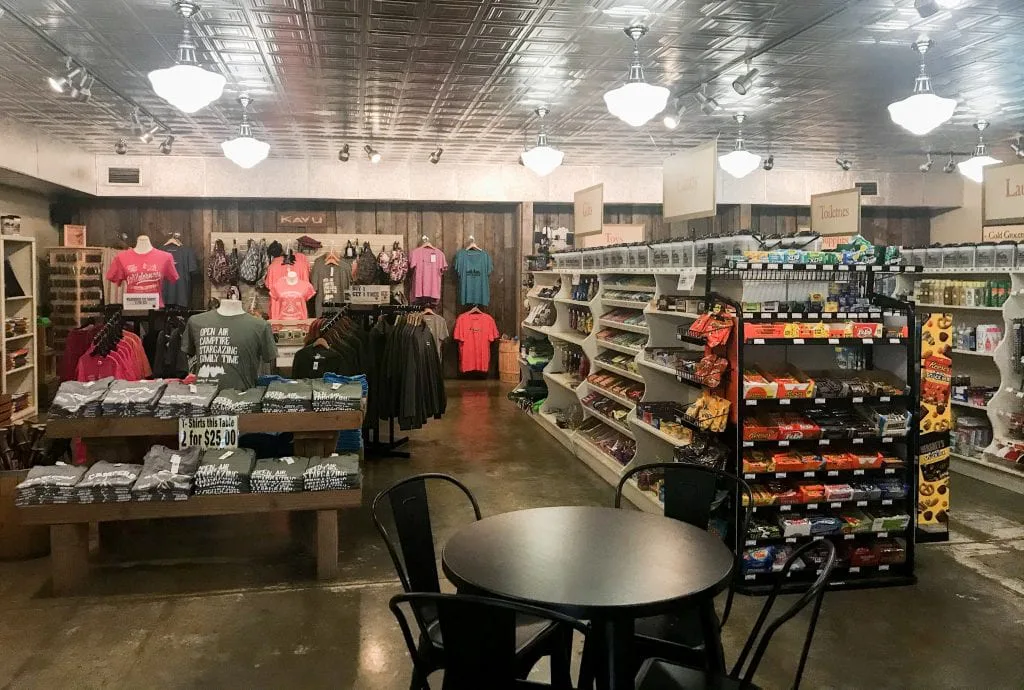 I couldn't resist a t-shirt from the store. You can also purchase refill cups for fountain pop refills during your stay. In the summer, this would be really great since the pool is next door. You can also buy refill buckets for popcorn. Since it was cooler, and we had the kitchenette, we didn't feel the need to invest in those.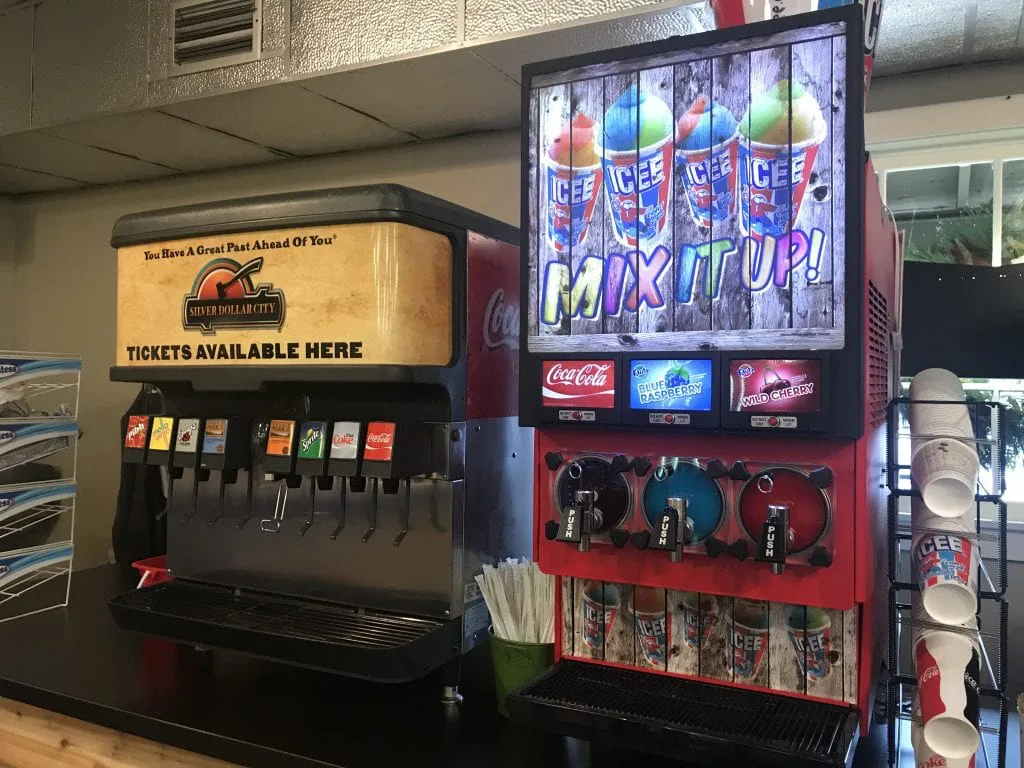 Here is a map of the entire campground.
Right off of the store, you'll find the family room.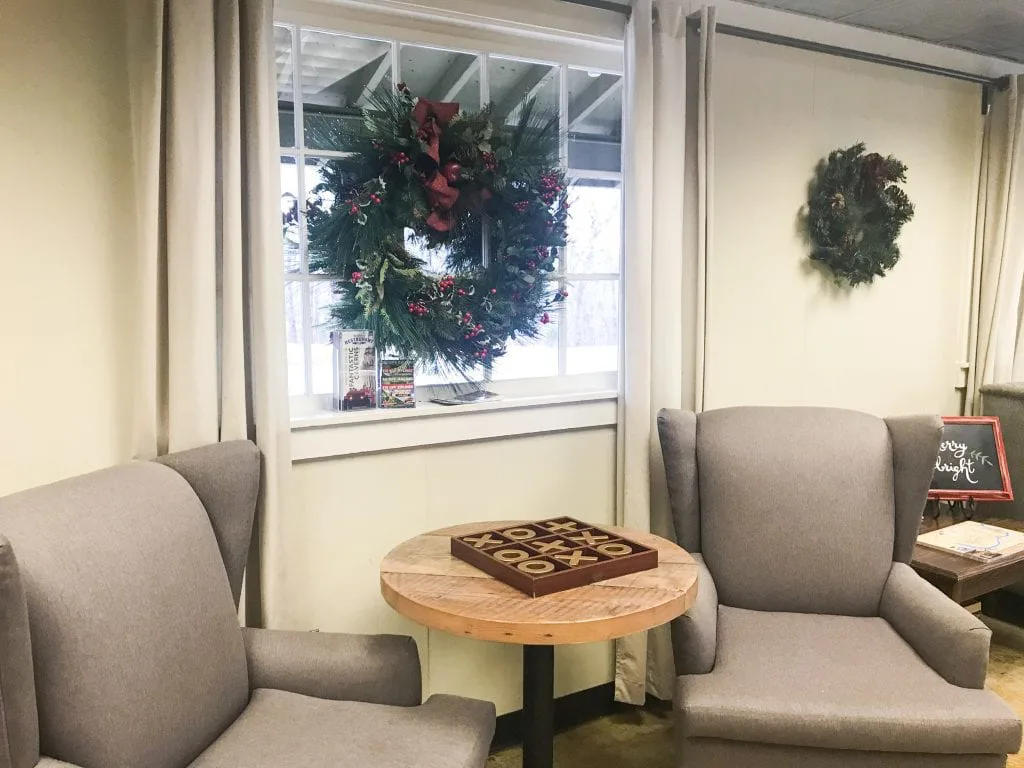 There are quite a few games in here.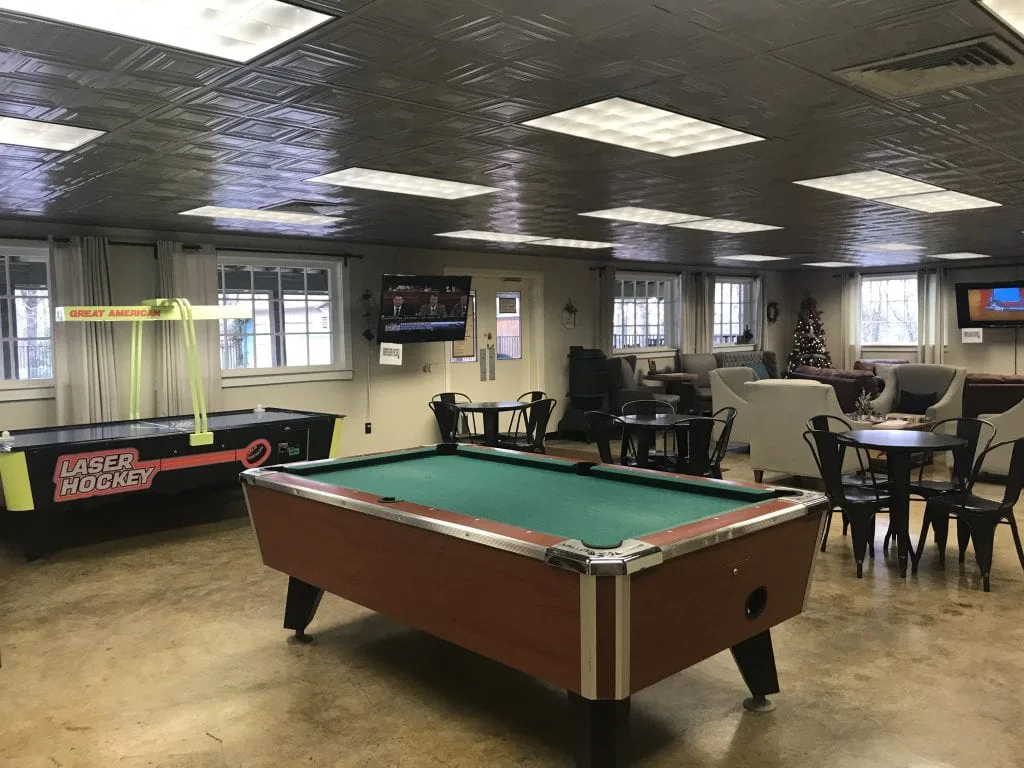 Right outside is the pool. Of course, it's closed for the season, but you can see that it would be fun.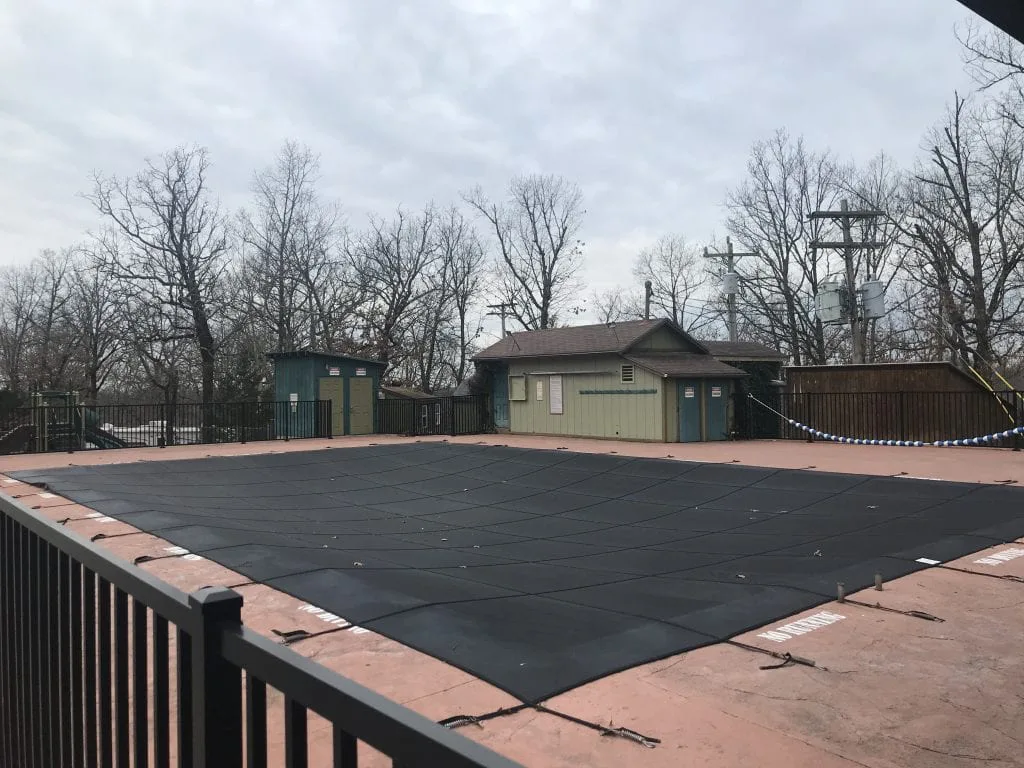 On the other side of the pool is a playground that is closer to the RV sites.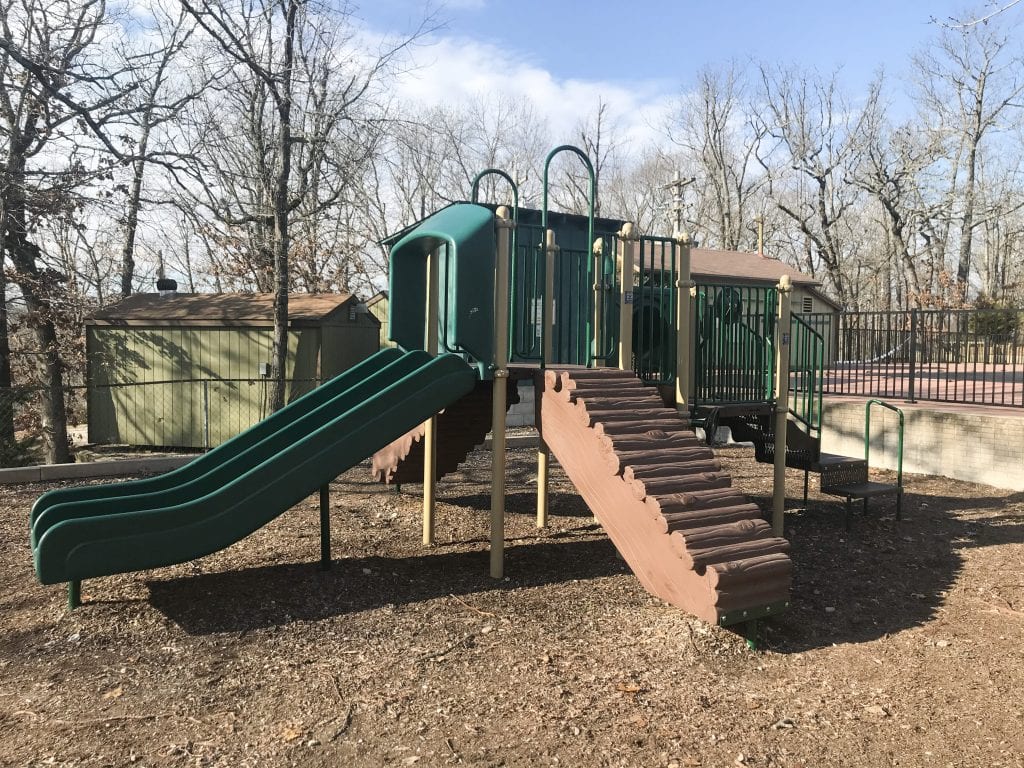 Just beyond this, the RV section of the campground begins. You can also rent an RV at the campground if you'd like to give camping in an RV a try. Here are some of the sites.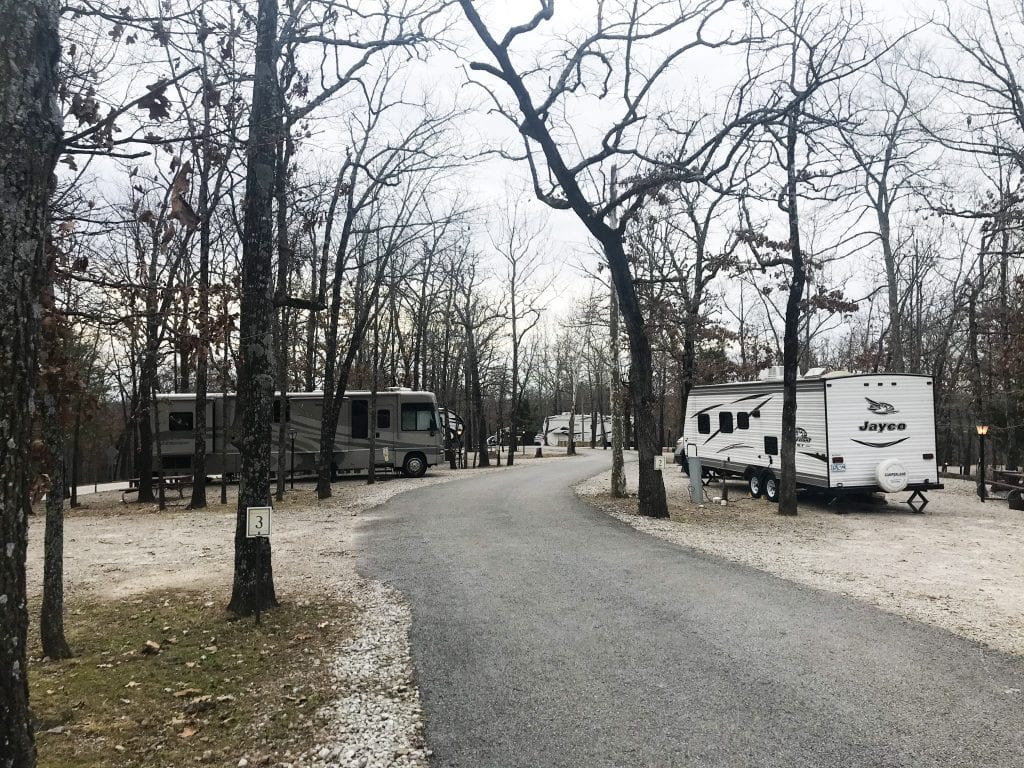 As we walked the campground, we could see Silver Dollar City just over a couple of hills. You can hear the train whistle and people screaming on the rides. You're that close!
Here you can see the Christmas tree on the square from the campground.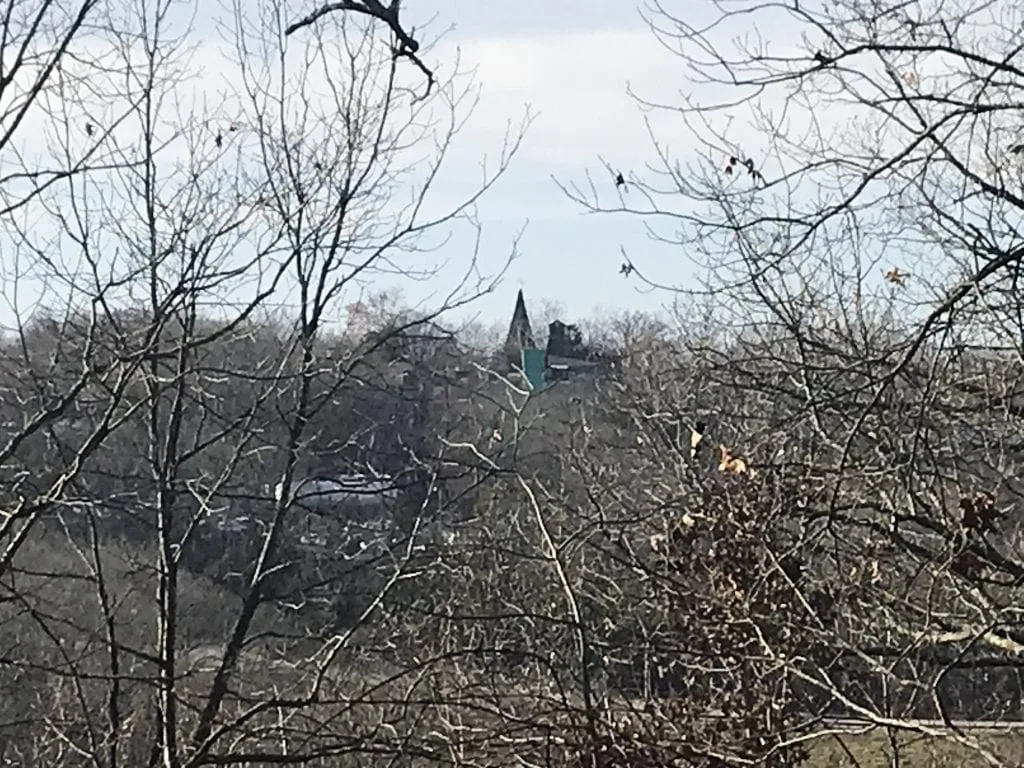 Silver Dollar City at Christmastime
Later that afternoon, we headed over to the park. We didn't take the shuttle, but traffic was pretty manageable on this day. If I knew it would be super busy, I might consider it. But we drove so we wouldn't have to worry about the shuttle schedule.
We've been to Silver Dollar City at Christmastime several times over the years, so we can be more selective with what we plan to do. Also, being child-free on this trip, we had a lot of flexibility.  Click here to read our complete guide to Silver Dollar City at Christmastime.
I'm always into trying out treats and snacks. On this visit, I tried the Ultimate Grilled Cheese Sandwich. Inside it has bacon and three types of cheese. Yum! As far as I can tell, it's there all year.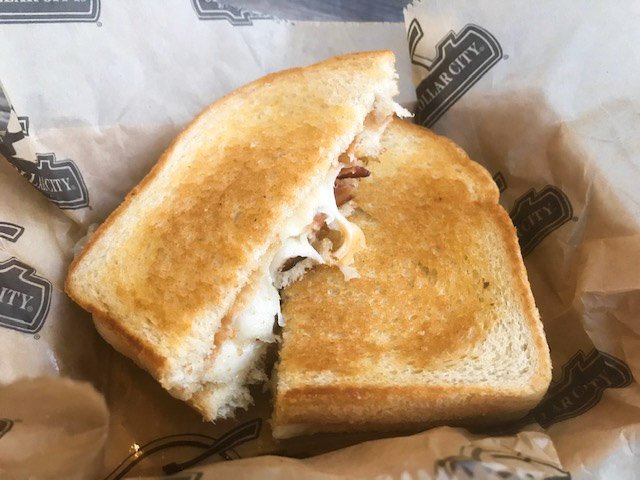 We rode some rides together. This is a rare occurrence since one of us usually waits with our youngest, but now that's she getting older, it may become more common. We watched the line for Dickens' Christmas Carol, our favorite show in the park. Since we wanted to see the final show of the night, we rode the rides nearby and then got in line about 30 minutes before the show started. It worked perfectly!
After the show, we walked through the various light displays until we made it to the square. I can't go to Silver Dollar City at Christmastime without a hot chocolate. This one is "The Works."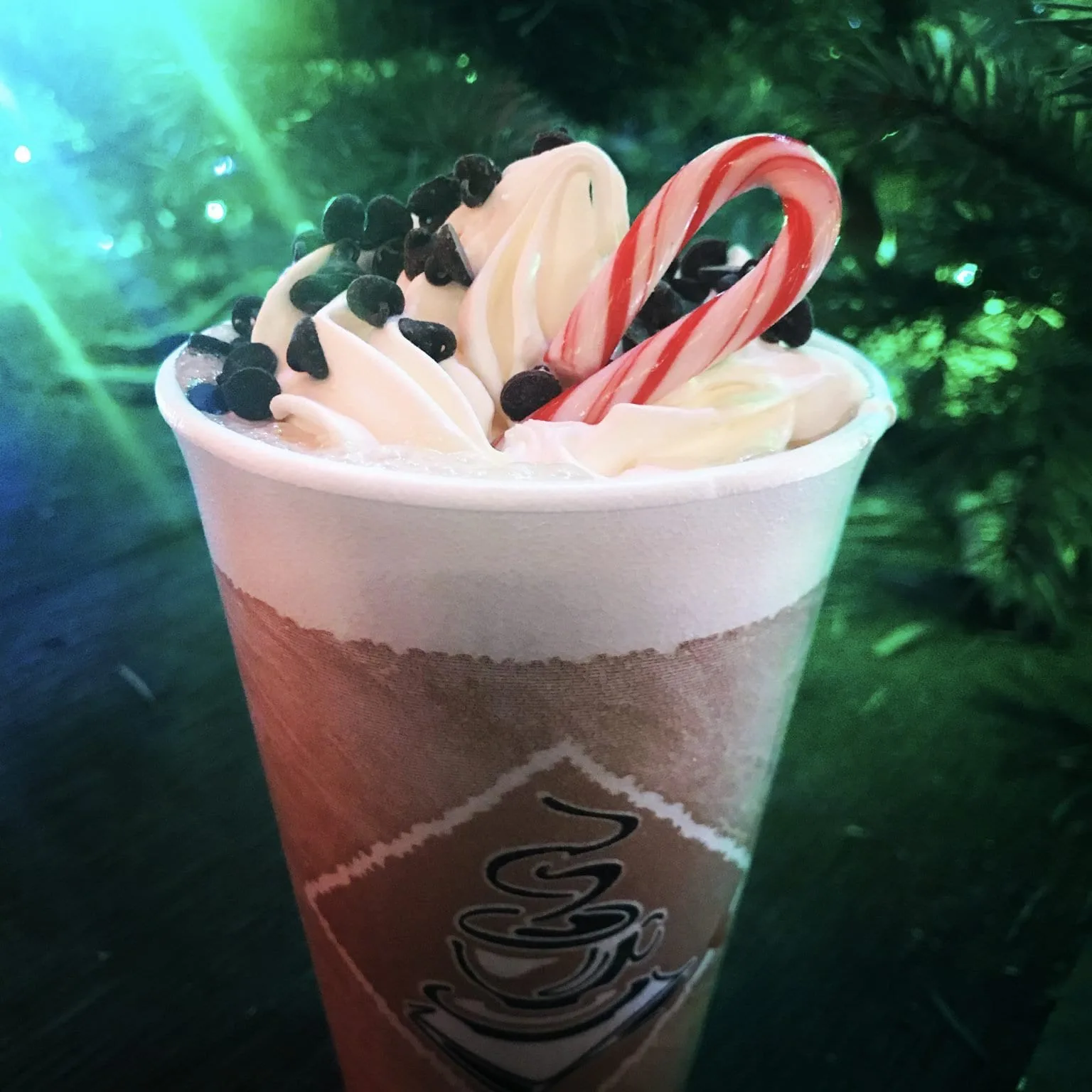 We had a lot of fun watching the new tree in action.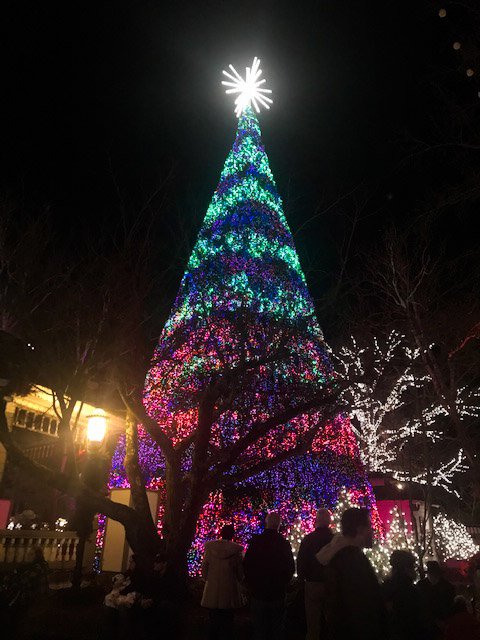 We had a wonderful trip. It's so important to make time for each other as a couple, and Silver Dollar City is such a special place for us. During one Christmas, Jeff gave me a ring on the square. Then the following fall, we were married in the Wilderness Church in the park. We have so many great memories there.  I'm glad we got to add a stay in a cabin at Silver Dollar City Campground to the long list of precious Silver Dollar City memories!