This post may contain affiliate links. Please read our disclosure policy for more information.
One of our first family trips was to Pigeon Forge. This happened before I had a website, and Kristin wasn't even born yet! It's been a few years ago, and things have changed. But here is our report from that trip in 2007.

I originally wrote this trip report for the 1branson.com forum.

I am writing this trip report so you can plan your own trip to Pigeon Forge and Gatlinburg, Tennessee.

 We just got back yesterday from a trip to Pigeon Forge and Gatlinburg Tennessee. We were always hungry for information, so I thought I would report. I'll do this in installments. We are a family of three: my husband, me, and a nine-year-old daughter. We live in Joplin, so our trip begins there. . .
Day One: Heading to Tennesse
We left home on Saturday, June 2 at 4:30 in the morning. My husband works overnights, so we decided to leave when he woke up and couldn't sleep anymore. I was just like that Disney commercial anyway: I'm too excited to sleep!
We decided to go the southern Missouri route instead of going to St. Louis. The roads are better than we expected. It was four-lane much of the time. We crossed the Mississippi at Cairo. We actually stopped for a little bit in Cairo and looked at the barges and tugboats on the Ohio River. Cairo is horribly run down and depressing to see. What was probably once a beautiful river city has become a place of poverty and falling-down buildings.
We quickly moved on.
We continued driving and made our way to Kentucky. We stopped for gas and made sandwiches to eat as we drove along. We drove through the Land Between the Lakes. We thought that area was beautiful. Soon after, we were in Tennessee!
As we headed to Nashville, we stopped at a really nice visitor center along the interstate. They, of course, had information on everything you could ever want to do in Tennessee.
We got to Nashville in the afternoon and headed downtown. We found some parking at an hourly rate and paid a machine for two hours. We walked to the Ryman Auditorium. They have a self-guided tour and a backstage tour, but both cost. We decided not to take a tour. We walked down "Music Row" instead. Every little bar or restaurant we passed had live music in it. That may only be true on Saturday, though. We looked in gift shops and saw street performers. We then walked over a footbridge that crosses the Cumberland River. We saw the Hard Rock Cafe and Joe's Crab Shack. It then began to thunder. By the time we made it back to our car, it was pouring rain.
We had kicked around the idea of staying the night in Nashville, but since it was storming, we wouldn't get to see anything else probably anyway. So we continued on to Pigeon Forge.
We continued through Knoxville. I was kind of excited to see the downtown because I had been here as a child and went to the World's Fair. The building with the gold ball on top is still there. I think it had a restaurant in it during the fair. I may be wrong about that.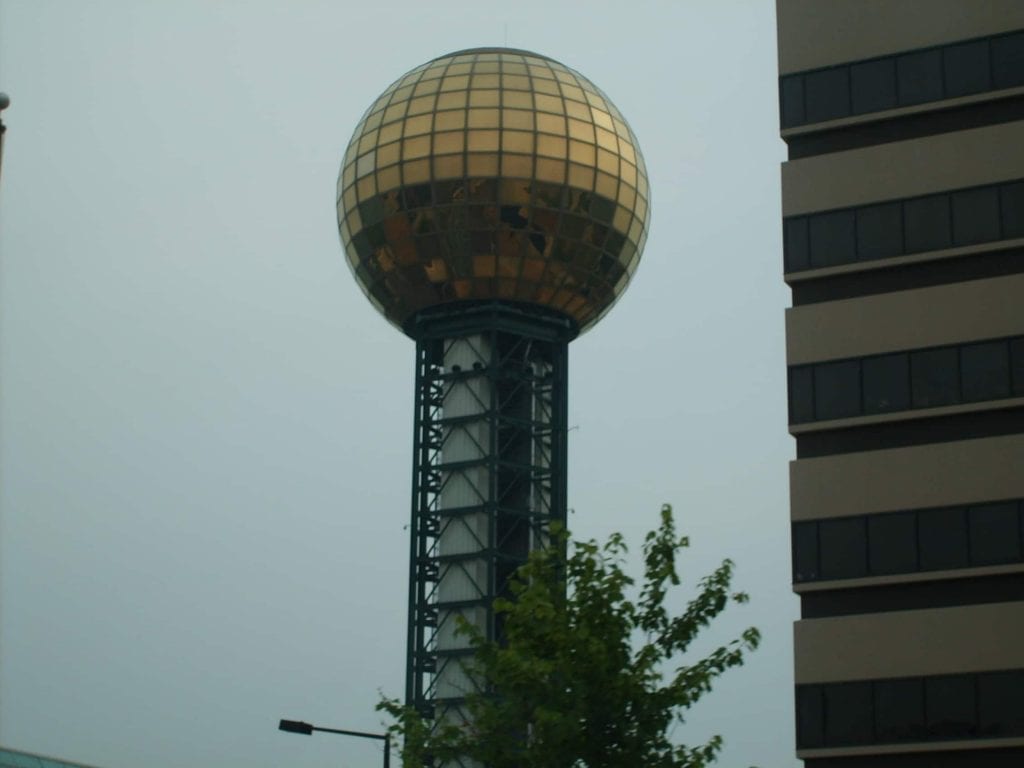 It wasn't long until we were in Sevierville, Dolly's hometown. As we drove, the area began to liven up. I hadn't expected Sevierville to run right into Pigeon Forge, but it does. The strip is similar to Branson, except there are 6 lanes of traffic and not as many music shows. Also, we noticed that most shows in Pigeon Forge serve dinner with the performance.
By this time, we were pretty hungry. We saw a place called The Great American Steak and Buffet. It was pretty big and bright, so we decided to try it. It was a little more than buffets in Branson (and other places in Pigeon Forge, we learned later) but it was good. They had steak on the buffet along with carved ham and roast beef, fried chicken, and hamburgers and hotdogs. They had chicken strips and shrimp. They had pie and cobbler for dessert. They also had an ice cream machine. They had the biggest baked potatoes I think I'd ever eaten. They had a salad bar and hot rolls. We thought it was really good.
We then needed a place to stay. We had reservations for Econolodge Riverside, but they weren't until Monday. We thought we might look around and try somewhere else. We found a place on the strip with a heated outdoor pool. It was about $60 a night. The outside looked nice, but once we were inside, it was really outdated. It seemed clean, but the floor in the bathroom had yellowed. It did have a fridge, but I think that is more standard in Pigeon Forge than in Branson. If we weren't pretty tuckered out, we might have left. We let Stephanie put on her swimsuit and walked down to the pool for a while. We looked at some coupon books and found one that listed a Super 8 motel for $30 a night. Well, it couldn't be too much worse than where we staying,  so we decided to check that out first thing the next morning.
The pool was open 24 hours, so we had to convince Stephanie to come out of it at some point. We went back to the room and checked for a vacation channel. They had one, but we think Branson's is highly superior. Perhaps we are a little biased.
Day Two: Settling in and Ripley's Aquarium of the Smokies
We checked out of the Smoky Meadows Lodge and decided to explore a little. We drove down the strip and on into Gatlinburg. We thought Gatlinburg was really cute. It's almost like a big Eureka Springs with attractions. We drove around and noticed that it cost to park just about everywhere. We also saw the Ripley's Aquarium. We decided to do that later that day. For now, we needed to figure out our lodging.
We went to the Super 8 in Pigeon Forge. This is the one behind Long John Silver's, not the pink one. We took in the coupon, and they gave us that rate–$30 a night! I will say that it was a Sunday through Thursday rate and that the beds were double, not queen. But we were happy. My husband usually sleeps in one bed and my daughter and I sleep in the other on vacation. So the double beds were no big deal. We are not relax-in-our hotel-room people. We only sleep there. So this deal worked for us. We had a fridge and a microwave in the room. We also had a 25-inch TV and a blow dryer. We were on the 4th floor, but the motel had an elevator. The motel had an outdoor heated pool and hot tub. Also, they served breakfast and they had a waffle iron in the breakfast room, but we never used it. My husband is not a breakfast person, and my daughter and I ate a pop tart every morning in our room.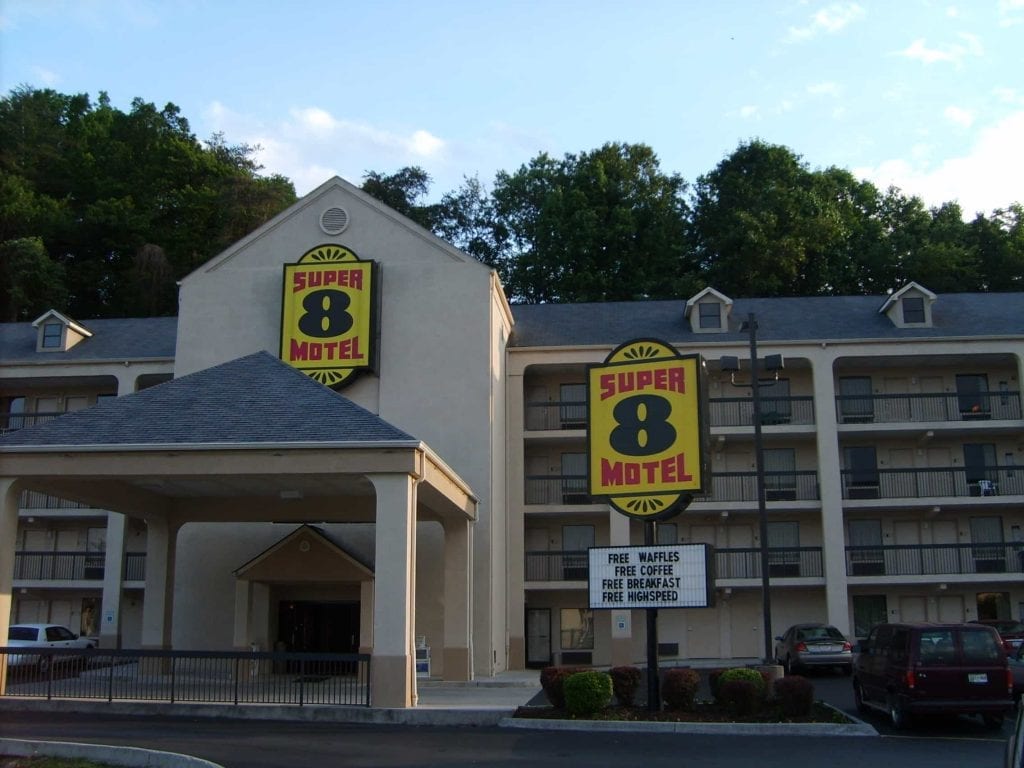 We canceled our Econolodge Riverside reservation. That reservation was for $60 a night. One reason we chose it was that it was on a little river with picnic areas. We learned that picnic areas are abundant and ducks are everywhere there is water. Having it next to the motel room wasn't any awesome advantage. I'm sure Econolodge Riverside is nice. It had many nice reviews on Trip Advisor.
We then decided to figure out the trolley system. We loved using the trolley. We drove to the Old Mill area to park and board the trolley. That's where the transfer station is. Since we were going to the Aquarium, we asked about taking the trolley to Gatlinburg. You can do this. Take the Pigeon Forge Trolley to the Gatlinburg Welcome Center. There you can transfer to the Gatlinburg system. We took the trolley right to the Aquarium. The cost from Pigeon Forge to the Gatlinburg Welcome Center is 75 cents. All other rides are 50 cents. We had read about the trolley before we came, so we gathered up all our loose change and brought it. Riding the trolley didn't even seem like a cost when we were using money we had just stashed away anyway.
We absolutely loved the Ripley's Aquarium. My husband usually calls anything with "Ripley's" on it a "rip-off." He hates the museum and haunted adventures they have. However, we all loved this! The best part is the tunnel. You get to spend a lot of time in there. We probably should have gone sooner than we did to beat the crowds. This was the only time we weren't there at opening for a major attraction.
We then walked up and down the streets of Gatlinburg looking in shops and seeing the sights. We saw the cable car that goes up to Ober Gatlinburg. We didn't go up there at that time, but we did later and really enjoyed it. They have little attractions and mini-golf. We had fun just strolling along.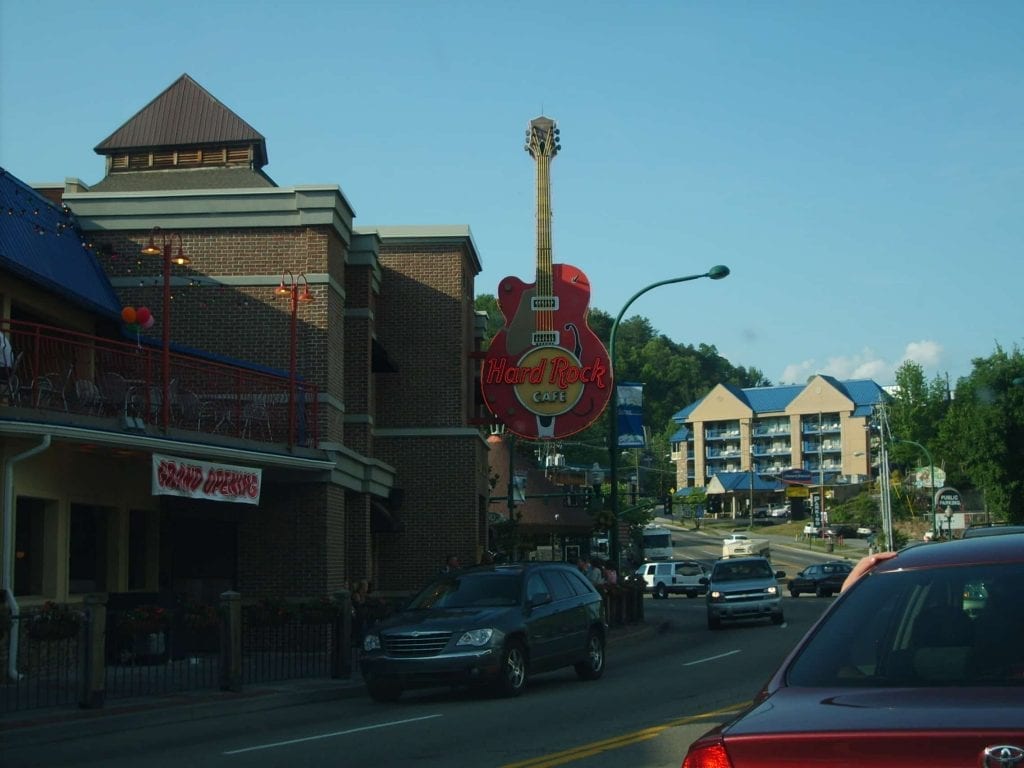 We ate at a McDonald's in Gatlinburg that we happened upon. It was really fast! We then rode the trolley back to Pigeon Forge from the Aquarium.
There are trolley stops all over both Pigeon Forge and Gatlinburg. We never used these. We only rode to major destinations.
We ate at Golden Corral for dinner. They also had steak on the buffet. Other than that, it was the same as Branson's. It was really good.
Day Three: Our First Day at Dollywood
Dollywood Day!! I was so excited to go to Dollywood. I had wanted to go ever since I was a little girl. Then, when I heard about the Mystery Mine, I was even more excited. The evening before, we had ridden the trolley over and gone to guest relations to see about tickets. We are All-City pass holders for Silver Dollar City, and one of the benefits listed is a free one-day admission to Dollywood. We knew that Dollywood also has come after three, next day free. We were wondering if we could do that. Well, turns out, you can go as many times as you want. We could've gotten a ticket every day we were there if we wanted to. I thought we only got one ticket and that was it. So this was a great surprise! We went ahead and got tickets for the next morning.
We rode the trolley to Dollywood from the Old Mill area. If you never use the trolly for anything else, this is probably the time to do it. Dollywood parking is $7. You can ride the trolley for 50 cents a person. The trolley drops you right in front of the entrance, so there's no reason to ride another trolley.
When we got in, we went straight to the Mystery Mine area, just like everyone else. We waited for the rope drop. Then we got right in line for the Mystery Mine. The line moved quickly. This ride loads fast.
We loved this ride! It has a lot of cool effects and surprises. I hope Silver Dollar City gets a ride like this. It's more like a dark ride than a huge coaster, but this coaster does things unlike anything I've ever been on. The lift hills and turns are interesting. This was my favorite ride.
We walked on to Daredevil Falls next with no wait. It's similar to the American Plunge, but I liked Daredevil Falls better. The boat was better and the theming was much better. We also hit Blazing Fury with no wait. This is like SDC's Fire in the Hole. The ride operators even call out "Fire in the Hole" when the ride starts. There are no Baldknobbers, however. There are some different scenes in the ride, but the idea is very much the same.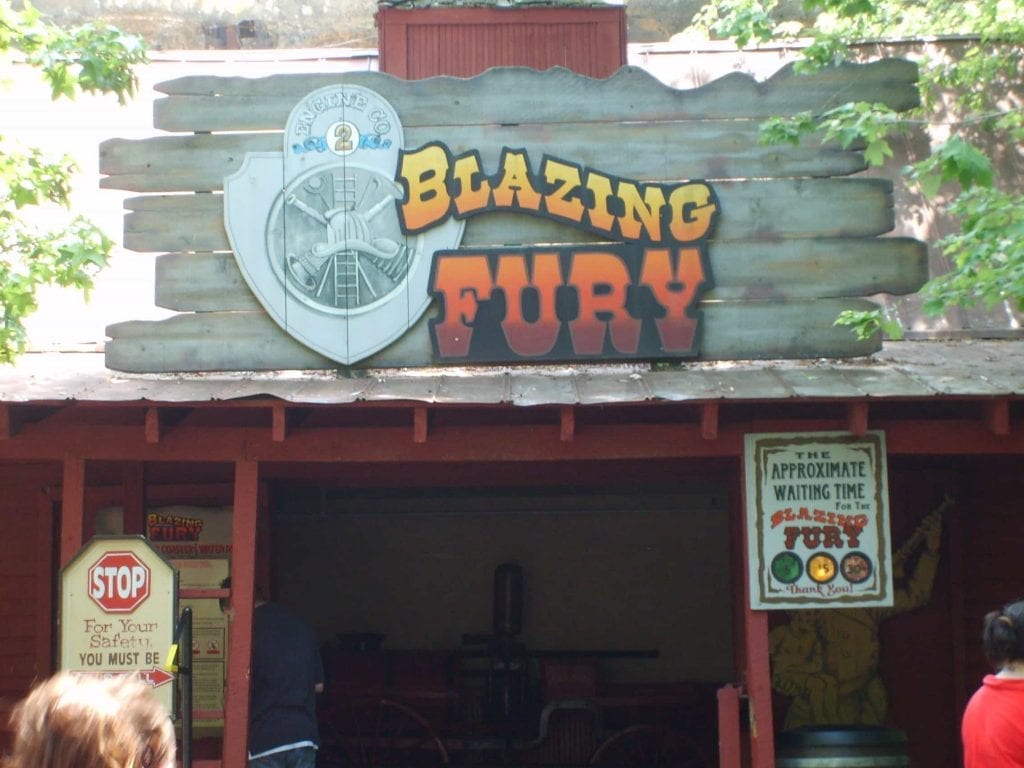 We then rode the Tennessee Tornado. This ride is like Wildfire, but it's older. It has less theming and a more traditional train. It was fun but rougher than Wildfire.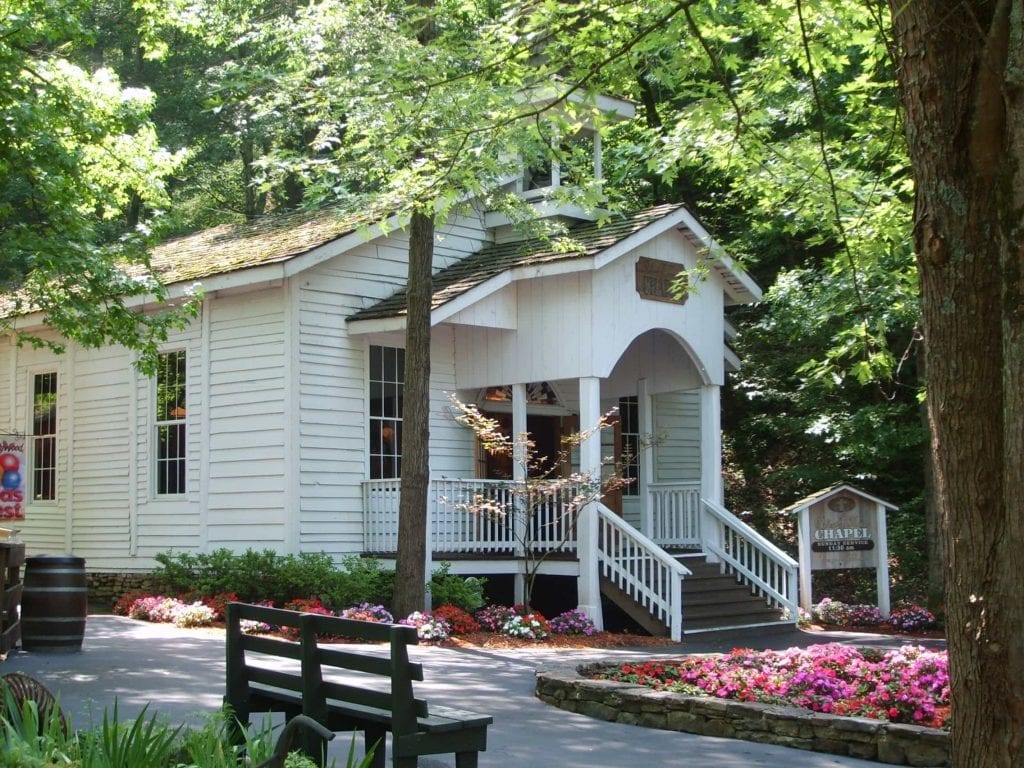 As we walked back, we stopped more for shops and crafts. All of Dollywood's crafts are on one street. Thinking about the history of Dollywood, it's almost as if that street was added after the Herschend Family bought it. I don't know. It had a mill, glass blower, blacksmith, candle shop, lye soap, and wagon building. The church and schoolhouse are also in this area. It is most like SDC in this area.
We then rode the River Rampage which is like the Lost River. We liked the Lost River better. There is no cave on this ride. However, Dollywood is much more efficient when it comes to loading the ride with separate queues for 1-2 riders and 3 or more riders. Then we found Dreamland Forest which is like a small Geyser Gulch. I like the smaller version here better. It was easier to keep track of Stephanie.
We then went to the Country Fair area which is similar to the Grand Expo of SDC. Stephanie rode some kiddie rides. The lines were starting to form, so we didn't ride some rides that SDC has. Also, it was getting hotter. Stephanie didn't even feel like spinning in circles in the hot sun.
We hopped on the train next. This thing is huge!! It even runs on coal. SDC's train looks like a kiddie ride in comparison. We found it funny that before the train runs, they walk along it selling popcorn, cotton candy, and drinks. The ride was nice. We weren't robbed, though.
It was getting warmer, so we decided to leave for the day at about 3:00. On the way out, we walked by a cave-like store that made us think it was the former Flooded Mine ride that is no longer running at Dollywood. It had caverns with water sitting in them behind the store. Again, I'm not sure if it was or not.
We left the park, and after a short wait, our trolley came. We got back to our car and ate a small lunch at the Arby's that's right in front of our motel. We then went looking around in the tourist shops along the strip. We made a trip out to Walmart. We then decided to go to dinner.
We had heard that the Old Mill Restaurant was really good. It's a little more–think Outback or Lonestar Steakhouse prices. We had to wait for a little. This place is really popular. But our table was worth it. It looked out over the river. I had a ribeye and my husband had the chicken fried steak. Stephanie had a kid's meal with chicken strips. They bring you corn chowder, fritters, and salad before your main dinner. I thought the chowder was ok, especially when I dipped the fritters in it. My husband who is a picky eater didn't eat any. My food was good, but I didn't love it. I would've rather had Outback. My husband didn't like his at all. He doesn't like onions, and they must have put onions in the chicken fried steak. The kid's meal came with homemade ice cream, so Stephanie liked that. Our dinners also came with dessert. I had pecan pie. My husband doesn't really eat pie, so he didn't have any. The place was good, but just not a good fit for my husband.
Day Four: Cades Cove in the Smoky Mountains

We woke up early, packed a picnic lunch, and went to Cades Cove. We stopped at the Sugarland Visitor's Center and got some information. Then we drove through the beautiful Smokey Mountains until we got to the Cades Cove information booth where we bought a motor tour guide of Cades Cove for $1, I think. The guide there said he had seen a mamma bear and three cubs cross the street earlier that day. We were excited. Just maybe we would see a bear.
We really liked Cades Cove. Stephanie and my husband loved searching for wildlife, and I really liked the historical buildings and the story of the people that lived here. A park ranger was at some of the houses and churches and told some cool things about the place.
Along the way, we would see cars ahead of us stopped. We knew they were looking at some animal. We just didn't know what it was till we were closer. The first animal we saw was a turkey. We were pretty excited. You'd think we'd never seen a turkey before. Before long we saw a few deer, but we still hadn't seen the elusive bear!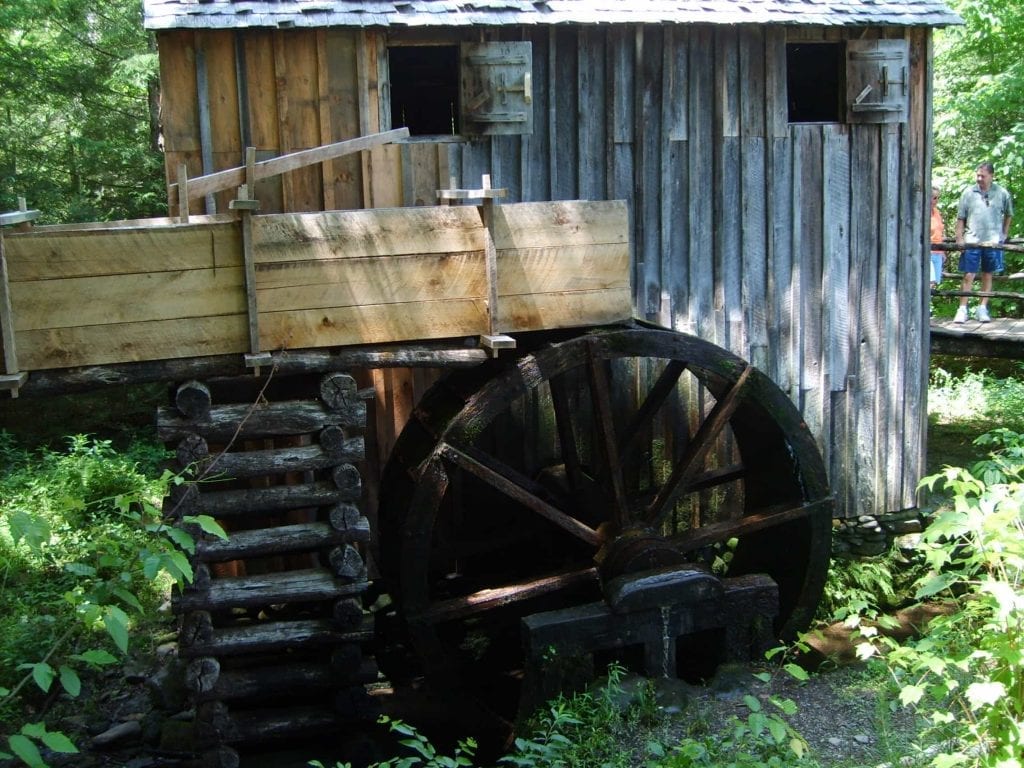 We stopped at a place where there were several buildings. The Cable Mill was there. It still runs, and I can still hear the sound of the corn grinding between the stones. We saw a deer near here as well. We also saw a little black snake poking his head out of a knot hole in a barn. What fun!
We continued on until many cars were stopped along the road. A park ranger came up to the car and pointed out a black bear nursing two cubs across a field. Yay!! We finally saw a bear! It was pretty far away and in our pictures, it's a little difficult to make out. Still, we were happy.
We finished the tour and headed back to Sugarland to the picnic area. We grilled hotdogs since my husband doesn't like lunch meat. I know. He's weird. It was nice to see so many people eating in the picnic area. We then packed up everything and made the beautiful drive back.
When we got back, we stopped at Hard Rock Cafe in Gatlinburg to have a cold drink. We went on into Pigeon Forge and looked into a few shops. Then we went to Sevierville to see the statue of Dolly on the courthouse lawn. After poking around some more shops, we decided to eat dinner. We ate at Shoney's because my husband was in the mood for breakfast food, and they have breakfast on the buffet. It was all right for me, but my husband loved it. We called it a night and headed to the pool.
Day Five: Dollywood's Splash Country and Dinosaur Walk Museum
Splash Country! We like water parks, but just in small doses. Actually, had we not been All-City Passholders, we would've skipped it. But, we were curious. We got there at opening, rented a locker, and headed for the slides. The only problem was, not every slide is open at opening. Water is running down them, but you are not allowed on them yet due to lack of lifeguards, I guess. So, we never did ride a couple of slides.
After some curvy tube slides, we rode the one that goes straight down. We swam in a swimming pool area while Stephanie did a few slides geared toward younger people. We went to the two kids' areas and the wave pool. We then floated the entire lazy river.
About that time, we noticed this place was packed. Lines were forming, so we decided to leave. We had a good time; Stephanie loves the water.
We rode the trolley back to the station and then headed to lunch at Wendy's. It was now time for the Dinosaur Walk Museum.
We've read rumors on this board about a similar attraction coming to Branson. I think it would go over well. Stephanie and my husband really liked it. The only thing I thought bad about it was that it could've been bigger. But it was still a nice way to spend an hour or two in the cool air conditioning. Plus, the price wasn't too high, and we found a coupon.
We then debated about what to do for the evening. We really don't see many shows. I'd heard good things about Comedy Barn and the Black Bear Jamboree. Still, they serve dinner with these and it makes them a little costly. Dixie Stampede was also an option. Stephanie has been to the one in Branson, but my husband and I haven't been. In the end, we decided to take another motor tour into the Smokies.
We read about another motor trail that was known for wildlife sightings. We went to Roaring Forks trail. We accidentally went the wrong way at first and ended up at Sugarland again. But, we asked a ranger for directions and bought the little guidebook for 50 cents, so it was a productive mistake.
The trail is significantly less traveled than Cades Cove, but the experience is similar to the old houses along the way. There aren't any open fields on this route; only dense forest. The ranger told us this, so we knew going into it. He'd said, "The bears will probably see you; you may not see them." Well, we decided to give it a go.
We winded along the trail through the woods keeping a close eye out. Eventually, we stopped where some other people were looking at the mountain views. One man told my husband that they had seen a bear and were expecting it to come back up to the road. They were just waiting for it. Before too long, the bear did show up! It walked along the road for a while. There were about seven of us watching, following, and snapping pictures of this bear. It finally walked up into the woods. At one point, it seemed to almost pose for pictures on the mountainside. Finally, it walked higher into the forest.
Well, of course, we were elated. We finished the trail and decided to picnic at a small city park that the ranger had recommended. It was really near the trail and probably a few blocks from downtown Gatlinburg. We grilled hamburgers and watched some people have a cookout in a nearby shelter house. Stephanie played in a mountain stream near our picnic table. One other family was also eating at a picnic table in the park.
We waited for our food to cook. At about dusk, our food was ready. It was getting darker, and my husband was laughing about us eating in the darkness. I looked up and saw a white SUV stopped in the road across from our table. A police car came up behind it and flashed its lights. About that time, my husband stood up suddenly and said: "Holy #@*%!" I looked over to my right and saw a black bear heading to our picnic table at a happy trot.
We quickly left the table. My husband had turned to run. He said his only thought was "to get away from the food." I yelled at him to not turn his back on the bear (we had read these instructions in a pamphlet). We turned and faced the bear, but it kept running towards us. My husband finally yelled, "Get outta here!" The bear changed directions right in front of us and headed to the picnic shelter, where it stopped and looked like it was eating food left behind from the shelter people. I looked up, and the other family was standing on the picnic table pointing at the bear. My poor daughter was speechless. At this point, the police had turned into the park. They got out of their cars and chased the bear on foot (probably an everyday occurrence for them). The bear eventually left the park.
We were rattled with excitement. I guess we really saw a bear that time. We packed up our food quickly and decided to leave. Who knew if the bear would be back? It was so odd because this park is in a residential area. I guess people must have bears in their yard all the time.  We came back the next day and took a picture of the route the bear took towards our table.  Here it is.
Well, that concludes the exciting portion of the trip report. We went back to the motel and swam. After this exciting day, we only had one day left.
Day Five: Dollywood Day 2 and Ober Gatlinburg
After our bear adventure, we decided to have another day at Dollywood. We went to guest relations again and got another free ticket with our All-City Pass.
We went straight to Mystery Mine at opening to ride it again. It was just as awesome the second time. Then, we rode the wooden roller coaster Thunderhead that we hadn't ridden the other day. It was probably the fastest wooden coaster I'd ever ridden.
After that, we walked around to kill time before the Dreamland Drive-In show started. We really liked this show. Stephanie was on the edge of her seat for the whole thing. You follow a group of teenagers from the fifties through the seventies in music. It was pretty good. One thing that was different was that they sell popcorn and nuts inside the theater. Like at a baseball game, people walk around the theater with food. Different!
Then we took the time to walk through the shops more. Unlike SDC, Dollywood's Mill is still running. You could even walk upstairs and see the corn kernels dropping into the mill. I wish SDC's mill was still running.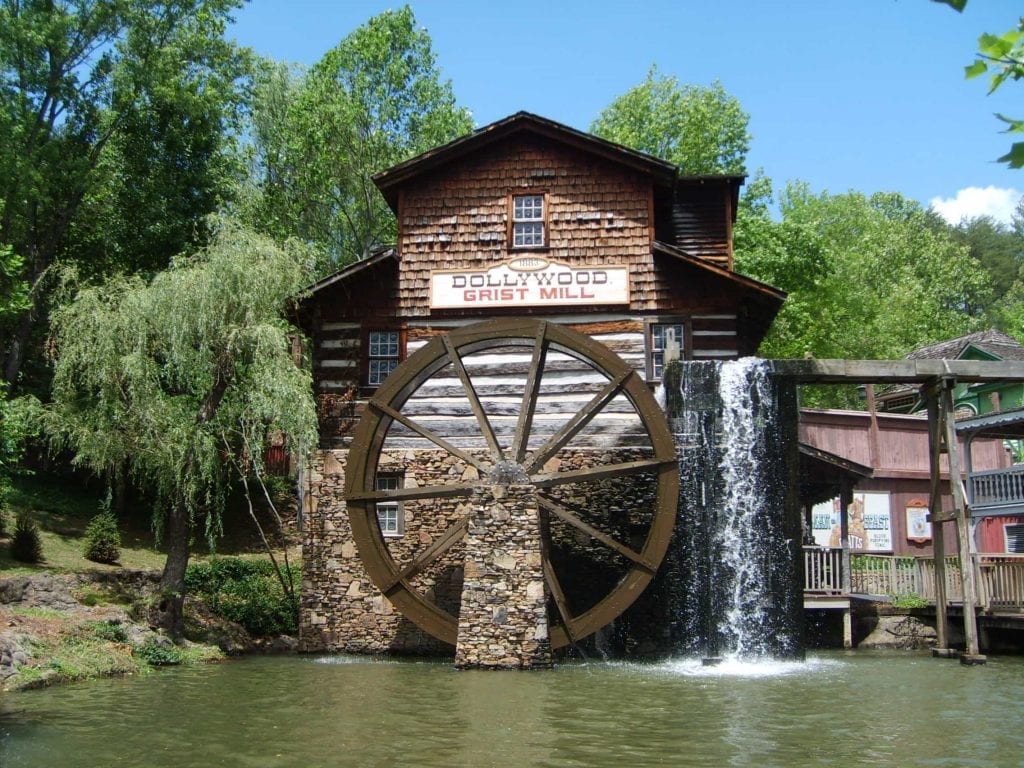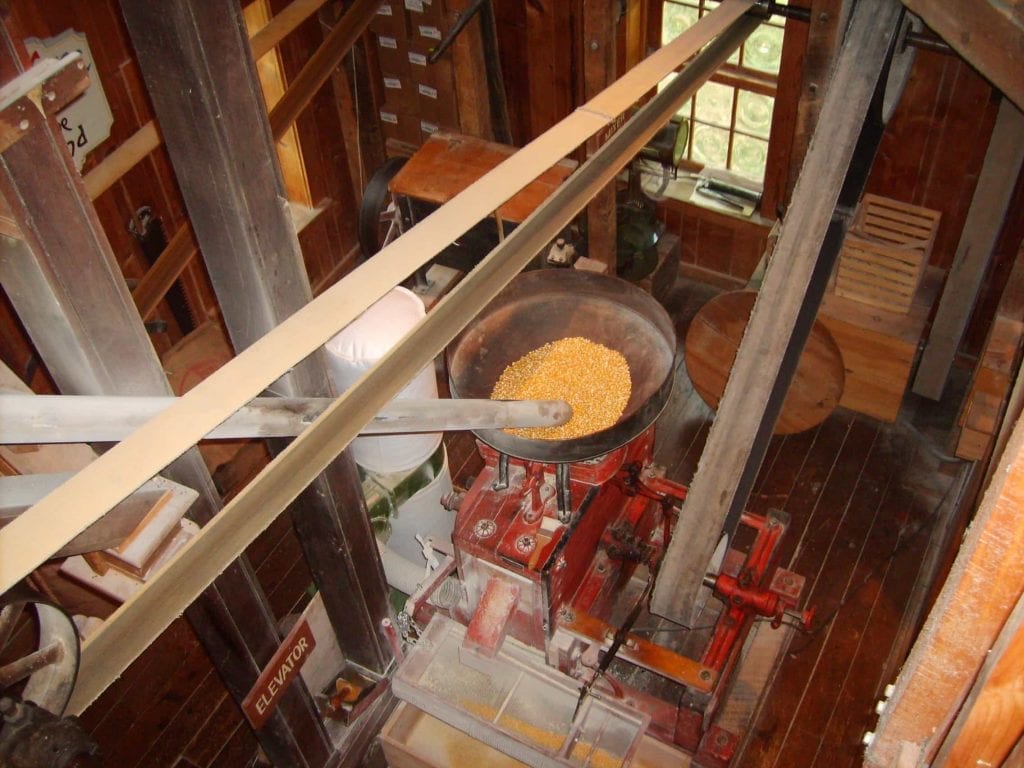 Stephanie also dipped candles (she does this for every SDC visit).
We walked through a music store and an Irish store. Around that time, we decided to eat lunch. Stephanie and I had BBQ sandwiches. I did like Dollywood's kids' meals better. They give you a little lunch box and it comes with a child-size drink. My sandwich platter came with beans and fried potatoes. You didn't get to choose your sides, but they were good anyway, so it didn't matter. My husband ate at the nearby corndog stand. He had a footlong corndog.
Every time you buy something, they ask you if you have a gold pass. We told people that we were All-City Pass holders for SDC and that SDC doesn't have a gold pass. Sometimes we got a discount, and sometimes we didn't. We never said anything either way. We just told them what we had. The discount was good, though–30% off. We got the discount on our food, but not the candles we dipped. I'm not sure if we were supposed to get in or not. I think we were a novelty to Dollywood workers in general when it came to our passes. The first day we got tickets to Dollywood, the lady helping us asked the other lady working with her if she had ever seen an All-City pass from SDC before.
After lunch, we watched the bald eagle show. Dollywood has a sanctuary for human-imprinted eagles. They also hatch new eagles and release them into the wild. They have a show to show off some of the eagles. It was pretty cool.
After the show, we headed to Dolly's museum. It was nice and cool, so it was a great place to be during this part of the day. I was impressed by the exhibits there. It was also not very crowded. After the museum, Stephanie wanted to ride the little fifties cars, so we did. The line was a little long, but it moves quickly and much of the queue is indoors. She had a blast "driving" me around. I can't wait for those driving years for real.
We then decided to leave. It was the hottest day; temps were in the 90s. We had done almost everything in the two days we were there. We took the trolley back to the station.
We decided to drive up to Ober Gatlinburg and see what was up there. Stephanie would not ride the cable car up the mountain earlier in the week, so we drove up the mountain. We were pleasantly surprised when we got up there. They had a few rides outside and a mall with an indoor ice skating rink inside. The outdoors closed first, so we headed out there. I guess it's a ski resort in the winter, so they had ski lifts everywhere.
We decided to take one up the mountain. My husband and Stephanie had never been on a ski lift before. You get off at the top of the mountain, and the views are amazing.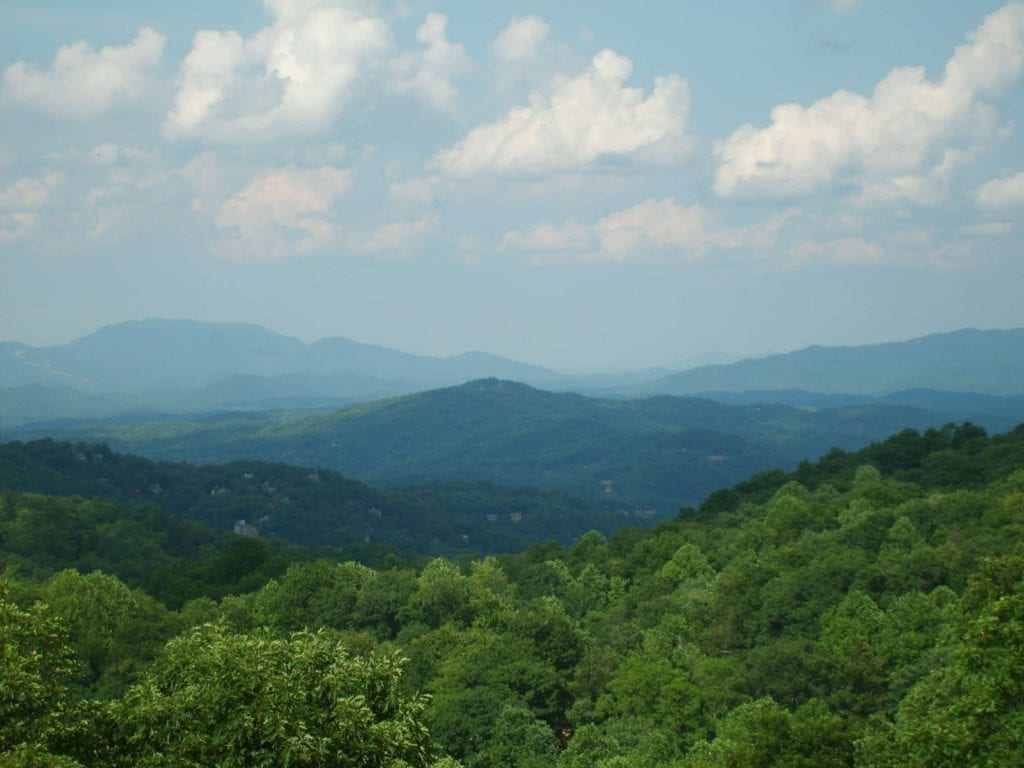 There was even a little band at the top that played some music.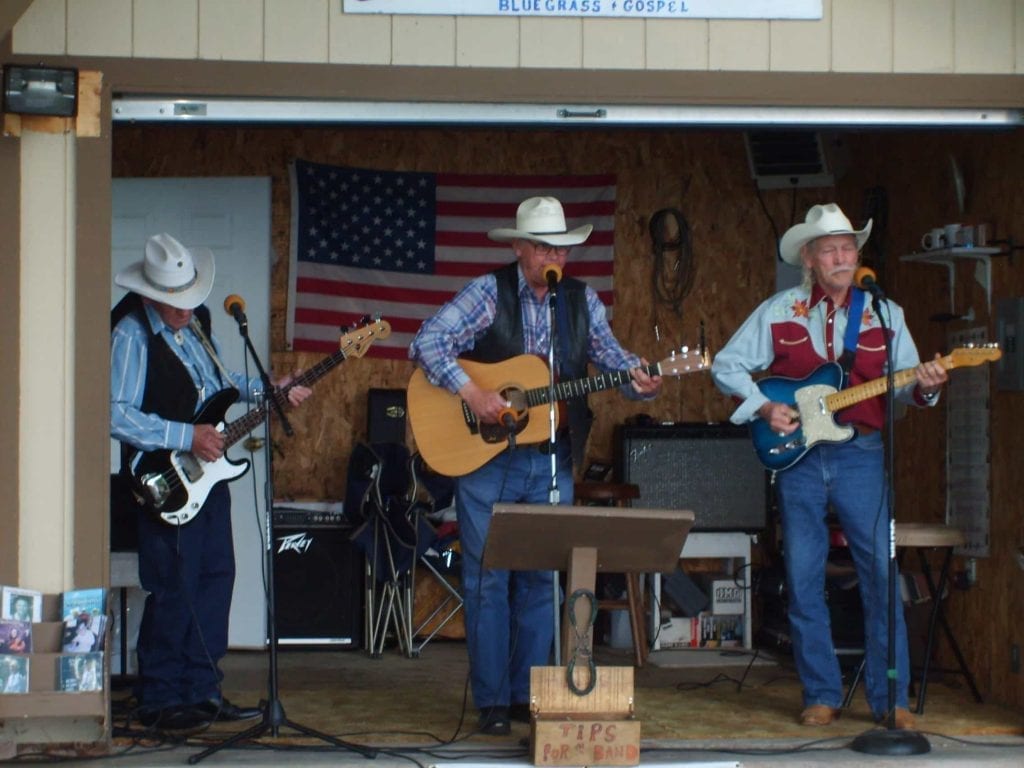 We then rode the lift back down since it was nearly time for the outside stuff to close. There are some other interesting rides there, but we didn't do them.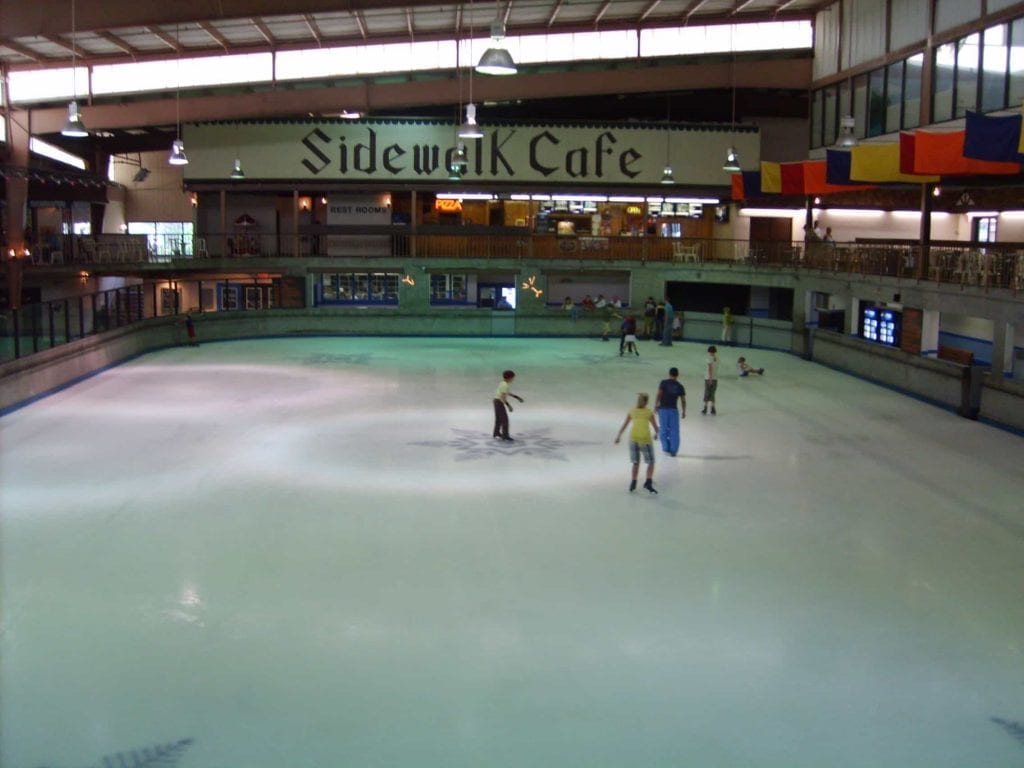 We walked around the mall and watched people ice skate. Some people were really good and did jumps and spins. My husband was excited to see the Zamboni.
We then headed back to Pigeon Forge. We had one more night to have dinner here, so we went back to The Great American Steak and Buffet. It was good like before. We sat in a room with a lady and man playing and singing country music. That was a nice touch. Stephanie requested "Rocky Top." After dinner, we went back to the pool and swam.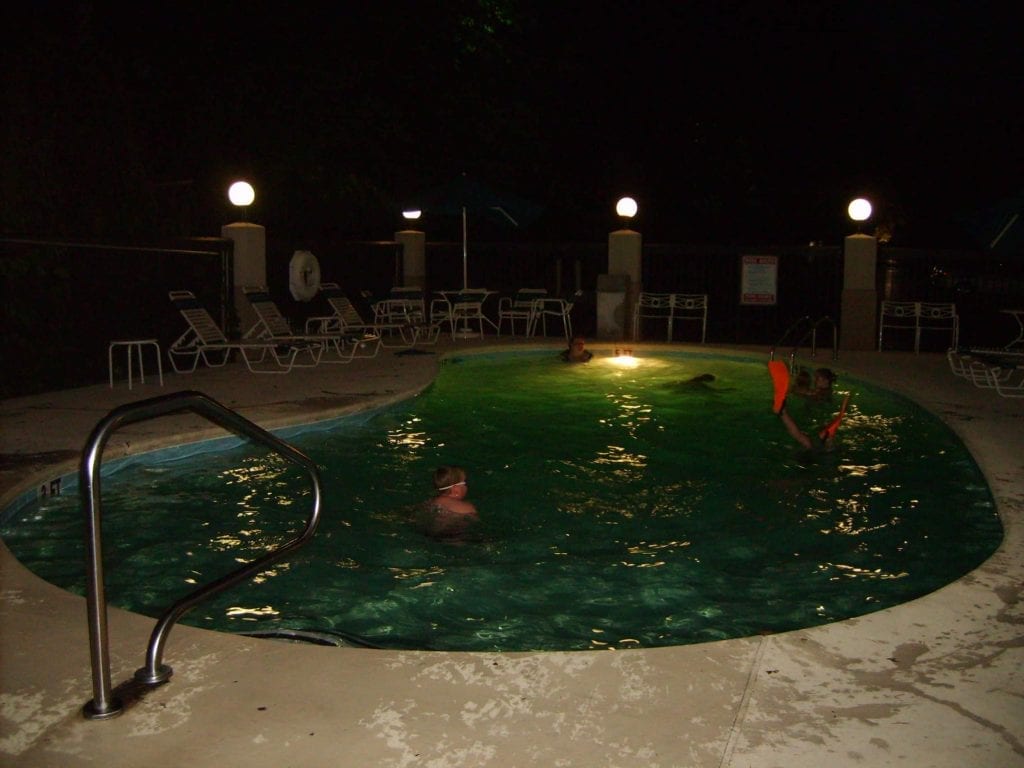 Day Six: Heading Home
We had packed up everything we could the night before. We woke up, got ready, and packed up the car.
Before long, we were driving away from Pigeon Forge. We decided to take another route home (although this route takes longer, we learned). We drove north through Lexington and Louisville. Then we drove across the southern parts of Indiana and Illinois. We took a short off-route drive to Santa Claus, Indiana. I had been there as a young girl. There is a theme park there and a campground. We made plans to visit this area again.
Before long, we were heading into St. Louis. Stephanie had never seen the Arch before. She informed us that there was no way she was going inside it, so we didn't stop. Maybe someday we can convince her to go inside it.
We drove past Six Flags and Meremac Caverns and began discussing a trip back here sometime. We ate dinner at Dairy Queen.
We made it home around midnight. We are still recovering from our trip. I hope you can plan a trip to Pigeon Forge and Gatlinburg soon!
We finally made it to Holiday World! Click here to read about that trip.