This post may contain affiliate links. Please read our disclosure policy for more information.
A couple of years ago, a fellow English teacher and road tripper from a nearby school district posted pictures about her trip to Charleston on Facebook.  Ever since I saw the pictures of Kayla's trip with her family, I knew I wanted to go.  One place she highlighted really caught my eye–Poe's Tavern.  I teach an Edgar Allan Poe story, "The Masque of the Red Death," to sophomores every year.  One year I even taught "The Cask of Amontillado" to freshman.  This may make me a nerd, but I also have an Edgar Allan Poe action figure that I take out when it's time to do these stories.  The English teacher next door, my teacher bestie Rachael, celebrates Poe with a special day of food and films every year.  Visiting Poe's Tavern just seemed right.
Some Background
Since we drive to Walt Disney World, I try to find places of interest to visit on the way home to Missouri.  We go a little out of the way, but it's worth it.  We've been sneaking up the east coast.  This year I wanted to get a taste of Charleston, South Carolina.  It truly was just a taste; we were only there for a night, but I know I want to go back.  We actually stayed across the bridge in Mount Pleasant, so we had a quick drive to Sullivan's Island for dinner at Poe's Tavern.
Sullivan's Island is a laid-back beach town with shops, bars, and restaurants blocks away from the shore.  Many locals travel by golf cart, and it's common to see people walking their dogs.  The restaurant does have its own parking lot, but I could see that it could fill quickly on busy nights.  We arrived after it had been raining most of the day, so the crowd may have been thinned a little.
A Little About Poe's Connection
Three streets pay homage to Poe–Poe Avenue, Gold Bug Avenue, and Raven Drive.  When Poe was eighteen years old, he enlisted in the army and was stationed at nearby Fort Moultrie.  He stayed there for a little over a year.  He enlisted under the name Edgar Allan Perry, and he often seemed to hide his time there.  One of his stories, however, is set on Sullivan's Island.  His story, "The Gold Bug," has a great description of the island.
Poe's Tavern
I loved all of the Poe details here.  References to Poe abound.  On the outside, you can see the Gold Bug on the sidewalk.
Pay close attention to the stairs leading into the restaurant.
You can see evidence of the day's rain.  When we entered the restaurant, we encountered a line to be seated.  Here's a picture of the kitchen.
We didn't have to wait long, though.  They soon felt confident enough to start seating people outside again.  We got seats at the railing looking out into the patio seating and the street.
Outside access to the bar was behind us.
The menu is really fun.  The hamburgers and chicken sandwiches are all Poe-themed.
If you regularly follow my blog, you know that my husband and daughter are extremely picky eaters.  They mostly go to places like this for me; sometimes Jeff doesn't even order.  Luckily, he likes plain hamburgers, so we didn't have a problem there.  Kristin really doesn't eat hamburgers, and they didn't have her staple, chicken strips.  We decided to get some chips with queso which we probably wouldn't have ordered if there was something else on the menu we knew she'd like. They even made the queso plain for her and put some pico de gallo on the side for me.
After I had a few nibbles of the chips, I decided to check out the inside of the tavern while I waited for my hamburger.
Poe is everywhere!
He's above the fireplace.
He's in the dark.
He's even in the bathroom!  The wallpaper is Poe, and you can hear a recording of someone reading Poe's works while you're there.
See, I told you he was everywhere.
This place is so cool!
The Hamburgers
After I wandered around and convinced Jeff to check out the men's room and report back, our food was ready.  I ordered a Gold Bug hamburger.  I added Ranch to go with my fries.  And no, I couldn't finish it.  Not even close.
Jeff got a plain hamburger cooked medium-well the way he likes it.  Poe's Tavern is pretty accommodating.
Kristin had a plate of fries.  I know.  I'm a great mother.  I promise we don't eat this way all the time!
When we'd had our fill, it was time to make a t-shirt purchase.  I couldn't resist.  They have several colors and sizes to choose from.
Until Next Time
Soon it was time to leave.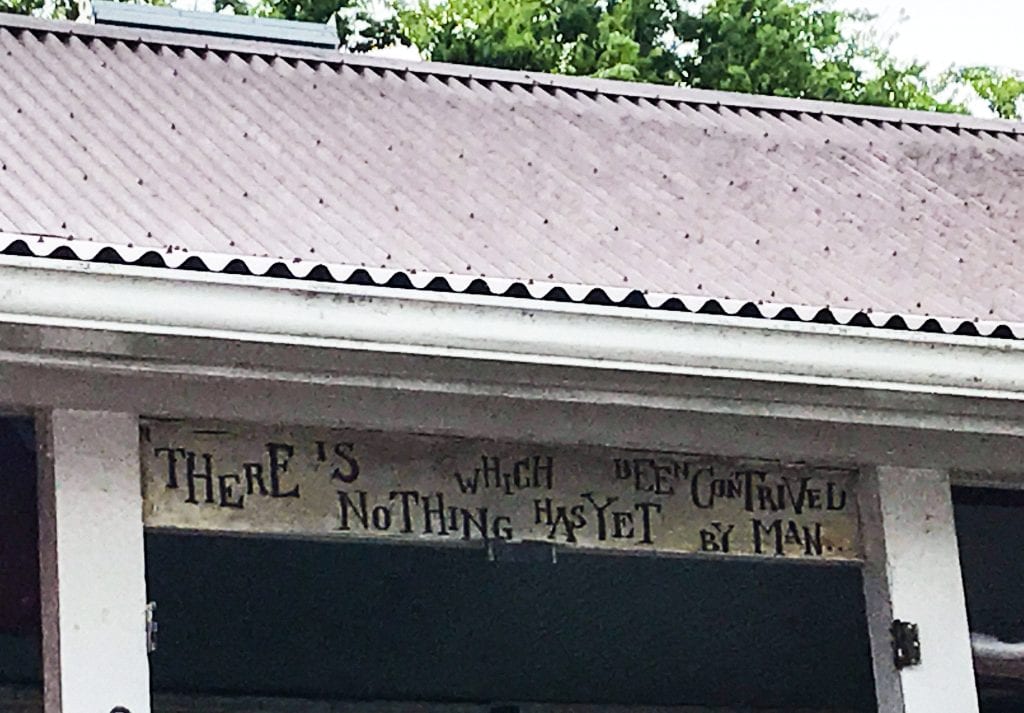 And head back to the car.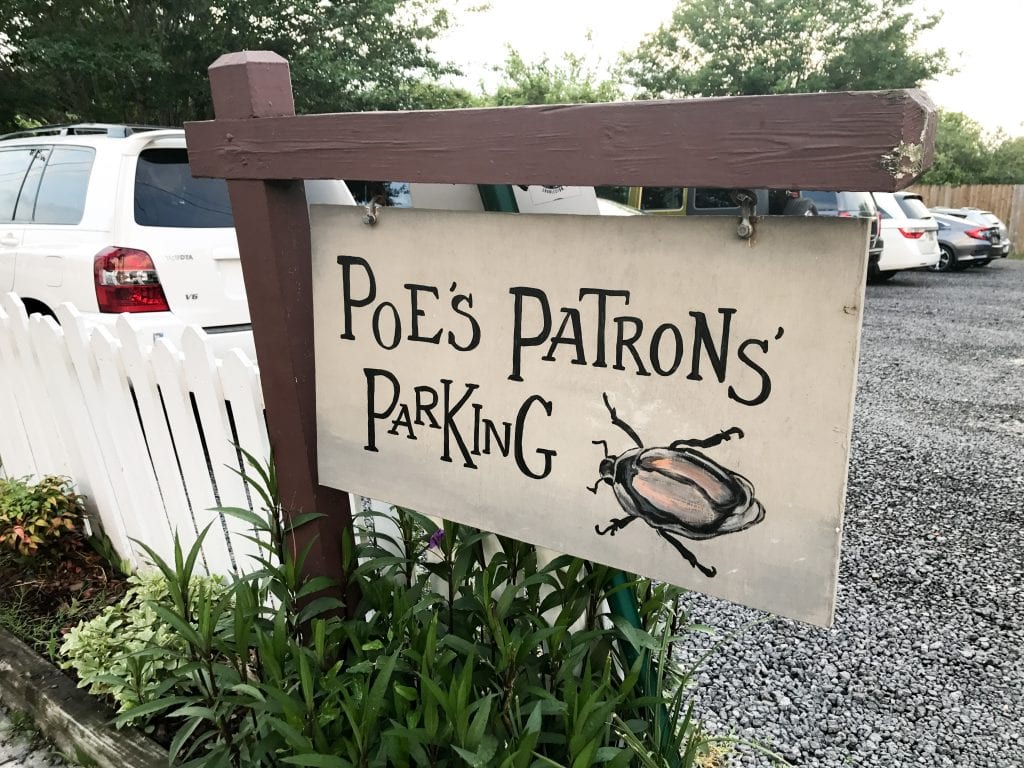 After dinner, we did take a stroll on the beach.  I don't know if we caught it at a bad time or what, but gnats followed us everywhere!  When I got back to the hotel, I saw I had gnats stuck in my hair!  The water also didn't beckon us to wade in it like I'd thought.  Maybe Florida spoiled us, but I'm not sure I'd plan a beach day at this particular place on Sullivan's Island. Just a little FYI.
Besides that, our evening was wonderful!  The drive back to the hotel was magical as the sun set on the Low Country of South Carolina.  I fell in love with the area, and I can't wait to go back!