This post may contain affiliate links. Please read our disclosure policy for more information.
Pops 66  Soda Ranch is just one of those cool stops that you hope to encounter on a road trip. It's not a major destination; it's just a fun place to fuel up, grab lunch, or stock up on soda pop.  As we headed from Joplin, Missouri, towards Tucumcari, New Mexico, we found that Pops was a great first stop on the road. If you need gas, you can fuel up here. Since we were just a few hours into our trip, we will still good to go.
Located along historic Route 66, Pops is just northeast of Oklahoma City in the small town of Arcadia. If you're driving the mother road, you'll definitely want to make a stop here. As you drive by, you can't miss the large sculpture out front. At 66 feet tall, the folks at Pops say it's the largest soda bottle in the world. I wouldn't doubt it. Also, I love that it's 66 feet tall in honor of Route 66.
Apparently, it's lit up nicely at night. We happened by at mid-morning. Sometimes, you just end up seeing things when you happen to be there. If you could plan it, I would opt for evening.
Pops 66 Soda Ranch: The Building
As far as convenience stores with diners go, this one is remarkable. As you walk up to the building, you'll see all the glass bottles on display.
Here is a view from the inside.
Half of the interior houses a diner. Since we happened by in the morning, and we weren't ready for a meal, we didn't eat during our visit.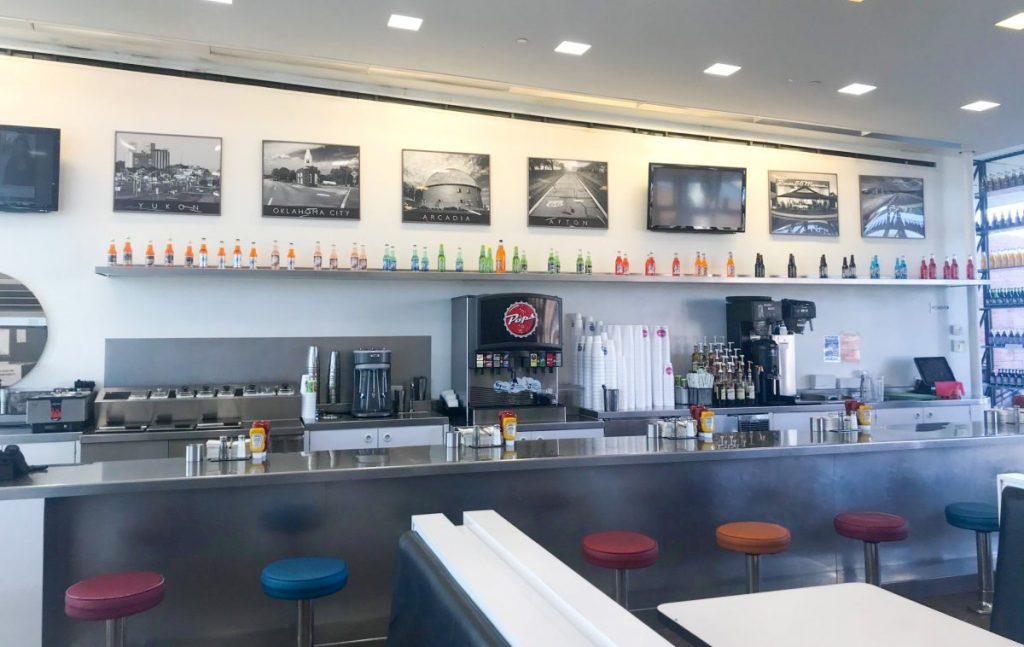 It looks like a fun place to eat, though!
Click here to read about Planning Away's experience at Pops 66 Soda Ranch. Her pictures are awesome, and you can read more about the diner!
Pops 66 Soda Ranch: The Pop
Pops advertises that it houses 700 types of soda pop! I certainly believe it. You can create your own six-pack, so we roamed the aisles looking at all the flavors. Some were familiar, but others were completely new to us. Some flavors surprised us!
In the end, we narrowed our choices down to these.
We hauled these around in our cooler during the trip. We had one every once in a while until we were down to one. Kristin had her last soda after we'd returned home. The bottle itself is a fun novelty. What an interesting souvenir!
Pops 66 Soda Ranch is certainly worth a stop. If you find yourself driving along Route 66 in Oklahoma, keep your eyes open for the 66-foot tall soda pop bottle!
Click the links below to read more about the places we visited on this road trip:
Petrified Forest National Park