This post may contain affiliate links. Please read our disclosure policy for more information.
If you're wondering where to find some of the best BBQ in Kansas City, it's a pretty good bet that Q39 will come up in the conversation.  Kansas City is known for its own special style of barbecue, and you could spend days trying them all.  Q39 is one of the restaurants that should be part of that mission, should you choose to accept it.  Though this place is newer than some of the classic Kansas City spots, it is certainly not lacking in any way, and for many, Q39 has become a favorite.  We've visited Q39's two Kansas City-area locations, and we're ready to show you why Q39 is a Kansas City must-do.  Read on about some of Kansas City's best BBQ.
Q39: The Midtown Location
For our first Q39 experience, we ate at the original restuarant known as the Midtown location.  The place is located on 39th Street, so you can see where the name comes from.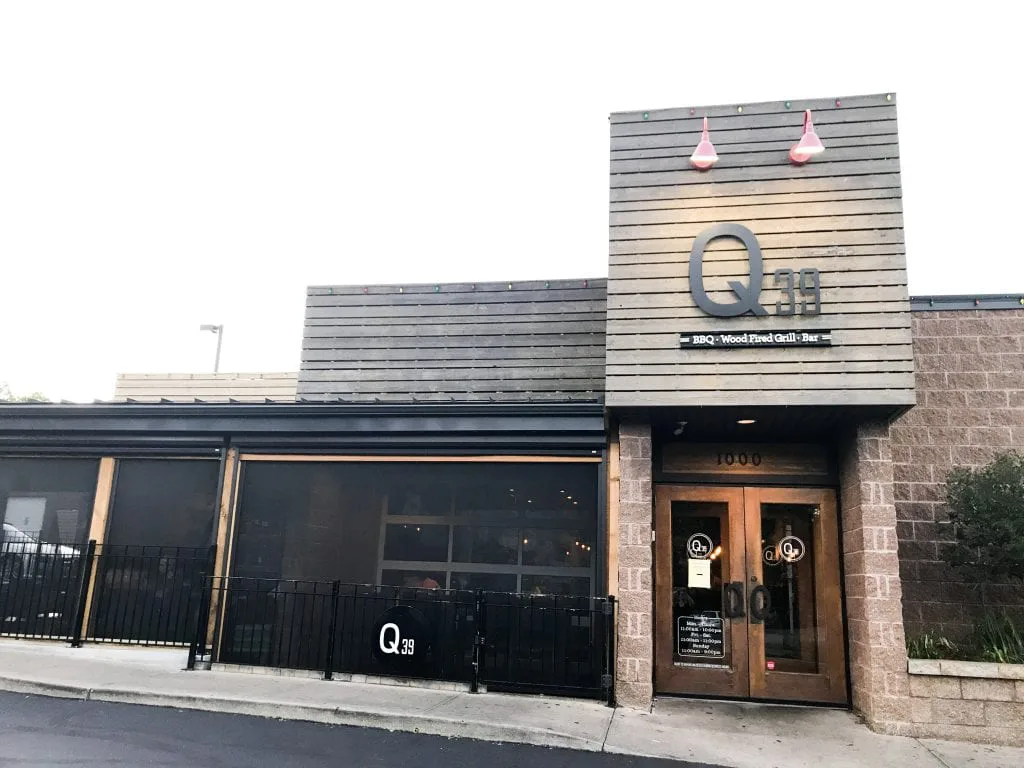 This location is on the Missouri side of Kansas City, and it's not too far from the Country Club Plaza, also known as The Plaza.
Once inside, you'll see a few of the reasons people gather here, aside from the amazing BBQ.
This place has a trendy, contemporary vibe.  One thing to note–this is not the place to have a quiet conversation.  Q39 is lively!
Q39: The Barbecue at Midtown
We were seated quickly, and soon our server showed us menus and explained some of the dishes.
I also thought it was cool that they brought out water before taking our order.  It's summer, after all.  Not many places do that anymore.  I understand why, but it was nice to have the water.
Kristin decided to go with the kids' rib plate.  She's not crazy about BBQ sauce on her ribs, and that's how they come here.  She gave it a try.
She was definitely into the fries.
We also shared a side of Macaroni and Cheese–a fan favorite at Q39.  Kristin nibbled a little before the picture.
I went with a pulled pork sandwich and the Q39 onion straws.  So good!
Jeff had the Combo-plate, pick two.  He chose brisket and burnt ends, and he said it was the best brisket and ends he'd ever had.  In fact, if we eat barbecue in Kansas City, this is Jeff's first choice!
From the dining area, you can the kitchen.  The layout of the restaurant is open.
And here's the sauce.
We left stuffed and quite content.
Q39: The South Location
A few weeks later, we found ourselves in Overland Park, Kansas, a community in the Kansas City Metro area.  Jeff had the best idea for where we should have dinner–Q39.
The atmosphere and menu are similar, and the barbecue is just as tasty.  Jeff had the same meal, but I tried the pulled pork with the apple coleslaw and a side of barbecue beans this time.
Kristin went with her staple of life this time.  I'm glad they have this option for kids, and I'm glad to share this.  We often try to figure out if a place has chicken strips before we venture there, just in case.
Q39 is one of my family's favorites and some of the best BBQ in Kansas City.  If you're making a trip, be sure to sample some barbecue while you're there.  Q39 is the perfect place to do just that.
Other Kansas City Barbecue Places We Love:
Fiorella's Jack Stack Barbecue