This post may contain affiliate links. Please read our disclosure policy for more information.
One of my favorite things to do at Walt Disney World is to eat at the fun restaurants on property, and one of my family's favorites in any park is the Sci-Fi Dine-In Theater Restaurant at Disney's Hollywood Studios. This restaurant recreates a drive-in movie experience complete with a big screen and tables inside convertibles! If this doesn't have you sold yet, I'll explain my three reasons this restaurant ranks so high on our list!
1. The atmosphere inside Sci-Fi Dine-In Theater Restaurant is just plain awesome.
As I explained above, the restaurant had some of the most unique theming anywhere. From the outside, it looks like nothing special.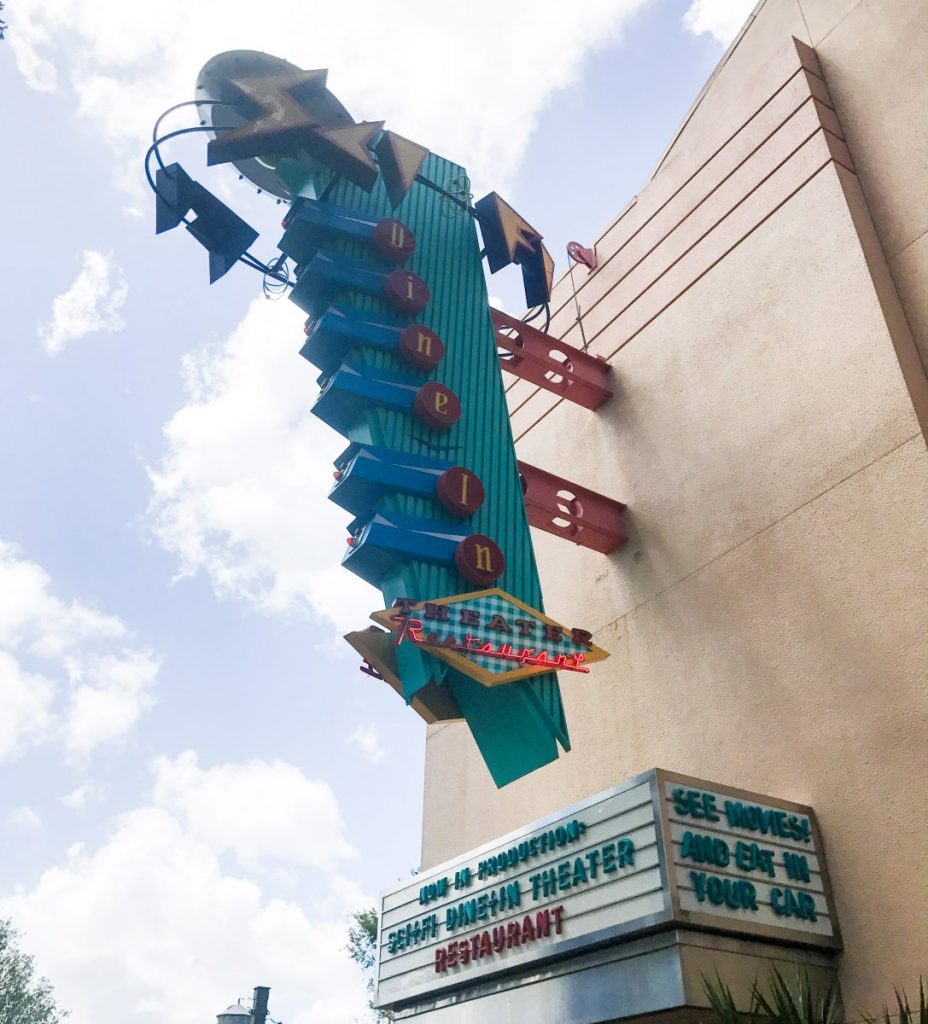 But inside, it's like a whole other world.
Most of the tables inside are in convertibles, and most of them seat six adults. If you have a smaller party, you may end up with some "hitchhikers," but honestly, you may not even realize they are there. Since we are usually a party of three on our trips, we often have a couple in the backseat, as in the car above. Jeff is in the red shirt with the white hat. Kristin and I were in the very front. I have no idea who the two in the back were!
The seating can be strange if you have an odd number, but we didn't mind. Jeff probably enjoyed some quiet as the old science fiction trailers played on the big screen. I love that it looks like nighttime, which brings me to my next reason this place is so great…
2. Sci-Fi Dine-In is a great place to cool off on a hot day.
So far, we have only traveled to Disney during the summer. Since I am a high school teacher, and Kristin is school-age, we have more time to enjoy Disney during this time of year. We've traveled in June and July, and around noon, the parks usually get HOT! It is usually so hot, we take an afternoon break. Most of the time, we try to schedule a table-service lunch to cool off a bit before making the hot trek back to our resort.
The Sci-Fi is the perfect place to do this! You're out of the sun. In fact, you're in the dark. The AC is cranking, and cool drinks, or maybe a malt, are in your immediate future. So, let's talk about the food.
3. The food is friendly for picky eaters.
There are a few family-friendly table-service options in Disney's Hollywood Studios, but the Sci-Fi Dine-In is our favorite. Other family-friendly table-service options include Mama Melrose, 50's Prime Time Cafe, and the buffet at Hollywood and Vine. If your family is more adventurous, The Brown Derby may be an option. Sure, there are some counter-service places with indoor dining rooms, but if you're going for burgers and malts, I'd choose this place, for sure.
The malts and shakes are really yummy, and the hamburgers are pretty darn good, too. Jeff orders his plain.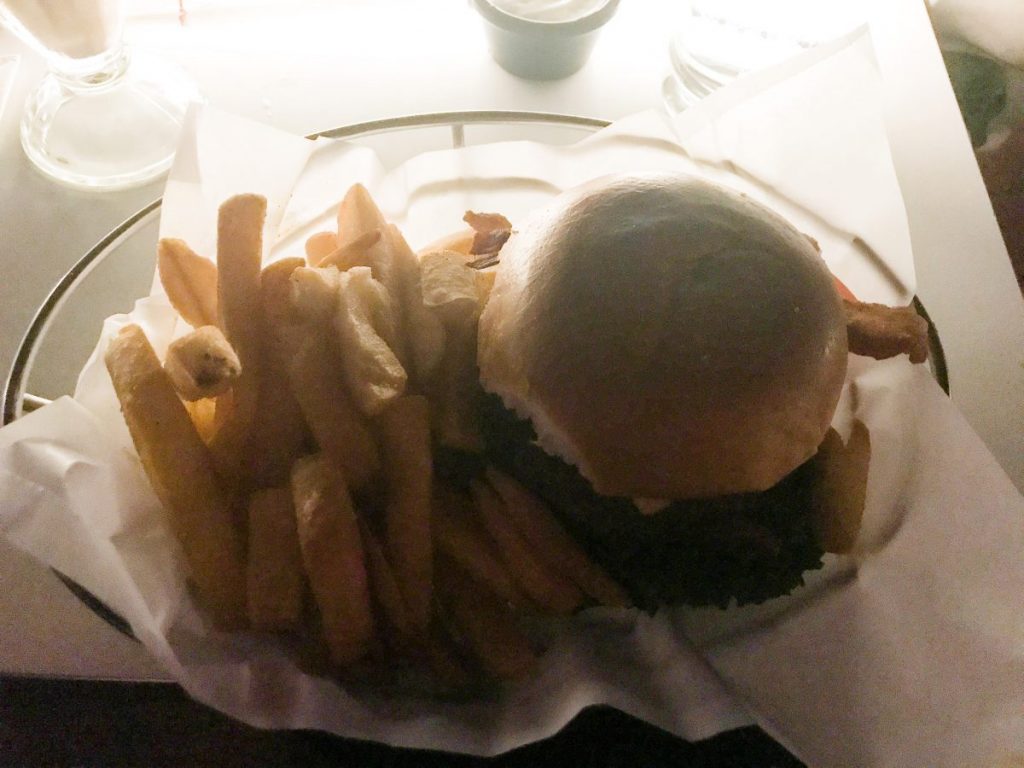 You may choose one with bacon and cheese. And no, I couldn't finish it.
Kristin doesn't eat hamburgers, but she enjoyed her staple, chicken strips and fries.
Please forgive the pictures; it's really dark in the restaurant. I assure you, though, that my picky companions are very happy here!
There you have it–my three reasons this place is amazing! We've never left hungry, and we are cooled enough to make our way back to the resort so we can rest up for nighttime fun. My family considers the Sci-Fi Dine-In Theater Restaurant a Disney must-do!
Click the links below to read about more of our family's dining experiences at Walt Disney World in Florida:
Yak and Yeti Restaurant in Animal Kingdom
Be Our Guest Restaurant in Magic Kingdom
Chef Mickey's at Disney's Contemporary Resort
Coral Reef Restaurant at Epcot
Trattoria al Forno at Disney's Boardwalk Resort
Cinderella's Royal Table at Magic Kingdom