This post may contain affiliate links. Please read our disclosure policy for more information.
Silver Dollar City's fall festival in Branson, Missouri, is one of my favorite festivals of the year.  I'll admit it.  I was super excited when I heard about the new hours and additions to Silver Dollar City this fall. The park has long offered special crafts, food, and music during the fall days.  Now, guests can explore the park after dark while taking in glowing pumpkins and other decorations.  My family had the opportunity to check out this new event on the opening weekend of Pumpkin Nights.  Though it was still pretty warm, we're talking upper 80s, I still found myself getting into the spirit of the season.  Read more to see what you can't miss at Pumpkin Nights during the fall festival.
Get There Early Enough to Check out the Crafts and Day Decorations in the Park
We headed into the park on that first Saturday at around 5:00 p.m.  I know some of the craft booths that are there just for the fall festival sometimes close early, so I was hoping we wouldn't miss too much.  The park entrance was a little more crowded than I expected.  That turned out to be an ongoing issue, but we still had a good time.
Soon, we were through the bag check and the ticket turnstiles.  We emerged from the hospitality house and onto the square.  I always love seeing the park during a new festival for the first time of the year.
We had to start exploring immediately!
I'll warn you; there are pumpkins everywhere!
I didn't see as many craft booths as previous years, but there were still some crafters on the square.
We made our way down the hill on the right side of the park since that was where most of the Pumpkin Nights festivities were occurring.  The blacksmith shop had plenty of fall decor for sale.
We loved checking out the pumpkin figures along this path.
It wasn't long before we arrived at the entrance to Pumpkin Nights.  This area was pretty busy.
We took a daylight stroll around.  It's always fun to check out the changing displays in the Frisco Barn.  Currently, there are various craft booths inside.
It's a fun place to look for seasonal shopping.
Next, we checked out the courtyard beyond the Frisco Barn.
The master pumpkin carver is in this area.  We also happened upon a live music performance.
We also explored the Grand Exposition area in the daylight.  It is so festive!
The decorations are fun day or night!
As we entered the park, we noticed people leaving with some Halloween items that we wanted to find.  One was a pumpkin narwhal plushie.  We discovered that you could "win" one at a carnival game.  For $5, it looked worth it.  Here's a video.
Try Some Fall Treats While You're There
One of the first things we tried was some cold cider.  It's worth noting that they were serving Louisburg Cider from Louisburg, Kansas.
The only problem–it wasn't that cold.  It was a warm evening, and they're trying to serve it from a temporary stand.  Maybe in the future they'll offer apple cider slushes like at Louisburg Cider Mill.  That would be awesome.  Click here to read more about Louisburg Cider Mill.
Kristin also wanted to try the cotton candy in the glow-in-the-dark bucket.  She approved!
I wanted to try something a little different.
My pickier companions had chicken strips and homemade chips.  I had this.
It was yummy!  I'd have it again.  I hoped to try a pumpkin funnel cake later, maybe some pumpkin soft-serve, but in the end, I didn't want anything else at the park.  I think it was because it was still so warm, though ice cream would've been ideal.
Explore the Rest of the Park and Ride Some Rides
We did walk around the rest of the park before dusk.  The ghost trap is a fun thing to check out any time of year.
This is also an excellent time of year to take a tour of Grandfather's Mansion.
You never know what craziness you'll see inside.  Things can get flipped in there!
We didn't ride any rides this time.
But we had fun watching Time Traveler as the sun set.
When Night Falls, the Party Gets Rolling
After watching some rides and listening to the Echo Hollow evening show from the pathway, it was finally dark enough for Pumpkin Nights!  We headed back over to the Grand Expo to see the area at night.
The decorations are definitely the best part.  The Expo is a Halloween wonderland!
So fun!
We continued walking towards the Pumpkin Nights Dance Party area.
When we got there, it was between dance parties, but they were playing some games by the DJ booth.  I found it a little loud and not very exciting to watch.  I honestly think it would be better to just play some mood music between dance parties.
Another thing that wasn't that great was that they had costumed characters for you to meet, but you couldn't take your own pictures, too.  I thought in the past you could buy a picture with Santa at Christmas, and they would also click a picture with your camera.  Maybe it only happens at Disney, and I'm confused.  But on our night, the only way to get a picture with the pumpkin character was to purchase one.  The attendant said that the pumpkin character would come out later and mingle, but we never saw that happen.  Even Disney will let you take free pictures at character meets, so that was disappointing.
One great part of this area is Hoot Owl Hollow where a lot of carved pumpkins are on display.  It also serves as another way in and out of the area.
There are so many great displays here!
Beautiful!
After we walked through this area, another dance party was getting underway!
It's also worth noting that there are booths with the special treats in this area.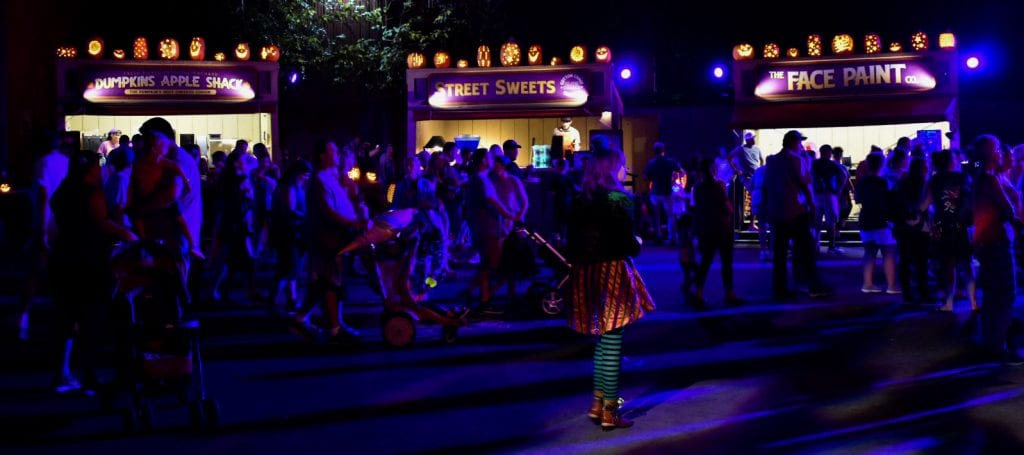 After dancing a little, we were ready to head out.  We checked out more decorations on the way.
This one is one of my favorites!
One final pose on the way out.
All in all, it was fun.  I think it will be more fun when the weather is cooler.  The Pumpkin Nights areas get crowded, so I wonder if in the future they will expand the night decor throughout the park to spread out the crowds.  Also, I think it would be fun to have some more characters.  How fun would it be if you could meet Carrie Nation over by the saloon?  Or maybe grandfather could be near his mansion.  Who knows what the future holds.  Maybe a stage show for the fall again?
We love Silver Dollar City; we were married there.  It's a park that is very dear to us for many reasons.  I'm excited to see what Pumpkin Nights and Silver Dollar City's fall festival could be in the future!
Want to read more about our Silver Dollar City adventures?  Click below!
Old Time Christmas at Silver Dollar City
Summertime at Silver Dollar City