This post may contain affiliate links. Please read our disclosure policy for more information.
Ever since we discovered the existence of a little place called The Clown Motel, we knew we had to go. I mean, it's world famous. We finally got our chance last summer when we set off on a road trip from Missouri to California and back. This motel in Tonopah, Nevada, is decorated with clowns inside and out, and if that's not creepy enough, it's also right next door to an old cemetery. Seems like the perfect place to get a restful night's sleep, right?
The Clown Motel Lobby and Gift Shop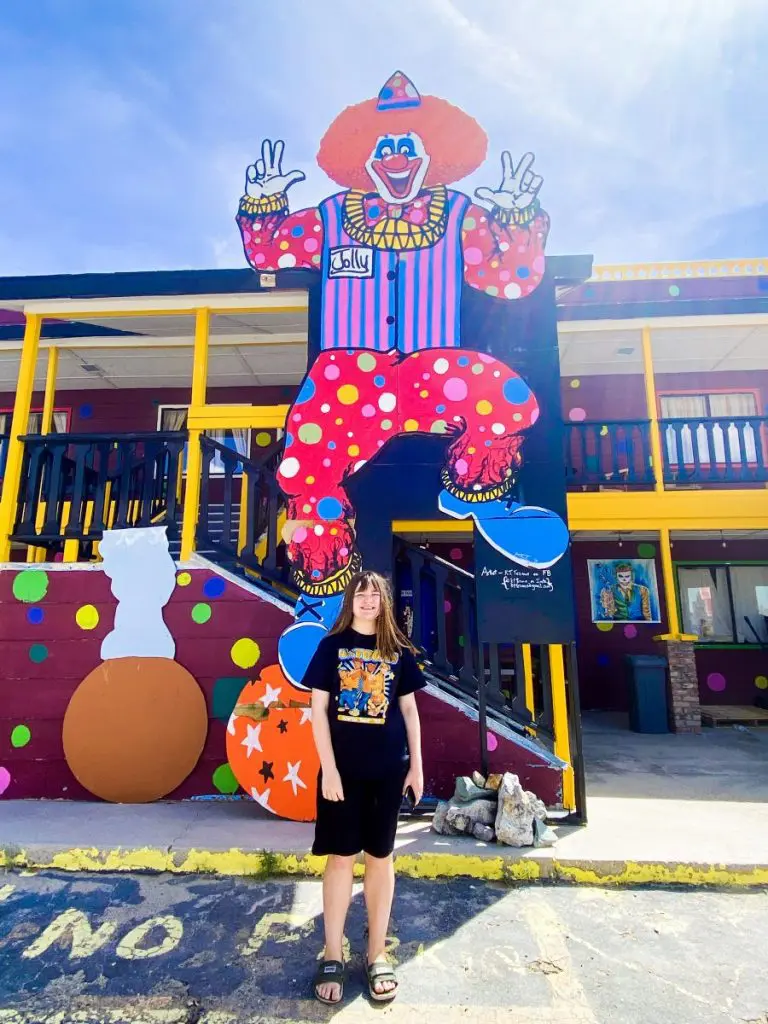 We'd just spent two nights in Yosemite National Park, so we arrived from the west. The Clown Motel is one of the first things you see as you pull into town from that direction. I have to admit, it was a welcome sight after driving through some pretty bland areas. I know. Yosemite spoiled us!
Even if you don't stay a night, stopping by to check out the museum and gift shop is totally worth it. We pulled into the near-empty parking lot on a June afternoon, ready for–well, anything.
As you walk towards the door of the lobby, you'll see this sign. "Are You Still Want to Enter?" I'm not completely sure.
I'm not sure anything can prepare you for the sheer number of clowns in this lobby. Below is the clown featured in Ghost Adventures that appeared to have moved his hand on his own. And what happened to the finger?
If you want to see the clip from Ghost Adventures, here it is. The hand part starts at about 2:35.
Here is another clip that shows more of the clowns in the lobby. The front desk has since moved, and I think the lobby has been expanded. You'll also notice that the place has had a new paint job since the episode aired.
When we arrived, the host was on the phone with another customer, so we walked around, enjoying the sights.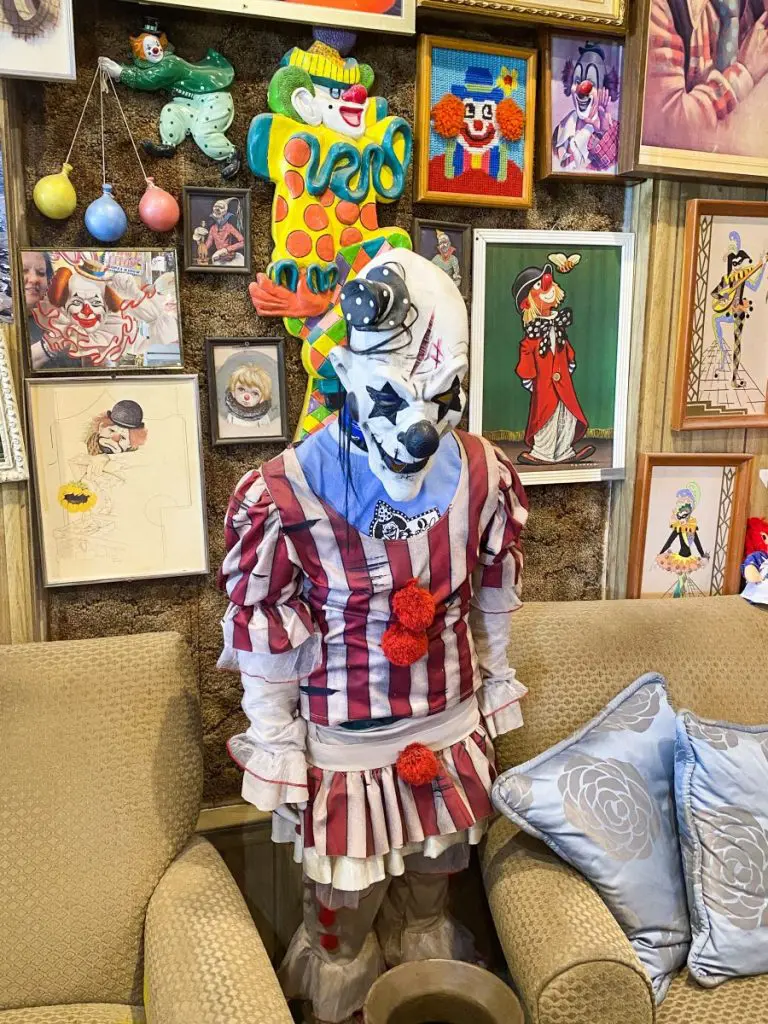 Uh, no. I don't think I will have a seat here and make myself comfortable.
I think every clown ever created is represented in this place. I'm not scared of clowns, per se. I am scared of haunted hotels and paranormal activity in general, though.
Kristin and Jeff love a good horror movie, with or without clowns.
Soon, we were able to check in. We were handed an actual metal key to the room that would be ours for the night– the It room. There are five themed rooms; all but one pay tribute to horror movies. There are also suites and standard rooms. If you're going to stay here, you may as well go all in and book a themed room, so we did. Click here to learn more about the themed rooms.
Our Room at the Clown Motel: The It Room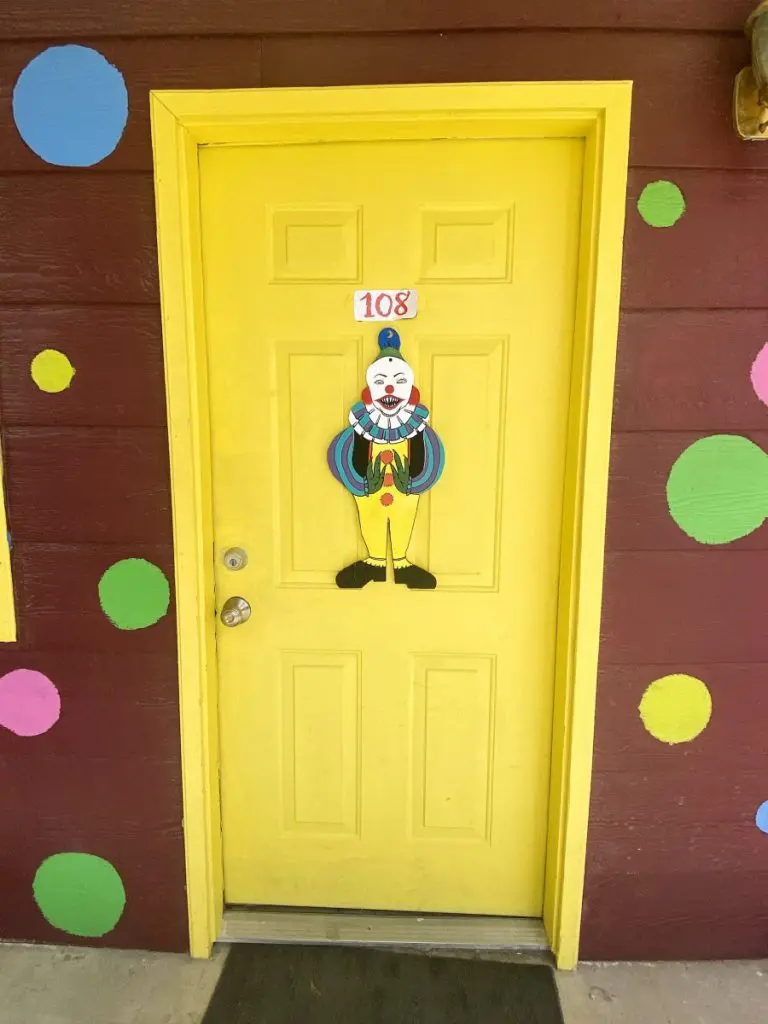 We decided to stick to the clown theme, so we chose the It room.
This room means business. Clowns are everywhere.
It's not luxurious, but it's not bad for a roadside motel. The fridge is exceptionally large, and we had a microwave.
Aside from the clowns everywhere and the vibrant color scheme, it's not unlike other roadside motels we've tried. We often mix things up; we'll stay at our favorite chains, but we like interesting accommodations from time to time for the experience. The TV is newer.
There is some wear and tear, but the owners have been working on the place.
Here is something not clown-related. This skull on the shelf above the hangers was motion-activated. I had Jeff put a stop to that. The last thing I needed was to have a heart attack in the night if I went to the bathroom.
If the room isn't enough, you can indulge in some light reading before you attempt to go to sleep.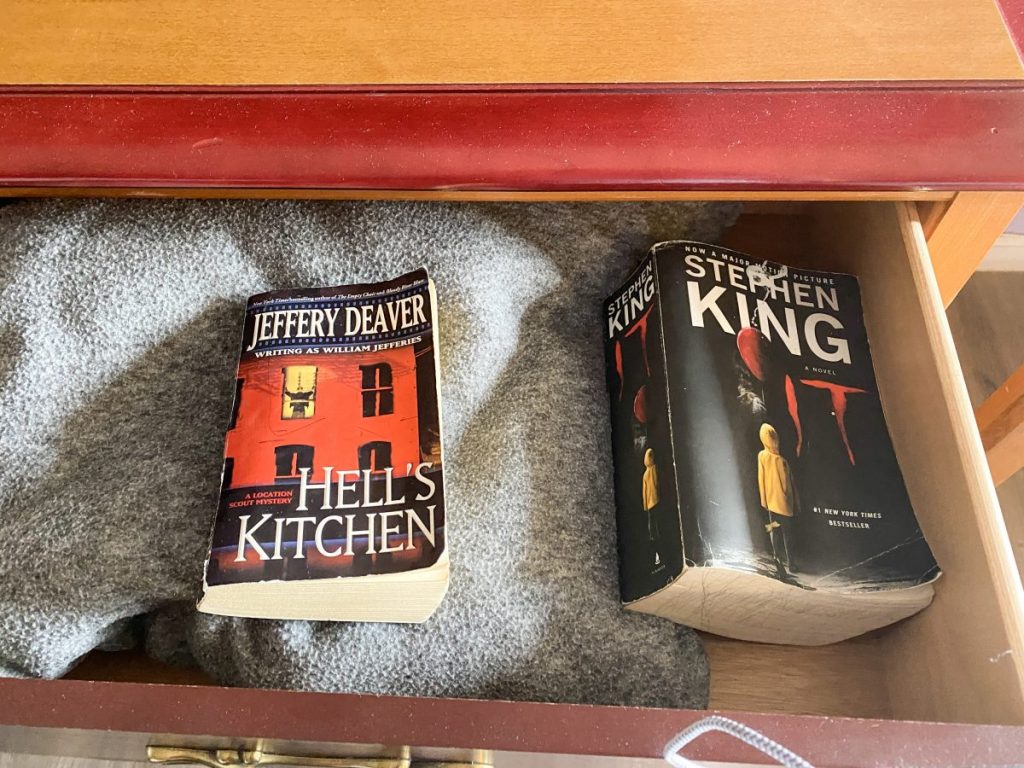 The Old Tonopah Cemetery Next Door
You can't miss the cemetery right next door to the motel. Old Tonopah Cemetery is an interesting place to walk around, haunted or not. In recent years, the Central Nevada Historical Society has replaced headstones and listed the causes of death when they could. Several miners died in a mine fire in 1911, and other citizens died from diseases and accidents, as people do. For a small fee, you can purchase a guide right at the cemetery to learn more about the people buried there. Click here to read more.
Getting a Taste of Tonopah
Tonopah Historic Mining Park
One interesting attraction in Tonopah is the Tonopah Historic Mining Park. Here you can learn about the area's silver and gold mining history.
We drove up to the visitor's center, but sadly, we arrived in town too late to explore this attraction.
It did look like a fascinating place. Unfortunately, we didn't have time to check it out in the morning, either. We planned to drive the Exterrestial Highway and then head on to our reservation just outside of Zion National Park.
Tonopah Brewing Company
After a brief visit to the Tonopah Historic Mining Park, we decided we were hungry. After some digging around on the Internet, we found a brewery with barbecue. We love a good barbecue joint, so Tonopah Brewing Company it was!
We didn't sample any of the brews this time, but we certainly were in the mood to eat. We love sampling house-made sauces on our visits.
I can't resist homemade onion rings. These went perfectly with my pulled-pork sandwich. And no, I couldn't eat it all.
Kristin loves her ribs.
Jeff always wants to sample a little of all the meats. I think he had ribs, turkey, and pork. We had so much food; none of us left hungry!
The Mizpah Hotel
After dinner, Jeff and I did a little exploring. If the town didn't have the Clown Motel, I'd certainly book a room at the historic Mizpah Hotel. It's haunted, too.
The hotel has two restaurants on-site; one is named for the boxer James Dempsey and the other is a cafe named for Senator Key Pittman, so we decided we could walk around the lobby and guest areas on the first floor without intruding too much. The historic decor transports you to another time. You can walk through the safe vault door to see a small museum.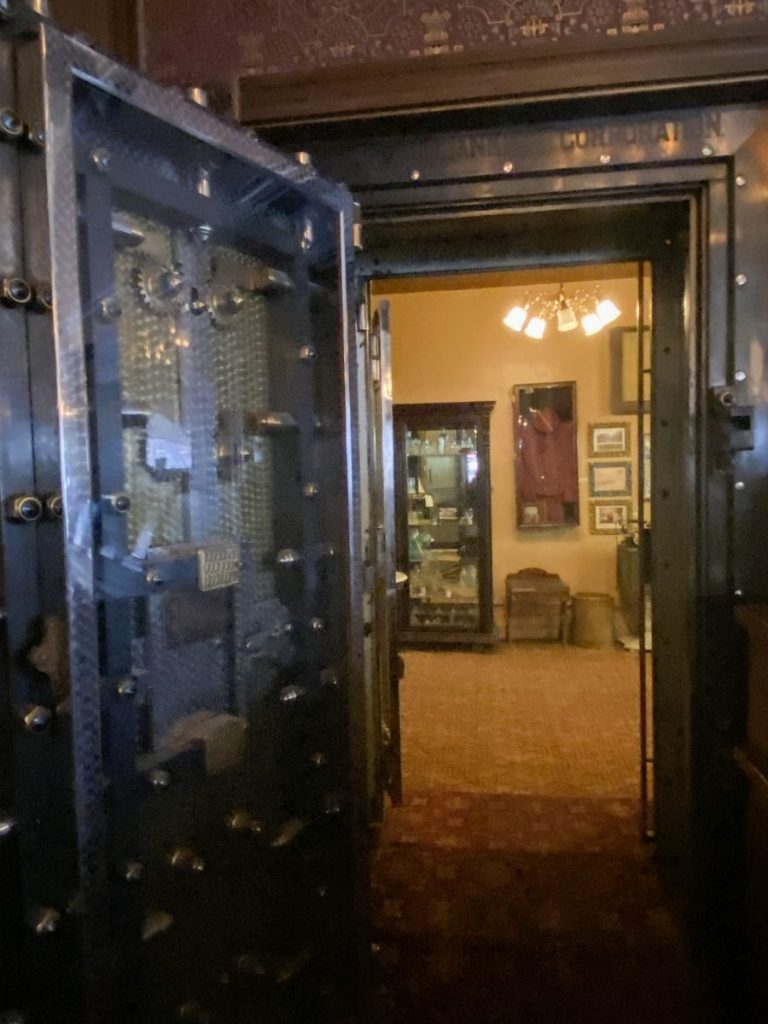 Opening in 1907, the Mizpah Hotel was the place to stay for the wealthy wishing to see what is referred to as the high desert in Nevada. Later in the 1940s, a casino opened on site. Wyatt Earp is said to have been a guest, and Howard Hughes was married there. Canceled checks of other famous people adorn the walls in the hallways. Below is one from Carol Burnett.
The most famous ghost at the Mizpah is known as The Lady in Red. Apparently, she was a prostitute who had customers at the Mizpah who was killed in the hotel by either a customer or her husband, depending on which story you hear. Now, her apparition may pay you a visit, especially if you stay in the suite named for her.
Another historic hotel in town that is open to guests is the Belvada Hotel. We didn't go inside since it was getting late, but I love that this town is revitalizing its historic buildings and sharing its history.
The Clown Motel at Night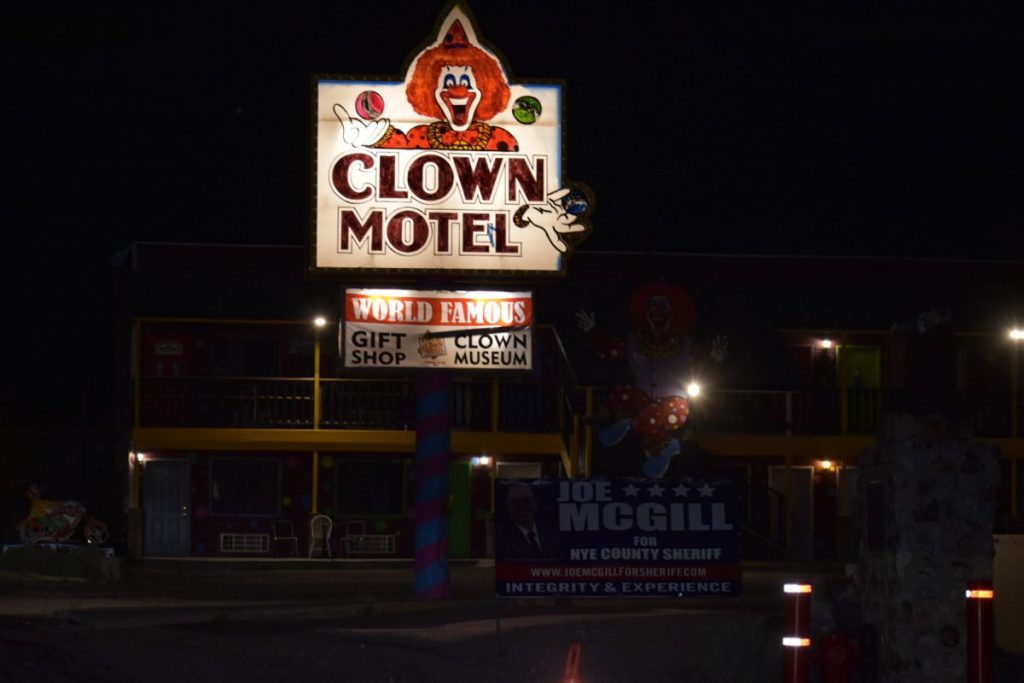 When we returned to the room, it was night. Time to walk around the old cemetery. Naturally.
We didn't catch anything unusual or experience anything out of the ordinary. As usual when we sleep somewhere haunted, I had trouble falling asleep and staying asleep. I mean, I don't know what the problem is with this next to my bed.
I'm always certain that a ghost will be standing next to my bed. It hasn't happened yet, and I hope it never does. In the meantime, I'll still stay at haunted hotels; I simply can't resist.
Tonopah was a cool place to explore, and I'd encourage anyone to give it a day or night to check it out. The history is interesting, and the town puts you about an hour away from the start of one end of the Exterrestial Highway. It's a great stop as you travel through to destinations in Nevada and California.
To read about some of our other adventures on this road trip, click the links below.
El Rancho Hotel in Gallup, New Mexico
Dreamcatcher Tour in Monument Valley
Meow Wolf in Santa Fe, New Mexico