This post may contain affiliate links. Please read our disclosure policy for more information.
If you're looking for a great place to make memories with your family, look no further than Eureka Springs, Arkansas. Surrounded by the Ozark Mountains, Eureka Springs is the perfect place to spend a few days. It could be its own destination, or add it on to a trip to Branson, Missouri. My family spent time there one summer, and Jeff and I have been there on numerous occasions as well, so now we feel like we can share the ultimate guide to Eureka Springs for families!
We'd like to thank the Eureka Springs Chamber of Commerce and Visitor's Center for sponsoring our family trip. As always, all opinions are honest and our own.
What is there to do in Eureka Springs?
There is so much to do downtown, including shopping and dining. We had fun checking out the specialty shops and trying treats like homemade fudge and macarons. Also, the Chamber of Commerce offers historic tours. Click here to read about our Eureka Springs Underground tour and even more about our adventures downtown.
If you have animal-lovers in your family, you will love Turpentine Creek Wildlife Refuge. This animal refuge primarily rescues big cats, but we also saw a bear on our visit. We really loved supporting the work of Turpentine Creek; they save animals across the country from often horrible conditions. This refuge works hard to provide the best quality of life for the animals that they can. Click here to read more about our visit.
Summertime is the perfect time to see a show in an outdoor amphitheater, and the Great Passion Play delivers a wonderful performance. You'll see the story of Christ come to life before your very eyes. There's plenty to keep the kids' attention, including live animals. Be sure to arrive early to check out some of the other attractions on the property, including the Christ of the Ozarks and a section of the Berlin Wall. Click here to read about our evening.
If you're looking for a place to cool off in the summer heat, why not head underground? There are several caves in the Ozarks, and we chose to tour Arkansas's largest private touring cave. The formations are beautiful, and the tour was educational for our daughter. Click here to read more about our underground adventure.
If you have older kids who are into ghost stories, be sure to book a ghost tour at the Crescent or the Basin Park Hotels. Our daughter is a seasoned ghost hunter, so use your best judgment, but we love them. We even stayed for two nights at the Crescent Hotel. Click here to read more about our spooky tour.
6. Check Out the Beautiful Outdoors
Since Eureka Springs is located in the scenic Ozark Mountains, be sure to make time to explore the great outdoors. There are trails to hike and springs to find all over the area. You may also enjoy lake activities at Lake Leatherwood. Table Rock Lake and Beaver Lake are also nearby.
7. Immerse Yourself in the City
Eureka Springs feels like you have stepped back in time. A lot of the architecture is Victorian, and we enjoyed looking at the "Gingerbread" houses all over town. You'll find beauty all around you. Take time to explore, like we did when we saw this church.
Where should we eat?
As a family, we do our share of chain eating, including fast food. But sometimes it's fun to check out the local cuisine. Even if you have picky eaters in your family, you're sure to find some places you can all enjoy.
1. The Balcony Restaurant
Be sure to eat somewhere downtown during your stay. I really wanted to eat somewhere that overlooked the main thoroughfare, so we gave The Balcony Restaurant a shot. This restaurant is on an upper floor of the Basin Park Hotel, a sister property of the Crescent Hotel. The view was amazing, and the food was delicious. You can read a little more about our experience here.
2. The Crystal Dining Room at the Crescent Hotel
We also loved our breakfast during our stay at the Crescent Hotel. The Crystal Dining Room offers a breakfast buffet or menu options. I had to try this white chocolate chip pancake. Yummy!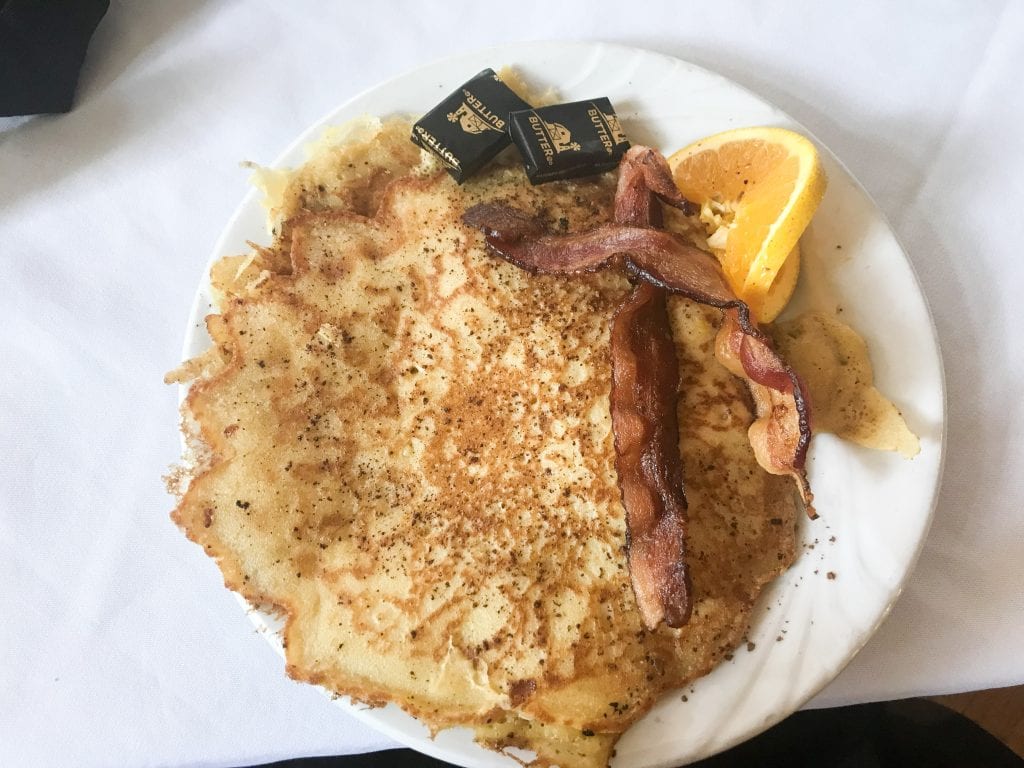 We happened upon this place before we went out for an evening at The Great Passion Play. While it does have a full bar, the place was definitely family-friendly. Though it's primarily about the BBQ, anyone would find something to their liking.
I had a pulled pork sandwich with homemade chips and coleslaw. It was so good!
They have several sauces for you to try.
Jeff had the brisket, and Kristin was happy with her chicken strips. We were certainly stuffed when we left.
Where Should You Stay in Eureka Springs?
We stayed at the Crescent Hotel and visited the Basin Park Hotel. You may be wondering if a haunted historic hotel is right for your family. We had a great time while spending two nights here. As you can see, even though we had a full itinerary, we still had time for pool fun. If you don't want to go the haunted historic route, we saw plenty of chain hotels and mom and pop places to stay in the area. Click here to read more about our stay.
We had a wonderful time making memories in Eureka Springs with our family. You should be able to find plenty to do no matter what age groups you are accommodating. Come check out the Ozarks; you'll be glad you did!