This post may contain affiliate links. Please read our disclosure policy for more information.
I was not a Twilight fan. As we planned the road trip that eventually would include Olympic National Park, I didn't know that Forks was the setting of the exceptionally successful book series and a string of movies. My oldest child read the first book several years ago, and we rented the first movie in which during the viewing, I'll admit, I fell asleep.
We continued to plan, and I realized we needed a place to stay that would be convenient to the Hoh Rainforest and Ruby Beach, two sections of Olympic National Park that were at the top of our list. Forks is a nice location for exactly that–Ruby Beach and the Hoh Rainforest are on either side of the small Washington town. It wasn't long, however, until I realized what the town of Forks was famous for. Though I wasn't a fan, I wanted to gather some Twilight information before we made the trip. Fans or not, I figured my family would have a good time immersing ourselves in the Twilight fun while we were there.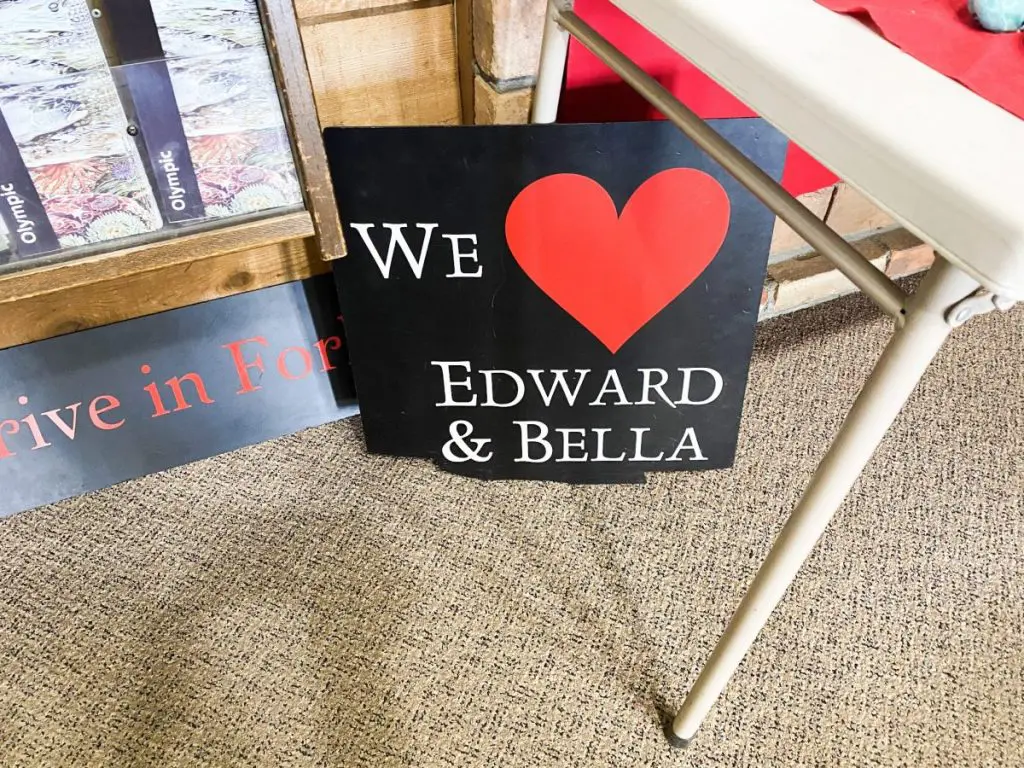 When Netflix added the films to their lineup, we watched the first one before we set out on our trip. We also watched the second film in our Airbnb in Seattle one evening as we relaxed after a day of sightseeing. By the time we arrived in Forks, we were familiar enough to check out the fun. And it was! Whether you're a diehard fan or a casual one, Forks provides a lot of opportunities to put yourself into the world of Stephanie Meyers's Twilight.
Arriving in Forks, Washington
We'd stayed the night before we arrived in Forks in Lakewood, an area just south of the Seattle metro. The morning before, we'd checked out of our Airbnb in the Queen Anne neighborhood of Seattle before driving to Mt. Rainier National Park for the day. We took the beautiful southern route to get to Forks and the Olympic National Park area.
Since we entered Forks from the south, our first stop was the Forks Visitor Center. Even though it was Sunday, the visitor center was still open, so don't let the fact that it's the weekend deter you from making a stop.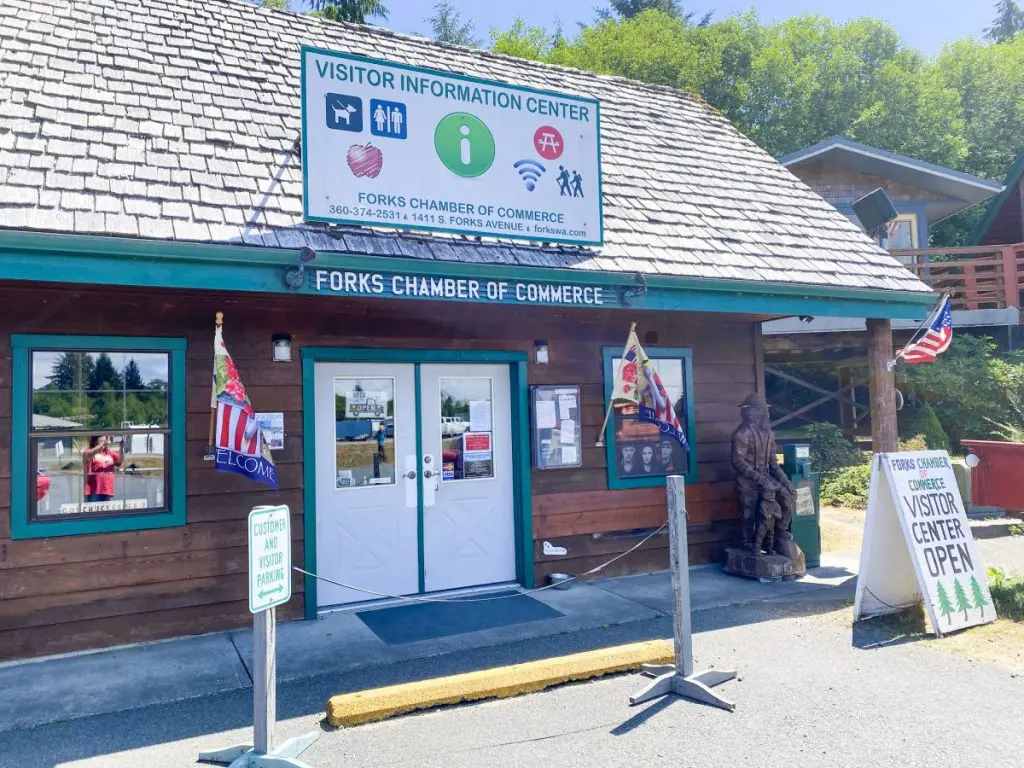 If you're a Twilight fan, you simply must stop here. There is so much to see, and it starts in the parking lot.
You can see two trucks belonging to Bella: the one from the movie–
–and the one described in the books.
Check out the tag.
The inside of the visitor center is a lot of fun, too.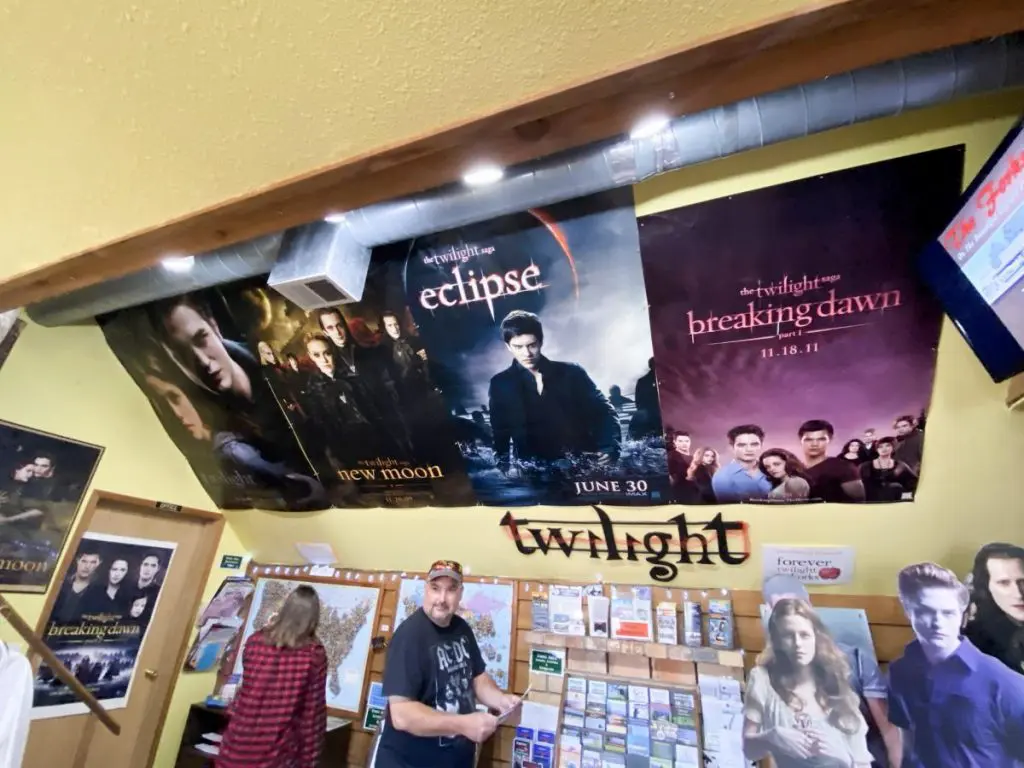 You can get great information about the area's other attractions while getting your Twilight fix.
While there are some items for sale, many are displays for everyone to enjoy.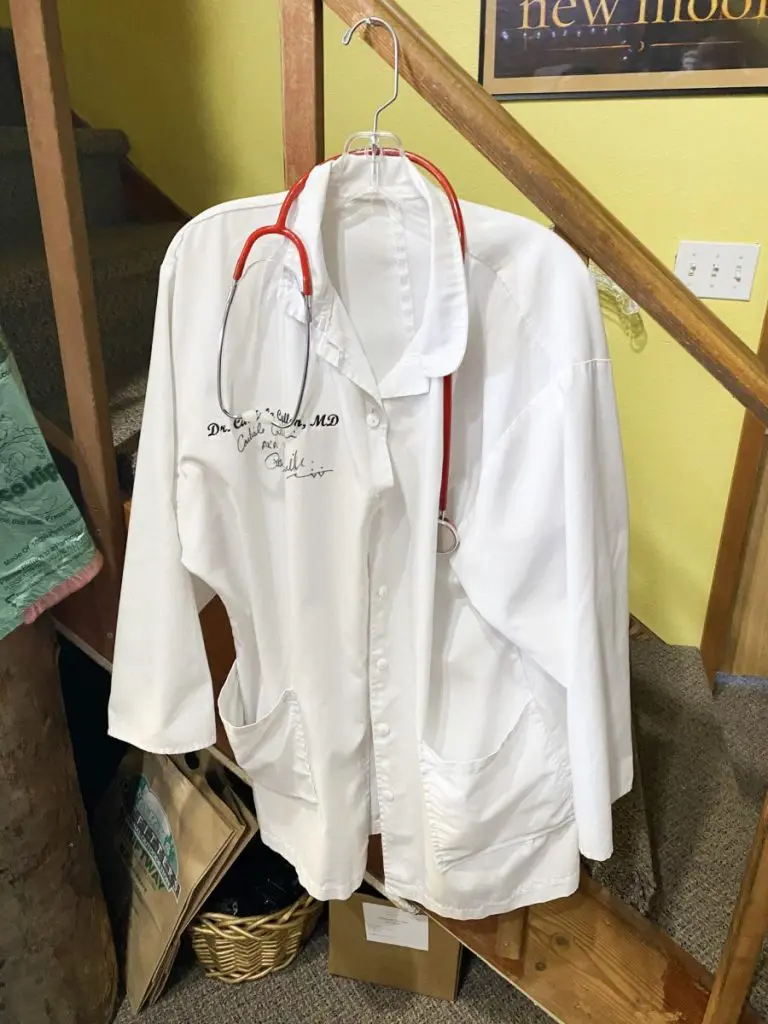 Be sure to check out Carlisle's lab coat.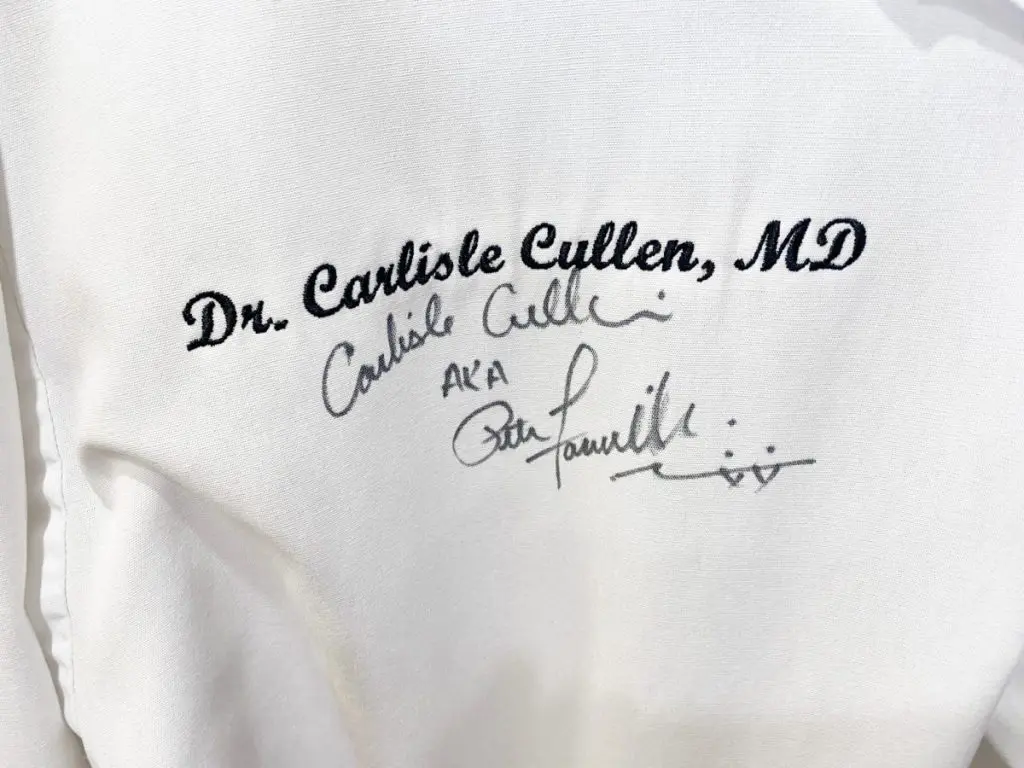 Don't forget to look in the pocket!
Visit the Twilight Forever Collection Exhibit
While you're in Forks, be sure to check out this free exhibit of Twilight memorabilia from the movies. Located in the Rainforest Arts Center, this small museum downtown uses every inch of space to display the wonderful collection of items.
We were on Forks on a Sunday in July, and the museum was open. (Check the website for current days and times.) Though free, we visited while Covid-19 procedures were still in place, so the museum was operating at a limited capacity.  This simply meant that we waited in line outside the museum until people left and we could enter. It's not a big deal, but they did cut the line off thirty minutes before closing. In the summer, this meant that the line was ended at 3:30 p.m. Be sure to keep this in mind as you plan, especially if you're only in Forks for a night.
Though the museum is small, it's packed with a lot of Twilight movie stuff.
One wall is a case filled with costumes worn in the movies.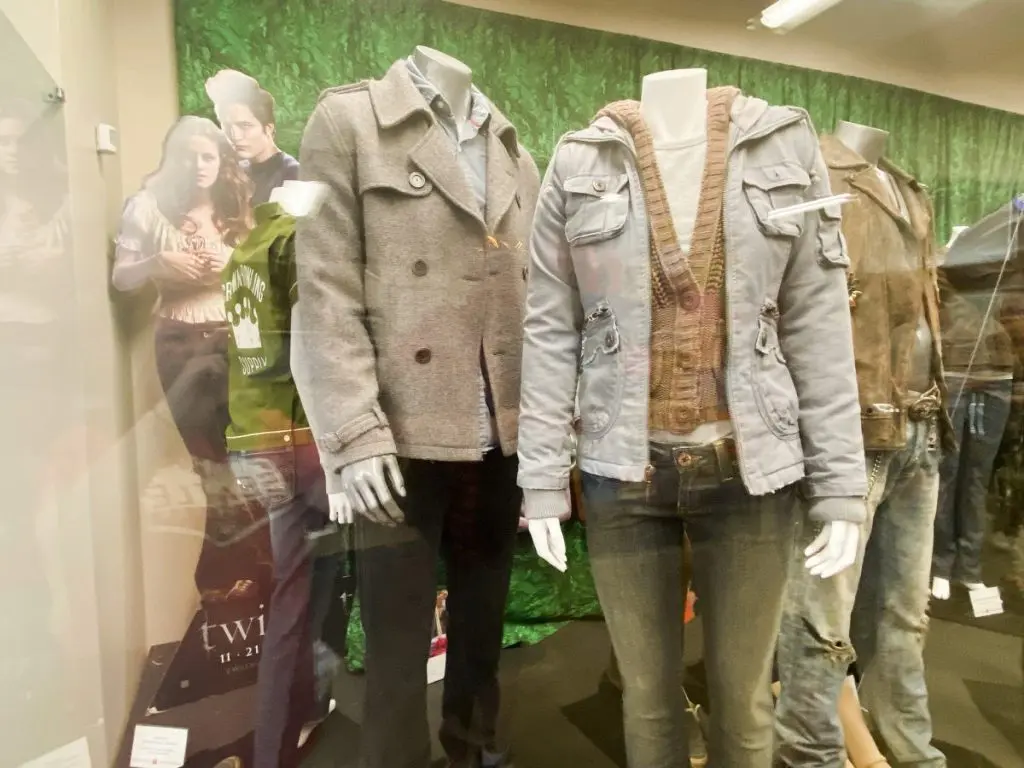 We spent much of our time there taking this part in.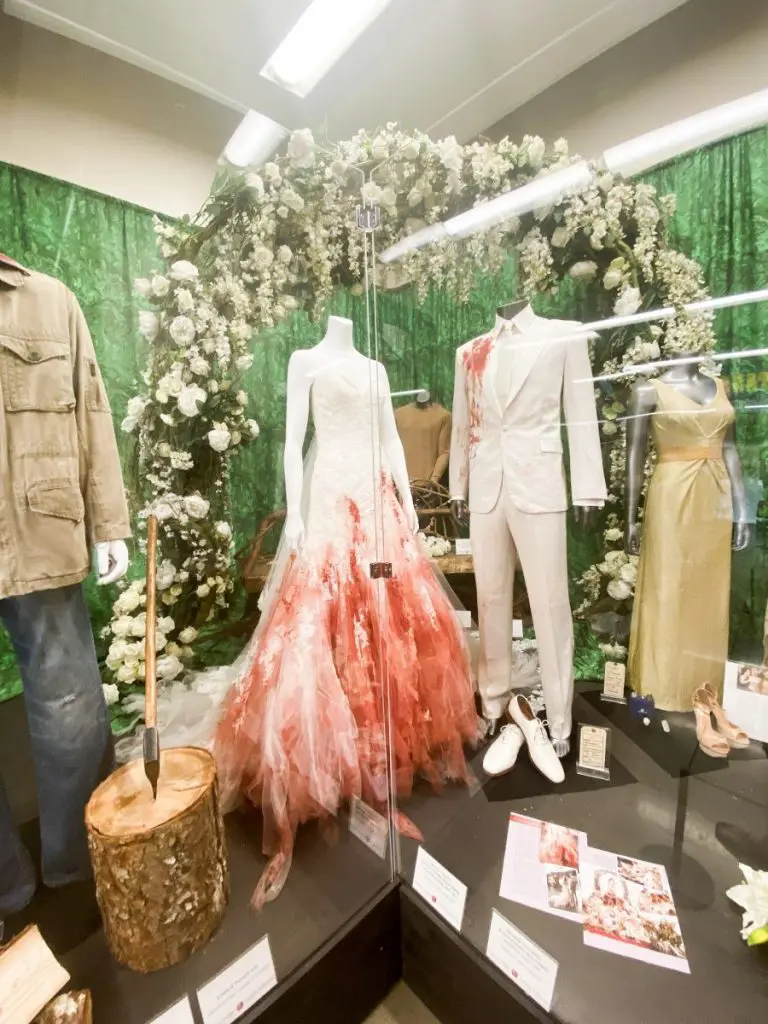 I loved this display of Twilight books.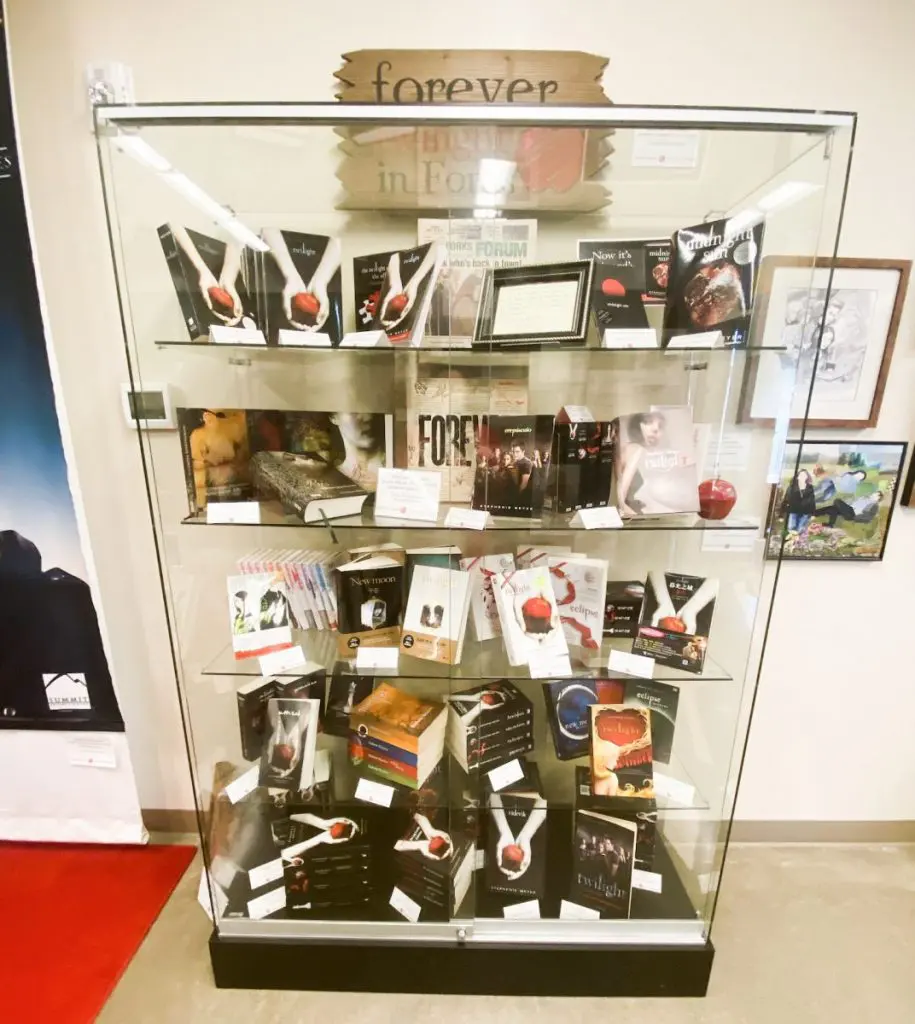 We walked around the space several times because we didn't want to miss anything, and we are pretty casual fans.
Diehard fans will want to spend some time here for sure.
Be sure you don't miss creepy Chuckesmee!
Shop for Twilight Gear
Directly across the street from Twilight Forever is a wonderful shop that has Twilight and American Indian items. It is definitely worth the stop. I bought a Twilight t-shirt here, and we had fun browsing around. There is a drug store next door (across a side street) that advertised Twilight souvenirs, but they were closed on Sunday when we were there.
Find the Twilight Spots Around Forks
One of the fun things to do in Forks is to check out the inspirational locations for the books. Most of the film locations happened elsewhere, but the city of Forks is certainly in on the fun when it comes to defining the places that Stephanie Meyers used for the setting of her books.
Swan House
775 K. Street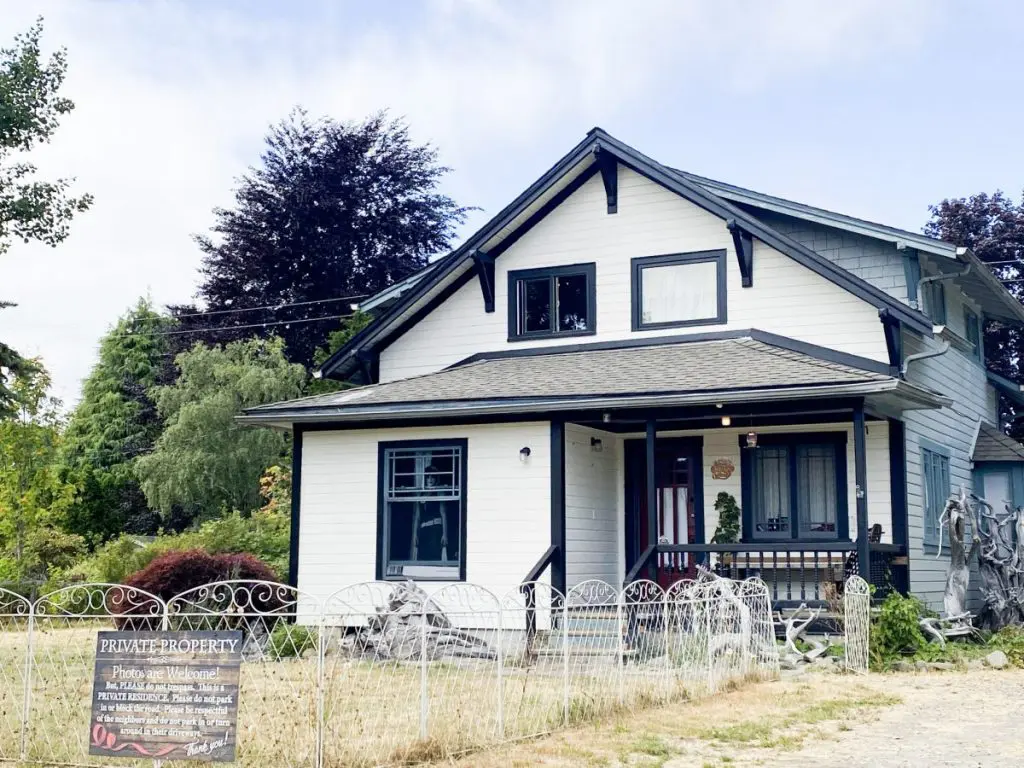 You can't look for the Twilight stops without finding the Swan house. Be sure to be respectful since it is private property.
The owners definitely get into the Twilight spirit.
Forks Community Hospital
530 Bogachiel Way
If you want to check out where Dr. Carlisle Cullen works, be sure to stop at the Forks Community Hospital. Again, be sure to be respectful; this is an actual working hospital.
Dr. Cullen's Parking Sign
Hospital Administration Building at Forks Community Hospital (near 5th Street)
This is a fan favorite–the parking sign for Dr. Carlisle Cullen near the hospital. From what I understand, a sign used to be located at the hospital. This one is near the Administration Building to keep tourists from impeding emergency services.
Cullen House
Miller Tree Inn: 654 E. Division St.
This Bed & Breakfast, also known as Miller Tree Inn, resembles the description in the book. Not only can you visit the location, but you can be a guest! I love how much the owners have embraced Twilight. Check out the mailbox.
Even if you're not a Twilight fan, the property looked like a serene and beautiful place to get away from it all.
We even stopped by again that evening.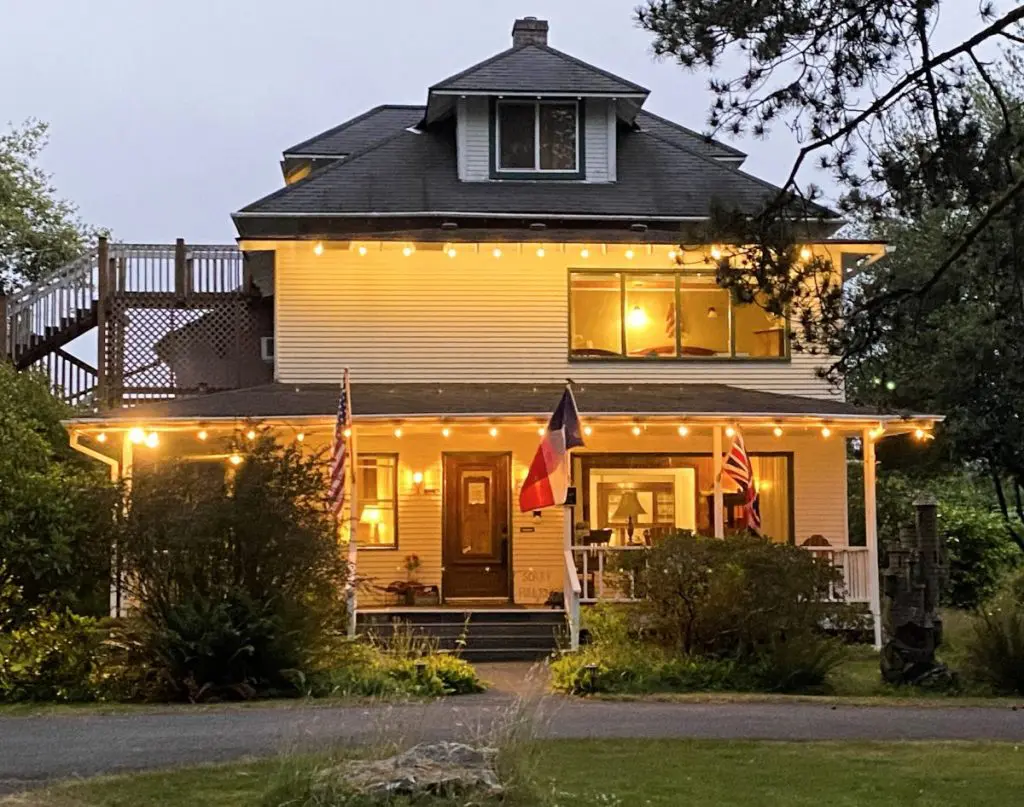 Forks City Hall and Police Station
500 E Division St,

You can snap a quick shot of Charlie Swan's workplace while you're zipping around Forks.
Charlie's Police Car (Tillicum Park off Hwy 101)
During our visit, this police car was parked near Tillicum Park just off of Highway 101. We presumed it was supposed to represent Charlie's police car from the books. Either that, or the officer was investigating the park. Or using the public restroom.
Newton's Olympic Outfitters ( Forks Outfitters)
This complex represents Bella's workplace in New Moon and Eclipse in the books. It's also not a bad place to pick up some snacks or souvenirs. The stores are connected inside so you can walk from one to another.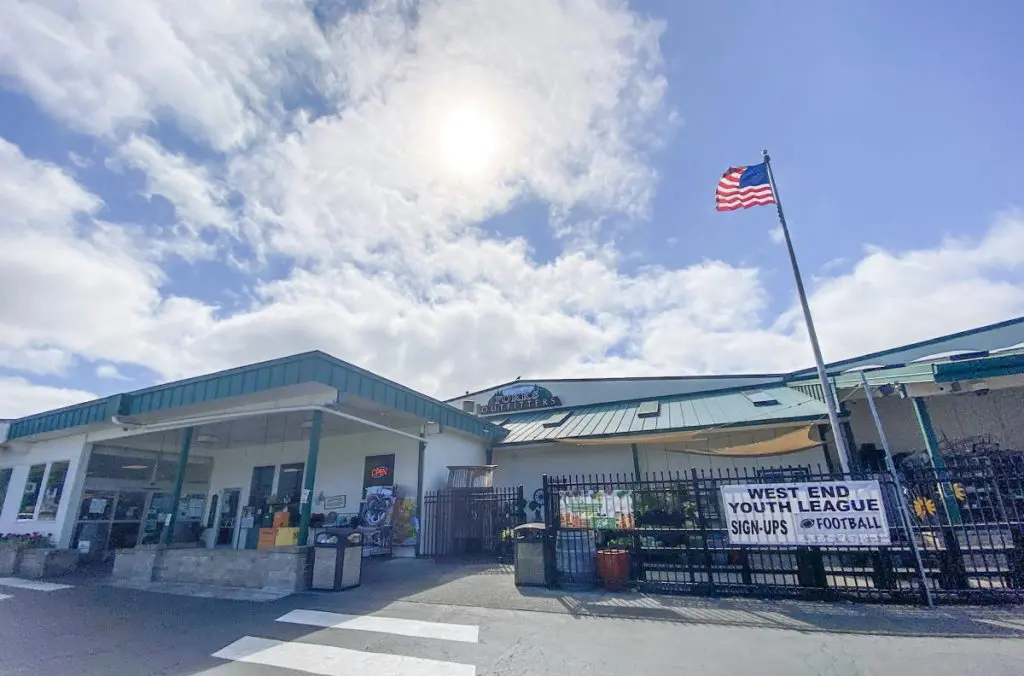 La Push, Baby
For dinner, we decided to drive out to the Quileute Reservation to check out River's Edge Restaurant. We'd heard that it was one of the best in the area. We also wanted to see more references from the book, so it was a win-win.
On the way to the reservation, you can grab a photo op with the Treaty Line sign at Three Rivers Resort. If you're looking for a place to camp or cabins, this area may be a place to look into.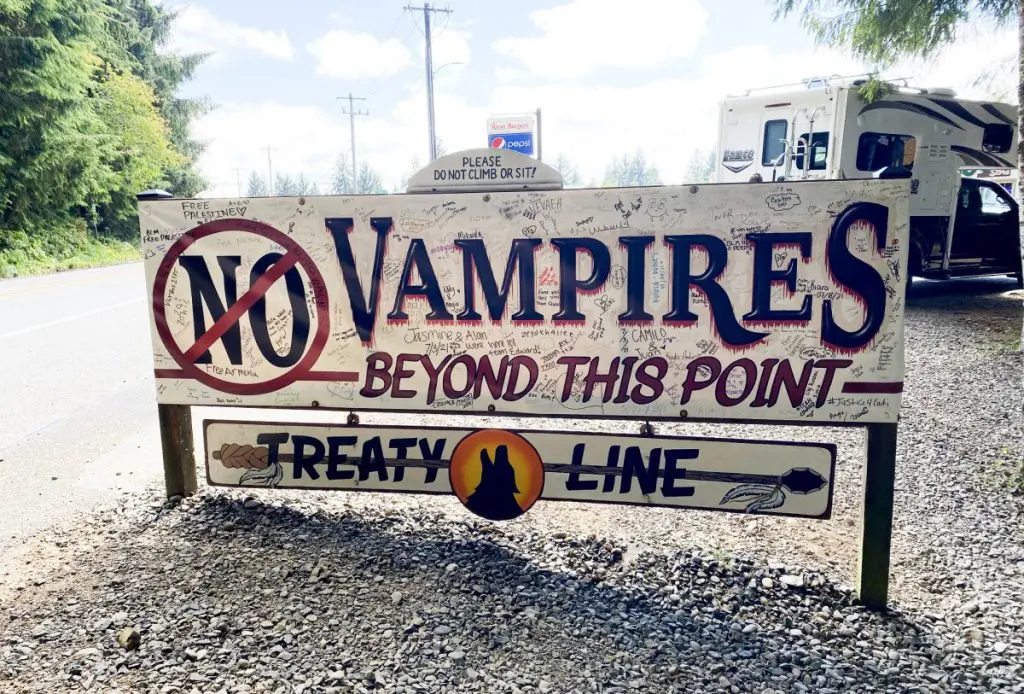 Eventually, you'll enter La Push.
Somehow along the way, we missed Jacob Black's Vacation Rental. If you'd like that picture, the address is 8320 La Push Rd. I guess we were so excited that we forgot to look for it!
Also, First, Second, and Third Beaches are popular destinations in La Push. We had plans for Ruby Beach this evening, so we didn't stop at these. Rialto Beach is just north of La Push on the Olympic Pennisula. And the Quileute Oceanside Resort is a popular destination. It had just re-opened a few days before we arrived, and reservations were sold out in minutes. I know. I checked.
We soon found our dinner spot–River's Edge Restaurant.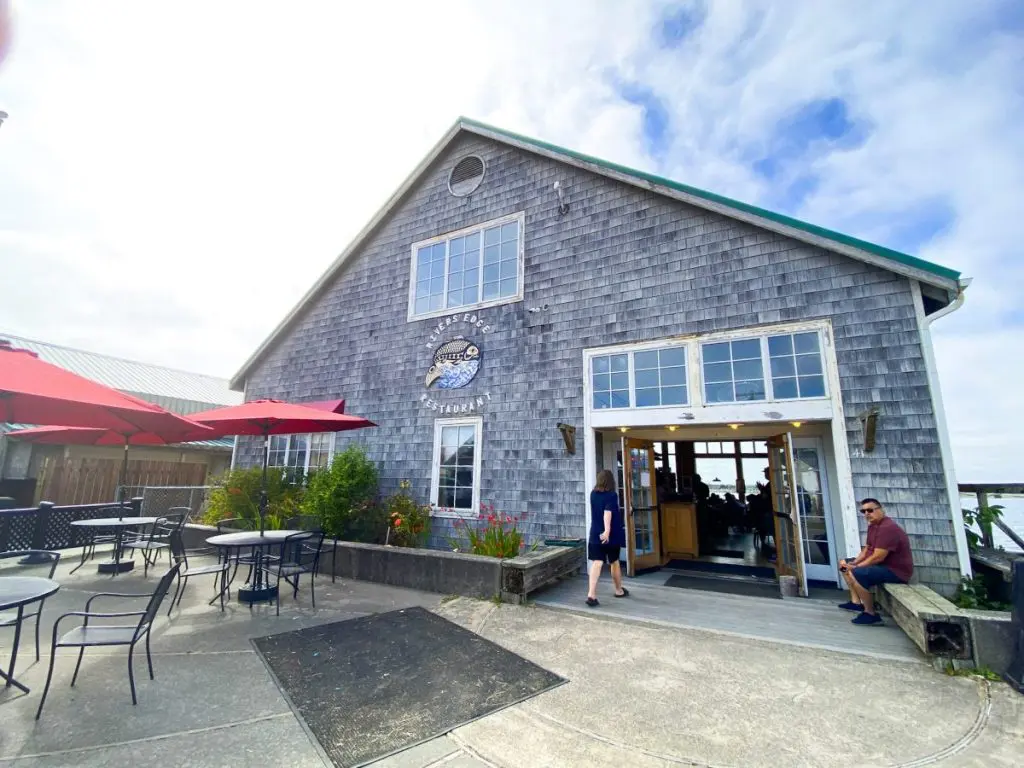 It's a casual place with water views through large windows.
We got a seat right by the window.
The view was lovely, and it kept us busy while we waited for our food. Jeff and Kristin had chicken strips and fries, and I tried out the fish and chips.
Yum! The breading was different than you might guess for fish and chips; it was more like how I'd expect catfish to be fried up. But it was delicious! I definitely left with a full tummy.
Olympic National Park–Ruby Beach and Hoh Rainforest
Our main reason for coming to the area was to get a taste of Olympic National Park. Since we were on an extended road trip, we picked a couple of areas to explore. One was Ruby Beach.
After dinner, we planned to visit the beach at low tide so we could maybe spot some aquatic creatures. We were not disappointed! I'll write more about that soon. Ruby Beach is certainly beautiful and should not be missed. See? It's not always cloudy and dreary in the Pacific Northwest!
The next morning we checked out the Hoh Rainforest and did a relatively short trail. During our visit, the Hoh Rainforest was really popular, and they were limiting entrances as the day wore on. We arrived about an hour before the visitor center opened so we wouldn't have to wait to get into the park. It's worth the visit!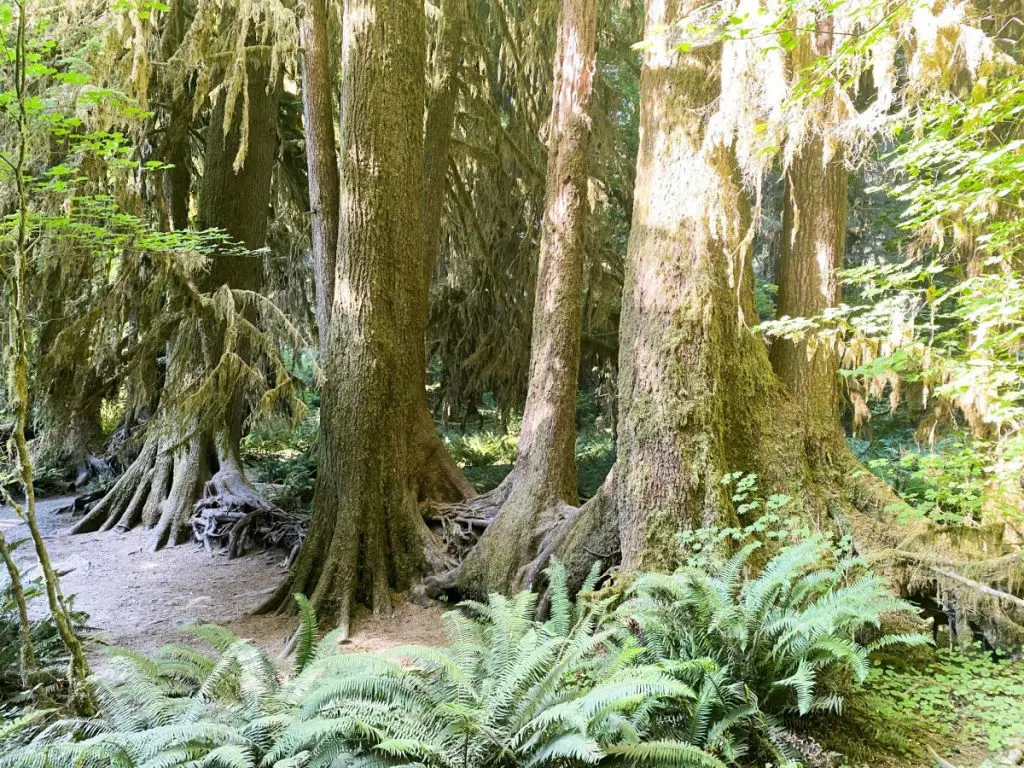 We'll never forget our experience here. These areas are just a sampling of this amazing park. Hopefully, we'll get a chance to return and explore more one day!
Kalaloch Tree of Life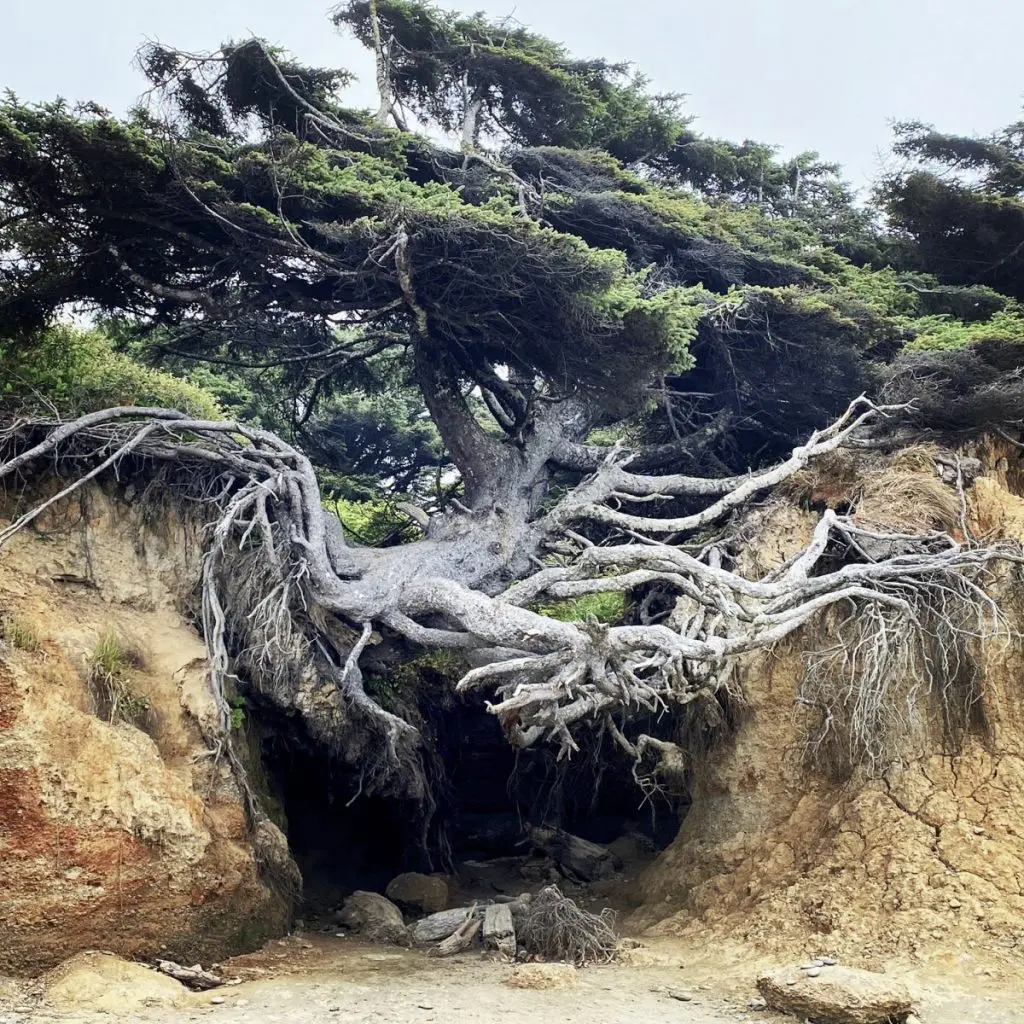 The Kalaloch Tree of Life lives about thirty miles away from the Hoh Rainforest. This is a cool stop, and it was on our way as we started our drive down the west coast. There isn't a fee to enter the area or park, so that is also nice. You'll want to turn on the Kalaloch Campground Road to access the trail to the beach. Compared to many trails along Highway 101, this one is not bad at all.
The tree is pretty amazing. This Sitka spruce, the largest type of spruce, seems to hover in the air, forming what is known as Tree Root Cave. At the Forks Visitor Center, we learned that the tree has lost even more of the land holding it in place, and the tree has dipped lower in recent years. Still, it hangs on.
The beach area is lovely. During our visit, it was low tide and foggy. We looked as if we were walking into nothingness.
After this stop, we continued on towards Oregon. We had reservations in Astoria, and we were looking forward to checking out the Goonies spots. We can now say we've driven most of the coast of Washington and all of the coast of Oregon.
To read about our Goonies experience in Astoria, Oregon, click here!
Pacific Inn Motel in Forks
When I discovered Pacific Inn Motel had Twilight-themed rooms, I knew where we were going to stay. Might as well go all out, right? I didn't even tell my family what I had done. They thought we were just staying in an average mom-and-pop motel that happened to be located in Forks. Needless to say, they were surprised and delighted.
Not every room is themed; there are only two, in fact. So make your reservation early! I booked this a few months out as we planned our trip.
Our room–
The room was on the second floor, and there wasn't an elevator, so that's something to keep in mind. We didn't care. The room was so much fun.
I mean, Edward keeps watch over you.
Jacob, too.
Another fun touch–the towels and curtain were black in the bathroom. This was a first for us!
This was the perfect place for our one night in Forks. We'll never forget it!
Forks is a great place for family fun, even if you're not exactly Twilight fans. I can honestly say we had a great time, and one movie at a time, we're becoming Twilight fans. Who knows, maybe I'll give the books a try again. In the meantime, I have my memories of Forks to reflect on, from book locations to nature's beauty!