This post may contain affiliate links. Please read our disclosure policy for more information.
We'd like to thank @visitkc for sponsoring our visit to Union Station in Kansas City.  As always, all opinions are honest and our own.
When visiting Kansas City with your family, be sure to put Union Station on your list for family fun.  This historic train station currently serves as the home of Science City, a children's museum that teaches science concepts through play.  But that's not the only reason to check out Union Station.
This venue, pictured in the foreground above, also houses attractions, shops, restaurants, educational films, traveling exhibits, and model train displays.  While you're here, you can send mail at the post office or get your taxes done.  Union Station is even an Amtrak stop!  You could easily spend hours here, so here is a list of some of our favorite things to do for families, especially during the summer.
1.  Check out the History and Architecture
Though this may not be the kids' favorite part of the trip, it's worth noting the historic displays.  We took the skywalk from our hotel room at the Westin Kansas City Crown Center.  It will lead you across the street to Union Station and a Kansas City Streetcar stop.
The skyway leads you inside Union Station, or you can exit just outside of the building.
As you walk towards the main part of the building, you can check out historic photographs and displays about the building of Union Station at the turn of the last century.
The main room is huge.  They don't make them like this anymore.
The architecture inside the main room is breathtaking!
It's easy to imagine people waiting here for their loved ones to exit the train.  I even walked over one evening to look around some more.  Union Station itself is open until midnight, but the attractions and other areas of interest have their own hours.  At night, someone was playing the baby grand piano, and as I walked around, a train arrived.  I did feel like I was part of an old movie.
2.  Take the Kids to Science City
This children's museum will have plenty to keep your kids occupied for a couple of hours, at least.
Science City has many interactive activities to spark the imagination while learning a little about science along the way.
After you explore the initial hallway, the exhibit opens up into…well…a city.
Exhibits in this area are grouped by concept.  You can access areas via this elevator.
Or you can wind around various levels and check out exhibits along the way.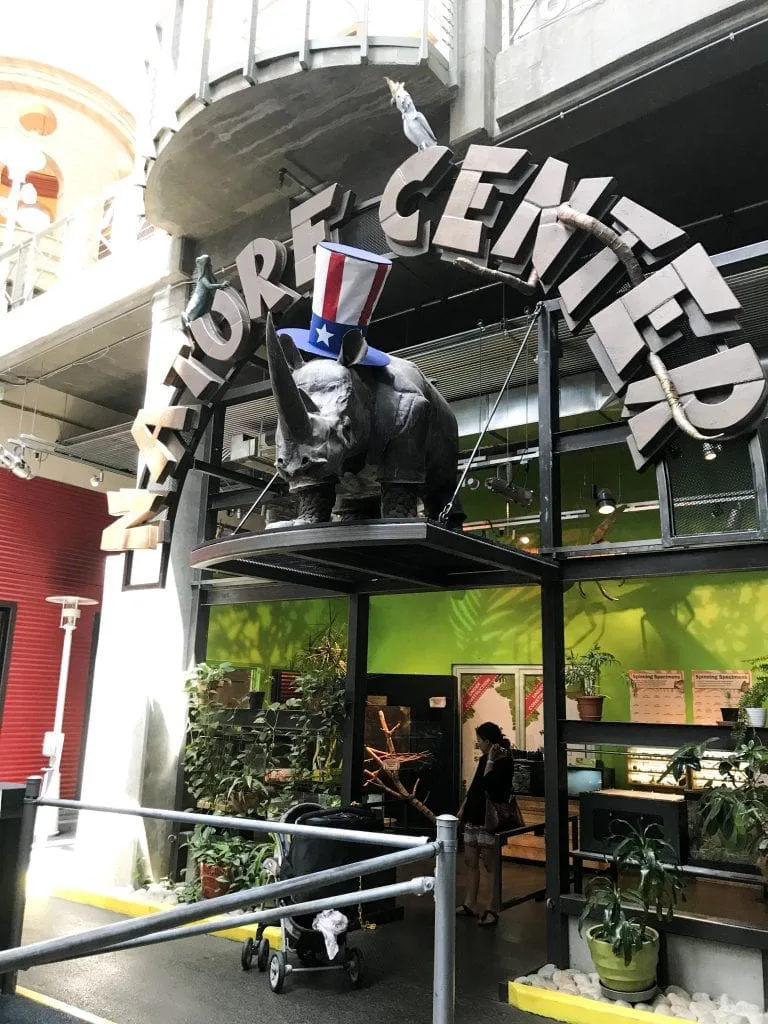 If you're looking for hands-on activities, you've come to the right place!
Kristin's favorite part was the water play area.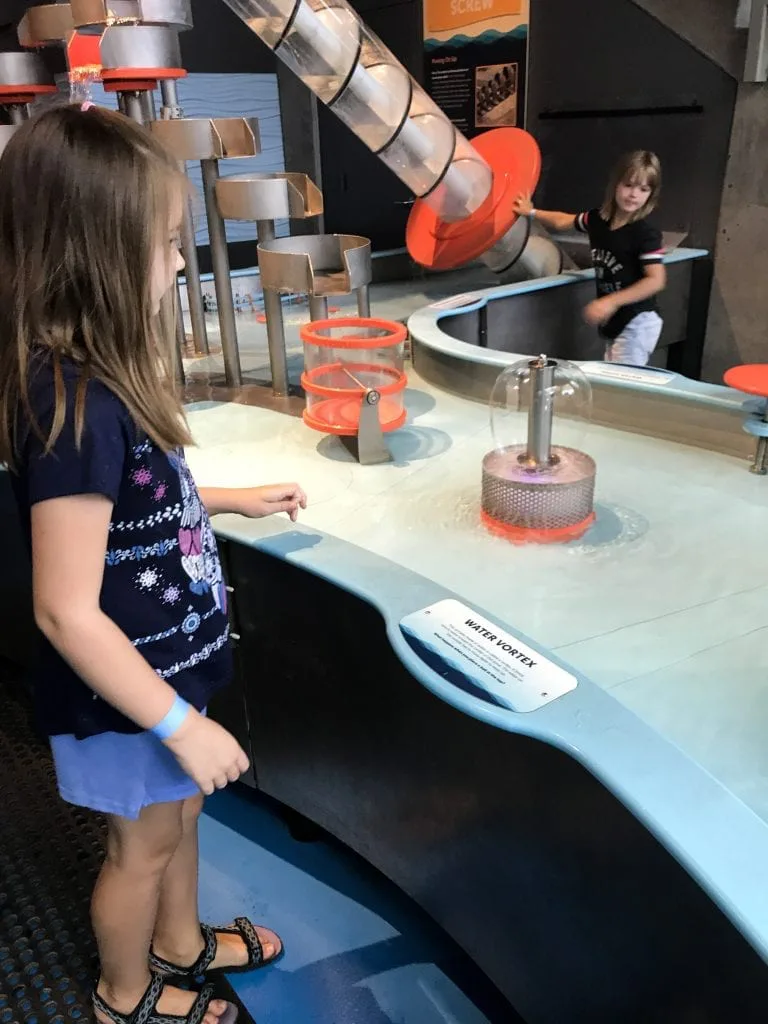 Such a fun place to explore!
3.  See Any Temporary Exhibits, Like Dinosaurs Revealed
It's a good idea to keep an eye on any temporary or traveling exhibits that may be at Union Station.  We saw the current exhibit, Dinosaurs Revealed.  Kristin said this attraction was her favorite part of our visit to Kansas City.  You can read more about our visit here.  Dinosaurs Revealed is scheduled to be at Union Station at least until January 2019.
4.  Watch the Model Trains
If you have any train-lovers in your family, you definitely should check out the room with the model trains.  It's completely free!
You won't believe the attention to detail of the displays.
Several tables comprise the display.  We walked among the tables over and over trying to take it all in.
My favorite part is this little drive-in movie display!

The KC Rail Experience also teaches more about the history of trains in Kansas City.
5.  Consider Visiting Some of the Other Attractions in Union Station
While we hit the highlights, there are still other things to explore in Union Station, like Gottlieb Planetarium.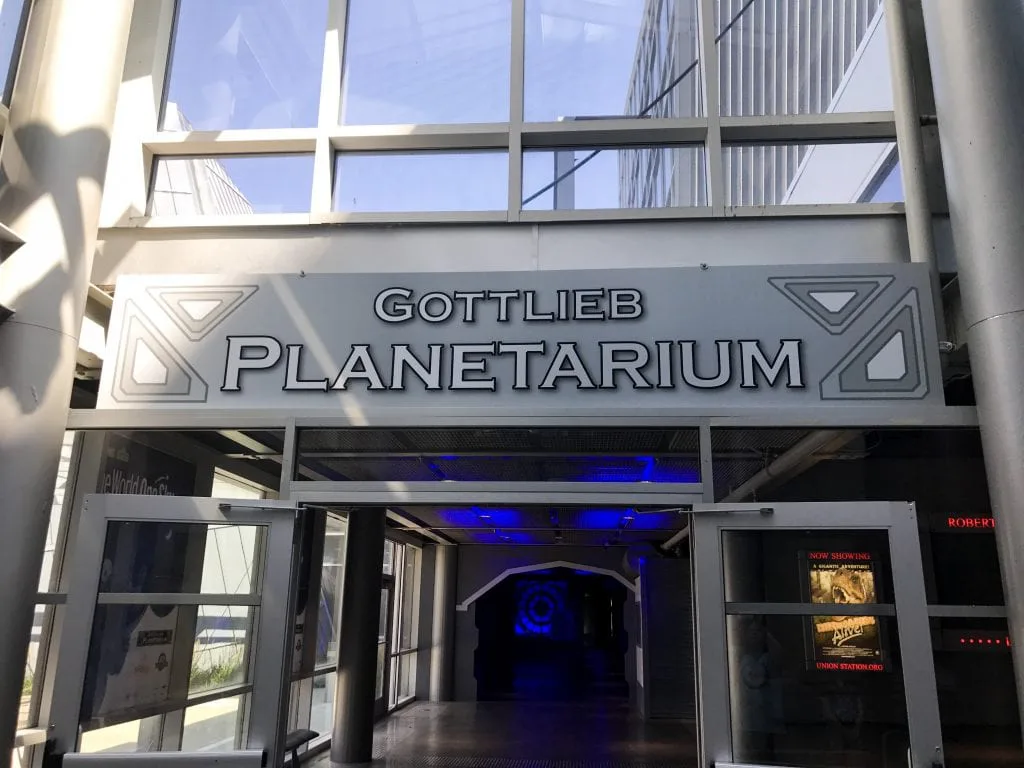 We also noted that Regnier Extreme Theatre shows educational films like Dinosaurs Alive and Extreme Weather.  Sometimes a first-run movie is also shown.  This theater is billed as Kansas City's biggest screen, so keeping up with the movies here is a good idea!
City Stage Theatre produces children's theatre during the year.  Check the website for upcoming productions!
6.  Experience the Shops and Restaurants of Union Station
If you're looking for fine dining, Pierpont's may fit the bill.  Enjoy steaks or seafood while you dine in the elegant architecture of Union Station.  Harvey's may be more your style if you're looking for hamburgers or sandwiches.  If you need a snack, Union Station has you covered with a coffee shop and a chocolate factory.
One of our favorite shops in Crown Center, The Kansas City Store, has a location in Union Station.  We loved this store, too, and we also found a cold drink for sale here.  Science City and temporary exhibits also have gift shops.
Visiting Union Station was certainly a highlight of our trip.  We had a view of Union Station from our hotel room, and we enjoyed easy access to Union Station via the skywalk.  We also got to experience several attractions in the cool air conditioning. Keep Union Station in mind for your family's visit to Kansas City!