This post may contain affiliate links. Please read our disclosure policy for more information.
We'd like to thank Historic Tours of Boston for sponsoring our visit to the Boston Tea Party Ships & Museum. As always, all opinions are honest and our own.
If you've followed our blog for any time at all, you'd know that we love learning more about history as we travel the United States. Our trip to Boston was no different. Every corner of the city seems to be a location of historic significance. When we discovered there was an interactive museum that focused on the Boston Tea Party, we couldn't wait to go!
We didn't know what to expect, but it turns out, the whole experience was a lot of fun. Everyone who visits the museum becomes part of the story, and the museum turned out to be a highlight of our family's visit to Boston.

Arriving at the Boston Tea Party Ships & Museum
Our stop in Boston was part of a three-week road trip that ended taking us down the east coast. We'd just spent three days in Salem, Massachusetts, before making the drive to Boston. We drove straight to our hotel--Harborside Inn.
This turned out to be the perfect place for our first time in Boston; everything we hoped to see was nearby. We also were lucky to have our room ready for us, in the morning! We moved our stuff in and made our way, on foot, to the Boston Tea Party Museum.
As you can see from the map above, the walk was about 15 minutes from our hotel. You can also note that the New Enlgand Aquarium is across the street from our hotel. This is also where our whale tour left.  The main Old Town Trolley hub is in this area, as well, so again, our hotel was perfect.  If you walk a couple of blocks north of the hotel, you'll find Faneuil Hall and the Freedom Trail. Directly across the street is the Black Rose Irish Pub, a place we'd wanted to try but hadn't really looked into its location until we arrived. Again, perfection.
There are some other hotels in the area, but I don't know much about them. Still, there are some options. When I was looking for lodging, Harborside Inn seemed to be the most economical choice for the location.
As you can imagine, we were excited to see the museum sitting out on the water. The entrance is actually in the middle of Congress Street Bridge. There are also Old Town Trolley stops nearby, which we had tickets for but had not yet looked into redeeming because we weren't sure how things worked yet. Plus, our museum tickets were reserved by time, and we didn't want to miss our scheduled reservation.
As we got closer, we could see that people were lining up outside the entrance. We showed our tickets on my phone, and we were on our way to adventure.
Beginning Our Adventure
The first part of the experience takes you into a replica of the Old South Meeting House. It's nice to note that on this hot summer day, the interior rooms of the museum are air-conditioned. Our hostess, in character, greeted us all as we chose our seats on long wooden benches. She made small talk with everyone in the room about where we were from and some remarks about those places. She was lively and a lot of fun.
When most guests had made their way to the meeting house, we were all given cards that linked us to a person with a role in the Boston Tea Party.
The card gave information about your person and what happened after the events of December 16, 1773. We got to keep the cards as a souvenir. A couple of the guests were given lines to say when Samuel Adams appeared to organize the "tea party." We also practiced our general relations to what Sam would say when he arrived. So fun!
Sure enough, Samuel Adams appeared and outlined the grievances of the colonists in Boston. We shouted in affirmation and stomped our feet, when appropriate.
Boarding the Ship
After the meeting, it was time to board a tea party ship and fling the tea into the harbor.
We exited the meeting hall and went outside where the boat was moored.
Another lively character explained what we'd be doing and how we'd explore the ship's areas below deck.
Everyone who wanted to would get a chance to throw the tea overboard after a brief tour.
We got to see what life would've been like for a sailor in the 18th century.
It's amazing how people lived on these ships.
When we all returned to the deck, we all took turns throwing the tea into the harbor. Interactive elements like this are so helpful as teaching tools for kids.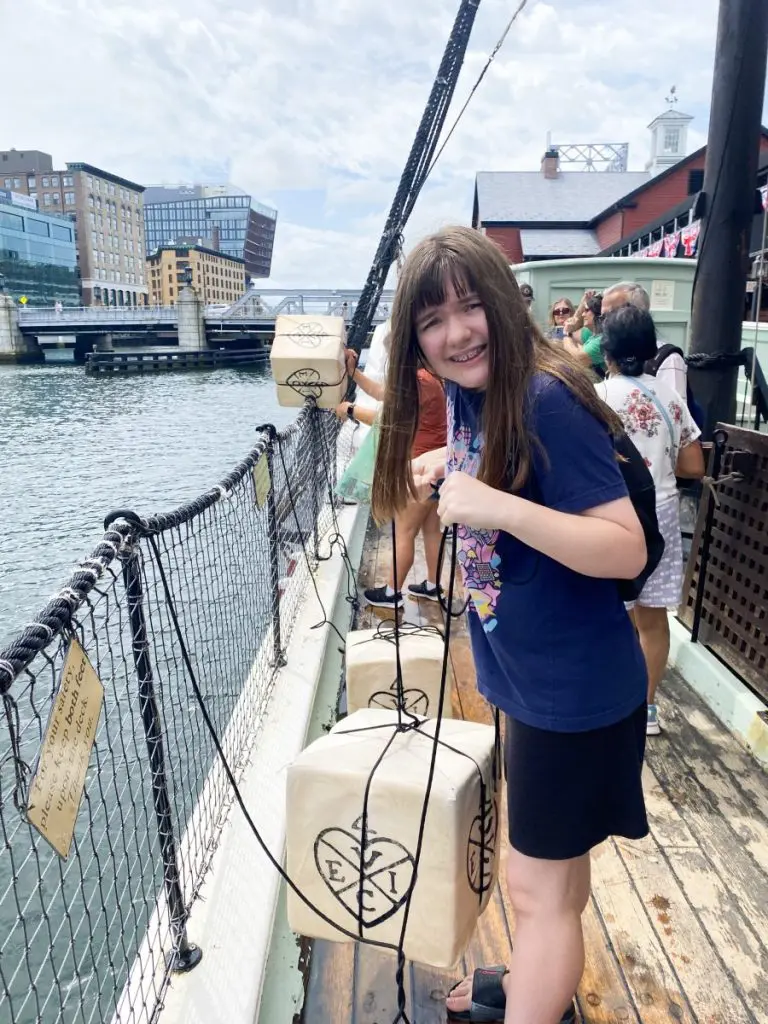 But it's a great experience for adults, too.
You do have a nice view of the harbor as you wait your turn to throw the tea.
There are some exhibits to see while you wait for all the tea-tossing to end.
Heading Into the Indoor Experiences
After you throw the tea into the harbor, there's more! I didn't read about the museum ahead of time beyond some pictures and trailers on some videos. I didn't realize that there would be more to see after the "tea party."
When everyone was ready, we went back inside (to air conditioning!) to complete our adventure. You aren't allowed to take pictures or video inside, due to the nature of the exhibits.
The first experience is a 3-D presentation that shows the thoughts and feelings of colonists before the revolution. People were divided, and this presentation does a good job of explaining how people felt during the events after the Boston Tea Party and leading up to the revolution. I think we forget that not everyone was in agreement about what was happening and what actions should be taken.
The next experience allows you to see the Robinson Tea Chest and other surprises. Again, the creativity in these exhibits is fun and educational.
The last experience is a film about Paul Revere. This presentation explained facts that I would make connections with over and over again for the remainder of the road trip.
Dining and the Gift Shop
After your adventure, you can get refreshments at Abigail's Tea Room, if needed.
It looked to have counter service options and grab-and-go items, including goodies from the bakery. And, of course, tea!
There is a spacious dining area for you to relax and enjoy your treats.
The gift shop is not to be missed, even if you just look around. They have some of the old standbys, like the magnet we purchased.
But they also have some unique items, including many varieties of tea. I picked out a teacup for display at home.
I'd picked out a teacup in Colonial Williamsburg a few years ago, and it seemed fitting to get one at the Boston Tea Party Ships and Museum gift shop. I mean, tea, right? The teacup came in that gorgeous box. I somehow managed to get the teacup home in one piece, and I kept the box. It's too pretty not to!
We had a great time at the Boston Tea Party Ships and Museum. It really was the perfect way to kick off our visit to Boston. I know Kristin learned more by being actively involved with the story, and I think Jeff and I learned a lot, too. If you're wondering if you should go if you don't have kids with you, I'd say give it a go. We saw plenty of parties without young people, and I think there is something for everyone. I'd definitely do this experience again.
This is one of the museums we've encountered that are using more technology to tell stories and immerse visitors in history. The first one we encountered was the Abraham Lincoln Presidential Library and Museum in Springfield, Illinois, several years ago. Since then, we've enjoyed more museums that use this technique, including the museum at George Washington's Mount Vernon and the Museum of the American Revolution in Philadelphia. If you like these types of experiences for you and your family, you'll love the Boston Tea Party Ships and Museum!
Check out some of our other adventures!