This post may contain affiliate links. Please read our disclosure policy for more information.
If you're in the Nashville area, be sure to make a stop at Andrew Jackson's Hermitage. This home of the seventh president of the United States is a great way to get a glimpse of life in the early 1800s. While Andrew Jackson's legacy is complicated, I always want to learn more and teach my kids about American history.
Make no mistake, Jackson's views on Black people and American Indians are absolutely abhorrent. My heart breaks when we visit plantations where enslaved people worked and lived. I'm sick to my stomach when learning more about the atrocities committed against American Indians, including Jackson's removal policies and the Trail of Tears.  But somehow, avoiding the history of what happened doesn't seem right. We have to learn from the past to move forward. Pretending it didn't happen or "wasn't that bad" is not an option. So, we visit historical sites and learn what we can.

If you're staying in Nashville and have your car, it's a short drive to the Hermitage that takes about a half hour. We stayed just outside of downtown Nashville at the Best Western Plus Music Row, and it was a nice place for families–close enough to go downtown to see some of the shenanigans on Broadway but far enough to get away from them when you wanted to. We made our reservations a couple of days in advance, but I don't know that you really needed to.
Arriving at Andrew Jackson's Hermitage
Because of our reserved ticket, we ended up doing the visit a tad out of order. We went straight to the mansion to make our tour on time. When you arrive, you'll park your car and head toward the visitor center area. Once you're checked in, you can go to the museum or the grounds. Our tour was starting in a few minutes after our arrival, so we walked, briskly I may add, to get to the mansion tour on time. It was also an overcast and sometimes rainy day, so we hoped to make it to the porch of the mansion before any raindrops!
The path to the tour will lead you in front of the house, and then you'll end up on the opposite side to join the tour.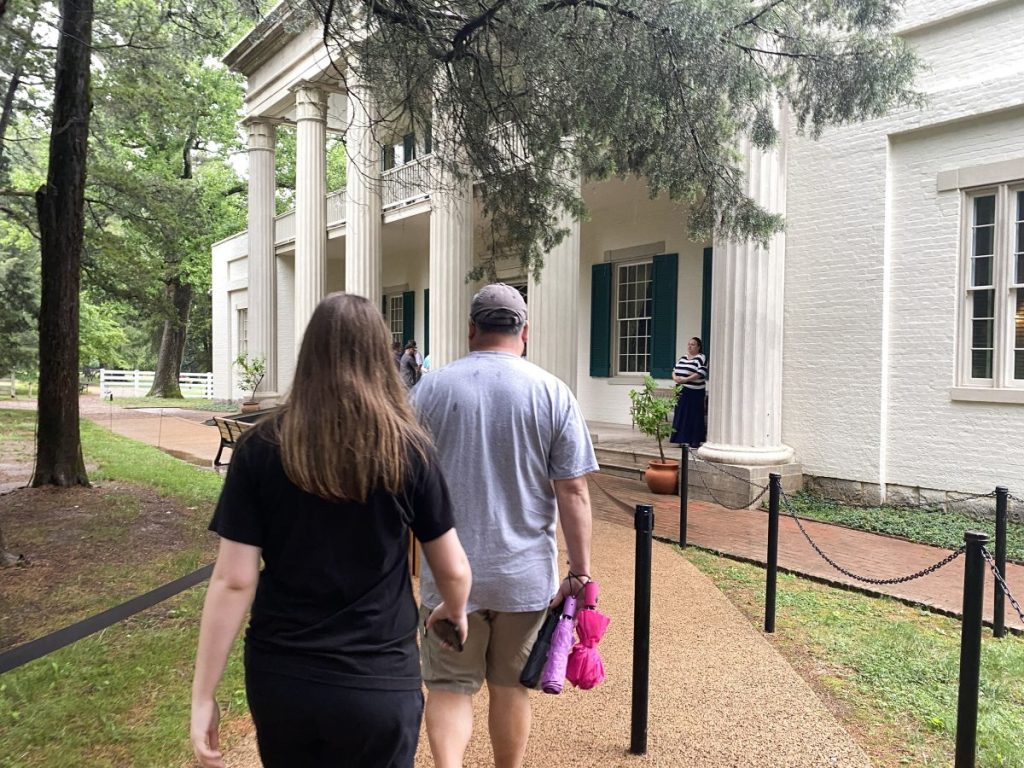 You'll then wait on the porch until it's time for your tour to begin.
Here is the view from the porch.
Soon, our tour began. You aren't allowed to take pictures inside the mansion, so you'll have to take my word for it–it's beautiful. The two-story Greek revival mansion was built in 1819 on land Jackson had purchased in 1804. Jackson called it the Hermitage because it was a place where he could relax and be a hermit, so the story goes. Originally, Jackson and his wife, Rachel, lived in cabins on the land. The farm grew, thanks to the work of Jackson's enslaved people he brought with him. In 1813, Jackson was commissioned to fight in the War of 1812 due to his achievements in the Creek War. When he came home to the Hermitage after the war, the Battle of New Orleans had made him a superstar.
In 1828, Jackson was elected president over incumbent John Quincy Adams. Just before the inauguration, Rachel died at the Hermitage. This is actually an intriguing story. The Jacksons had been facing some political backlash during Jackson's presidential campaign. Apparently, Rachel had been married before, and she thought her husband had filed for divorce when they separated. Well, apparently not. When Rachel married Andrew, she was still technically married to her first husband. When political foes in Washington found out, the rumors and accusations concerning Racheal's character exploded.
She was also a bit backwoodsy, so people talked about that, questioning her future behavior in what we would now call the White House. When Jackson was elected, Rachel dreaded going to Washington to be surrounded by these people. She is quoted as saying, "I would rather be a doorkeeper in the house of God than live in that palace in Washington." You see, she would rather die than live in Washington. And she did! She died in 1828 of what seems to be a heart attack or similar ailment.
The Jacksons had no children of their own, but they adopted a nephew and called him Andrew Jackson, Jr. They were also guardians to other children. While Jackson was president, Jackson, Jr., cared for the Hermitage.  He married a woman named Sarah, and they had children. Additionally, other family members would call the Hermitage home over the years.  When Jackson returned from Washington, the mansion had undergone renovations and recovery from a fire. This is how we know the Hermitage Mansion today. Jackson lived there for the rest of his life. He died in 1845, and the home remained in the possession of Jackson, Jr. until 1856 when the mansion and some land was sold to the State of Tennessee. The family stayed on to care for the property until 1887, though Jackson, Jr. died during the Civil War.
Because there is such a close connection to the time the family was there and its sale to the state to preserve the property and to manage Jackson, Jr.'s debts, there are many actual artifacts from Andrew Jackson and his family in the mansion. So many historical places are discovered and/or preserved at a later time that it's impossible to track down actual artifacts of the inhabitants. Not so at the Hermitage.
References:
"Andrew Jackson's the Hermitage–Presidents: A Discover Our Shared Heritage Travel Itinerary." Nps.gov, 2023, www.nps.gov/nr/travel/presidents/jackson_hermitage.html#:~:text=In%201804%2C%20Andrew%20Jackson%20purchased,log%20buildings%20on%20the%20property. Accessed 31 July 2023.
"Rachel | Andrew Jackson's Wife and Love of His Life." The Hermitage, 26 June 2019, thehermitage.com/learn/andrew-jackson/family/rachel/. Accessed 31 July 2023.
The Enslaved Quarters and Grounds of the Hermitage
After the guided tour of the mansion, you are free to roam the grounds. At the end of our tour, it started raining. We did our best to explore, but we were probably quicker than usual to stay out of the rain.
Here is the back of the mansion.
We initially looked at some of the structures near the mansion, like the kitchen. Before long, though, we ventured out into the rain to see the First Hermitage where the Jacksons lived first before it was converted to a slave's cabin and some of the slave quarters at the edge of the premises.
This part of the Hermitage is educational and sad. When Jackson died, he had 150 enslaved people on the plantation. There is a wagon tour you can book to learn more about the enslaved people at the Hermitage, but we didn't take this tour during this visit.
We did walk down to the spring house.
We walked around this area until it really started to pour. We then headed straight to the museum, skipping his grave and family burial site.
The Hermitage Museum
The museum does an excellent job of telling his story by not only outlining his accomplishments and life highlights but also revealing his faults. Yes, he kept the union together a while longer before the inevitable Civil War. Yes, he was known as the president for "the common man" due to his humble beginnings and lack of formal education.
We also learned that he was often a fighter, and he was involved in a duel that resulted in his enemy's death and a bullet stuck in Jackson's chest for the rest of his life. Actually, we may have learned that on our ghost tour in Nashville.
But we can't ignore how he profited from slavery and treated his enslaved people cruelly and as "less than" in every way. And we can't ignore how his Indian removal policies caused the deaths of thousands of American Indians, all in the name of westward expansion, for resources and land for white people. There are those who say that you can't judge history through a contemporary lens, and maybe there's a speck of truth there. But I can't ignore what happened to entire groups of people.
Again, I don't believe we can ignore history. I'd rather know the facts, and I want my kids to know the facts as well. I find history fascinating, and the items in the museum are worth a visit.
The artifacts tell the story of this complicated family. Andrew and Rachel had an enduring love story. He was devasted when she died.
Below is Jackson's carriage.
After the museum, we watched the short film about Jackson. See, I told you we did things backwards! It worked for us. But it's probably best to start with the film and museum, if possible.
Before we left the plantation proper, we headed to the gift shop for a magnet.
We also ended up with a t-shirt and a Moon Pie.
After the Hermitage
After you leave the Hermitage site, you can drive around and see some other structures related to Jackson and his family. You may also see some animals.
You can also catch this view of the mansion.
This is how visitors would've come to the Hermitage in the past,
The trees are taller now.
You can also see the Hermitage Church. The land was donated by the Jacksons.
The nearby churchyard if the final resting place of Jackson's relatives. It's also known as the Donelson cemetery. The niece who served as First Lady during Jackson's presidency was a Donelson.
You can also drive over to the Tulip Grove mansion that belonged to Andew Jackson Donelson and his wife Emily. It was built while the couple was in Washington, D.C. Emily died of tuberculosis in the house not long after returning to Tennessee. Soon, Donelson left for Memphis and sold the home. Today, the mansion is rented out for events.
Andrew Jackson's Hermitage is a great place to get in a little history while you're visiting Nashville. I'm glad we made the time to check it out. I'm always ready to see a historic home to learn more about the past, and it's even better if it's a president's home. If you're in Nashville, give it a go.
Other Tenneesee adventures:
The Grand Ole Opry in Nashville
Hattie B's Hot Chicken in Nashville
Cades Cove in the Smoky Mountains