This post may contain affiliate links. Please read our disclosure policy for more information.
Last month, we were still in the middle of producing Beauty and the Beast at my high school. If you've followed my life, you know that play production is a family affair. We were spending both Saturday and Sunday of most weekends working on the set of the show, and that's when I didn't have a speech tournament on Saturdays. When I saw that the Wonders of Wildlife National Museum and Aquarium in Springfield, Missouri, was offering discounted tickets for area appreciation, I thought this might be the perfect way for our family to take a little break and explore a little.
After a little research, I learned that our county was part of the promotion that was taking place for the month of March. Though we still had much to do, a little break was just what we needed. One Saturday, instead of heading to the school to build set pieces, we drove an hour away to check out this attraction.
About the Wonders of Wildlife Museum
This attraction is about 30 minutes from Branson, Missouri.  If you're planning a trip to Branson, this museum and aquarium is well worth the drive.  Located in the original Bass Pro Shop, the museum features artwork and taxidermy animals in beautiful settings.  The aquarium includes live creatures from all over the world. 
I know some people are not fans of aquariums, and hunting animals may seem barbaric if you haven't grown up around it.  But this attraction, like many aquariums and displays around the world, teaches about protecting wildlife and conserving habitats.  Also, the museum addresses the history of hunting in North America and how some species were wiped out or nearly so.  Education is important to conserving our wildlife.  Because I've grown up in the Midwest, I also understand how hunting responsibly helps to control populations of animals.  When populations get too large, animals are more susceptible to disease, starvation, and injury.   Learning to coexist with nature is important; it's important to me for Kristin to learn about wildlife, from sea turtles to deer.
Wonders of Wildlife: Wildlife Galleries
We arrived at opening, and there weren't many people there yet.  I knew it would get busy on a Saturday, so our plan was to get there early.  This is probably our number one tip for any attraction.  You can always nap later while the crowds are in the attraction, right? 
We started out with the Wildlife Galleries.
This section of the attraction contains taxidermy animals and artwork mostly from North America, but there are some displays from around the world.  One thing to realize–many of the "stuffed" animals are older.  Hunting sensibilities have changed over time.
Here is the polar bear.
The first part of the galleries focused on North America.
We walked down hallway after hallway of animals.
I never really thought about turkeys being in trees until I saw this display.
The galleries have beautiful paintings, too.
Here's Lewis and Clark.
Around every corner, we found something new.
All of the displays contribute to the story of our nation.
Educational displays are abundant, too.
Eventually, the displays begin to reflect other parts of the world.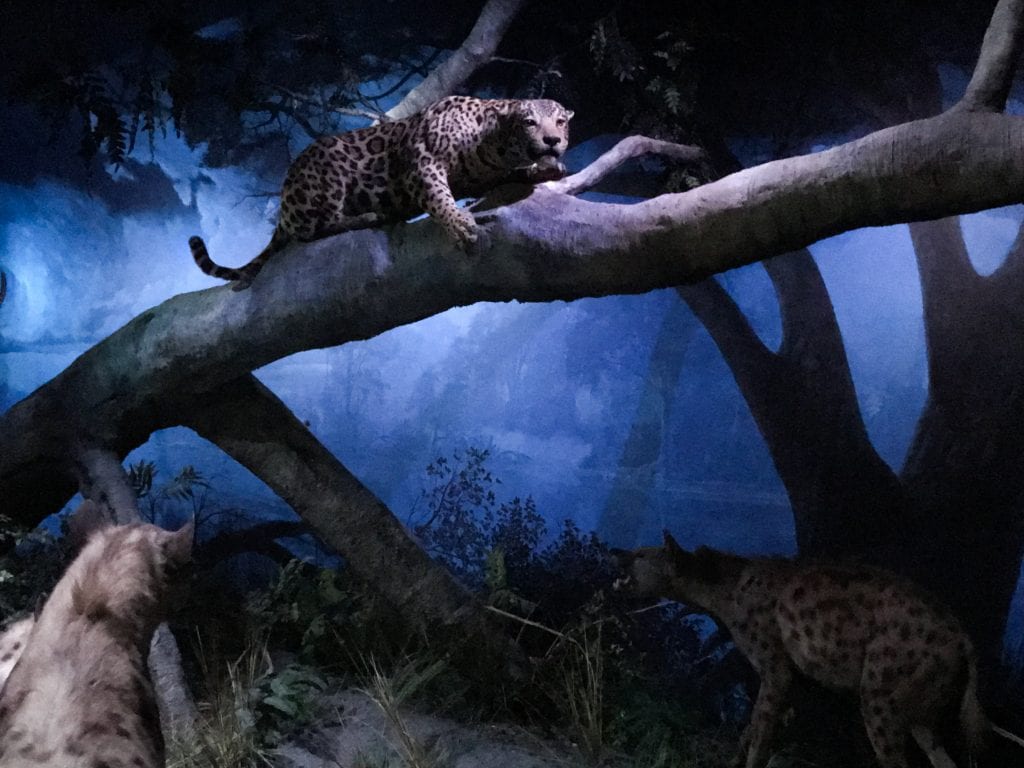 Each display is beautiful!
You begin to feel like you've been transported to another place.
Without the danger, of course.
Wonders of Wildlife: The Aquarium
After about an hour, we found our way to the aquarium portion of Wonders of Wildlife.
This portion of the attraction is much more "lively."
Some fish are more local.
Others are tropical.
Here is another view of this room.  It's enormous!
Like many aquariums, this one has a tank in which you can touch rays.  You can only touch the rays if they choose to come to you.  I thought the view from above was cool.
Later, we were able to get near the tank.
Here is a short video of some of our experiences.
We do enjoy aquariums.  I think when kids have favorite animals that they experience, they will care about those animals even more when they become adults.
Oh, and my two companions love sharks, by the way.  Even pre-historic Megladons.
Towards the end of the tour, you can color a fish.  Someone scans it into the computer, and then you can watch your fish swim around.
Kristin's fish is on top with the hearts.
We had a great time at the Wonders of Wildlife National Museum and Aquarium.  We spent the entire morning there, and when we left, it was definitely crowded.  The ticket lines were longer, and it was more difficult to see the exhibits.  Again, our plan to beat the crowds by getting there at opening worked!  We didn't eat lunch at the attraction; there are plenty of places to eat in Springfield.  Unless you simply can't wait, it is probably cheaper and quicker to eat elsewhere.  I'd recommend this place to anyone who enjoys aquariums; it's certainly a beautiful one.  As I mentioned before, it's worth a drive from Branson for a morning if you are on vacation there. 
Other attractions you may like in the Branson/Springfield area: