This post may contain affiliate links. Please read our disclosure policy for more information.
Yosemite Valley Lodge turned out to be the perfect place to relax on our trip.
When planning our trip to Yosemite National Park, one of the first things we narrowed down was lodging. Since national park lodging can fill up early, it's best to plan your trip a year out or more. And though I would've loved to stay at the flagship lodge, The Awahnee, it's a little pricy. Since we were on a three-week road trip, we chose a more economical choice this time–Yosemite Valley Lodge.
On this road trip, we'd already had several adventures that included four national parks–Grand Canyon, Sequoia, Kings Canyon, and Death Valley. We'd also been to some great cities (and towns) in California–Lone Pine, Monterey, and San Francisco. Even after all those experiences, we still were awed by the sheer beauty of Yosemite. It's like no other place we've seen.
Arriving at Yosemite Valley Lodge
We arrived in Yosemite in the late afternoon. We'd spent some of the morning seeing a few last sites in San Francisco before making the drive to Yosemite. That took about three and a half hours. Then, when we did finally get to the park, it was still a bit of a drive, about another half hour. The drive is gorgeous, though.
This is something to consider if you lodge outside of the park; it takes time to get to Yosemite Falls and other popular areas. If the park is busy and there's a lot of traffic, well you can imagine how difficult it may be to navigate the park in peak times. It's a good idea to lodge inside the park if you can.
When we arrived at Yosemite Valley Lodge, we realized we could see the falls from several vantage points. The lodge really is in a perfect place!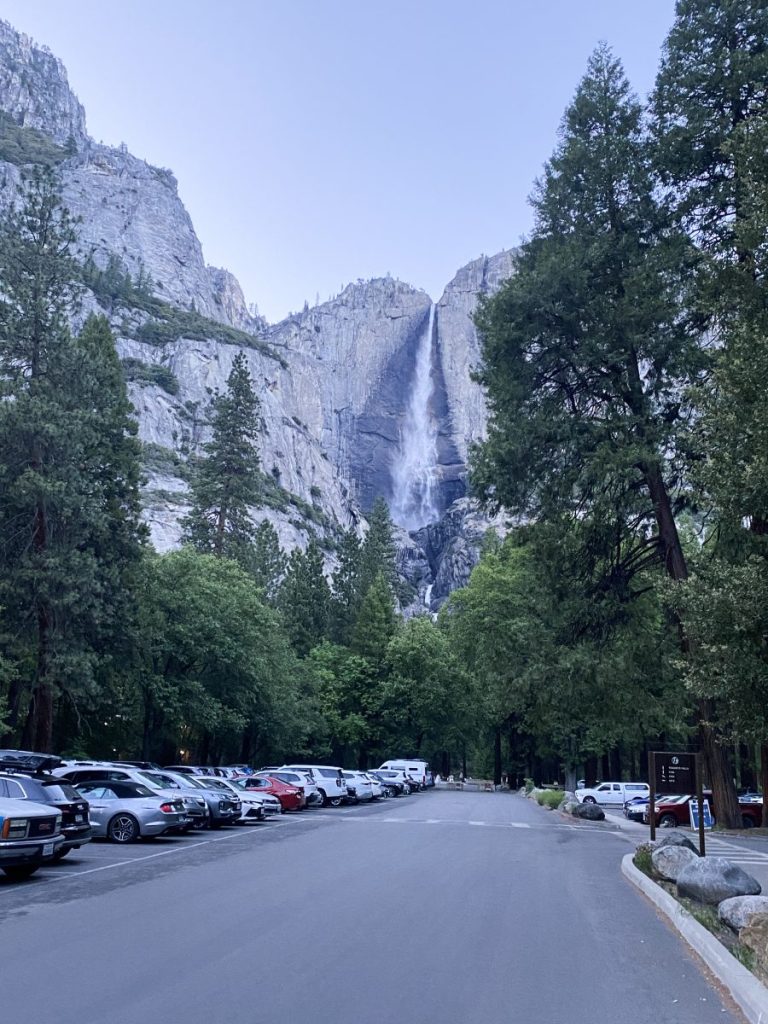 After gazing at the falls, we got in line at the check-in desk. Yes, there was a line, but then again, we were checking in during prime check-in time.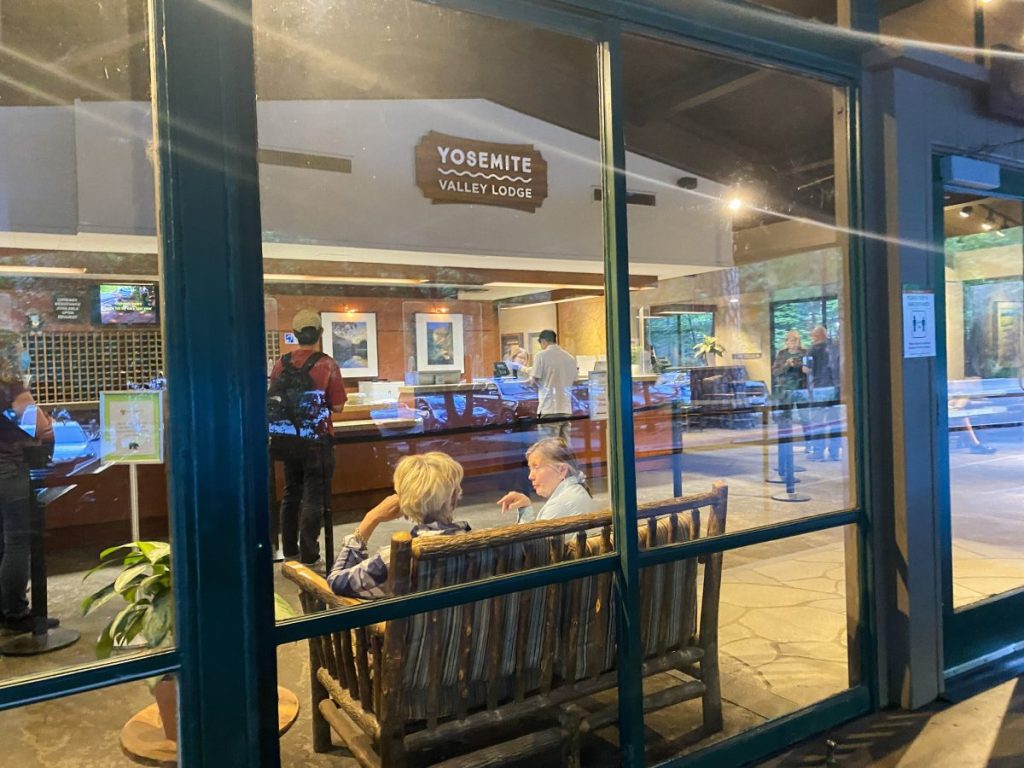 The lobby is also the place you'll go if you need to use Wifi, at least that was our experience. We couldn't use Wifi in our room. It's okay, though. We were in one of the most beautiful places in the world.
Dining and Refreshments at Yosemite Valley Lodge
After checking in, dinner was certainly on our minds. There are three dining options, plus you can purchase some foods in the gift shop. The fancier dining experience is at the Mountain Room Restaurant. We didn't try this one during our visit.
The quick service offering is the Base Camp Eatery. It has the typical quick service options. We didn't try it for dinner, but we had lunch there the following day. It was…okay. None of us were really into giving it another shot.
It should be fine, but it just wasn't quite…fine. My picky companions had chicken strips, and they were dry without a lot of flavor. For the price, we expected at least fast-food quality.
For dinner, we decided to make sandwiches in the room. Our room was large with a family-sized dining table, so it was perfect. After dinner, we gave Kristin some downtime on her own in the room while we checked out the lounge.
The Mountain Room Lounge has a few food choices, like chili, sandwiches, and desserts. Since we had sandwiches in the room, we checked out the drink menu.
Like many national park lodges, the public spaces are cozy and often with nice views. The Mountain Room Lounge is no exception.
During our visit, you could join a line at the bar to place an order and then grab a seat. When your order was ready, they called out to you. I think Jeff had the General Sherman IPA.
And I think mine was the 4 Mile Margarita.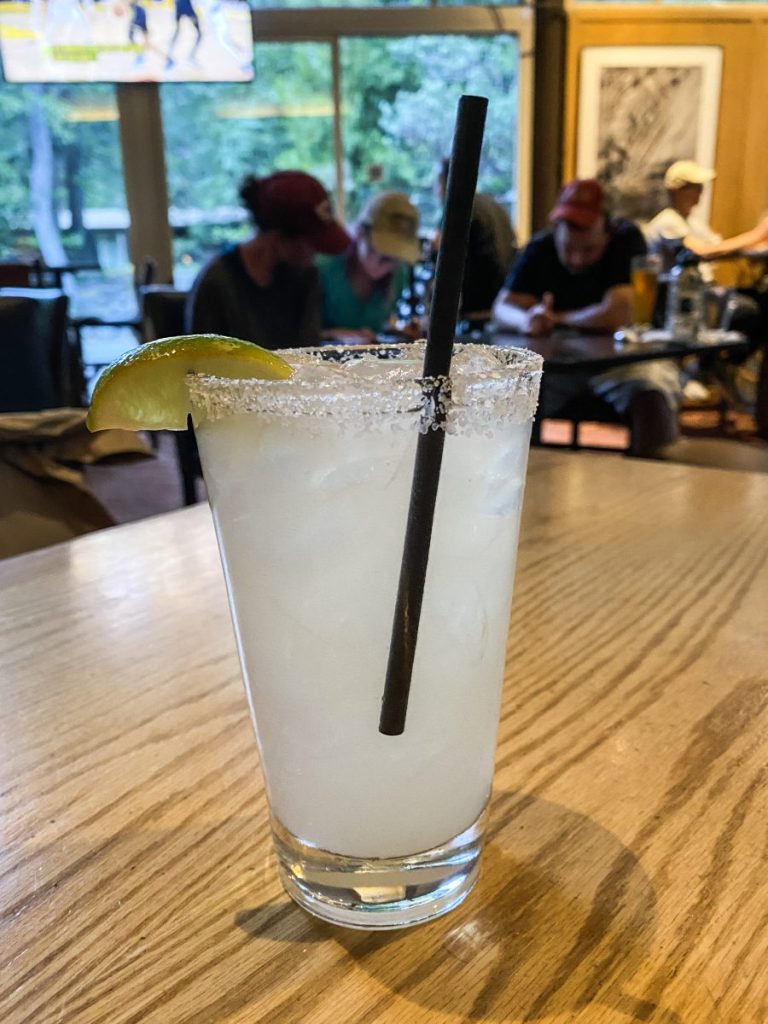 After our drinks, we returned to the room to settle in for the night and get some rest for the next day. Our favorite meal in Yosemite was grilling out in a picnic area somewhere in the park. The leftovers made a nice lunch the next day, too.
Yosemite Valley Lodge Amenities
Yosemite Vally Lodge has more amenities than many national parks we've experienced. The lodge has a nice pool with picnic tables just outside the fence.
They also had laundry facilities onsite. The best amenity, though, is that you can take a short trail to the base of Yosemite Falls right from the property. If you want to climb up to the brink of the falls, you can do that from the property, too.
Our Room
The room worked out nicely for us. I'd forgotten I'd reserved a room with a bit more space, and though we didn't require it, it was nice to have. I'd, apparently, booked a family room.
In the picture below, our room is on the second floor with the box fan in the window. For this trip, we traveled with a box fan since many places we stayed weren't air-conditioned, including Yosemite Valley Lodge.
It wasn't too bad without air-conditioning as the sun went down. Our room had been sealed up all day when we arrived, so we opened the windows and fired up the fans. The room had a couple of oscillating fans and ceiling fans that we also used.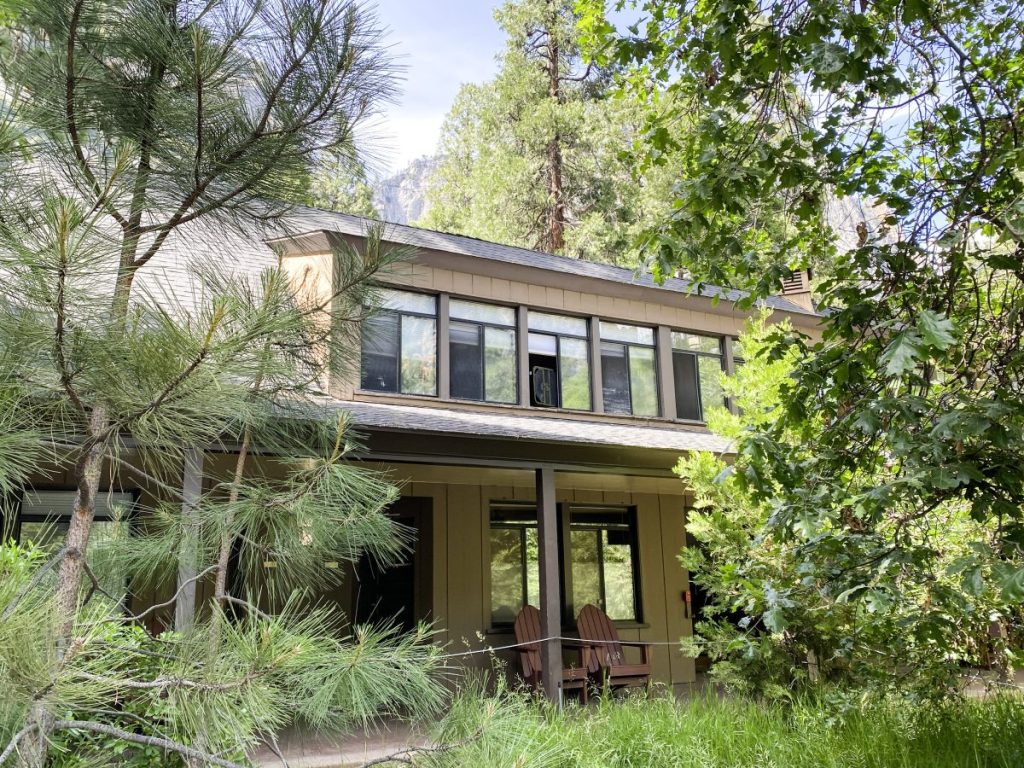 Getting our stuff upstairs took a bit of energy without an elevator. That's something to realize, too. The access to the second floor is by stairs that are accessed from small enclaves between the rooms downstairs.
You can get assistance from bell services, if needed.
Our room had a living area when you first walked inside.
The dining area had a good-sized table with five chairs. We used the dresser in the background to store our food. You can also see the bunk beds in the back corner and the skylight over them.
The sleeping area also had a king-sized bed. As you can see, this room is spacious.
Right off of the living area, we had a double vanity outside of the shower and toilet area. Under the sinks, we had a small refrigerator. You can also see the flat-screen TV on the wall in the background.
We had a nice stock of bath towels.
The shower area had a bench like a bathhouse in a campground.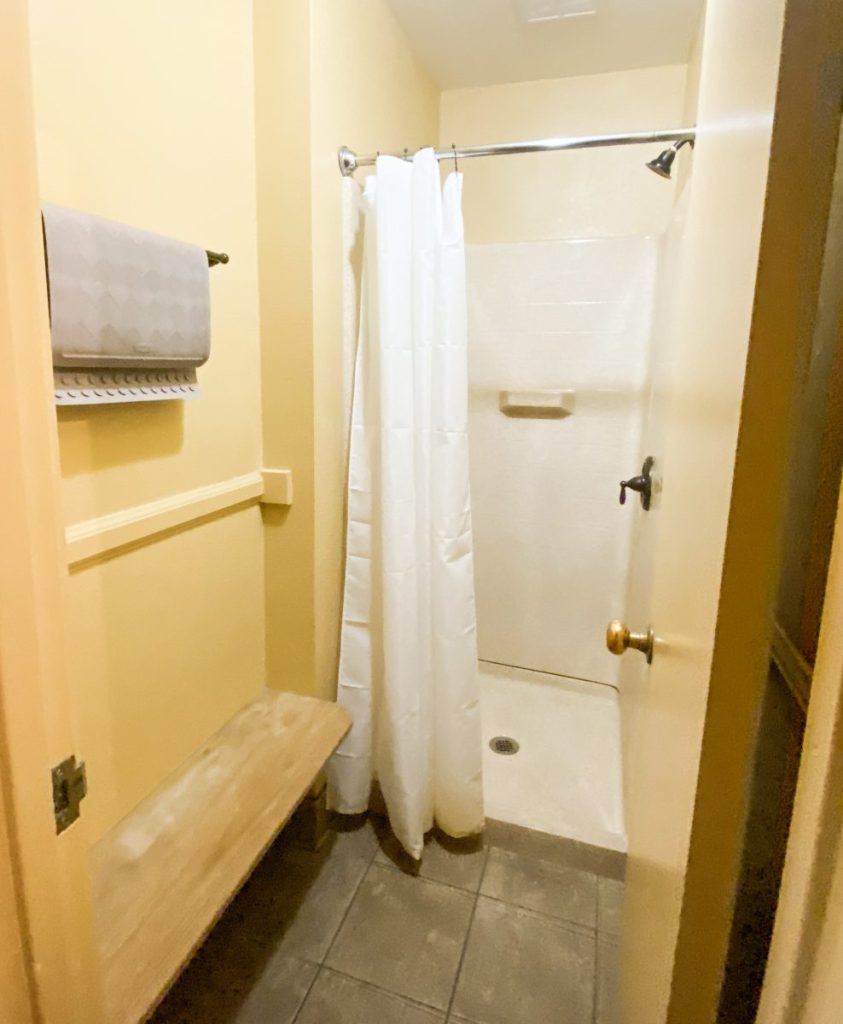 The room was great, and we enjoyed the chance to spread out.
Below is the first-floor walkway of our building. You can find some seating if you'd like to sit outside.
Lower Yosemite Fall Trail
During the evening of our first night, we decided it was time to make the Lower Yosemite Fall Trail trek. Obviously, you don't have to stay at Yosemite Valley Lodge to enjoy this, but it was kind of cool to just walk outside of our room and hit the trail
It's an easy, paved trail, and it's well worth walking to the base of Yosemite Falls. Stunning!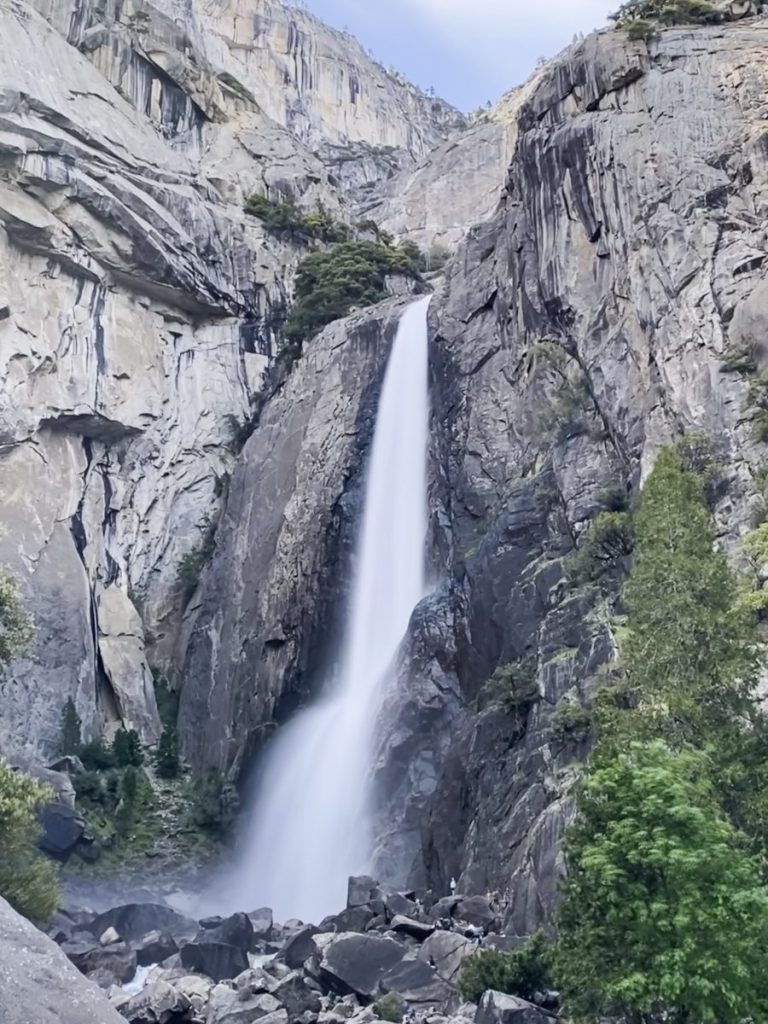 If you're considering a trip to Yosemite National Park, I hope you'll consider a stay at Yosemite Valley Lodge. It's a great choice for families, and the lodge puts you right in the heart of the action. Consider bringing your own food for grilling or eating in your room, though, unless you hear that the quick service place has improved. Other than that, our two-night stay was nearly perfect and we made wonderful memories. I would stay here again without hesitation.
Next stop–The Clown Motel in Tonopah, Nevada!