This post may contain affiliate links. Please read our disclosure policy for more information.
About a year ago, I stumbled upon the book The Chicken Sisters by KJ Dell'Antonia as I looked for novels for my summer reading. It was part of Reese's Book Club, so I gave the blurb on Amazon a click.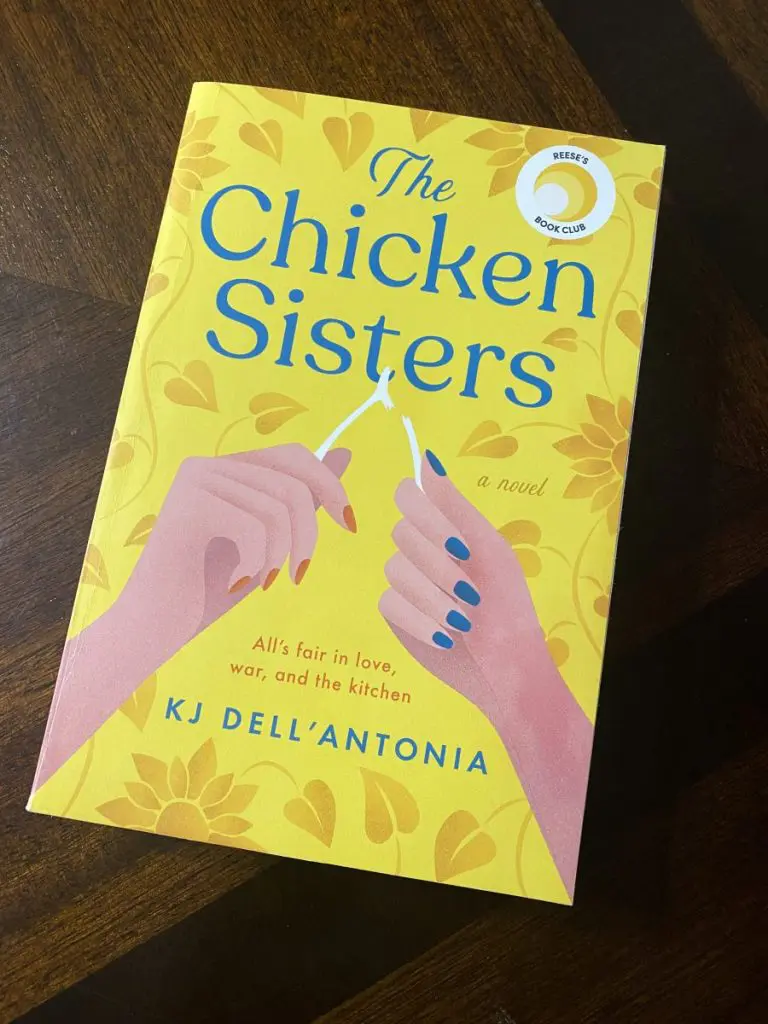 The more I read, the more I knew I had to read this book. The setting of the book, two fried chicken restaurants in Merinac, Kansas, caught my eye. You see, we live about 45 minutes from two fried chicken restaurants, Chicken Annie's and Chicken Mary's, that sit right next door to each other near a small town in Southeast Kansas named Frontenac. So there it was. A book that obviously referenced a place that I'd known all my life. I was in!
The book is a light, fun type of read, perfect for summertime. I enjoyed the story, but something else happened. Suddenly, I wanted to revisit these friend chicken restaurants–two places I'd been to a few times over the course of my childhood but not lately. I shared my fried chicken dreams with Jeff, and the challenge was on. We'd visit both fried chicken places to see if the chicken was still delicious as we'd remembered and if the lovely 1970s decor would send us back to a yesteryear filled with fondness and nostalgia.
If you'd like to read more about the novel and the history of these restaurants, click here.  Another crazy fact–there are more than just these two classic fried chicken places in the area. These two just happen to be the ones next door to each other!
Chicken Annie's and Chicken Mary's
So, if you're scratching your head about something I mentioned above, you're not the only one. Yes, the chicken restaurants are right next door. They are also in a rural area surrounded by corn fields and pastures. You can check out the map below to verify this.
The other thing I'd like to point out is they both serve fried chicken. Fried chicken in which  I can't really discern a notable difference. There are slight differences in the sides and decor, but not enough that I can even recommend one restaurant more than the other. They are very similar. I'm sure there are people who could name the important differences and why they are loyal to one and not another, but I think Chicken Annie's and Chicken Mary's are quite comparable.
Here is a picture of how close they are.
You can see the Chicken Mary's sign on the right. Way off on the left is the white Chicken Annie's sign. How about a slightly closer look at Chicken Annie's sign?  The cars parked at the right are parked at Chicken Mary's.
So, let's take a look at each restaurant.
Chicken Annie's: The Restaurant
We made the trek for a chicken dinner at Chicken Annie's first. As you can see, there is some nice neon on the outside.
Remember what I told you about that sweet 1970s decor? Well, wait until you see the inside.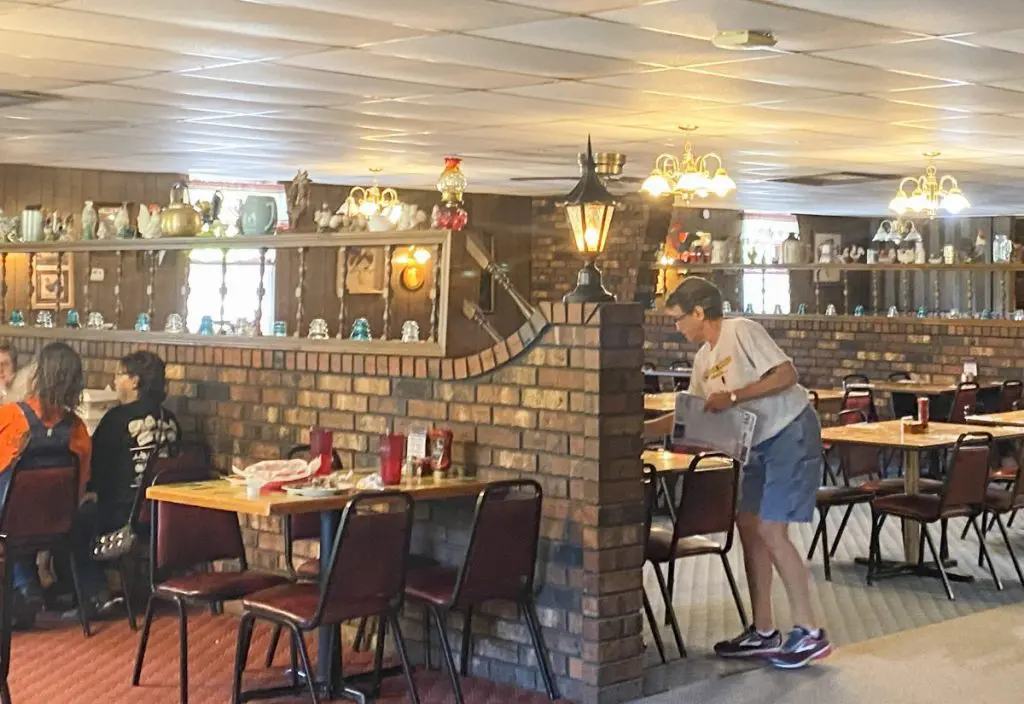 How about a close-up of those light fixtures?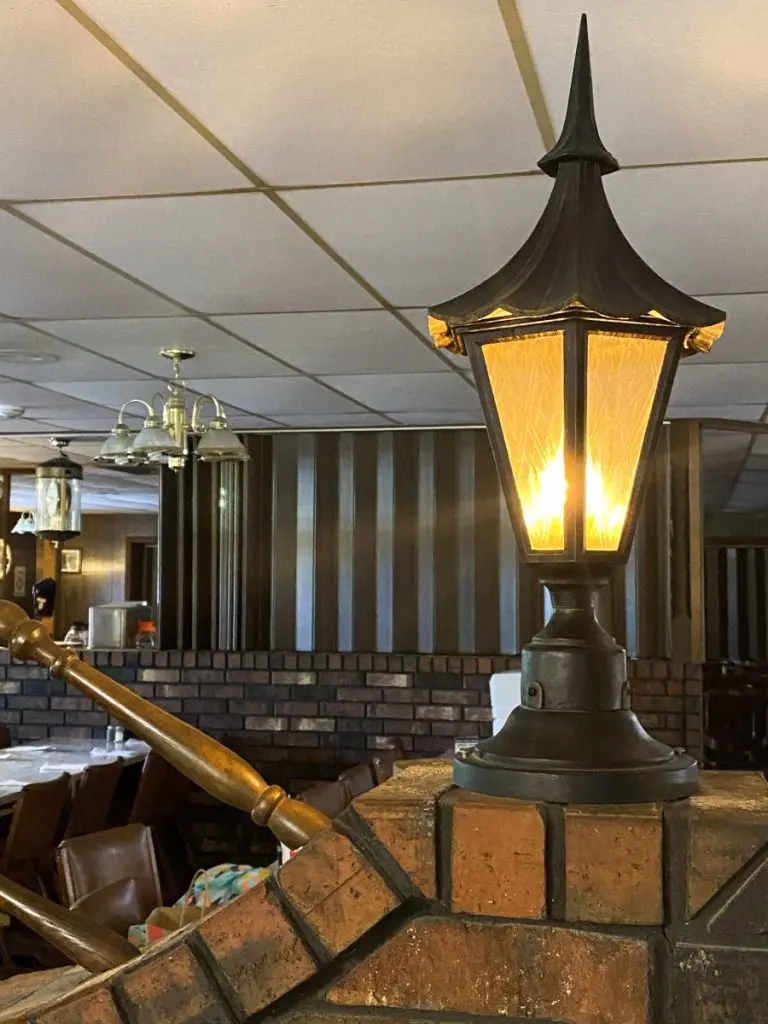 Pretty awesome! Don't forget to pose with the chicken while you wait.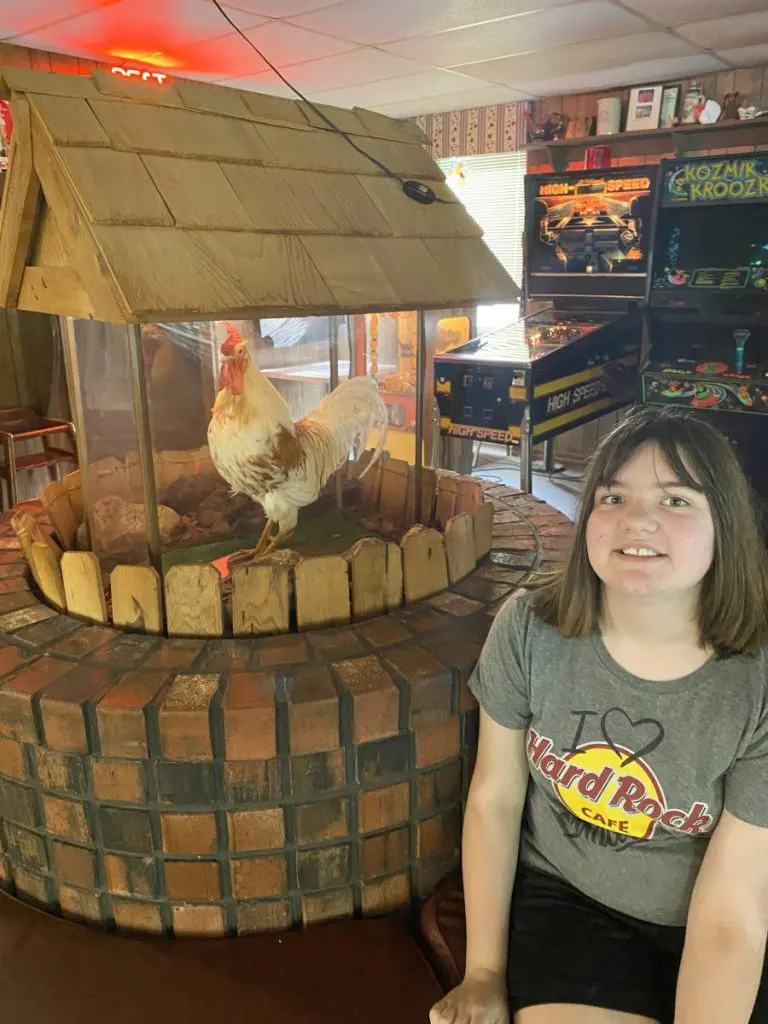 There's one area where Chicken Annie's might have a slight advantage–the arcade games.
Kristin even won a bracelet from the chicken machine.
Here's where they cook the chicken!
Chicken Annie's: The Chicken
Both restaurants start you off with some sliced bread.
Jeff went for the chicken fried steak. I know it's not chicken, but what can I say? Sometimes he gets a little wild and deviates from the plan.
Kristin and I had the chicken tenders. She went with fries and mashed potatoes; I decided to sample the creamy coleslaw.
The chicken here is delicious! The coating is perfectly crisp and seasoned well. I couldn't eat it all in one sitting, so I even got to have more chicken the next day. Yum! No room for dessert, though.
Chicken Annie's is a great place to get your fried chicken on. If you're wondering if you should give it a try, I'd say to go for it!
Chicken Mary's: The Restaurant
Some time later, we made a similar journey to give Chicken Mary's a go.
Here is the outside of Chicken Mary's.
Chicken Mary's has some outdoor seating, so they have the edge over Chicken Annie's there.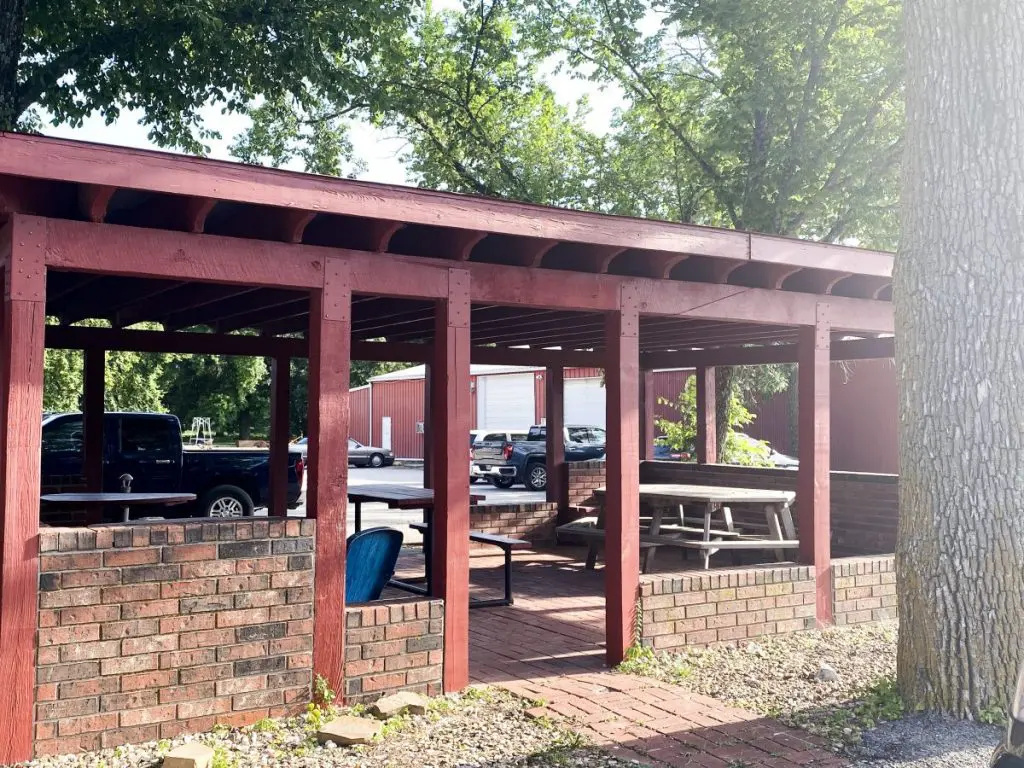 Inside, Chicken Mary's is rocking their own amazing 1970s decor.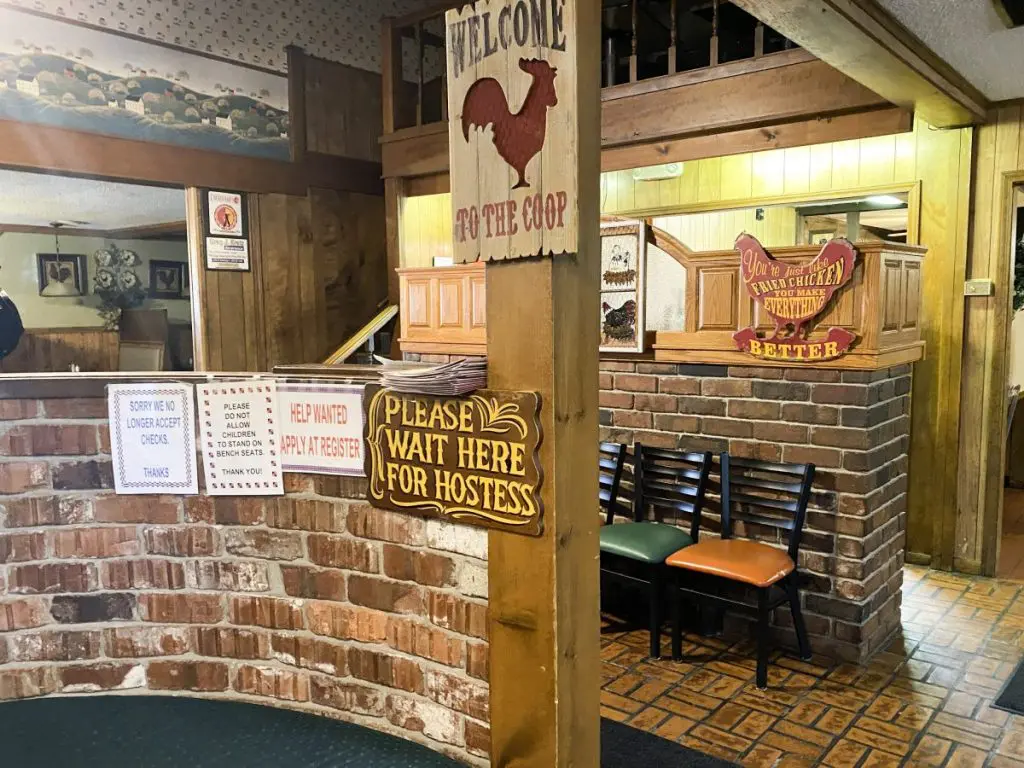 There's plenty of waiting room for when things get busy.
For our Chicken Mary's experience, we were seated in a large room towards the back,
I'd also like to point out that we ate pretty early and on a weekday for both restaurants. Both places were busier as we left.
Chicken Mary's: The Chicken
Chicken Mary's also started us out with sliced bread. Check out the awesome light fixture at our booth!
We also had some onion rings because it was National Fried Chicken Day and they were giving out free appetizers. Yay! That's a small order, FYI.
I had a side salad for one of my sides.
We all had chicken tenders this time. I'll just show Jeff's since everyone had a variation of that dinner. Some things to note–Jeff had fries, Suzy-Qs, and mashed potatoes and gravy. Kristin prefers this kind of fries as opposed to crinkle-cut, like at Chicken Annie's. It's all a matter of preference.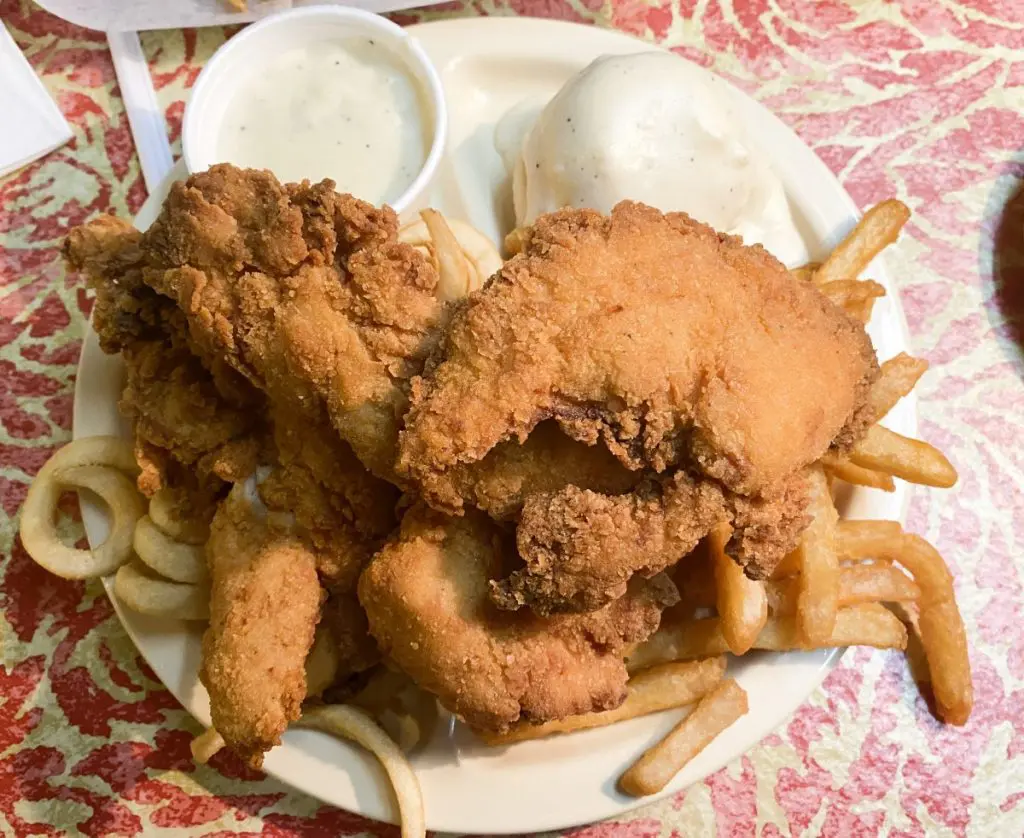 Like Chicken Annie's, the chicken here is crisp and well-seasoned. I honestly couldn't tell you which was which in a blind taste test. I couldn't do it in a non-blind taste test. Ha! I liked them both, and I couldn't tell you how they're different. But I can tell you that they're good!
So, there you have it. These two icons, Chicken Annie's and Chicken Mary's, are located right beside each other. They have similar menus, and the chicken tastes relatively the same. You won't go wrong choosing either place if you want to sample fried chicken in southeast Kansas. If you find yourself in the area, join in the fun and sample Chicken Annie's or Chicken Mary's. Your tastebuds will thank you.
Click on the links below to read about some of our other fried chicken adventures:
Mrs. Knott's Chicken Dinner Restaurant–Knotts Berry Farm
Two Sisters Cafe–Near Glacier National Park