This post may contain affiliate links. Please read our disclosure policy for more information.
If you're heading to San Francisco, you simply must plan to spend some time in Chinatown, the oldest in North America and the largest outside of Asia. San Francisco's Chinatown is a sensory delight; the art, the food, the music, the shopping–China's culture is a fantastic experience and was a highlight of our road trip. Though we only spent a few hours there, it's one of my family's favorite memories.
Planning Our Visit to San Francisco's Chinatown
We only spent one night in San Francisco, but our limited time was packed with experiences. Honestly, as we planned this three-week road trip from Missouri, we didn't initially plan to stay in San Francisco; we intended to drive on through. I thought San Francisco would be its own trip for us one day.
As we continued to plan, we realized that we'd be staying somewhere nearby anyway as we drove from Monterey to San Jose and then over to Yosemite. Why not stay a night in the city? We ended up staying in Japantown at the Hotel Kabuki. Stay tuned for a future post about that experience!
Arriving in Chinatown
Earlier that morning, we'd left Monterey, California, to arrive at the Winchester Mystery House in San Jose by the time it opened. We toured the house, and then we continued onward to San Francisco. We decided to go to San Francisco's Chinatown first since we knew our hotel room would probably not be ready, and we had tickets to Alcatraz that evening.
The popular part of San Francisco's Chinatown for tourists is mainly along two streets of several blocks, though the neighborhood is larger and home to many Chinese Americans living their daily lives. We drove around for a while, trying to decide exactly how to tackle our visit. If we'd arrived sooner, we probably would've found metered parking. When we didn't see a spot right away, we decided to park in a garage with valet parking that was reasonable for city parking.
The parking garage was at the opposite end of Chinatown from the famous Dragon Gate. This allowed us to walk toward the gate and then take a different route back to the car.
We left the garage, and our adventure began!
Sampling Food in San Francisco's Chinatown
When we arrived in San Francisco, it was lunchtime.  Rather than eat inside a restaurant, which I'm sure is a cool experience, we decided to sample food as we walked around.
Eastern Bakery
One of the first places we came upon was Eastern Bakery. I'd seen this bakery on various travel vlogs, so I knew I wanted to give it a try.
Eastern Bakery is the oldest bakery in San Francisco's Chinatown; it's been in continuous operation since 1923! Since the pandemic, the owner now sells the goodies from a table out front. He also gave us some ideas of what to try.
He indicated that mooncakes are popular with visitors, and he showed us the pastries in the window.
Mooncakes have a flakey crust and a pasty filling, in this case, lotus seed. Later, I learned that these cakes are eaten during the Chinese Mid-Autumn Festival held in September or October. Mooncakes may also be part of a Chinese New Year Celebration. I've also learned that some other Asian cultures celebrate this holiday or something similar.
So, we made our purchase and gave our mooncake a try. By the way, Eastern Bakery only accepts cash, so you'll want to be prepared.
We all took nibbles and decided it was delicious!
Food Express
As we walked around Chinatown, we could smell so many yummy foods being prepared. Again, we just wanted to sample some things as we explored. We popped into this place for a two-item combo. We decided on some teriyaki chicken and lo mein.
Though Food Express doesn't get the best Yelp reviews, I thought it was pretty good. We took turns taking bites until we needed to finish it to go into a shop we wanted to check out.
Golden Gate Fortune Cookie Factory
Towards the end of our visit on our way back to the car, we made a special effort to check out Golden Gate Fortune Cookie Factory.
Surprisingly, fortune cookies aren't from China. There are a few ideas concerning their origins. Some believe that Japanese people coming to the United States in the late 1800s brought a variation of fortune cookies with them. Others say that the cookie was invented in California. There are stories that irons were invented for the cookies' mass production in the early 1900s, and when Japanese cuisine wasn't as popular initially in the United States, Japanese immigrants opened "Chinese" restaurants and served fortune cookies for dessert.
Whatever the true origin, fortune cookies became linked with Chinese food during World War II. When Japanese businesses were closed and Japanese Americans were sent to internment camps, Chinese Americans had the opportunity to fill the void and produce fortune cookies. Whatever the exact origin, it's safe to say that fortune cookies have become a truly American dessert embedded into our popular culture.
References:
"Fortune Cookie History | the Mysterious Origin of the Fortune Cookie | Modern Innovations of Fortune Cookies." Fancyfortunecookies.com, 2022, www.fancyfortunecookies.com/Articles.asp?ID=148. Accessed 1 Sept. 2022.
Lee, Michael. "The Surprising Origins of the Fortune Cookie." HISTORY, HISTORY, 11 Feb. 2021, www.history.com/news/fortune-cookies-invented-chinese-japanese. Accessed 1 Sept. 2022.
When I'd discovered that you could visit a fortune cookie factory, create your own fortunes, and watch them be inserted into fortune cookies, I was all-in.
You can see the fortune cookie iron in the background. If the cookie is removed from the iron, stuffed with a message, and folded immediately, you end up with a fortune cookie. If anything messes up the timing, you end up with a flat cookie too hard to fold.
When you enter the factory, there is a place where you can fill out as many fortunes as you'd like to use for your personalized cookies. We decided to make some for some family members back home. When we were ready, we handed the fortunes to the lady in the picture. She kept our cookies separate from the others she was making. When our cookies were ready, she put them in a cute little take-out box. We also got to sample a warm flat cookie right off the iron.
You may want to use GPS to locate this place. It's down an alley called Ross Alley, and if you're not careful, you'll miss it. Ross Alley has this historical marker. Apparently, Ross Alley is the oldest in Chinatown, and it used to be known for all kinds of debauchery like gambling and prostitution.
Some info I've come across suggests that the Golden Gate Fortune Cookie Factory is a really popular place and often has a line, so plan accordingly. When we were there, there was only one other party ahead of us.
Checking Out the Street Art in San Francisco's Chinatown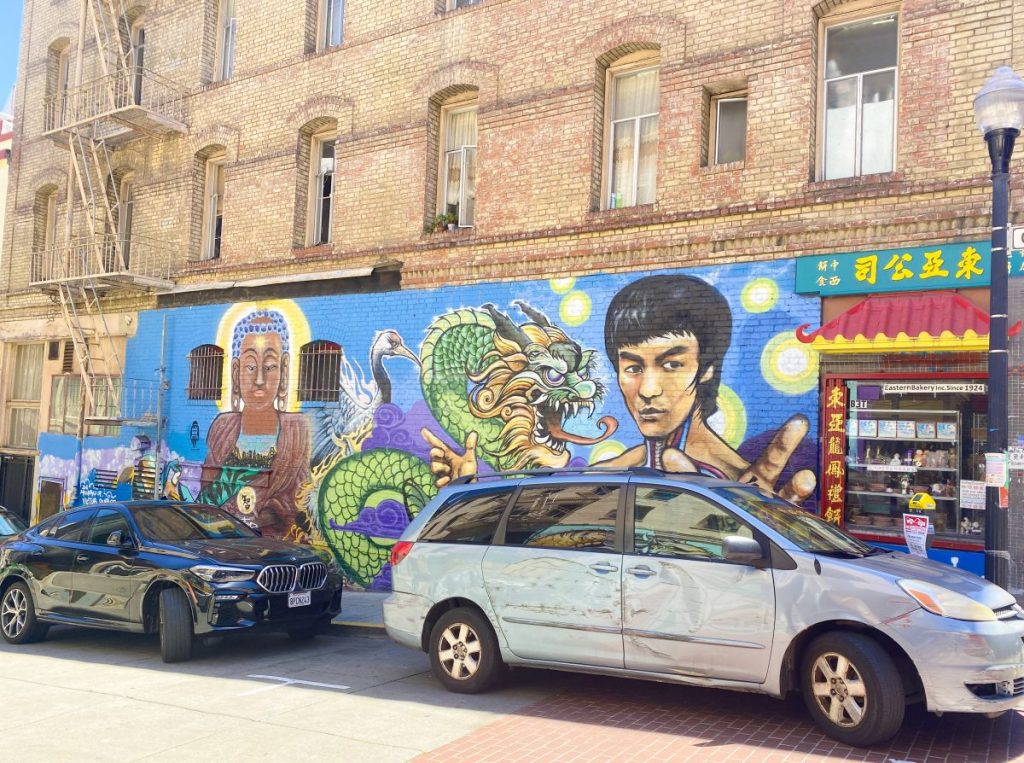 The street art is pretty amazing in San Francisco's Chinatown. This popular Bruce Lee mural is on the side of the building of Eastern Bakery.
All of the colorful art adds to the vibe of the area.
The art is plentiful, and you'll find it everywhere in Chinatown.
The architecture is so unique in this area. Don't forget to look up every once in a while.
You could stroll around San Francisco's Chinatown for hours and still not see everything.
I loved the blending of east and west in Chinatown.
It's also worth noting that other communities are nearby, like North Beach, San Francisco's Italian neighborhood, home of Frances Ford Coppola. Other neighborhoods include the Mission with its Mexican culture, Japantown, Little Saigon, Beldon Place with its taste of France, and the Fillmore District with its African-American history and culture.
Shopping in San Francisco's Chinatown
When exploring San Francisco's Chinatown, most people probably start at the Dragon's Gate.
The shops with the most expensive merchandise are near Dragon Gate.
It's a beautiful area to window shop.
As you travel north, you'll see more of the touristy-type shops.
We bought a few items, including a magnet. We also tried some snacks we'd never seen.
Returning to Our Car
After we'd walked up and down Grant Street and found Ross Alley with Golden Gate Fortune Cookie Factory, we decided it was time to see if our room was ready at our hotel. We ended up getting off the tourist track a little.
We saw more of the daily lives of the people who live in this area. People were doing their daily shopping, and delivery people stocking the shops were everywhere! It was cool to see this side of Chinatown.
Luckily, we found the parking garage where our car was parked. Soon, we were on our way to Hotel Kabuki, a few minutes away in Japantown.
I'm glad we spent a couple of hours in San Francisco's Chinatown. I'd love to return when we visit San Francisco again, and we do plan to visit again. We were there less than 24 hours, and we can't wait to see more of San Francisco on our next trip. If you're wondering if you should see Chinatown, I'd say to give it a shot. We loved our time there!
Click on a link below to read about one of our other adventures!
Ruby Beach in Olympic National Park